Don't ya just hate it when a holiday is right dab in the middle of a workweek?
Ugh, the 4thof July holiday is on a Wednesday this year – square in the middle of the week. Uh-oh, you know what that means.
It means that most have to work the day before the holiday and the day after the holiday. Unless you use your precious and limited vacation days or you're a teacher, you can't really overindulge with the alcohol this year because you'll have to get up bright and early the next morning with a lingering hangover or that annoying sluggish feeling that can only result from late night cocktails and fireworks. Adding to the misery is the fact that you still have two whole days left in the workweek to drag through.
And what about those holiday party plans? No one wants to throw a barbeque mid-workweek.
About a week and a half prior, everyone will be scrambling to figure out who's having the shin ding at their house. No one wants to volunteer when it's a mid-week holiday, because they know they'll be dog tired trying to host a mid-week event. They're also worried about low turnout because most tend to lay low when 2 more days of work is looming.
If you haven't already, you'll get that question, too. You know which one I'm talking about – "What are you doing for the 4th?" or "Are you hosting something for the 4th?" The answer they want to hear is, "I'm having a barbeque at the house. Do you want to come?" The answer they'll hear from me this year is, "I'll be at the pool and with the family, my floaty, and my libations."
My libations this year will be EP4L's Vegan Tropical Dream. Solely inspired by my Jamaican wedding 21 years ago this month, the hubby and I will be slathering on the sunscreen and enjoying this frothy, tropical puree of pineapples, bananas, and mango. Vegan Tropical Dream is an indulgent, refreshing drink that tastes great with or without the coconut rum.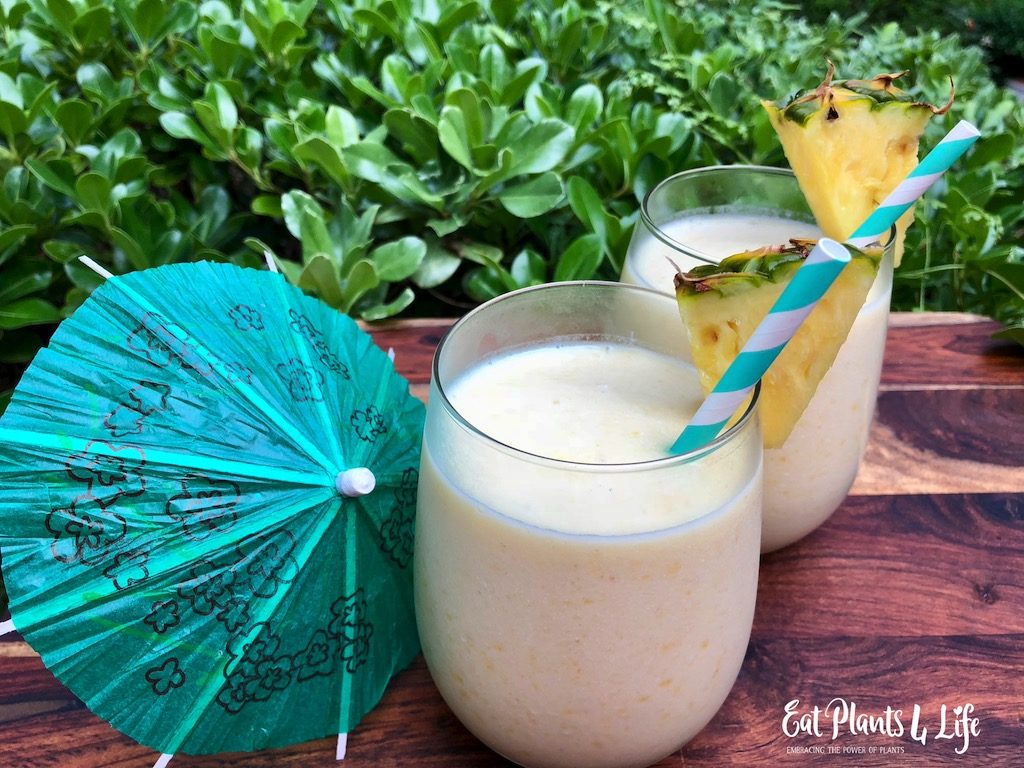 Skip the rum and enjoy it for breakfast, as an after-school snack, or as a post-workout reboot. Top it with shredded coconut or add papaya to the mix as a bonus. Vegan Tropical Dream is my "lay low this July 4th poolside choice."
And I haven't forgotten about the kiddos. The pool is their favorite spot in the summer. I've created a kid-friendly poolside treat that they can enjoy, too.  EP4L's Strawberry-Coconut Cacao Bliss is a healthy, yummy, frothy smoothie treat that I personally recommend as a snack, dessert, or breakfast. It's my "go run and get" Vegan energy drink!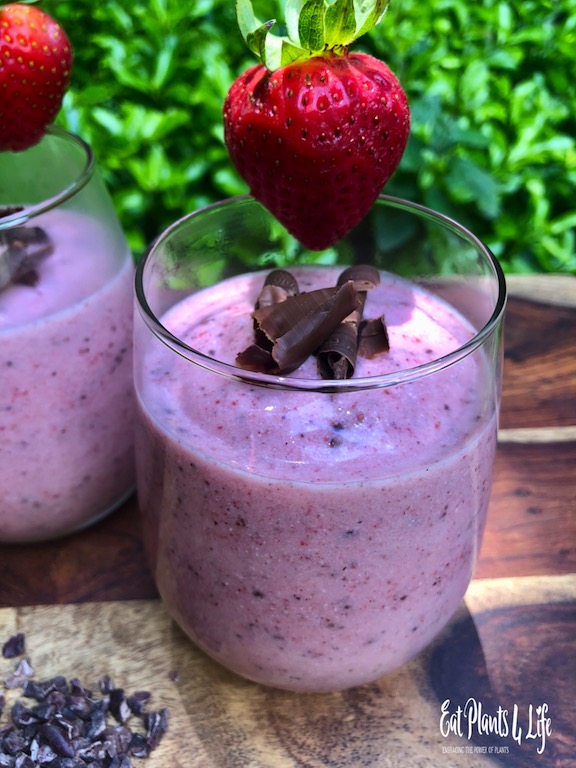 Cacao Nibs are considered a superfood and energy booster because it's loaded with flavonoids and phytonutrients. It is the healthiest form of chocolate. Alone, they don't do much for me on flavor, but added to your favorite smoothie or homemade ice-cream, they're simply delish and guilt free!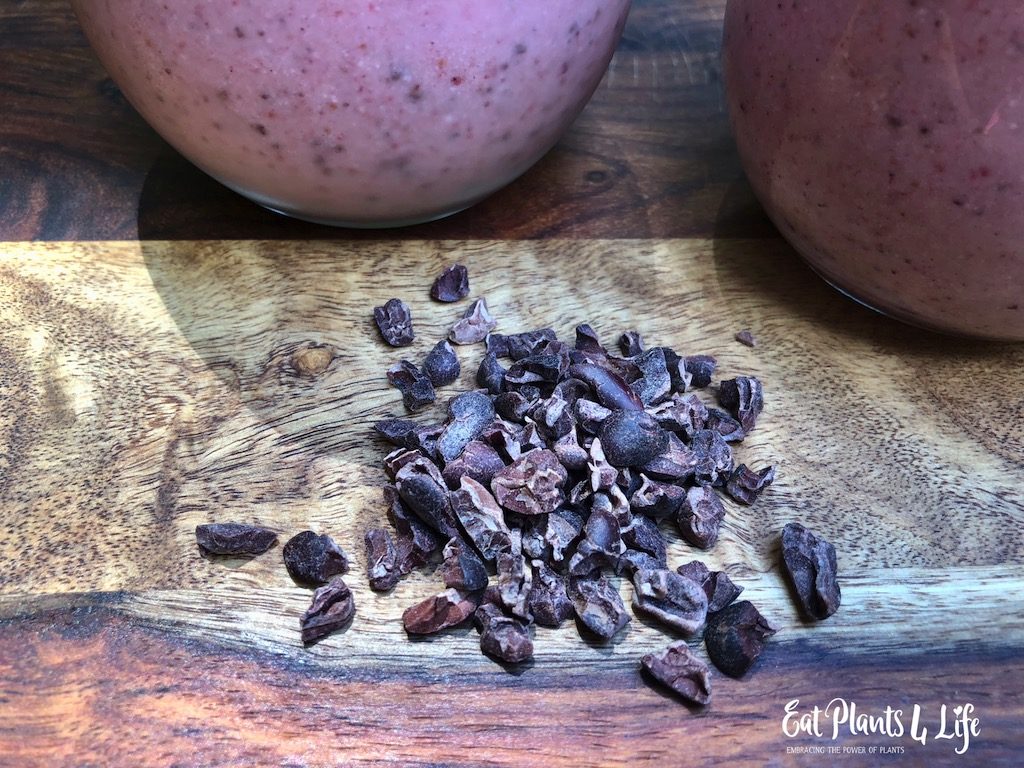 They're easy to get – in most health food stores and on Amazon, which is where I always get mine…
Strawberry-Coconut Cacao Bliss also incorporates healthy coconut water, which is a perfect way for the kids to hydrate themselves after swimming in the blazing sun for hours. It's also loaded with potassium. Adding in coconut milk, brings iron and zinc to the pool party.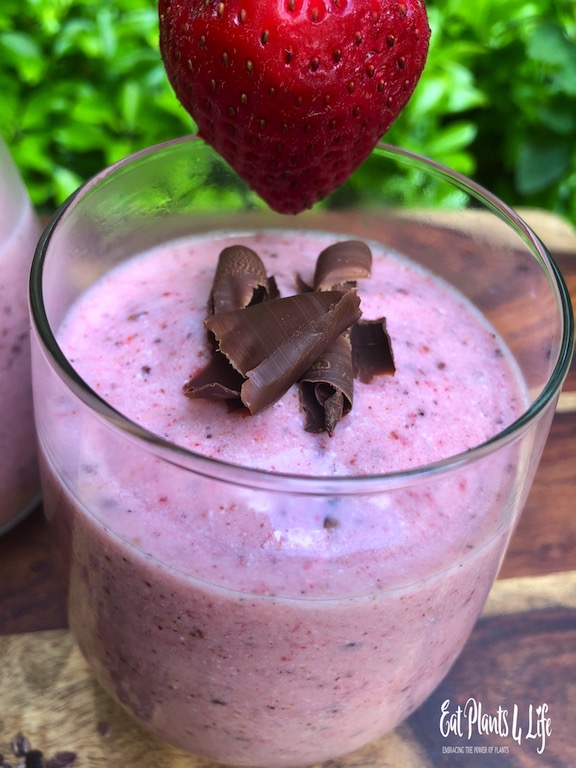 Whether you decide, "To hell with it, I'm hosting the big barbeque this year!" or you decide to celebrate our nation's independence by laying low, cool off with Vegan Tropical Dream and Strawberry-Coconut Cacao Bliss. At least the 4th falls on a Thursday next year. Maybe the boss will let you have that Friday off, too. One can only hope. Enjoy!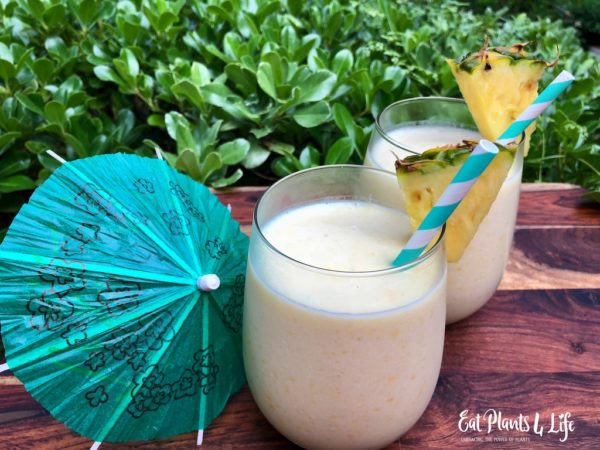 | | |
| --- | --- |
| | |
Combine all ingredients in a blender. Puree until smooth. Pour into 2 chilled glasses. Top with optional shredded coconut (not shown). Garnish glasses with pineapple wedges.
*Buy pre-frozen fruit or freeze fresh fruit in advance and store in freezer bag to save time.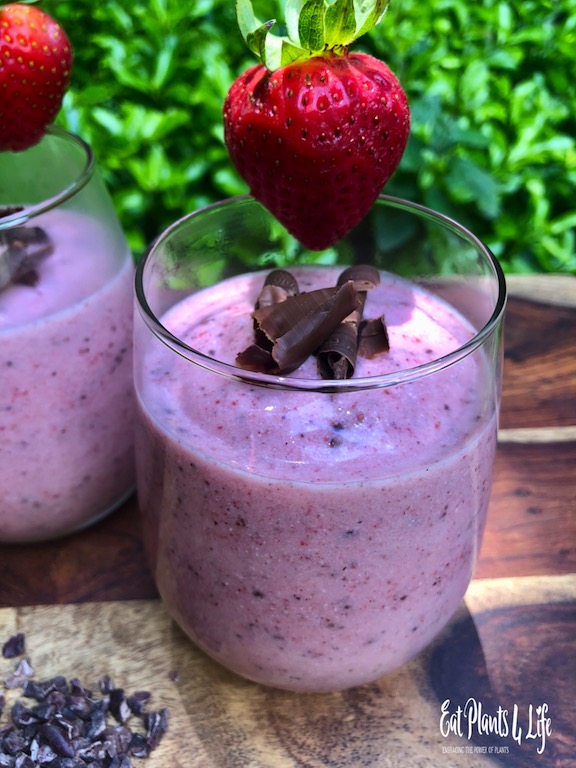 | | |
| --- | --- |
| | |
Place frozen strawberries and banana, coconut water, coconut milk, and cacao nibs in a high powdered blender. Puree until smooth and nibs are in tiny fragments.

Pour into 2 chilled glasses, each garnished with a small strawberry. Add an optional garnish of chocolate curls**
*Buy pre-frozen fruit or freeze fresh fruit in advance and store in freezer bag to save time.
**Quick chocolate curls: In a microwave-safe bowl, melt a cup of vegan chocolate chips in the microwave. Pour melted, warm chocolate onto a baking pan that has been lined with parchment paper. Using a knife spread chocolate into a thin layer. Place in the fridge for about 5 minutes to set. Using a potato peeler, scrape or shave the chocolate until small curls form.