Them: You're Vegan, right?
Me: Yup
Them: Really? I don't think I could do that?
Me: It's not for everyone, but you'd be surprised by how easy it can be once you get used to it.
Them: So if you're Vegan, what in the world do you eat for breakfast besides fruit?
I probably get this question at least once a month. Other than, "How do you get your protein?" and "Do eggs count?" I often get asked about Vegan breakfast options.
Those new to a plant-based diet often feel like they are caught between a rock and a hard place because they not only need ideas, they need quick and easy options that they can make or grab as they dash out of the door in the mornings.
Personally, I've never been a big breakfast person – Vegan or not. I've always been more of a lunch girl. I can't really eat when I get up in the morning, so I end up having brunch or skipping morning meals altogether in place of a hearty(and I mean – hearty) lunch. My husband, on the other hand, lives for breakfast. He wakes up thinking about what he can get his hands on to break his fast.
Quick Vegan breakfast options are not as impossible as most skeptics and newbies think.
Here are over 50 options just off the top of my head:
Instant plain, microwaveable Grits, topped with nutritional yeast if you like a cheesy flavor or Earth Balance Vegan butter

Steel-cut Oatmeal drizzled with maple syrup and topped with fruit or chopped candied walnuts or pecans

A fruit and/or veggie smoothie made w/ almond milk or coconut yogurt and chia, hemp, pumpkin, or flax seeds

Pineapple-Avocado Toast (made w/mashed, ripe avocado, canned crushed pineapple, and cinnamon or red pepper flakes)

Instant microwaveable Oatmeal made with almond or cashew milk, brown sugar, and/or fruit

Veggie sausage (i.e. Field Roast, Gardein, ToFurkey), sautéed with pre-sliced mushrooms and topped with salsa

Banana slathered with almond or peanut butter

Toasted Vegan bagel (i.e. Lenders) topped w/Vegan cream cheese, peanut butter, or fruit preserves

Multi-Grain or Whole-Grain Toast topped with peanut butter and sliced bananas

Microwaved Pre-made or Pre-frozen Pancakes like EP4L's 

Best 

Vegan Pancakes

Pre-made (on Sunday) Vegan Muffins like my

Blueberry

,

Pumpkin-Spice

, or

Banana Mega Muffins

. Enjoy them for a full workweek

Trail Mix – (check the label) or make your own by combining all of your favorite nuts, seeds, and dried fruit, dividing and storing it in the fridge in individual, ready-to-go snack bags

Annie's Refrigerator Cinnamon Rolls or Biscuits (now at most major stores)

Granola over coconut yogurt

Van's Organic Waffles or Nature's Path Waffles

Amy's Black Bean Breakfast Burritos (in frozen section)

Pre-made Fruit Salad topped with granola

Many Commercial Cereals (i.e. Cheerios, some Cascadian Farm's Cinnamon or Graham Crunch and Fruitful O's, Rice Krispies, some Kashi varieties, Original or Cinnamon Life, Corn Pops, Reese's Puffs, some Nature's Path, Corn or Rice Chex, Cap'n Crunch, Kellogg's Cornflakes, Frosted Flakes, Crispix, Special K Red Berries or Vanilla Almond, Kroger's Simply Frosted Flakes or Publix's, some Kix,  etc.) with or without almond milk.

READ THE LABELS!

Store-bought Granola Bars (Nutri-Grain, some Nature Valley, a few Luna Bars, a few KIND bars, some Clif Bars, LaraBars, etc.)

Pre-cut frozen potatoes, pre-cut diced red and green peppers, and onions. Toss in a little oil, wrap in aluminum foil and bake (while you get dressed for work) on 400 degrees for about 20 minutes.

Soaked Oats: pre-made the night before (see recipe for Soaked Chia Seeds below) and topped with Agave or maple syrup, fruit, nuts, or seeds.

EP4L's

Soaked Chia Seeds

: pre-made the night before. See recipe below…
Chia Seeds are a superfood in my book. They're loaded with fiber and protein; two nutrients that you need to stay satiated throughout the morning.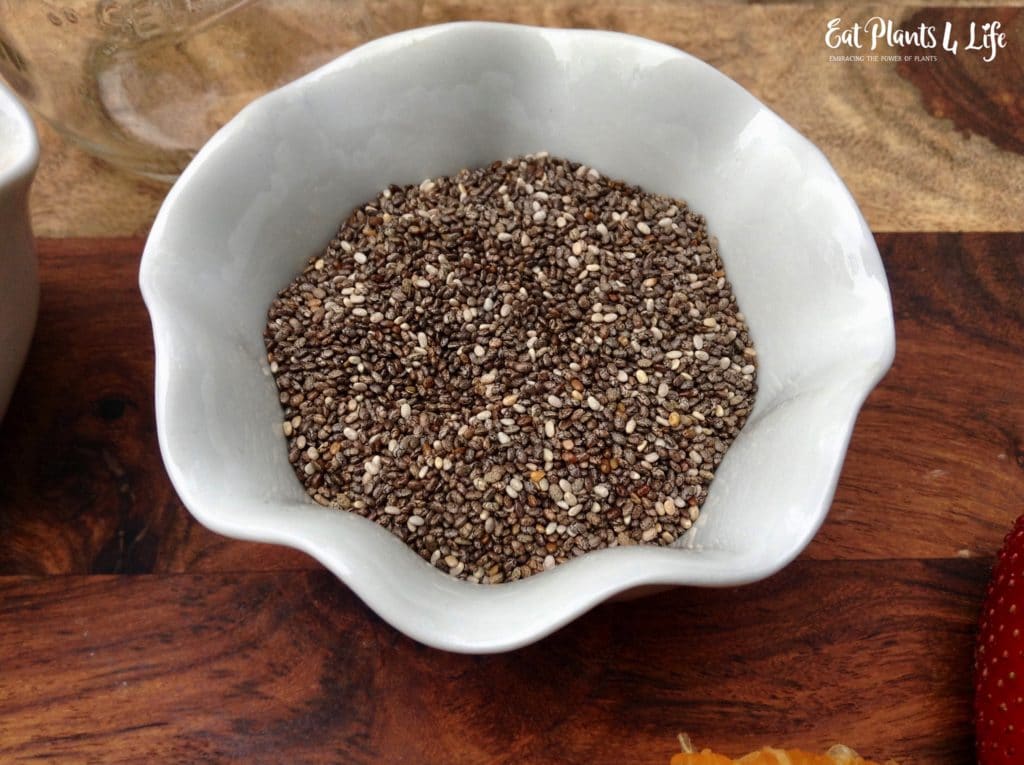 They look like weird little pellets, but if you add liquid to them, they expand and develop a creamy texture – almost like a curd. I add dry chia seeds to my muffins, salads, smoothies, bagels with Vegan cream cheese, homemade granola bars, etc. to add even more protein and fiber to the mix.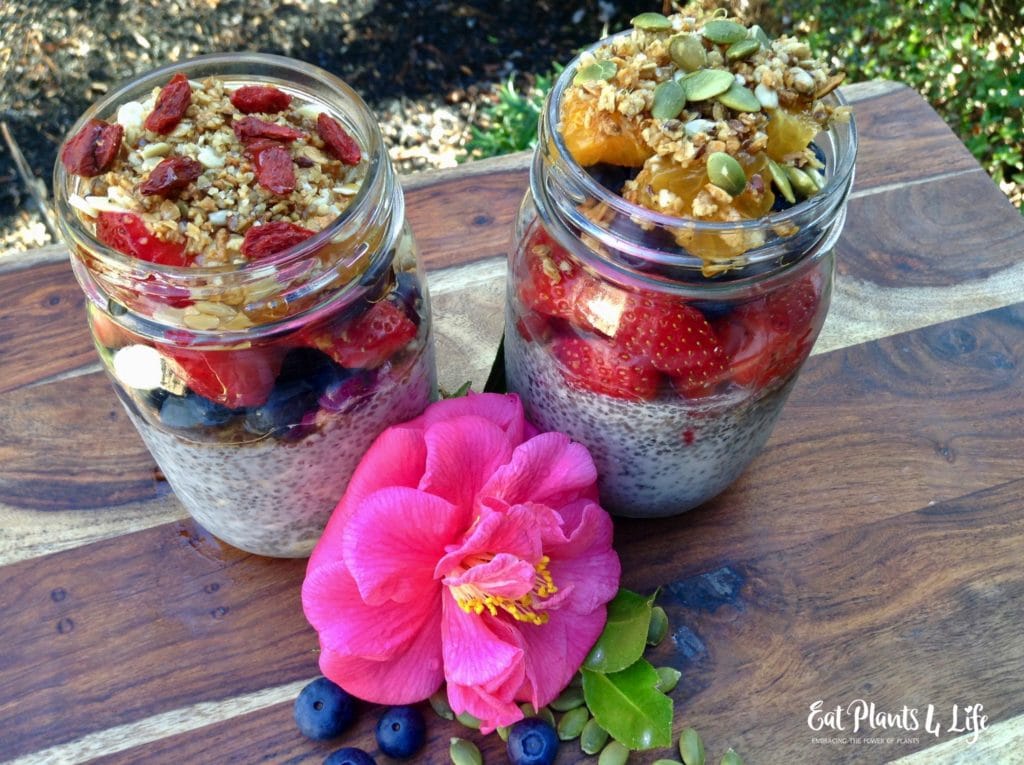 My easy-to-make Soaked Chia Seeds should be made the night before, preferably in a "to go" container with a lid like a mini glass Mason jar, or BPA-free plastic container. I like to mix mine with oats to add more texture. When I get up the next day, I just add fruit (like berries, mandarin oranges, or Goji berries, maple syrup for sweetness, and any nut/seed like pumpkin or slivered almonds). My favorite topping is granola. Just top it with whatever you have on hand and GO!!!!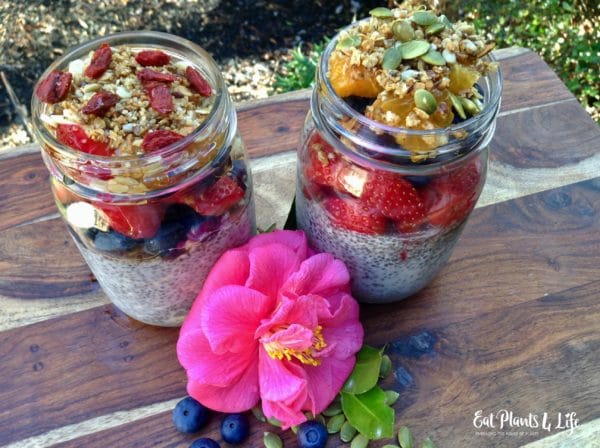 | | |
| --- | --- |
| | |
Place chia seeds and oats in a serving container with lid (i.e. mini mason jar). Mix. Add almond milk and cinnamon. Mix. Seal. Refrigerate overnight.

Once ready to eat, top with favorite toppings. I like maple syrup, pumpkin seeds, granola, mandarin oranges, Goji berries and/or fresh berries.
** If you prefer to use only chia seeds or only oats, adjust recipe by using 3/4 cup of almond milk. If your sweetened nut milk is not vanilla-flavored, add 1/4 tsp. of vanilla extract!