With a new year on the horizon, people automatically assume that I'm going to climb a bell tower while firmly gripping my sanctimonious staff, dressed in jeans and a graphic tee that displays what appears to be a dismal cow coddling its youngin' and all while ceremoniously ranting, "Go Vegan in 2019!"  They predict that I'll be preaching the health benefits of an exclusive plant-based diet along with the promise that it's the answer to your weight loss woes, the perfect alternative to modern medicine, and the cure-all for any and all of your ailments.
Although eliminating meat and meat by-products from my diet has blessed me with an immeasurable amount of health benefits, I know that this way of life is not for everyone, so I try not to shovel my theory about being Vegan into anyone's yard. Instead of preaching, I resort to using a good old-fashioned approach when I'm questioned about my reasons for becoming Vegan. I like to call my approach – just the facts.
I adopted the "just the facts" approach when I had children.  Unlike my generation, I discovered that my kids seek evidence over wisdom. They can't just be told anything. In many circumstances where a lesson is being taught, I like to give them just the facts and allow those facts to marinate in their heads. So, when I tell my middle-schooler that smoking is bad, it doesn't resonate. But when I explain that her Popi lost his larynx and uses a voice prosthesis because he developed throat cancer caused by chain-smoking in the 60's and 70's, she mulls over the facts and decides (supposedly on her own) that smoking is probably not a good habit to start.
I do the same when sharing my theories about a Vegan diet. Despite the fact that I am often judged by non-Vegans about my"unhealthy" dietary ways, I try not to do the same. The world is already flooded with finger pointers. But it doesn't stop me from rolling my eyes when I hear that dreadful question, "What do you have against meat?"
Instead of rattling off statistics about an animal–based diet versus a plant-based diet (you can read The China Study by T. Colin Campbell or check out the What The Health documentary for that), I give them just the facts – my facts. And here they are.
I'm a 40+ year old woman predisposed to have diabetes and high-blood pressure by this age based on family history. But because of my diet, those 3 important numbers are in the good range. I'm not referring to the 3 numbers our society typically obsesses over on the beacon of a New Year. It's not about the 3 digits on the scale. These are not the numbers we should be totally focused on to determine our overall health. It's the "real" numbers that are a factor. It's my cholesterol (168 mg/dL), glucose (87 mg/dL), and blood-pressure (110/79).  In my case, these numbers have been pretty good for the past 5 years. I'd like to think that my Vegan diet accompanied with regular exercise and getting enough sleep, have attributed to those numbers. These are just the facts. Another fact?
Recently, after having my blood drawn for health insurance purposes, my insurance company gave me a health score of 97 and a health age of 22. Yes, you read it correctly.  Did I mention that I was in my 40's? No preaching, no food shaming, no sad cows, no climbing of any bell towers. But the next time I'm asked, "What do you have against meat?" I'll be sure to share those facts.
It's cccccold outside and we're celebrating National Soup Month, so what better way to ward off the chills than with a bowl of soup. It's budget-friendly, waist-friendly, freezes well, and is the perfect idea for plant-based meal-prep when you know you'll have a busy work-week. I've compiled a list of 8 EatPlants4Life's Vegan Soup Recipes. Click the title links to enjoy each recipe. 
Coconut Curry Lentil Soup & Garlicky Croutons
Summer Corn Chowder with Fire-Roasted Tomatoes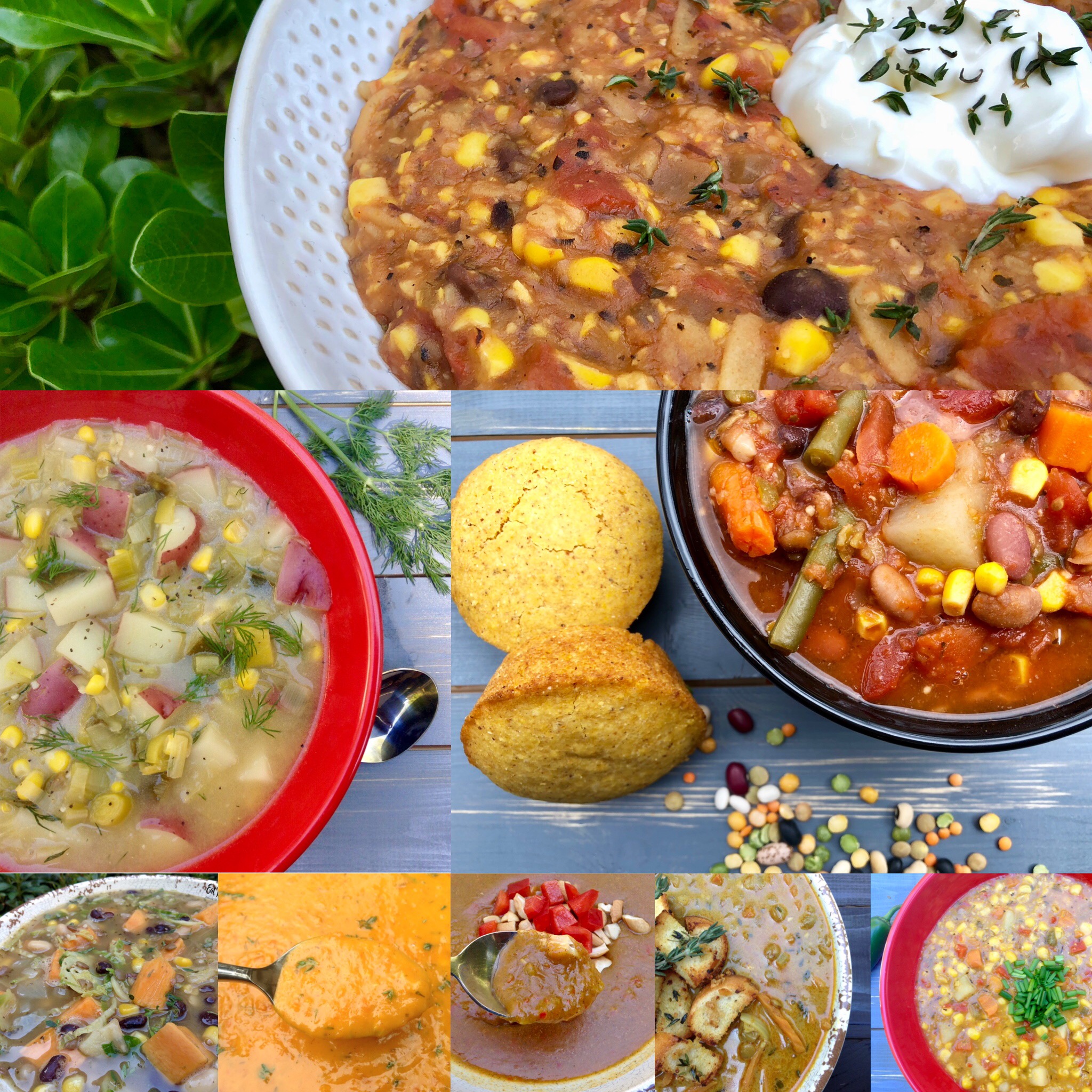 They're all super easy to make. Check out the recipe videos for two of our the easiest – Vegan Vegetable Soup and Vegan Cornbread.
May 2019 bring you good health, no matter how you choose to go about it.