When it pertains to the flavor of the month – pumpkin, people usually say that either you love it or you hate it. In my particular case however, that's not entirely true.
I actually have a love-hate relationship with pumpkin and pumpkin-spice. Sometimes I'm Glinda, the Good Witch of the North when it comes to the enjoyment of a flavor that is amplified as soon as October 1st rolls around. I start the month excited for its return to the produce section of the grocery store or the thoughtfully and neatly stacked canned version on the end-cap of the local Trader Joes. I dutifully load my cart with what was once a neatly organized display of orange cans.
My excitement is not solely in the fact that pumpkin's return signifies fall temperatures and visually captivating outdoor scenery. It also sparks my desire to create or recreate Vegan pumpkin recipes that the family has grown to enjoy year-round.
But as the phrase states, all good things must come to an end, so does my pumpkin-spiced enthusiasm.
As my Facebook feed is flooded with the latest, processed pumpkin products, Glinda, the Good Witch of the North morphs into The Grinch by Halloween. It's not because the taste of pumpkin suddenly becomes undesirable. It's solely because the marketing of pumpkin this and pumpkin-spice that reaches the pinnacle of intolerance. Not every product is qualified to handle the flavor of pumpkin. Pumpkin–coated almonds, pumpkin-filled Oreo cookies, pumpkin-flavored M & M's, ice cream, cream cheese, yogurt, potato chips, cereal, draft beer, and even, wait for it – – Jell-O delves into the heavily marketed flavor. Although most of these items are not Vegan-friendly, therefore are not on my radar, heavy marketing makes scrolling my Twitter timeline ex-hausting.
I don't know about you, but I prefer my pumpkin in a less-processed state. EatPlants4Life's Pumpkin Recipe Collection may be all-about the pumpkin, but each recipe utilizes pumpkin in its purest state, which makes it healthier than the processed, sometimes artificially flavored version we're used to seeing in TV ads and social media feeds. It's a blast from the past (posts) and offers 9 delicious and main entrees, sweet treats, and breakfast options.
If your inner Glinda, the Good Witch is in the mood for the flavor of the month (in its healthy, natural state, of course), click the 9 recipe title links below to enjoy EP4L pumpkin favs, including a new favorite that I can't get stop chugging – Vegan blogger – Happy Herbivore's Pumpkin Pie Smoothie. It's like drinking a glass of pumpkin pie, but it's actually healthy!
Hella Good Pumpkin-Black Bean Quesadillas (recipe video below)
Vegan Pumpkin Chili (recipe video below)
Happy Herbivore's Pumpkin Pie Smoothie (recipe below)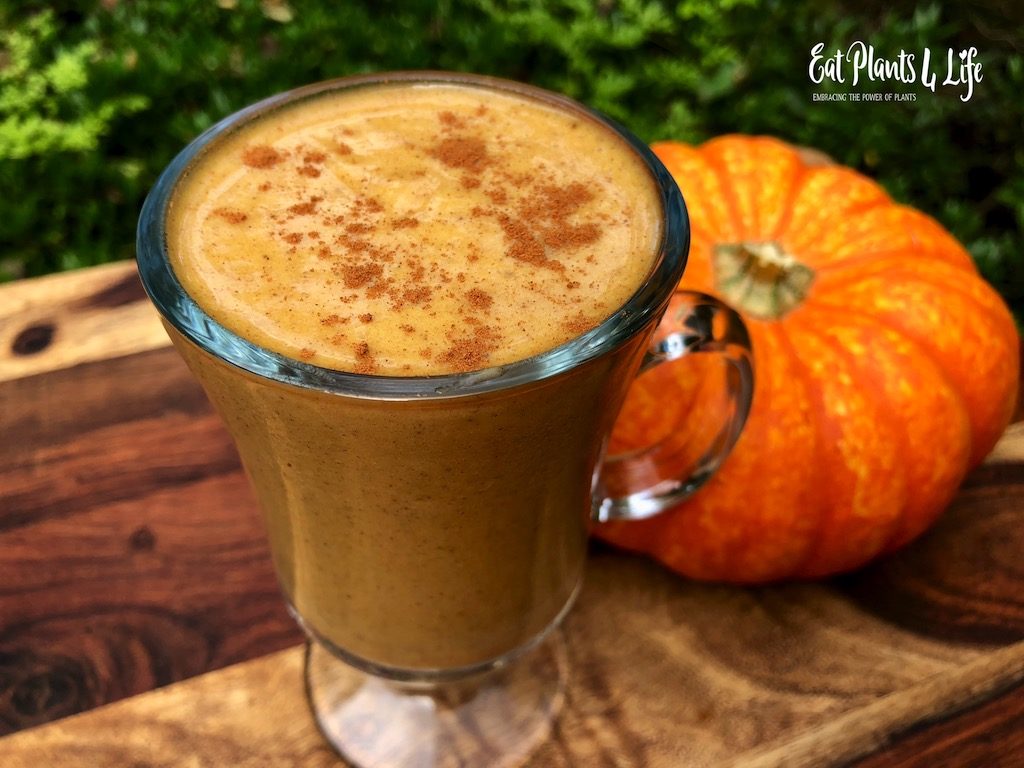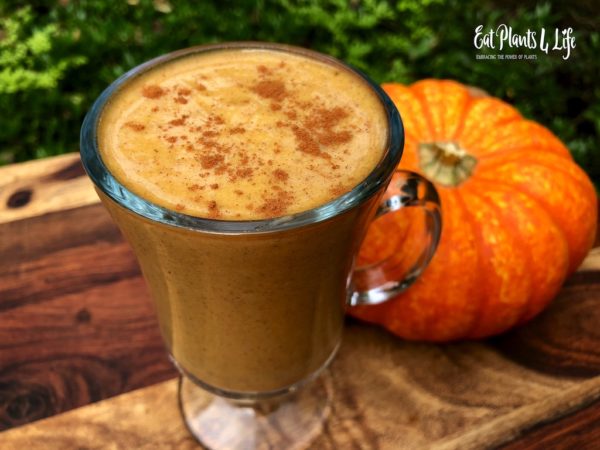 | | |
| --- | --- |
| | |
Combine all ingredientes in a blender and blend until smooth. Add more non-dairy milk to achieve desired consistency. Taste. Add more pumpkin or pumpkin spice if needed. Garnish with just a dash of cinnamon or nutmeg.
** ground ginger has a strong, distinct flavor, so you'll only need a dash or pinch. 
Next, check out the pumpkin recipe videos for 2 popular EP4L favorites: Vegan Pumpkin Chili and my Hella Good Pumpkin-Black Bean Quesadillas.
As my love-hate relationship with pumpkin begrudgingly enters phase 2, I'm left with a distaste for the processed, pumpkin-spiced propaganda I refuse to subscribe to, but my love of the use of it in healthy recipes, lingers throughout the year – justifying my incessant need to fill my Trader Joes cart with those infamous orange cans of 100% pure pumpkin glory. Enjoy!