In the plant-based world, Buddha Bowls are as popular as chicken is to a meat-eater.
In essence, Buddha Bowls, also referred to as Vegan Bowls, are large bowls (like a pasta bowl) that include an eclectic mix of healthy grains or starches, colorful vegetables, hearty legumes/beans or tofu, and optional vibrant fruit. The appeal is in the creative way multi-colored foods are displayed and packed in a nice convenient hand-held dish.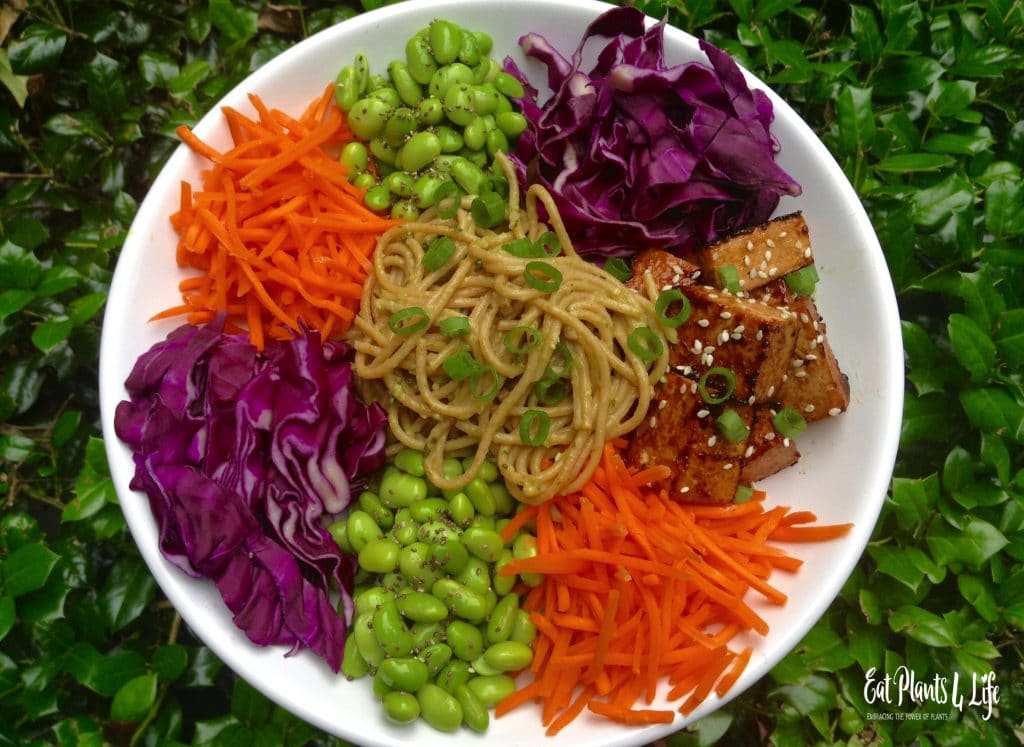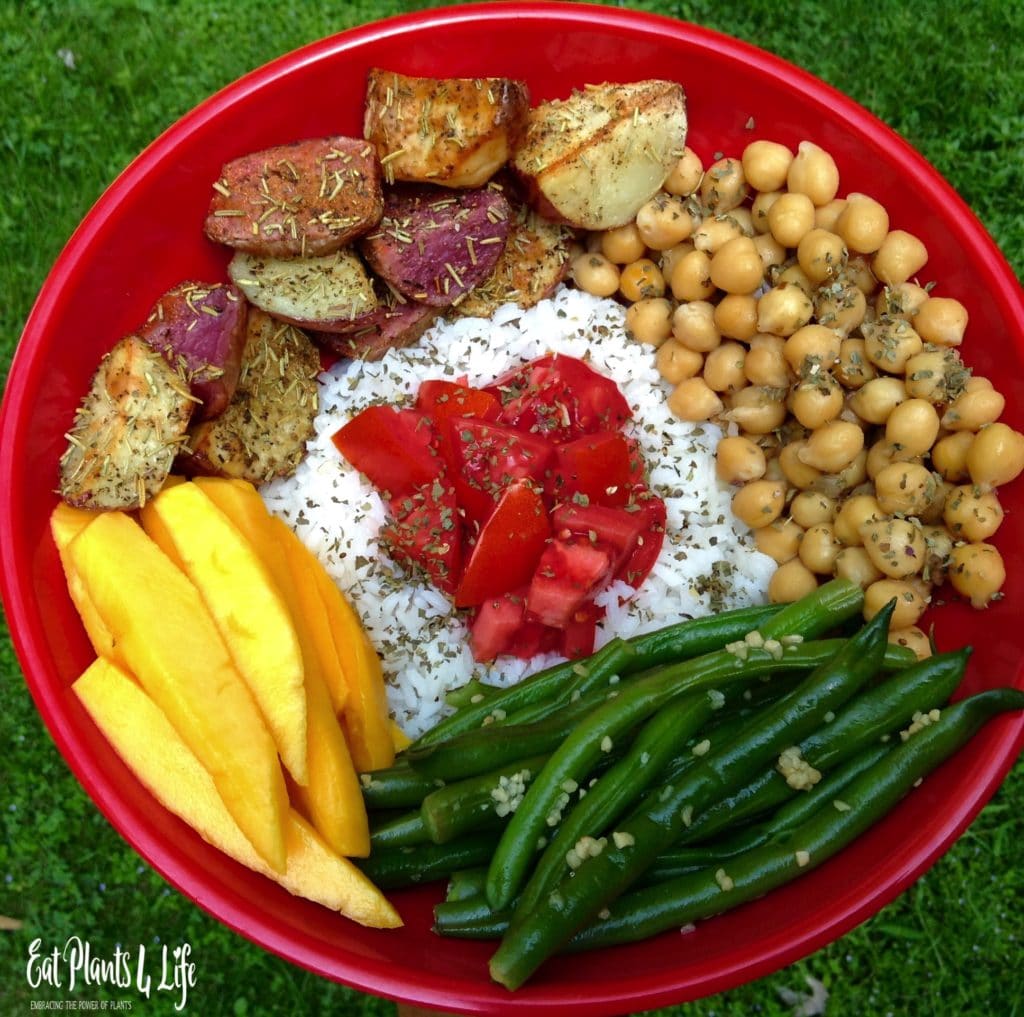 Like the historical teachings of Buddha, which symbolizes peace, harmony, and no suffering (like animal suffrage), a Buddha Bowl is a visually-appealing (although it's not a requirement) complete meal filled with vitamins, minerals, and flavor. There's nothing thought provoking about the selection. You can be as creative as your heart and taste buds desire.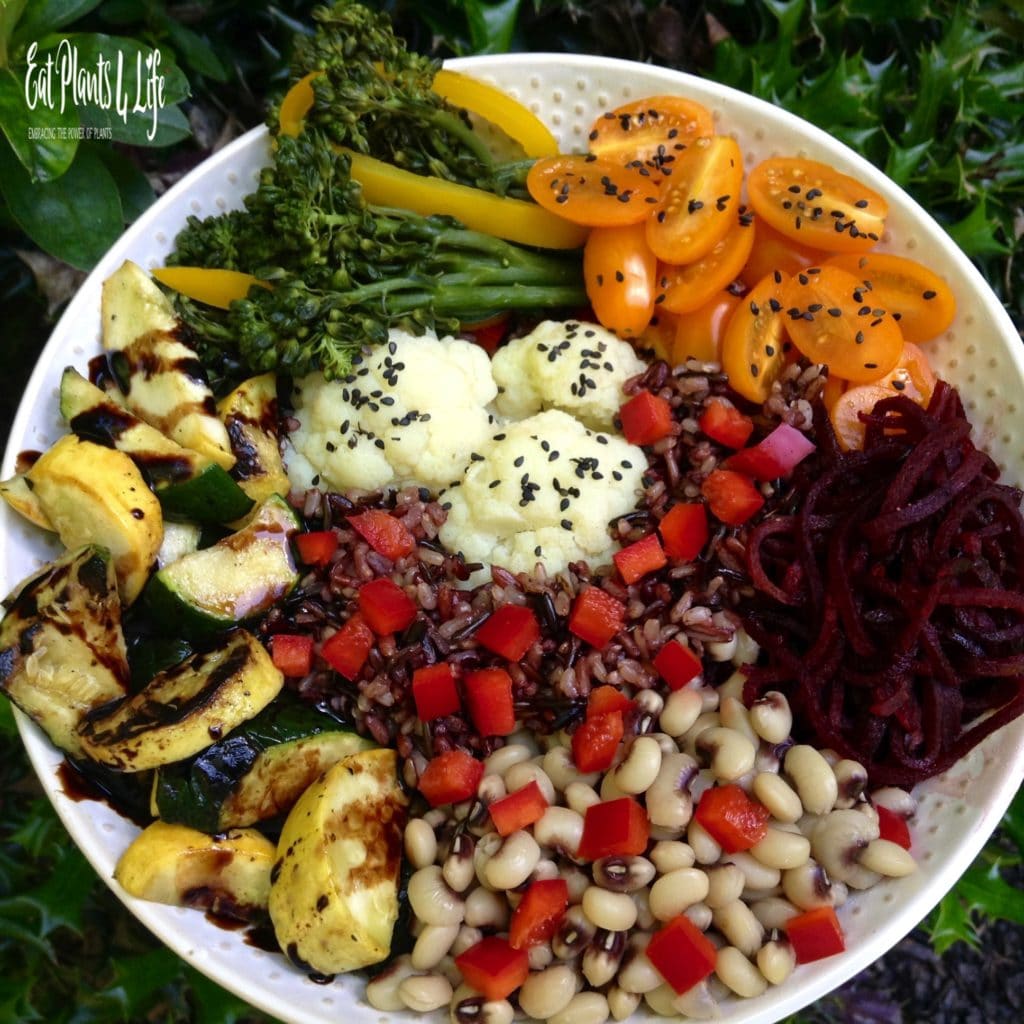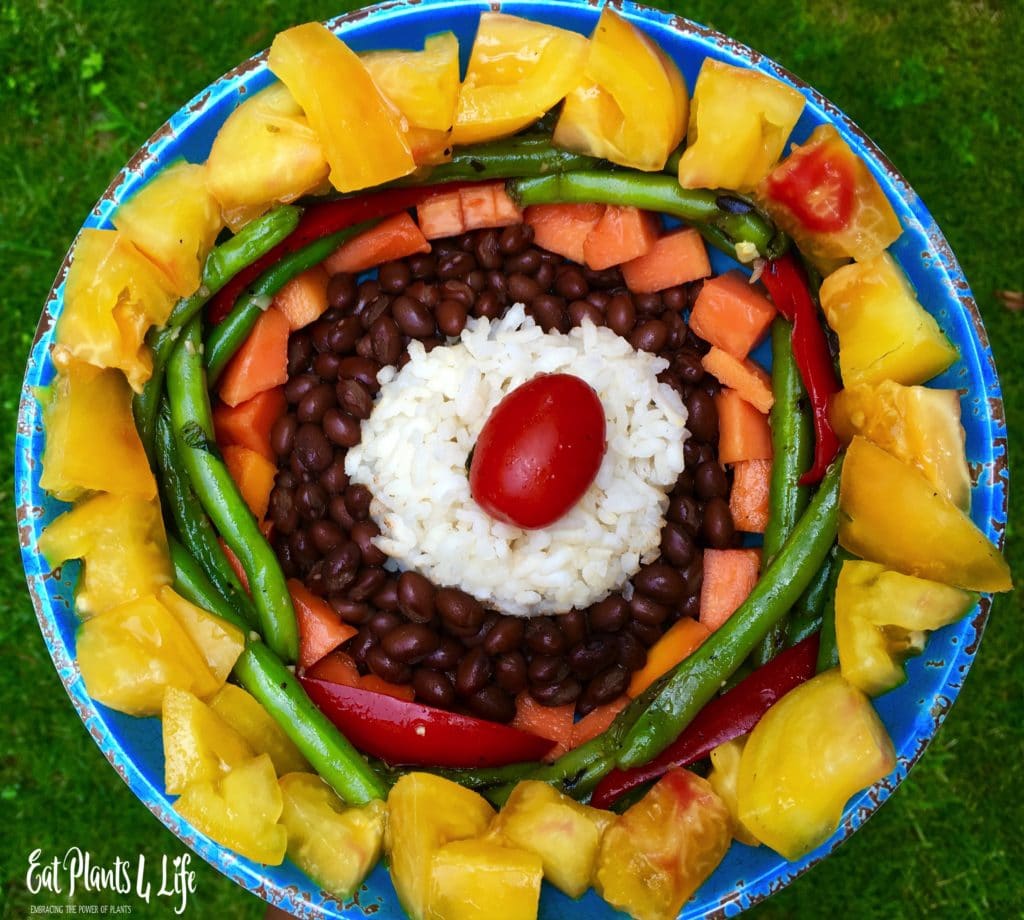 They're not only pleasing to the eye, Buddha Bowls are what I call, nutritionally efficient, economical, and fun.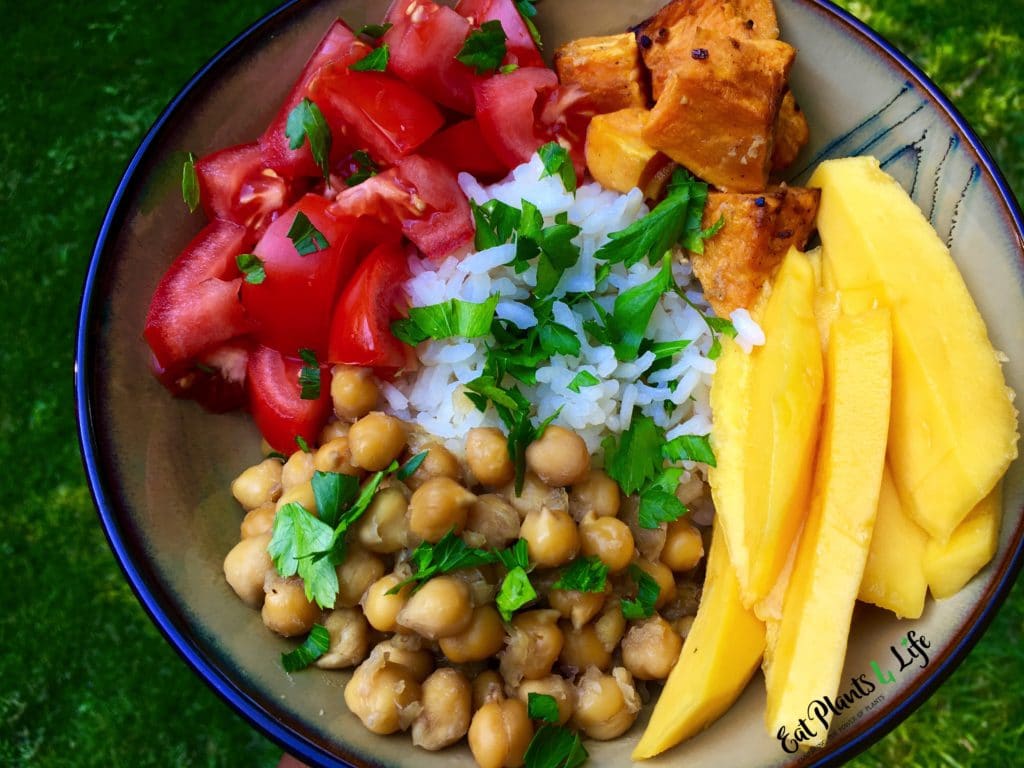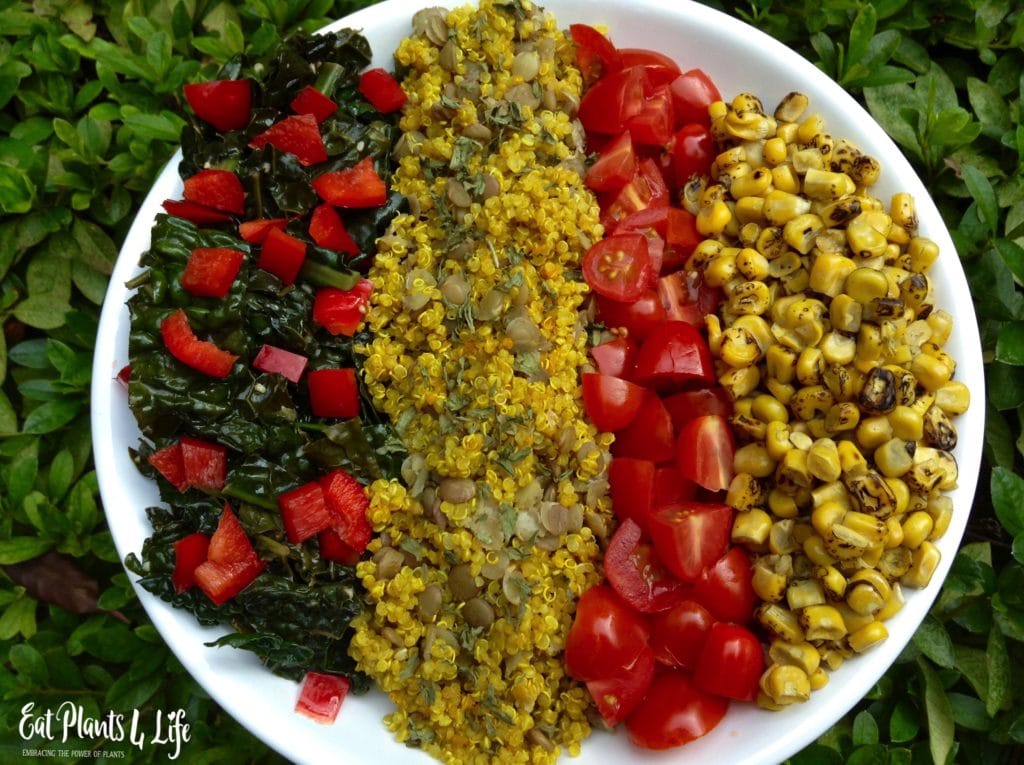 They're nutritionally efficient because they include most, if not all of the food groups, bringing harmony to your diet.
They're economical because they allow you to basically clean out your frig. If you have leftover veggies sitting in the vegetable bin and they look like they're on their last leg, a Buddha Bowl is your answer.
They're fun because they can really spark your creative spirit. Just Google "Buddha Bowls" or search on Pinterest and Instagram and you will see some of the most beautiful, professionally photographed examples from Buddha Bowl enthusiasts. Some of the pictures will leave you drooling and inspire you to "eat your colors." They truly make food an art.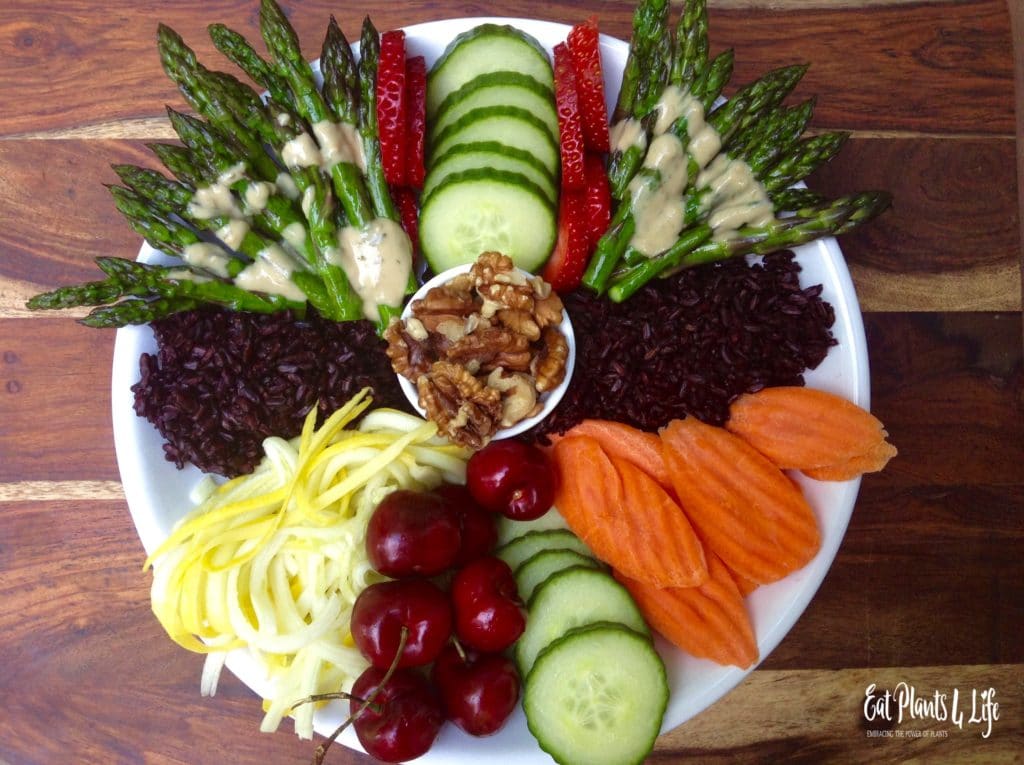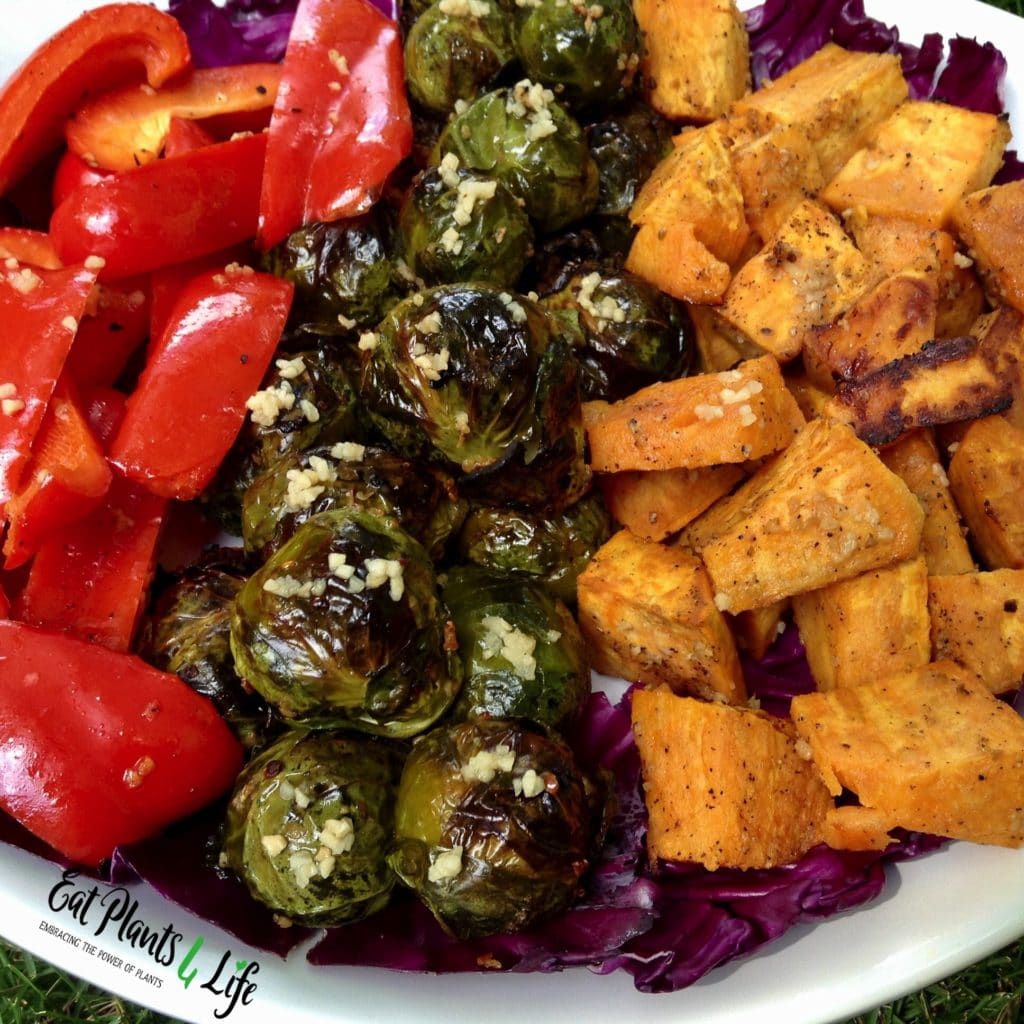 I enjoy them because I am a visual eater. Just like a fussy toddler, if it looks pretty, I like to eat it (or at least try it) and vice-versa. When I became a Vegan, this was especially important because I was giving up my meat-eating ways, so I wanted to compensate for that. Buddha Bowls were the answer.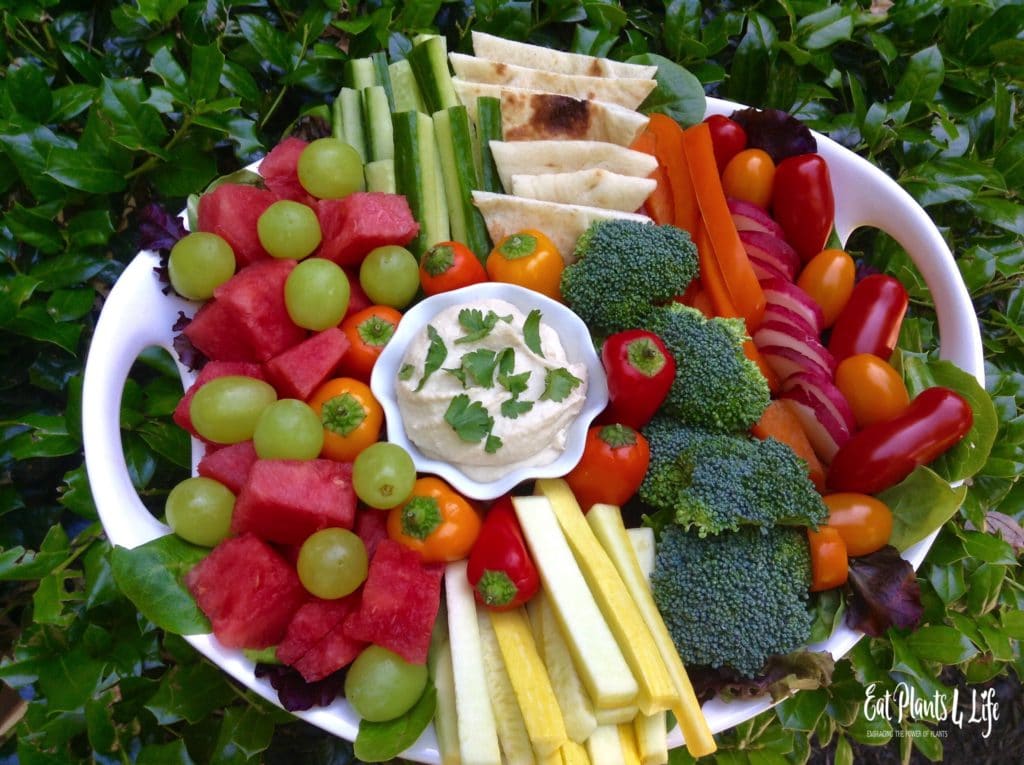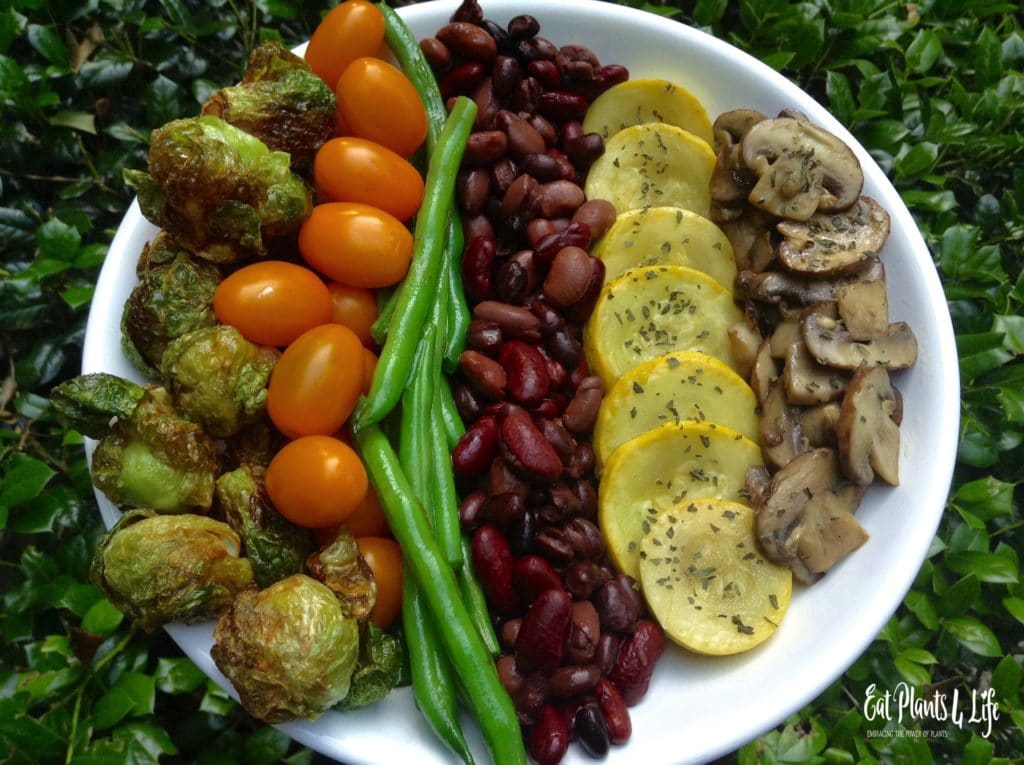 Today, my favorite lunch or dinner typically involves a Buddha Bowl. I create them at least 2-3 times a week. I'll have them twice a day, everyday just prior to a family vacation, just to get rid of all of the produce in the refrigerator before leaving on a long trip. I am all about avoiding the waste of expensive organic produce as it sits in my vegetable bins, so Buddha Bowls are a staple.
My hubby even likes them.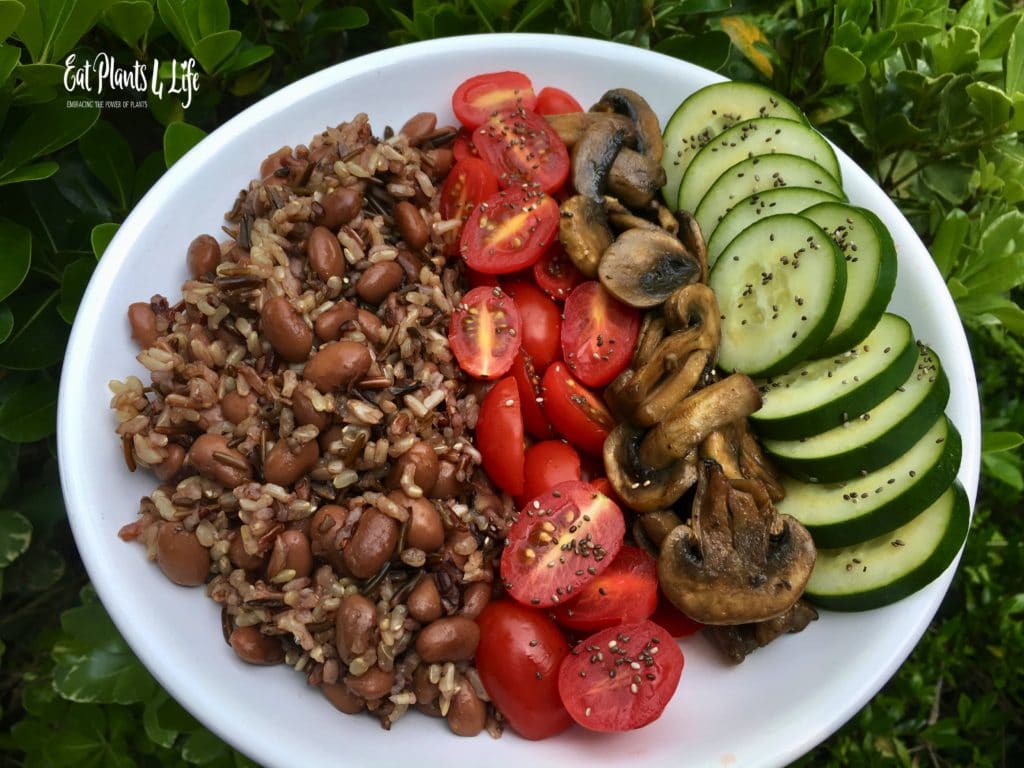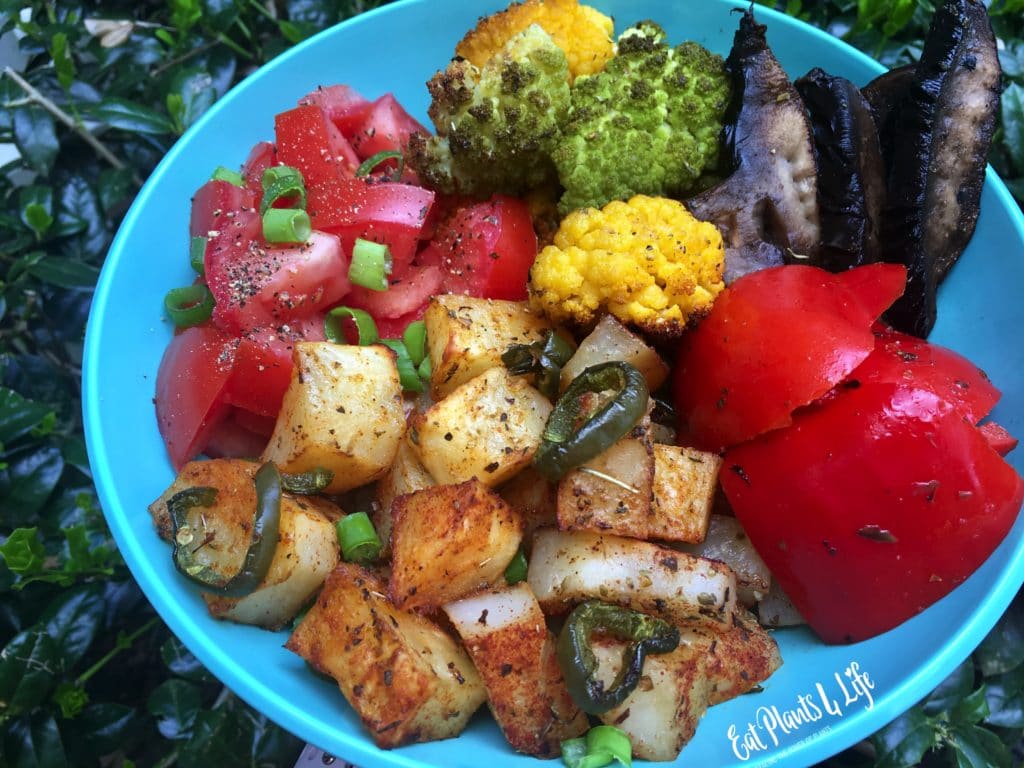 Because lack of time is always an issue in today's culture, a Buddha Bowl is the perfect Meal Prep Idea.
Meal Prep Sunday Buddha Bowls are workweek's worth of dinners or lunches ready to go when you get home or to work. It saves you so much time and takes the guesswork out of the deciding "what's for dinner?"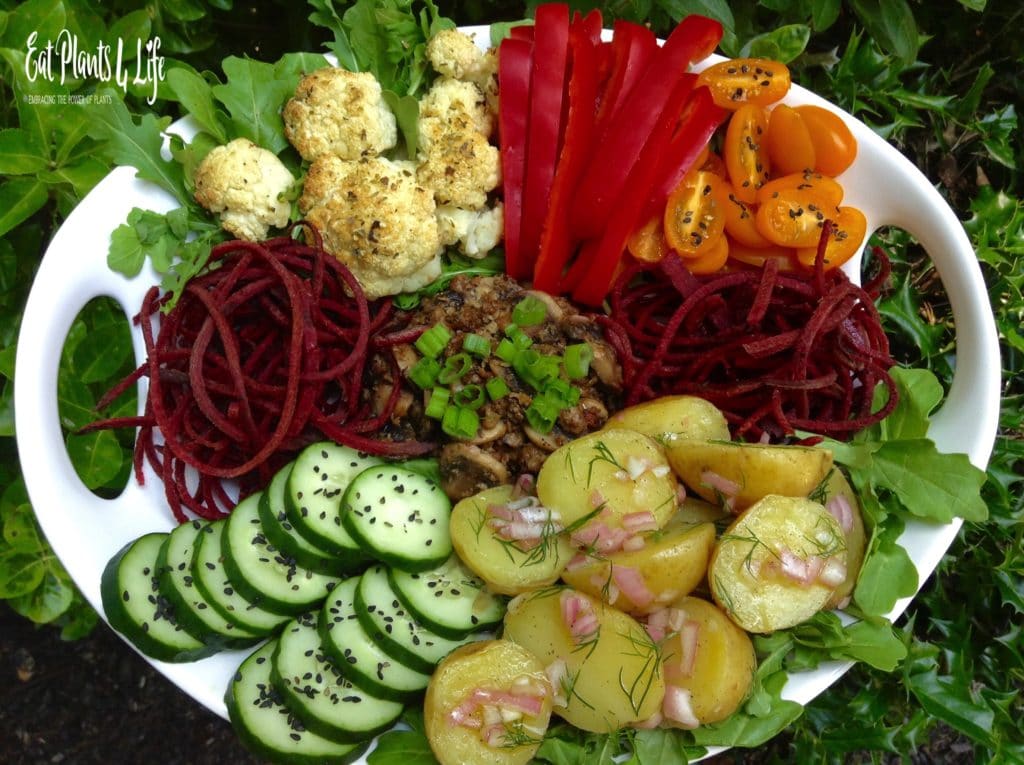 This is how it works:
On Saturday, go shopping or take note of what you already have on hand. To get started on a workweek's worth of Buddha Bowls, here are the basics:
2-3 grains/starches (i.e. wild rice, petite red potatoes, chopped sweet potatoes, corn, or quinoa). Total: 5 cups of cooked grains.
3 types of beans (either dry or canned). If using canned, buy at least 1 can per bean type. You can also use tofu for another protein-packed choice. Total: 3-5 cups.
Various non-starchy vegetables for roasting (i.e. cauliflower, peppers, broccoli, beets, or green beans). You can also choose raw veggies (i.e. cherry tomatoes, mixed greens, carrots, cucumber slices, zoodles, or edamame). Total: 8-10 cups of various veggies.
Raw fruit (i.e. mango, tomatoes, strawberries, or nectarines), optional. Total: 5 servings.
If using dry beans, soak overnight on Saturday. If using tofu, marinate tofu cubes or slices overnight in your favorite marinade (i.e. garlic and soy sauce or orange sauce).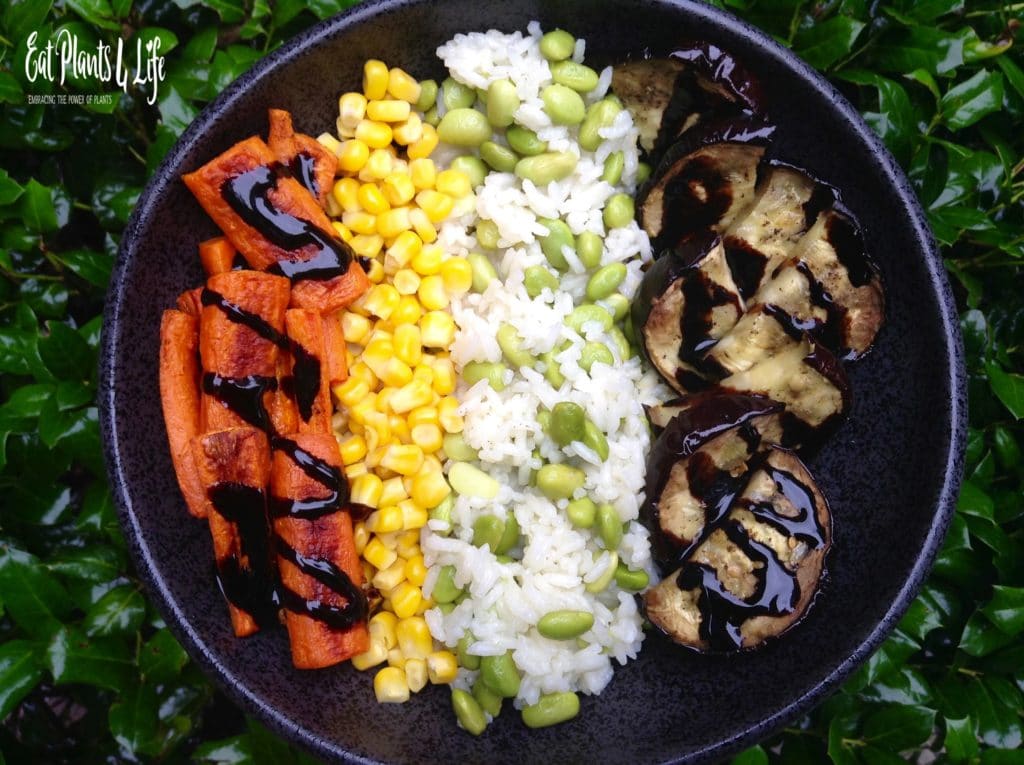 On Sunday, while your pre-soaked beans are cooking, make your 2-3 grains/starches. If you're using potatoes, you can roast them with your veggies. Pan-sear or bake your tofu and roast all the veggies you have on hand or have pre-selected.
Place cooked food in individual containers (i.e. all of your chickpeas in one container, all of your broccoli in another container). Refrigerate until you're ready. Place raw, prewashed, pre-cut veggies in individual containers also.
When you're ready, grab your pasta bowl and strategically and creatively place 1 cup of your prepared grains/starch, ½ -1 cup of the cooked beans/tofu, and 1½ – 2 cups of the roasted veggies in your pasta bowl. Reheat it in the microwave. If you're including them, add pre-cut raw veggies and a serving of your preselected fruit (chopped) to your bowl.
Take a photo of your Sunday Meal Prep masterpiece and enjoy bringing harmony to your diet and eating your colors!