Last week, I shared my definition of a Hallelujah Friday. It's when your 10-year old MasterChef prodigy takes over the kitchen and makes a Vegan meal while your husband volunteers for kitchen cleanup duty.
Madison's Spring Veggie Rolls (click here for her masterpiece) were a hit and now a recipe staple. But now she has competition in the form of a precocious 8-year old named Grace who happens to be her little sister and who also happens to relic in her given title of IronChef.
For two weeks in a row, I've had the pleasure of a gourmet, homemade Vegan meal from two very determined chefs. This week, IronChef Grace takes over and delivers her "Spicy Potato Wedges" and "Nachos & Salsa" from Denise Smart's book, Cooking For Girls.
The first thing I learned was that when comparing the two siblings, Grace's cooking efforts, showed some distinct differences.
•Yes, the 8 year-old was messier.
•Yes, a step stool was a must and not an option.
•Yes, the 8 year-old has a slightly different perception of a ½ tsp measurement. Heaping ½ tsp comes to mind.
•Yes, the 8 year-old will need you for all cutting purposes, even though she thinks that a serrated knife is okay for her to use.
•And yes, posting a copy of the recipe on the cabinet door was smarter than leaving the book on the counter-top during the (messy) cooking process.
But two things stood clear. She was determined, had an awesome result, and was proud of her work – so was I. 
And boy, does she love the camera. I was the designated paparazzo.
The result? A hearty, gourmet, Vegan meal, a boost in an 8-year old's self-esteem, and one proud mama!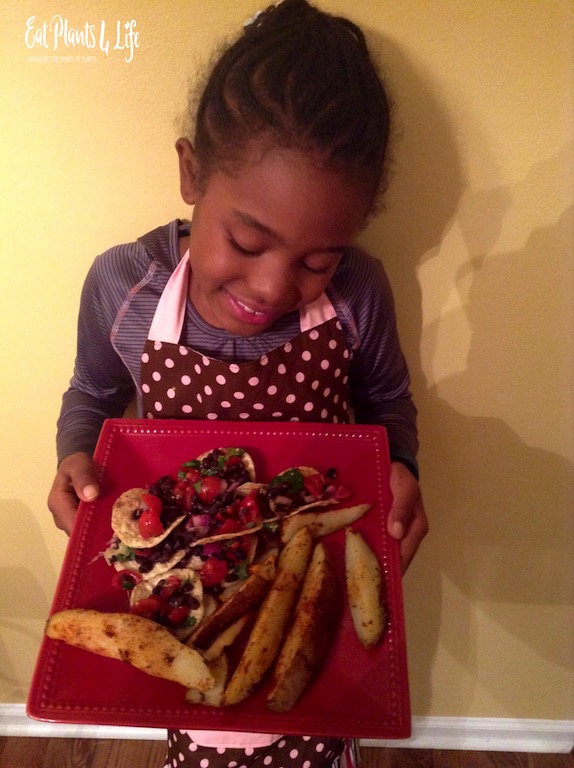 | | |
| --- | --- |
| | |
Cut each potato into large wedges (or have an adult do it if you're 8).

Bring a large pot of water to a boil. Add potato wedges and simmer for 8 minutes. Drain.

In a large mixing bowl, gently mix together all of the remaining ingredients. Add potatoes and gently toss to evenly spread on the spice rub.

Place wedges on a nonstick cookie sheet, skin side down. Brush with remaining spice rub. Cook for 20-25 minutes until golden brown.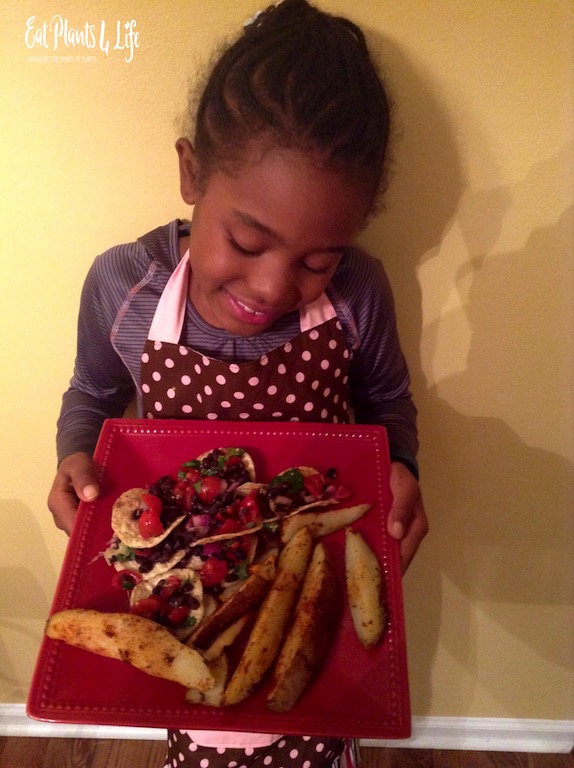 | | |
| --- | --- |
| | |
Preheat oven on 425 degrees.

Place all ingredients, except tortilla chips and Vegan cheese in a medium mixing bowl. Mix.

Place tortilla chips on a large cookie sheet. Spoon over the salsa mixture. Add optional Vegan cheese.

Place in the preheated oven and cook for 3 minutes (or until Vegan cheese melts).