I can remember a time when the word "cheesecake" inflicted euphoric thoughts. Stop laughing—it actually did. It was my all-time favorite dessert in my teens and twenties. Yes, my cheesecake obsession span over several decades.
My two favorites at the time were Romano Macaroni Grill's NY Style Cheesecake with a Caramel Sauce and Olive Garden's Raspberry White Chocolate Cheesecake. My college roommate and I would make frequent visits to New York's Times Square Olive Garden in order to infiltrate this very cheesecake whenever we finished a big school project. As a penniless college student, I was so committed to our routine that I would charge it to my credit card. Every. Single. Time.
After college and as I reached my thirties, the desire for the decadent dessert was still there, but the pounds it added to my lower region gave new insight to the phrase "junk in the trunk," so I was not as dedicated to frequenting the Olive Garden.
I would still indulge from time to time, but I noticed that besides the weight gain, there was another by-product of my cheesecake consumption – the stomach aches. Sometimes, out of the blue, I would experience stomach cramping soon after eating it. I wasn't medically diagnosed as lactose-intolerant, but eating rich and decadent cheesecake began to challenge that.
Because I was never a big fan of taking a pill in order to eat a dessert rich in dairy, my relationship with cheesecake regrettably diminished – – well, kinda. A girl can dream.
EP4L's plant-based – yes, dairy-free All-American Berry Cheesecake will satisfy your cheesecake craving without causing the painful side effects for the dairy sensitive. It's light and creamy with a hint of lemon flavor and it won't leave you feeling bloated like the regular stuff.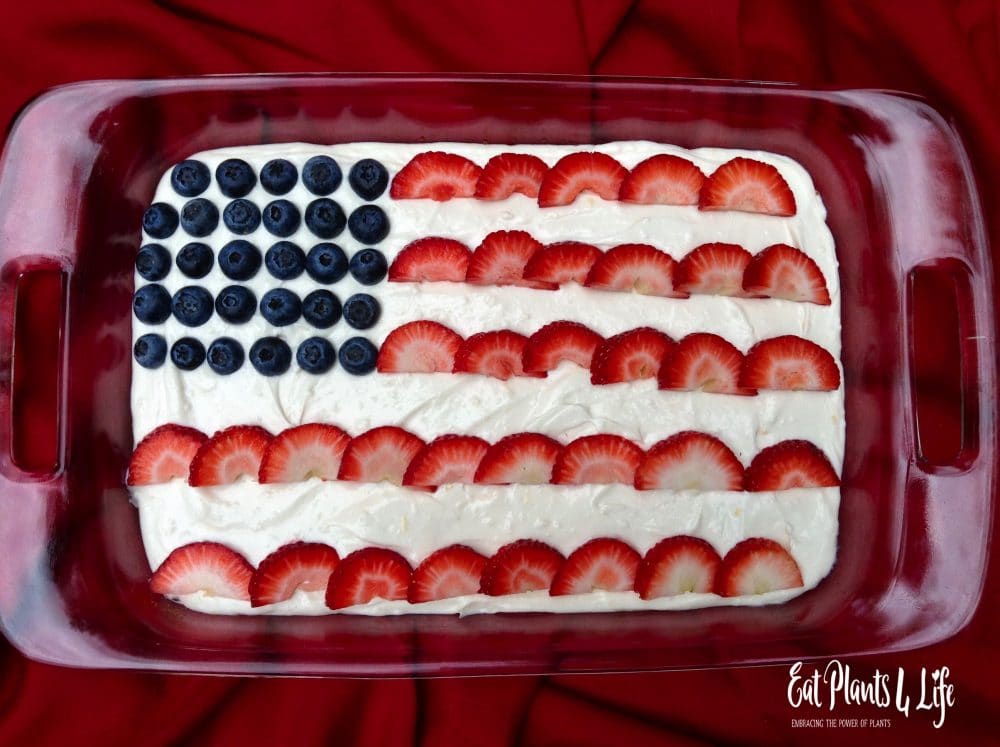 The Vegan gingersnap crust adds another layer of sweetness. If you're not a gingersnap fan, Oreo cookies (minus the cream filling) or graham crackers can be crushed and used instead.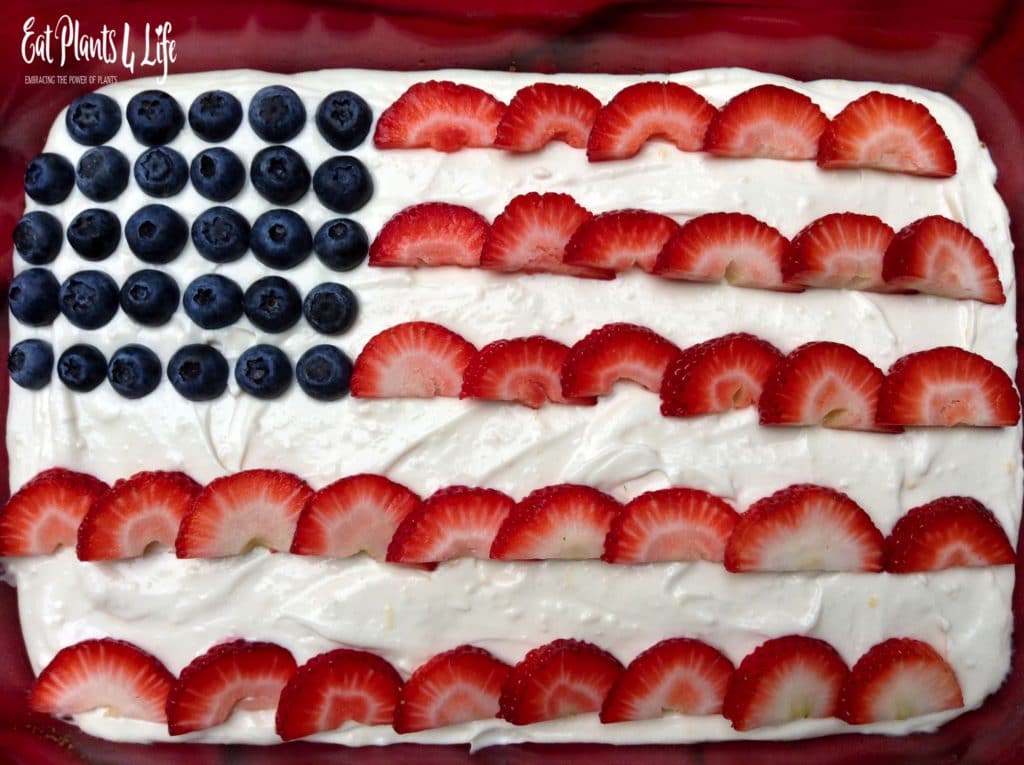 The fruit topping can be fresh fruit or canned pie filling. I used fresh fruit because I'm not a huge fan of the added sugars and artificial colors associated with most pie fillings.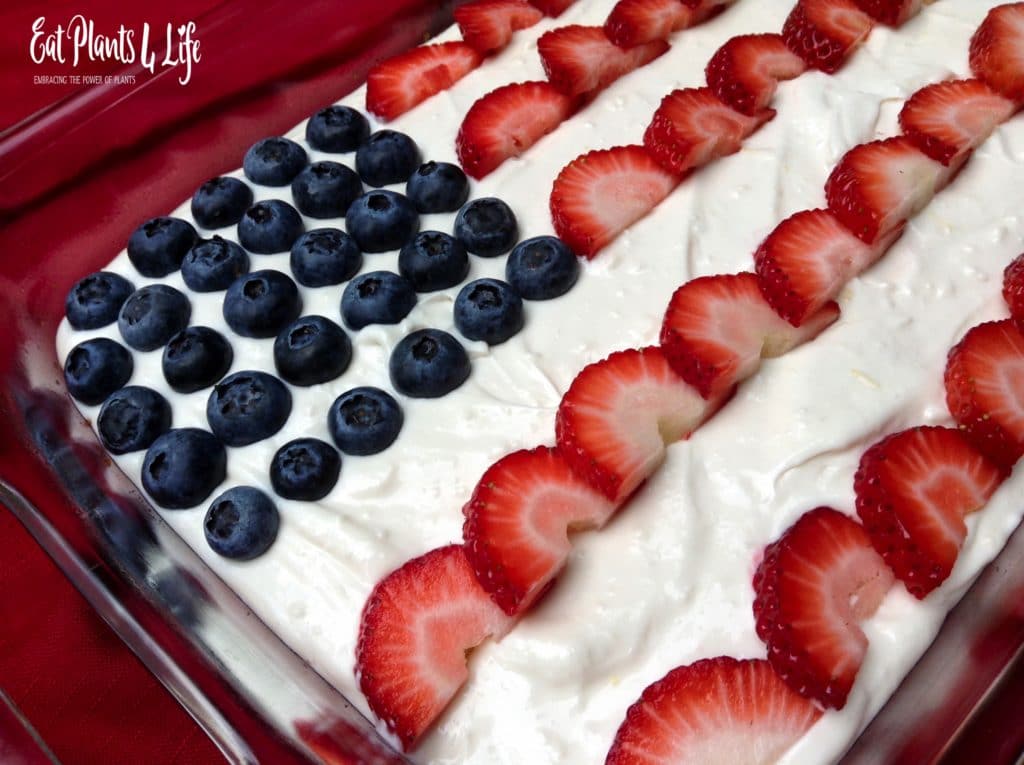 Create a flag theme and serve to cap off a Memorial Day, Labor Day, or Independence Day gathering.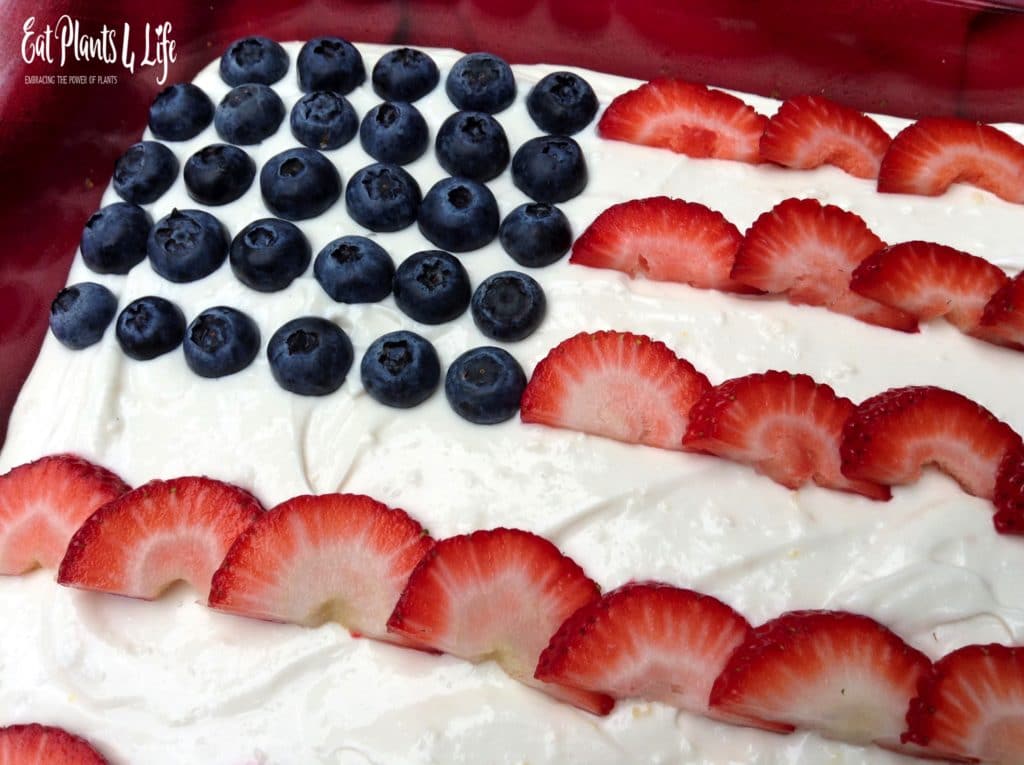 Dairy-free, creamy, lemony 'cheese'cake with an American flag theme. The Vegan gingersnap cookie crust adds another layer of sweetness. Fresh berries make this dessert All-American. *For this recipe, you will need a 9"x13" baking dish to create an American flag theme.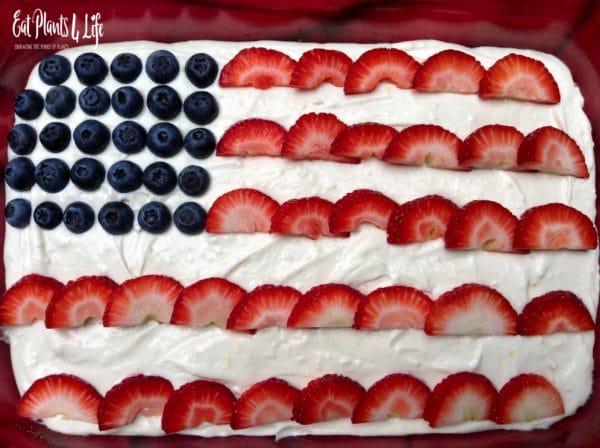 Gingersnap Crust Ingredients:
Filling/Topping Ingredients:
Prepare the crust: Preheat oven to 350 degrees. Spray a 9"x13" baking dish with cooking spray. Place crumbled gingersnaps in a mixing bowl. Add warm melted butter. Stir mixture until butter evenly coats the crumbs. Add to the baking dish. With your hands, press cookie crumbs into the bottom and about 1/4" up the sides of the baking dish. Bake in preheated oven for 8-10 minutes. Set aside and allow to completely cool.

Prepare Filling: Add cream cheese, sugar, whipped topping, and lemon juice to a large mixing bowl. Beat with a hand mixer on medium speed until well combined (about 1½ - 2 minutes). Fold in lemon zest.

Add cream cheese filling to cooled crust. Top with fresh berries as shown. Cover and allow to set in the refrigerator for at least 2 hours or overnight.
*Crumble your gingersnap cookies by placing cookies in a sealable gallon-size plastic bag. Crush, pound, clobber, and pulverize cookies with a rolling pin and by hand squeezing until cookies are completely crumbled.
Prefer to make individual servings? Make them into shooters! I made these two ways – one with a gingersnap crumbs and the other with Vegan chocolate cookie crumbs.