Eggplant's time is limited! I absolutely dread the thought of this seasonal meat replacer leaving my local farmers market or produce section of the grocery store.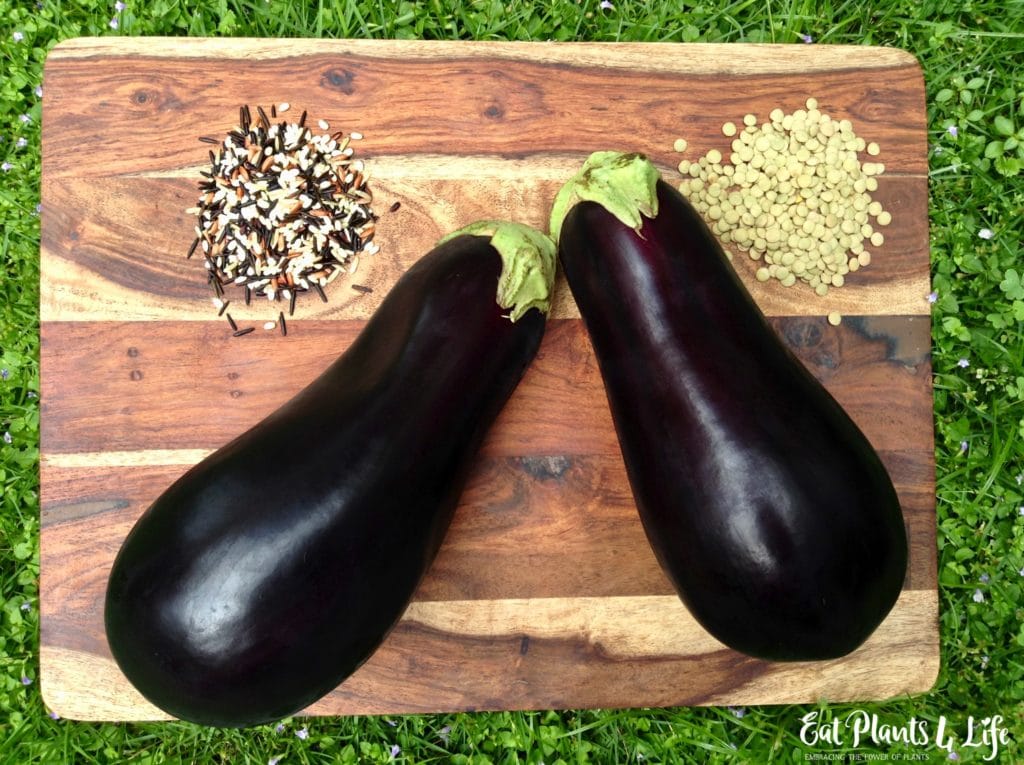 Yes, eggplant's peak selling period is July-October. Because October begins in just a few days, it begrudgingly reminds me that eggplant's departure is also eminent.
You have just a month left to enjoy her!
I'm a late bloomer – an eggplant novice, if you will. I did not know that this controversial fruit (vegetable according to some sources) had such versatility before I switched over to a plant-based diet. Sharing genetics with three of my other loves – –  potatoes, tomatoes, and peppers, here are just a few of eggplant's many benefits:
Good source of potassium and vitamin C

High in fiber

Has cancer fighting anti-oxidants

Low in calories (about 25 cal. per cup)

Has minimal fat (practically a trace amount, in fact)

Full of water

High in bioflavonoids (a blood pressure controller)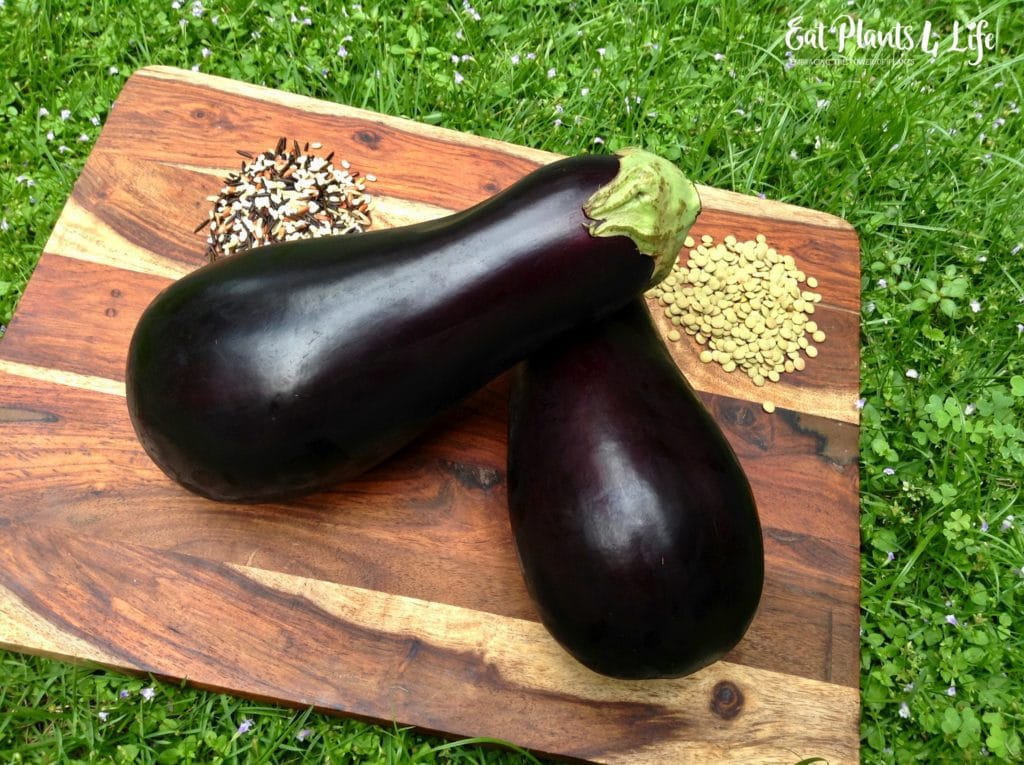 Also known as Aubergine, this glossy, deep purple-colored gem is great roasted, grilled, baked, sautéed, or fried.
Enjoy eggplant for a few more weeks by cooking up 2 EP4L recipes that pay tribute to this gifted, egg-cellent main course or side dish. 
My Stuffed Eggplant is a hearty, savory mix of wild rice, a rainbow of peppers, protein-packed lentils, and shallots. It also makes a great topping on a baked potato or as a  taco/burrito stuffer!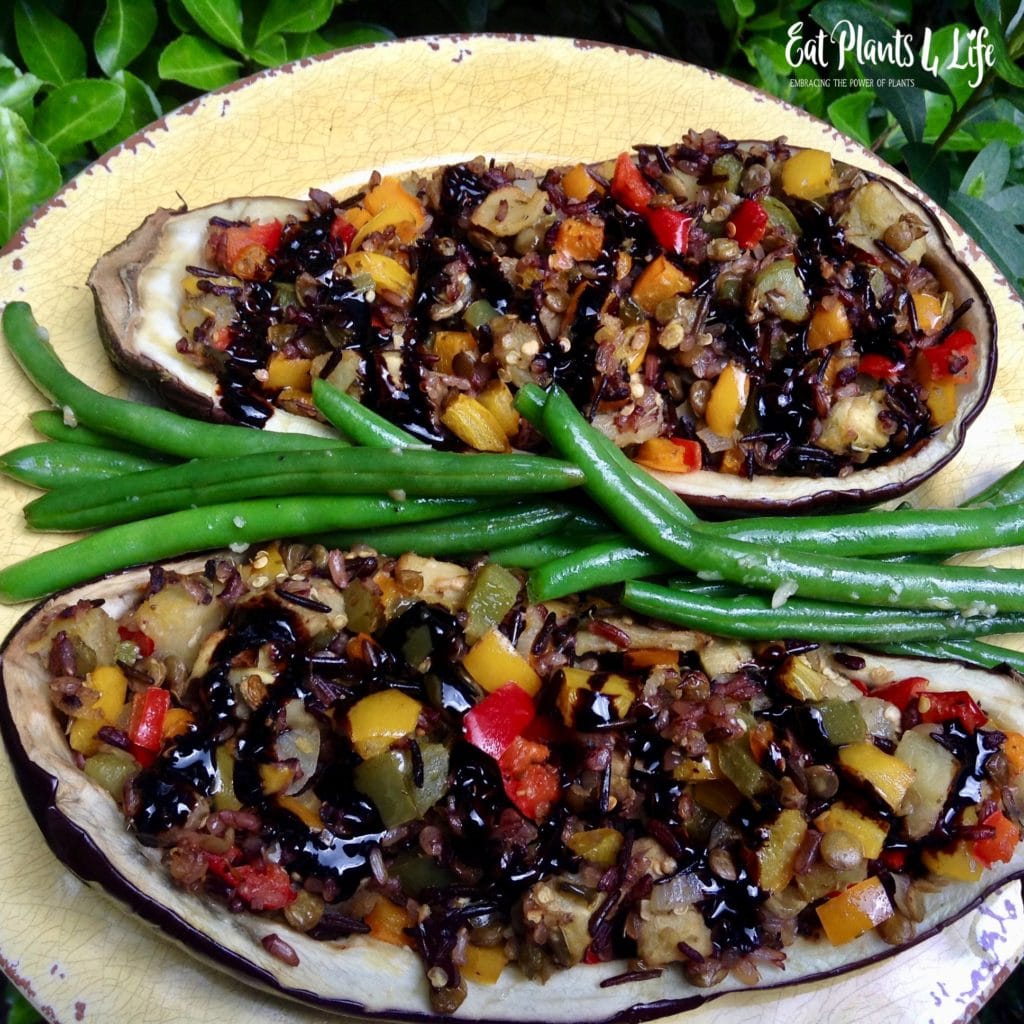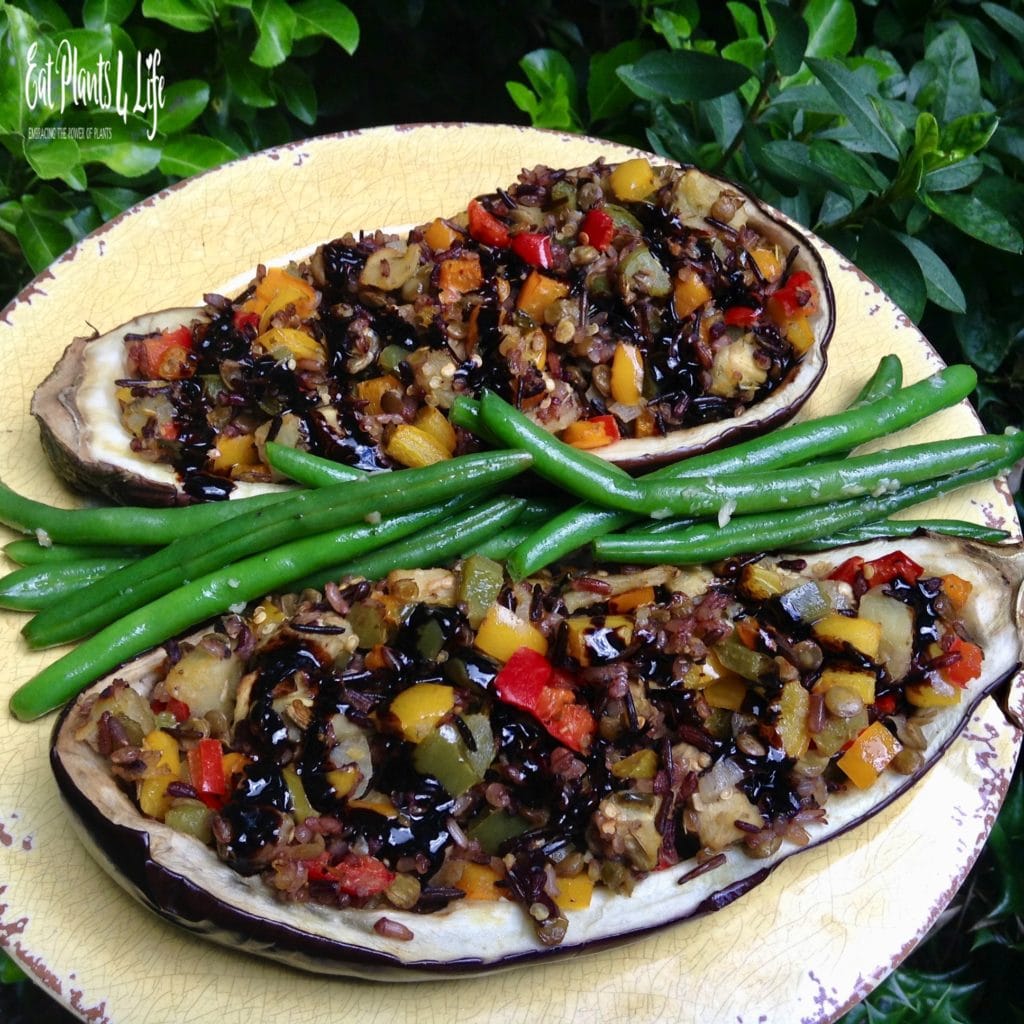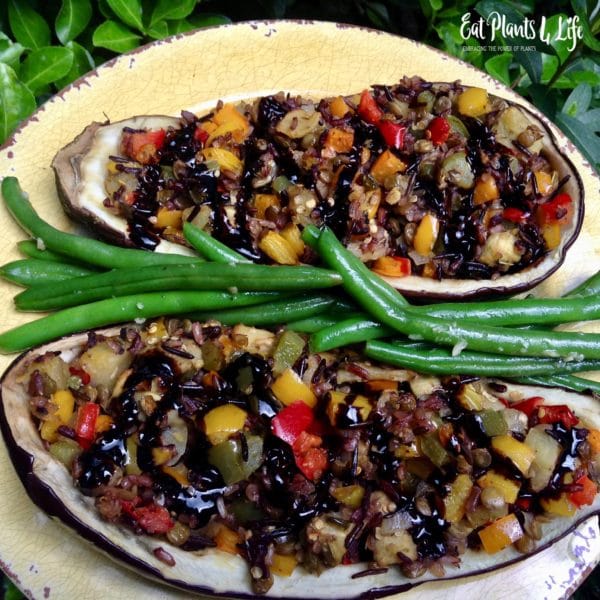 | | |
| --- | --- |
| | |
Wash eggplant. Cut in half lengthwise. Use a paring knife to carefully cut along the sides of the eggplant about 1/2" from the edge (see pic). If you puncture the bottom (like I did), that's okay. No one will see it.

Use a spoon to scoop out the flesh while leaving a 1/2" lining of eggplant on the inside.

Chop up the flesh (yes, the seeds are edible).

Generously salt the inside of the eggplant shell. Place the chopped eggplant into a colander and generously salt it also. Set both aside for 1 hour. The "salting" process draws out the eggplant's moisture and gets rid of any bitterness. Thoroughly rinse the salt off of the chopped eggplant and the 4 halves after an hour. Gently squeeze most of the excess water out of the chopped pieces. Use paper towel to dry the halves. Set them both aside.

In a large saucepan, heat oil on medium-high heat on the stovetop. Add garlic, onion, and peppers (including jalapeño) to the pan. Add salt (about ½ tsp.) and Italian seasoning. Cook until onion is translucent and peppers are slightly tender, but not mushy.

Reduce heat to medium temperature. Once the chopped eggplant is rinsed and squeezed of any excess water, add the eggplant chunks to the pepper mixture and cook for an additional 3 minutes, while stirring occasionally.

Add cooked lentils and wild rice to mixture. Combine thoroughly.

Remove from heat. Tightly stuff eggplant halves with veggie/rice mixture.

Place your stuffed eggplant onto a cookie sheet and bake for 15-20 minutes, so all of the flavors can marry.
Other Options:
You can just scrap the idea of stuffing the eggplant, discard the eggplant halves and simply serve as just a side dish

Add fresh chopped mushrooms

Add canned chopped tomatoes 

Add cumin, rosemary, or thyme.

Add cooked veggie/rice stuffing to soft tortillas and make them into burritos

Use stuffing as a taco filler
Next, my Tabbouleh-Topped Eggplant Filets recipe is a light, aromatic dish with international flair! The tangy, balsamic glaze canvases an earthy mix of quinoa and fresh raw veggies/herbs and piled on lightly seasoned grilled eggplant steaks. You won't believe how easy it is to make!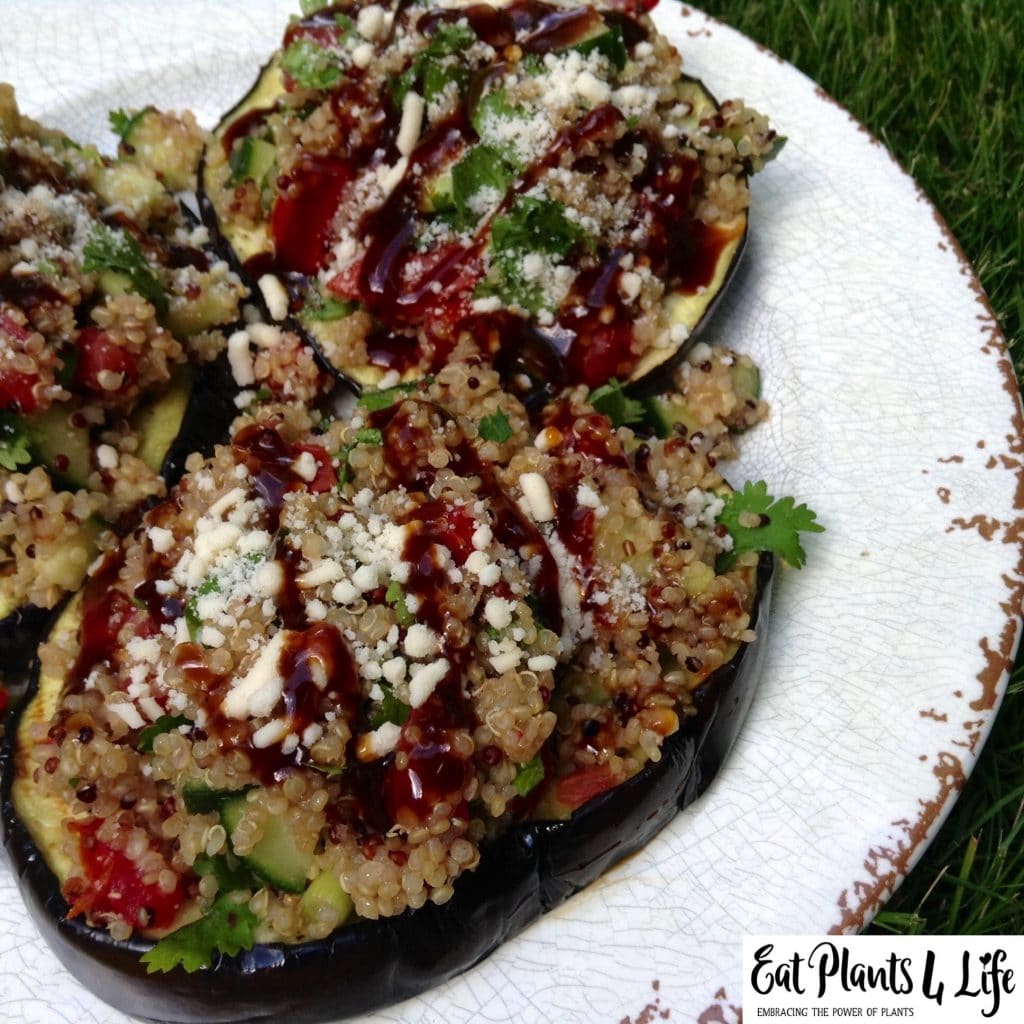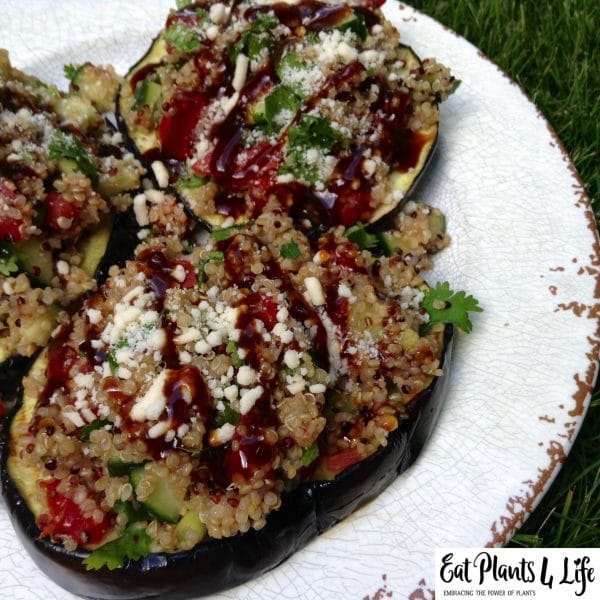 | | |
| --- | --- |
| | |
Sprinkle a generous amount of sea salt on both sides of eggplant filets. Set aside for an hour. This allows the eggplant to lose some of its bitterness. After an hour, rinse filets and pat dry. Make Tabbouleh.

Place cooked quinoa in a large bowl. Add cucumber, tomatoes, onions, parsley, and balsamic vinegar. Mix thoroughly. Set aside.

Brush both sides of eggplant filets with olive oil, garlic powder, sea salt and pepper. Grill each side until eggplant is golden brown (about 4 minutes per side).

Transfer to a serving plate. Top each filet with prepared Tabbouleh and optional Vegan parm. Drizzle top with balsamic glaze.
Better get cracking' and take advantage of eggplant before this yummy, healthy and nutritious fruit vanishes. Enjoy!
Don't miss any of our delicious recipes. Sign up for the weekly email newsletter today for full access to all recipes all the time!