Can you believe there's a National Junk Food Day?
It was July 21st, but although the day has passed, it's never too late to celebrate it. I honor Junk Food Day at least 2-3 times a week.
What's your favorite junk food? Ice cream? Potato chips? Chocolate Cake? Cookies?
Yes, yes, yes, and yes?
No question about it, my favorite is a plate of French fries. But not just any French fries. If I'm going to indulge, I have to do it right.
I've been known (my husband, too) to select a restaurant solely based on the quality of their spuds. If a restaurant's French fries taste like they were shipped from a factory, pulled out of a bag, plopped into a basket, and lowered into a pit of grease, I'm not buying it. I don't care if that same restaurant has the best, grade A+ black bean burger in town. I'd rather go to a restaurant that had a B burger and A+, hand-cut, perfectly seasoned French fries on the menu.
I've even gone as far as to pick up the burger from one place and pick up the better quality fries from another. Don't judge me. 
Yes, I'm unapologetically serious about my French fries. I don't care if they're not considered healthy, my rationale is that at least it's a potato.
Recently, however, I went to one of my favorite restaurants and ordered (as an appetizer) Asparagus Fries. I was a little hesitant as asparagus is not my typical go-to vegetable.
I was blown away. I was so impressed by how satiated I felt after eating what I could eat (my family and I were racing to the basket), that when my black bean burger and what else, hand-cut French fry entree was placed on the table, I no longer wanted the fries.
I would have been just as pleased with the burger and Asparagus Fries.
The kicker is: I'm not even an asparagus fan! Not by a long shot.
Feeling stoked, I plotted to create my own plant-based Asparagus Fries, in hopes of switching things up, relaxing on the potatoes, and improving my relationship with what I use to refer to as… aspar-me-a-gus.
EP4L's awesome Lemon-Pepper Battered Asparagus Fries are a healthier take on French fries. I still consider it junk food, since it is fried in oil, but it gets the kids and me to eat a vegetable we would otherwise avoid.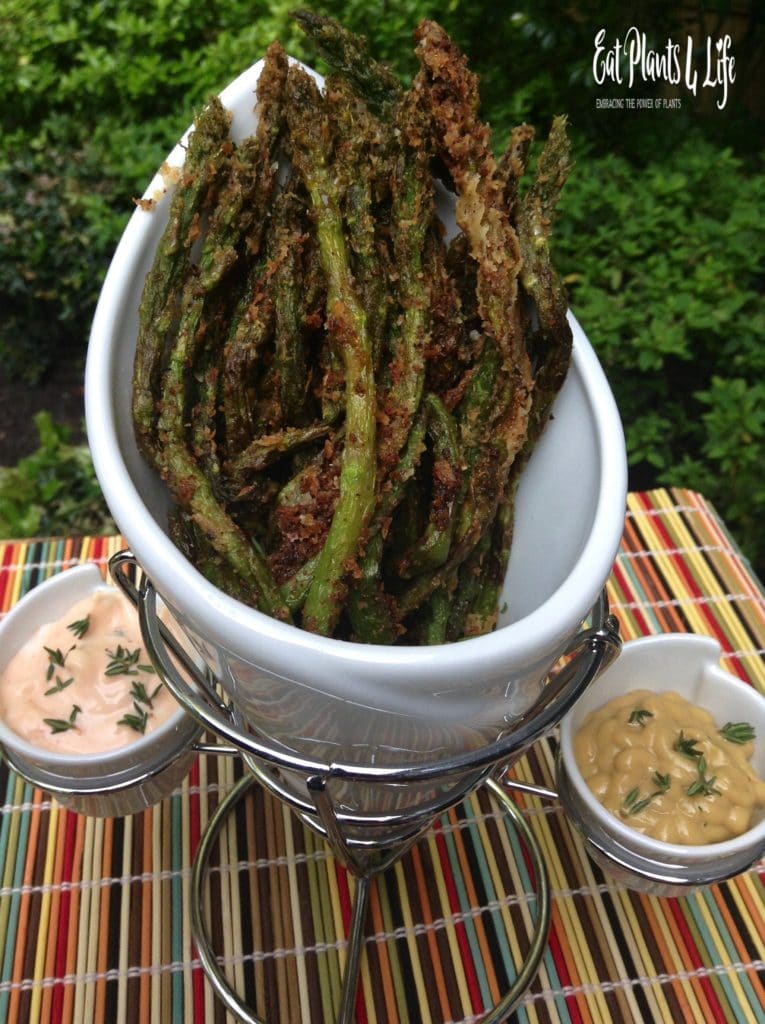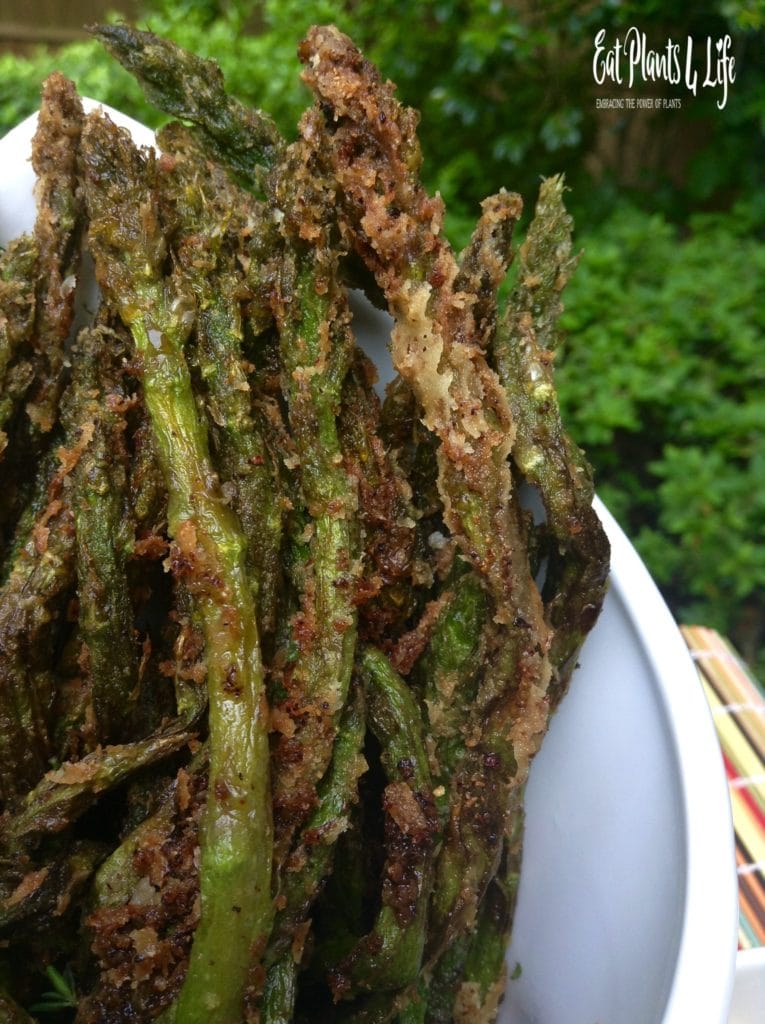 My Lemon-Pepper Battered Asparagus Fries are lightly battered in a simple mix of flour, salt, lemon pepper seasoning, and garlic powder. Then they're quickly fried until golden brown.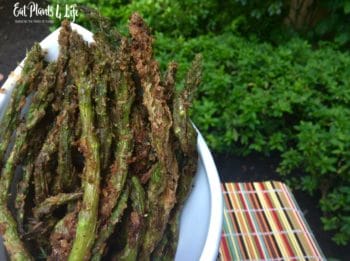 They're light, crisp, oh so perfectly seasoned, and simple to make. Although these tasty fries are heavenly, they're not very photogenic. My pictures are by far, not the prettiest and does not do it any justice.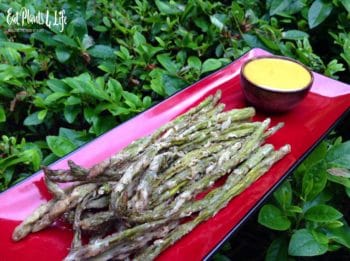 Serve as an awesome appetizer with my easy Spicy Maple Mustard Dipping Sauce or Sriracha Mayo Dipping Sauce. Or make it your veggie dog or black bean burger's sidekick.