A Super Bowl or any Game Day party just isn't a party without a showstopper spread including the Best Vegan Layered Dip you could ever Google. I'm not a huge football fan, but any excuse to have a party would make me gear up, grab the eye black, and create a memorable feast of Vegan party appetizers for my football fan guests. You'll be the MVP!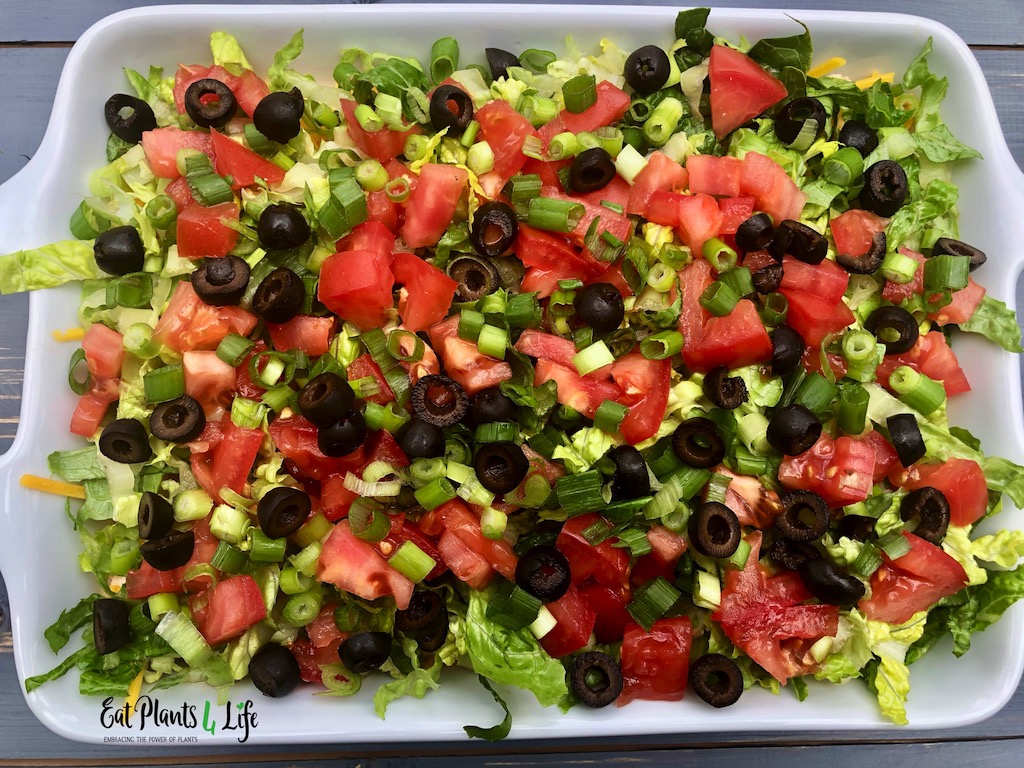 I compiled a mélange of my top 10 Vegan Appetizers– just in time for the big day.  From dips, to poppers and from creamy and spicy to crunchy and layered with flavor, EatPlants4Life's Vegan Game Day Appetizers are must-haves.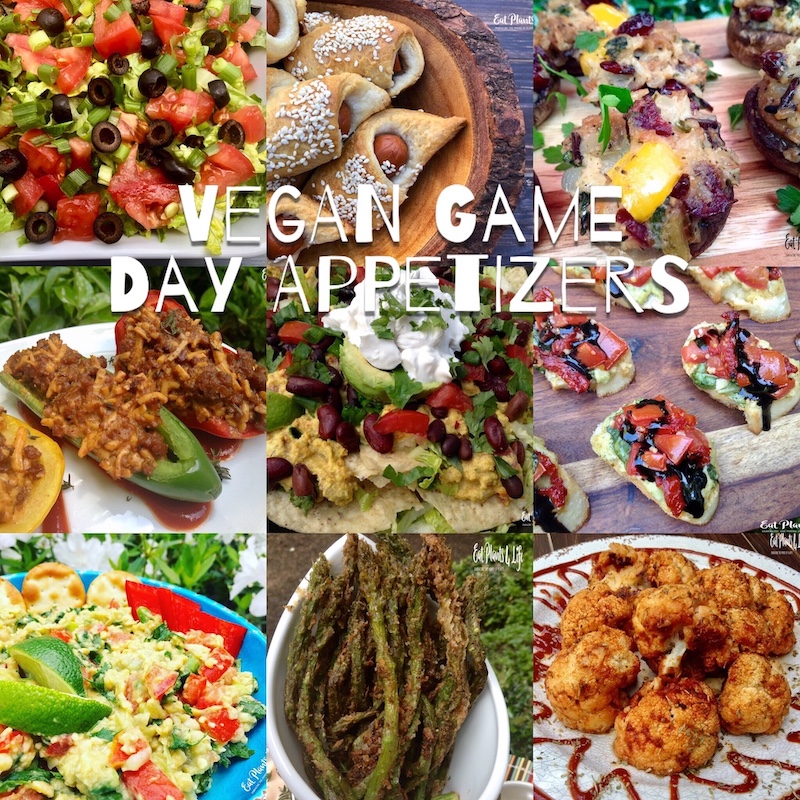 Check out a video clip of the Vegan MVP Contenders:
This year, your appetizers will be the half-time show. Not only will they please your Vegetarian and Vegan guests, the meat-eaters will be pleased. Click the recipe links below to discover my Top 10 Vegan Appetizers, including a new recipe that has layer on top to layer of flavor. EatPlants4Life's Best Vegan Layered Dip is a stacked layer of flavored refried beans, guacamole, creamy and shredded Vegan cheeses, shredded lettuce, tomatoes, green onions, and black olives.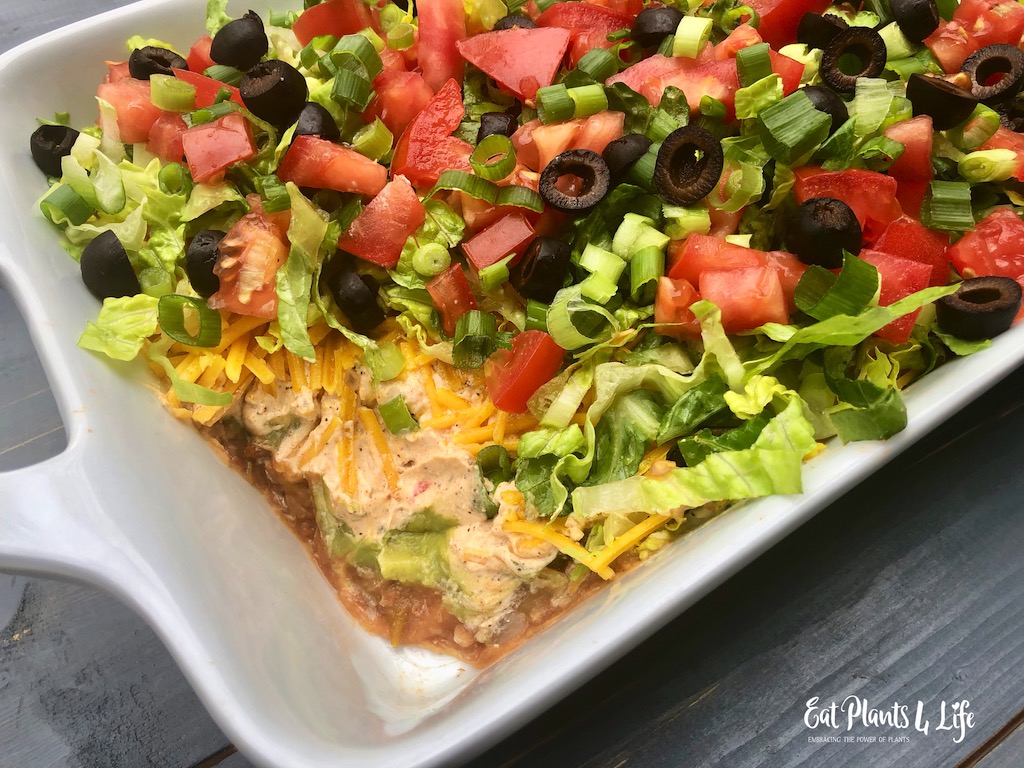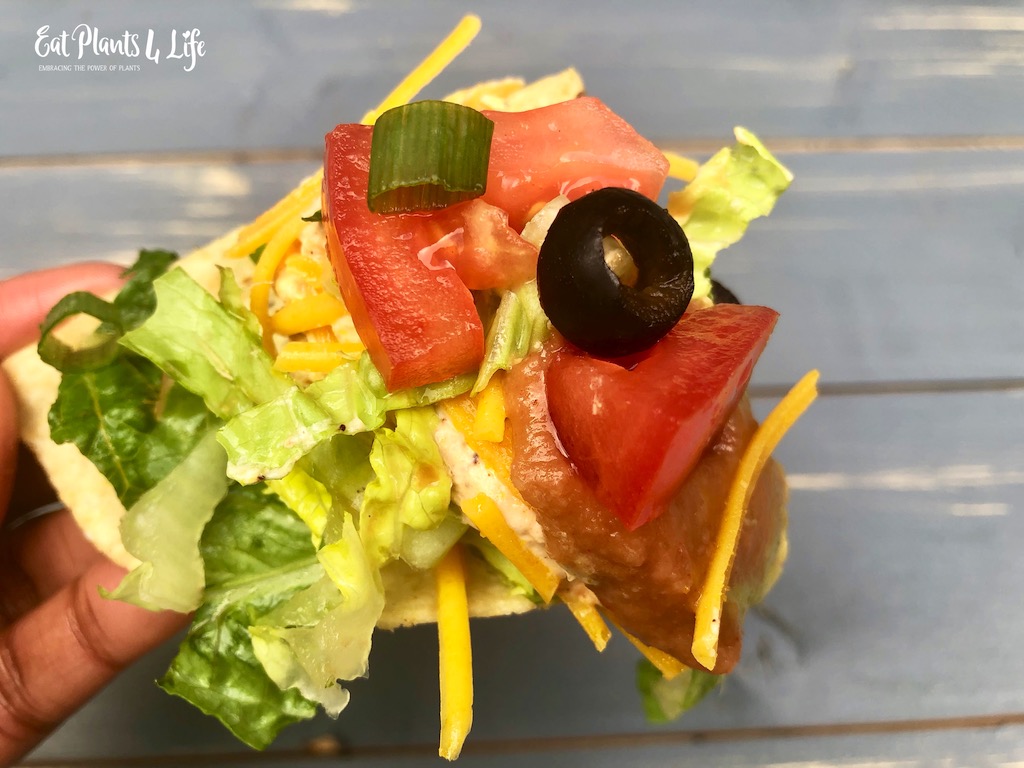 Serve with hearty tortilla chips, crackers, pita chips, raw veggies, or soft pita triangles and watch it disappear before the 3rdquarter.
Click the title links to discover 10 Game Day Vegan Appetizers:
Lemon-Pepper Battered Asparagus Fries
Goddess Sun-dried Tomato Bruschetta
Best Vegan Layered Dip (recipe below)
Check out the recipe videos for 2 of the most popular – Vegan Pepper Poppers & Goddess Sun-dried Tomato Bruschetta: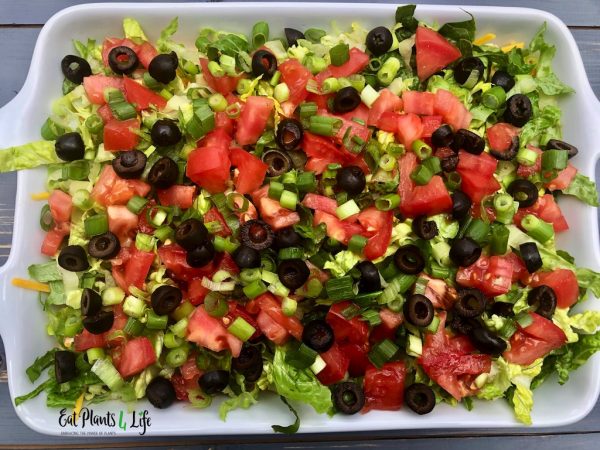 | | |
| --- | --- |
| | |
Heat a medium nonstick pot on medium-high heat. Add both cans of pinto beans, taco sauce and green chiles. Stir until blended. Heat until warmed. Set aside.

In a large bowl, combine dairy-free sour cream and cream cheese with seasonings. Set aside.

Layering: Using a medium serving dish, spread refried bean mixture on bottom layer.

Add and spread layer of guacamole.

Add and spread layer of sour cream/cream cheese mixture.

Sprinkle with Vegan cheddar shreds.

Top with shredded lettuce.

Top with diced tomatoes, sliced green onions, and optional sliced black olives.

Serve with tortilla, pita chips, or crackers.