When my husband is on a business trip, my daughters love it when I suggest that we have breakfast for dinner. For them it's like hitting the lotto because, what kid doesn't want something sweet for dinner?
It's sweet because in our house, breakfast for dinner can only mean one thing – – a stack of sweet, fluffy pancakes. Looking like the "awesome supermom" that I am (Supermom cape and all), I feel a tad guilty. In my head, breakfast for dinner really means one of three things:
I forgot to plan dinner, which leaves me standing in the fridge trying to figure out how to make a meal out of a boatload of old rice and wilted lettuce.

The pantry and fridge are virtually bare because I've had no time to grocery shop.

I'm feeling too lazy to cook a traditional meal or do a restaurant pick-up, and I'm tired of ordering pizza.
Having breakfast for dinner doesn't just rescue me from a dinner disaster. I do love the idea because, duh, it is a stack of egg-free, dairy-free pancakes. Who doesn't love a plate of warm flapjacks, slathered in maple syrup?
And it just so happens that pancakes can be Vegan-friendly. Click the title to check out the Best Vegan Pancakes recipe that I posted last year.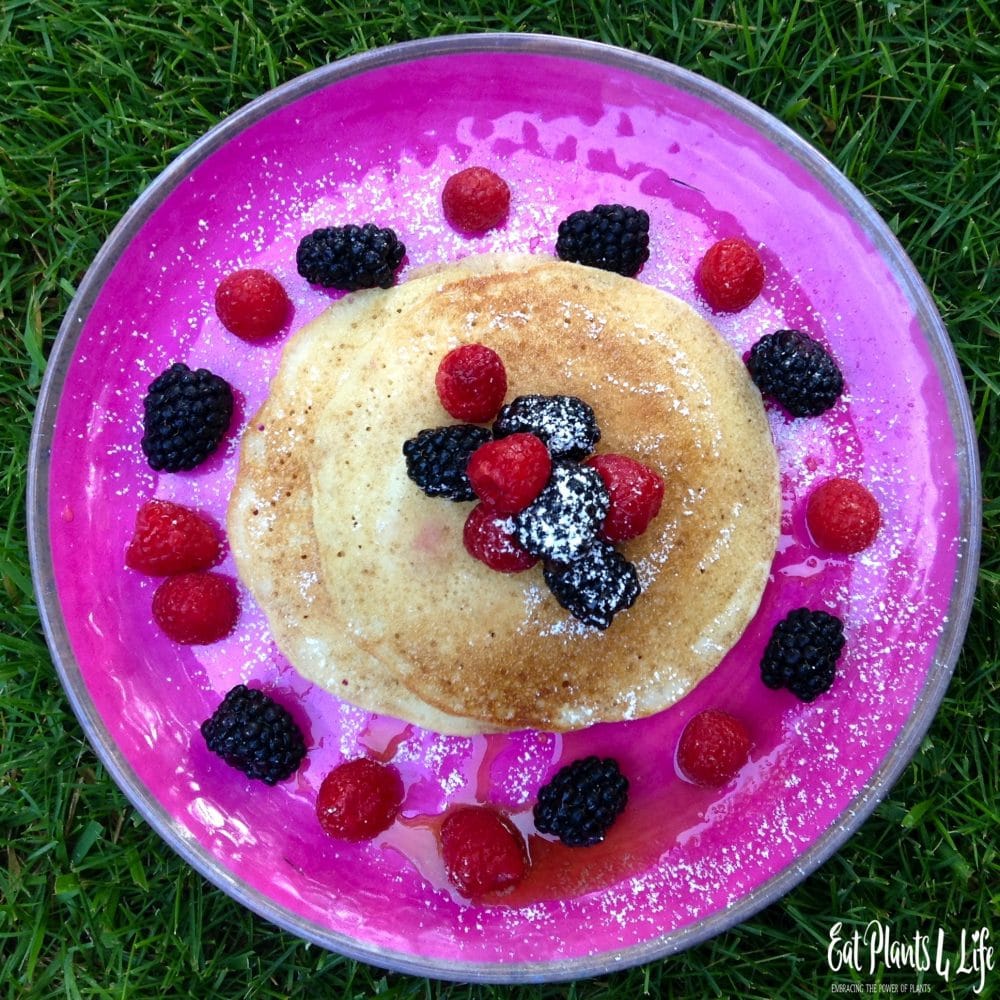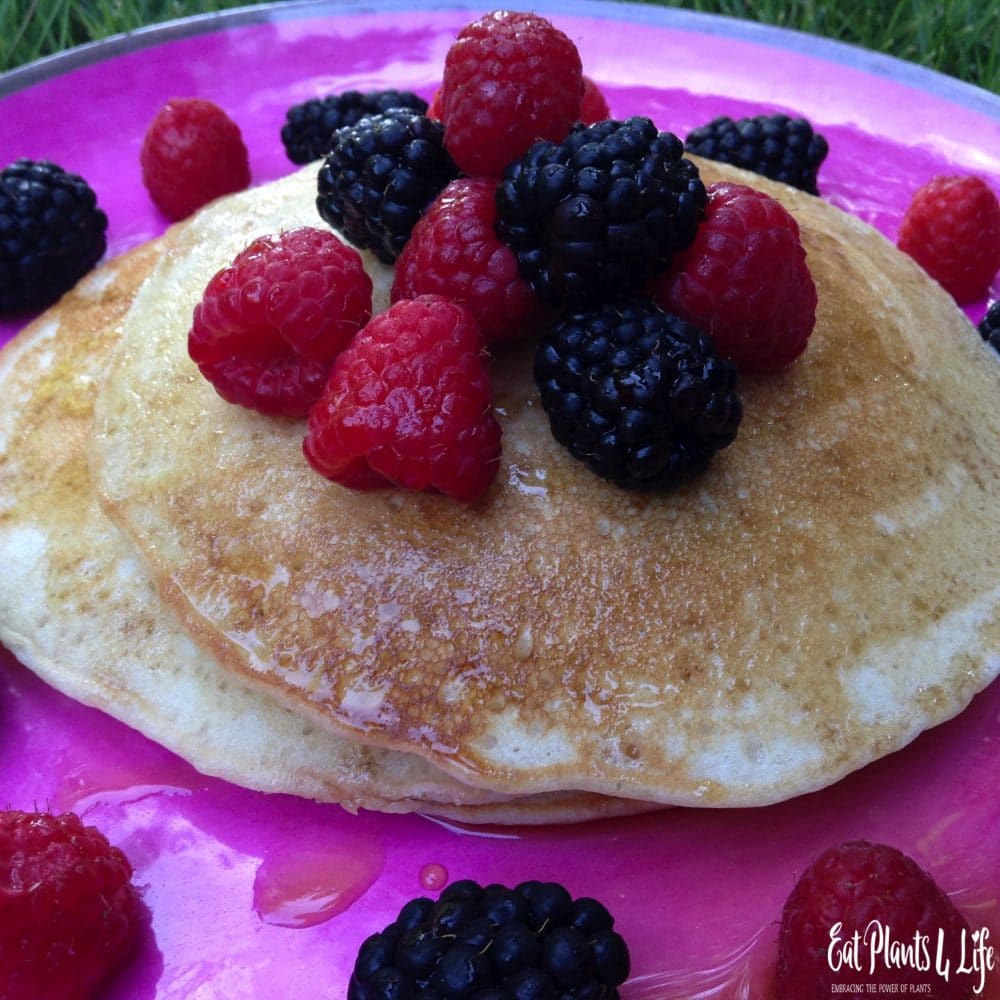 Next, make your Vegan pancakes even more delicious and healthy by adding a non-traditional ingredient – like sweet potato or pumpkin puree. Sweet Potato Pancakes are a great addition to your breakfast menu or my case, breakfast for dinner menu.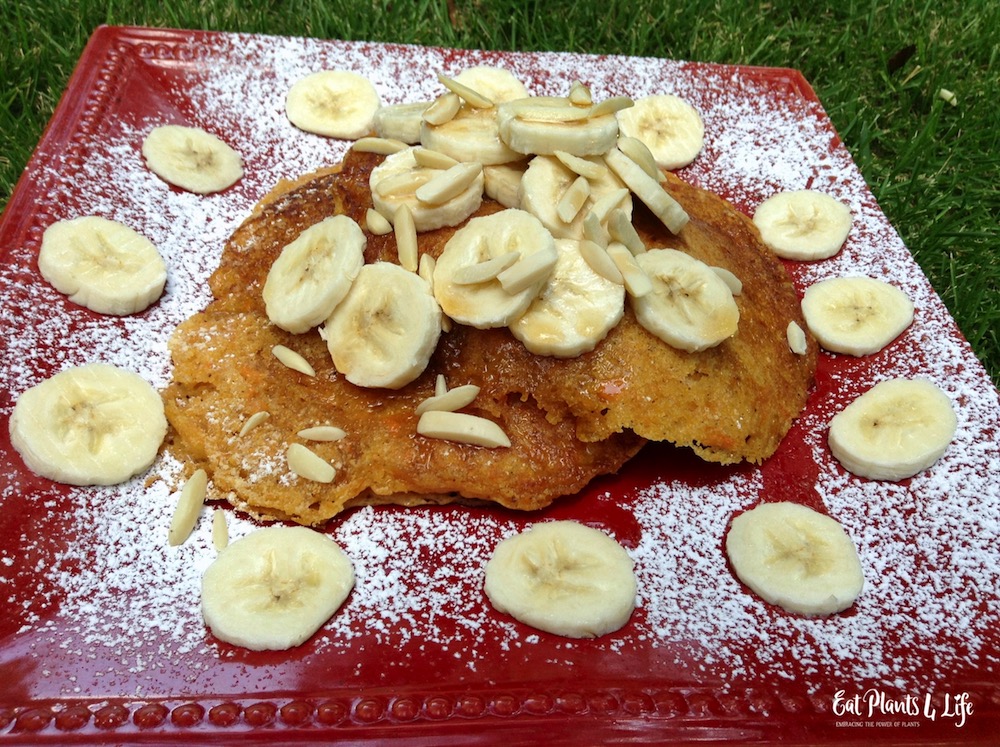 By adding this healthy, buttery Fall season ingredient, you add beta-carotene, biotin, B vitamins, potassium, vitamin C, antioxidants, and anti-inflammatory nutrients to a classic.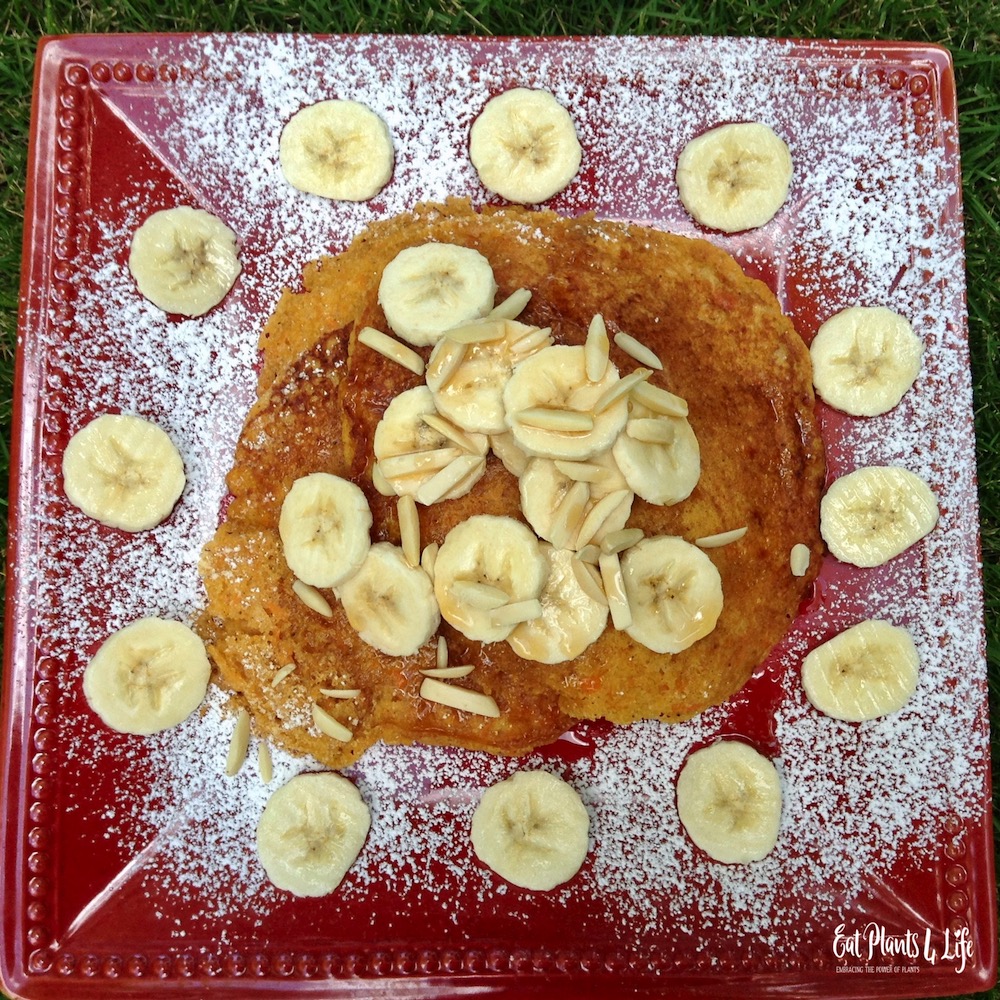 Sweet Potato Pancakes are heavenly sweet, buttery, and fragrant (thanks to cinnamon). Bits of sweet potato and cinnamon can be seen throughout the batter.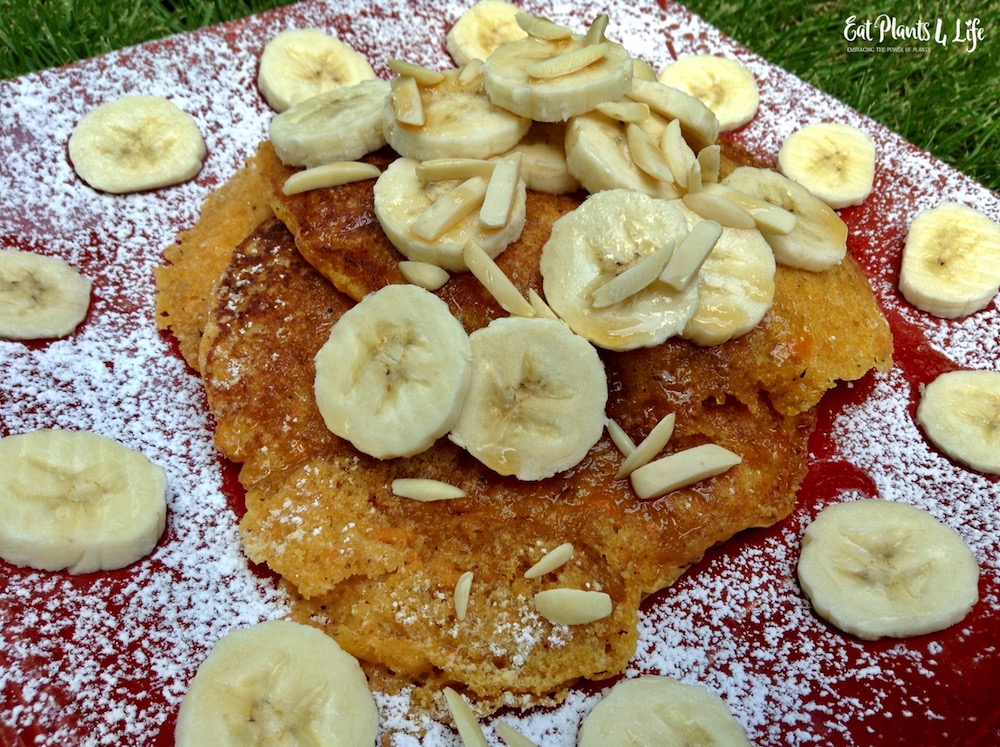 Top yours with slivered or sliced toasted almonds, powdered sugar, and sliced bananas, along with maple syrup.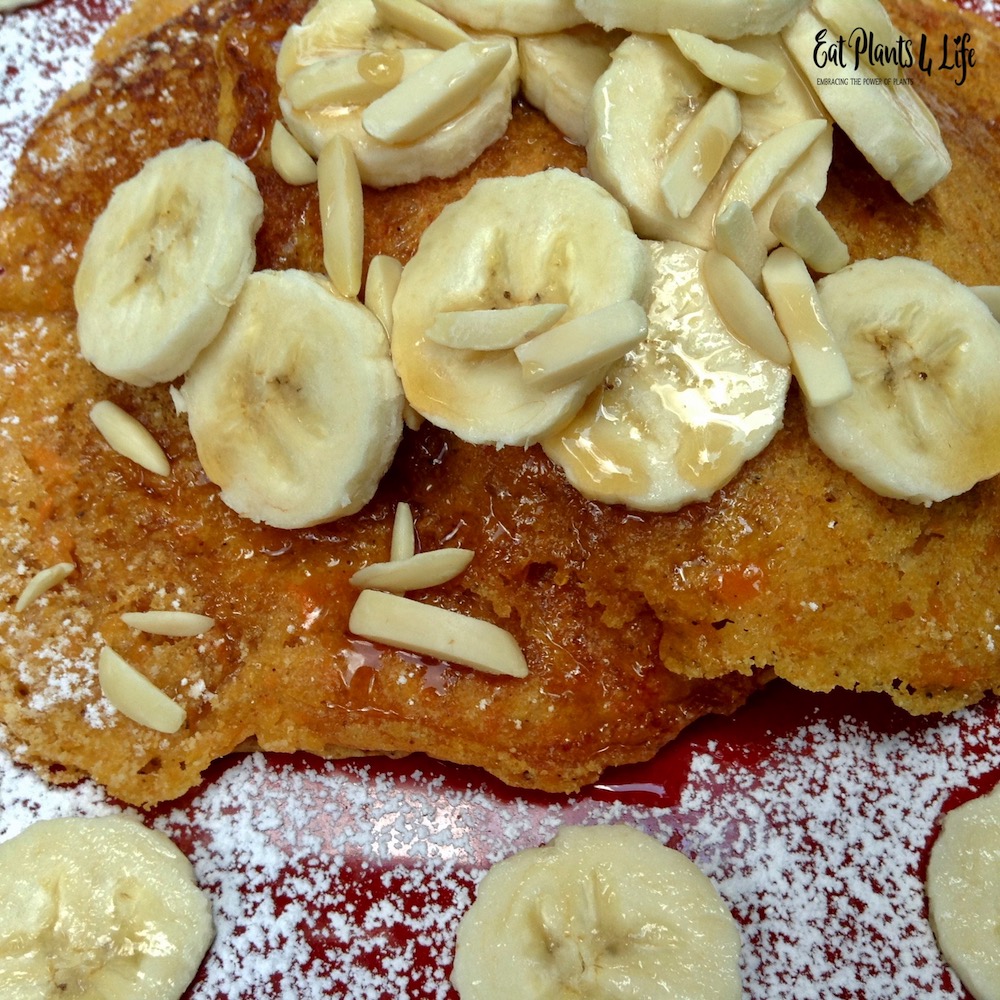 You'll score major cool points with the kids and because they're actually healthy, you'll feel less guilty about even considering old rice and wilted lettuce for dinner. Enjoy!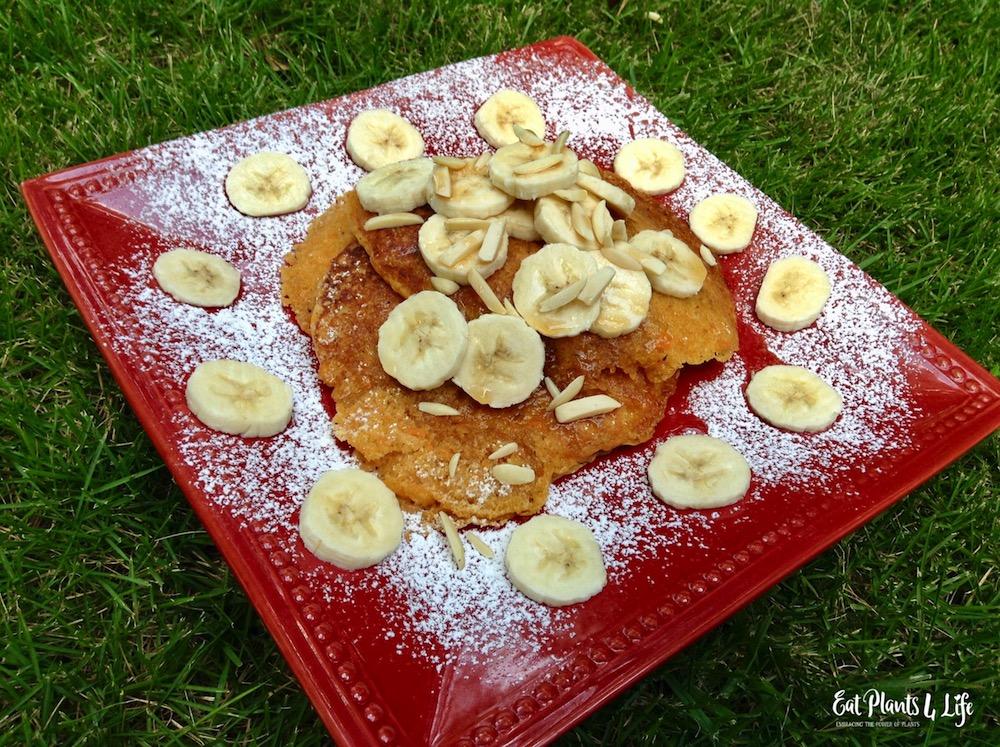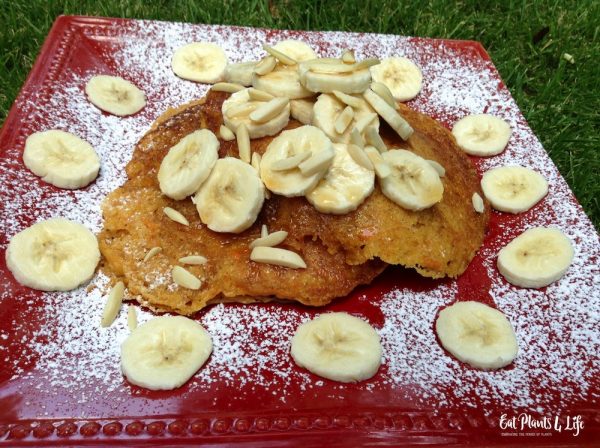 | | |
| --- | --- |
| | |
Place almond milk in a small bowl. Add vinegar, stir and allow to sit (sour) for 5 minutes.

Place dry ingredients in a medium mixing bowl. Mix.

Once milk sours, add vanilla extract and puree to the milk. Stir.

Add wet ingredients to dry ingredients and stir until well combined.

Working in batches, add pancake batter to a hot griddle or heated pan. Cook until golden, flip and repeat.

Add sliced bananas, slivered or sliced toasted almonds, powdered sugar, and/or maple syrup to your healthy pancakes!
If you can't find sweet potato puree and don't want to use pumpkin puree, you can substitute with a fresh, oven-baked and mashed sweet potato. It works the same!