Yippee! April 7th is National Coffee Cake Day! Coffee and Cake are two words I L-O-V-E. It reminds me of being a kid.
I remember my mom's monthly Betty Crocker Recipe Card Library subscription. Each month, she would receive a brand new set of neatly wrapped recipe cards in the mail that she would categorize and store in a big, yellow, plastic file box provided by Betty herself. These days, such a monstrosity is not only a space-waster, it's obsolete thanks to recipe apps, the Internet, convenience foods, and a complete lack of time.
When my mom ended her subscription and got rid of that big yellow box, I managed to rescue a few recipes cards in hopes of one day executing them, just as she had. I was just a kid, but always a foodie.
In honor of National Coffee Cake Day, I resurrected one of those old and tattered Betty Crocker cards to share – namely their coffee cake. Dated 1971, the recipe was tweaked  and Veganized by yours truly. Now it's Vegan-friendly and fabulous! The original recipe is titled Cherry Coffee Cake, but since cherries were not in season, I made mine with two other options – fresh and dried fruit.  My Vegan Coffee Cake is sweet, sticky, spongy, moist, and so ooey, gooey!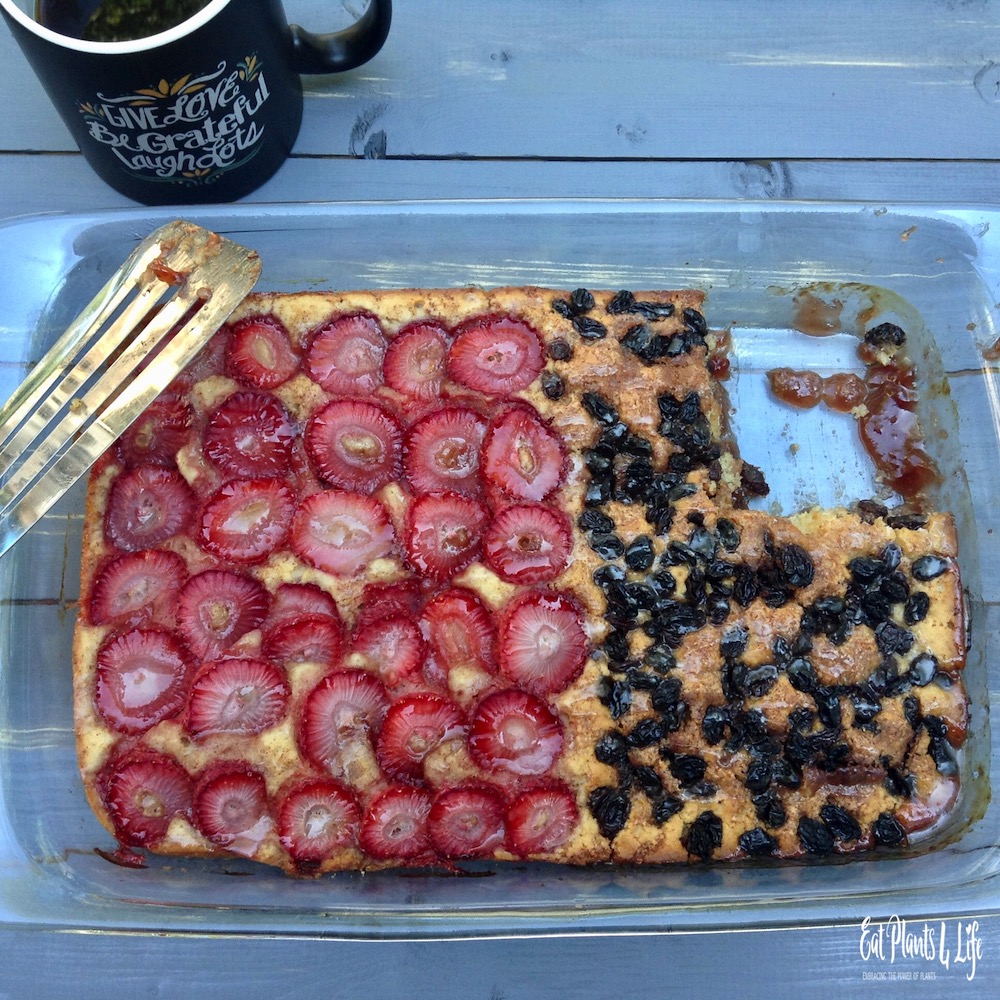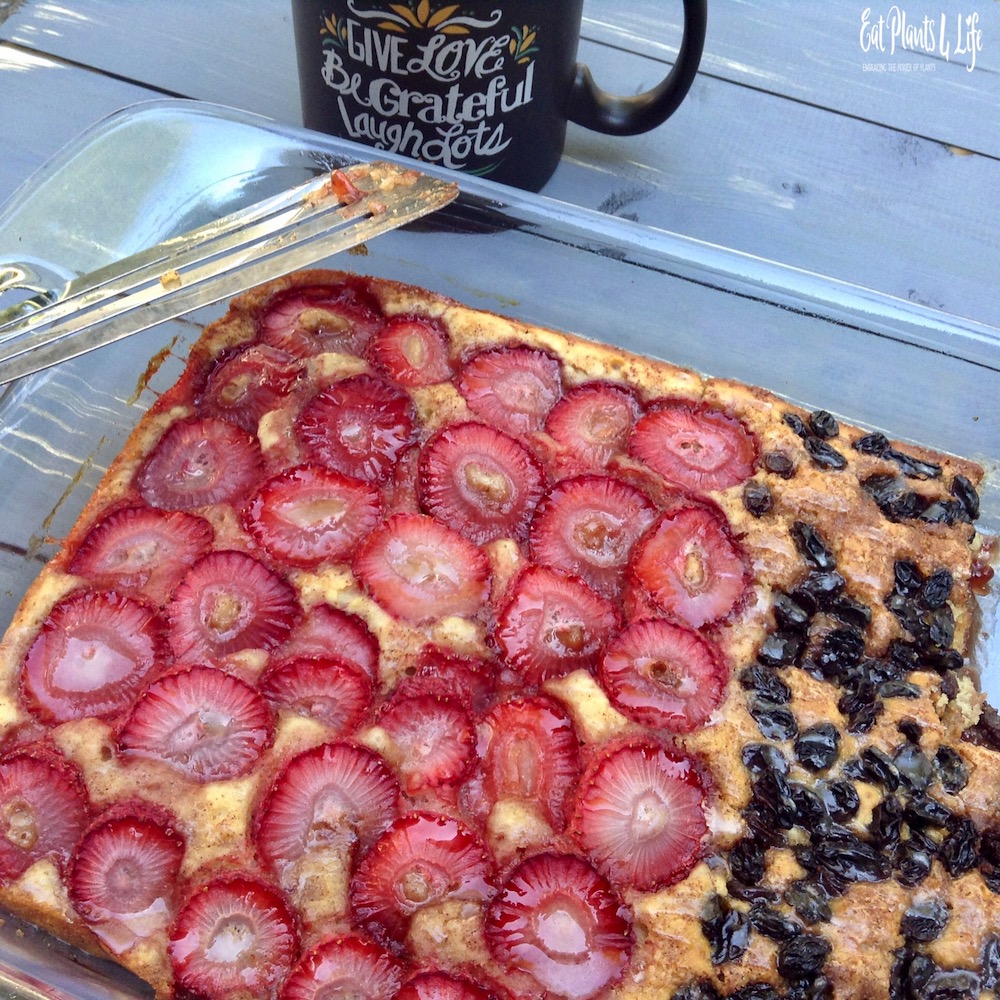 I used fresh strawberries and raisins. Both were delish! It is the prefect addition to a morning cup of coffee. The icing on the cake is the icing because it melts down into the warm cake and makes the fruit topping glaze. Vegan Coffee Cake can be served for breakfast, brunch, or as a sweet dessert.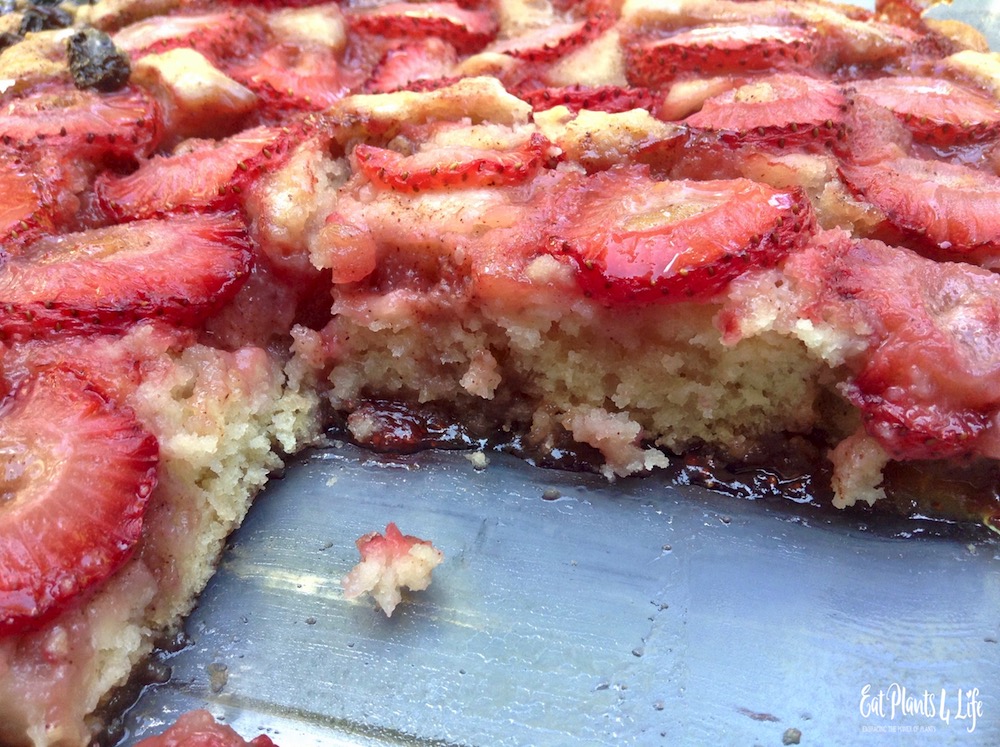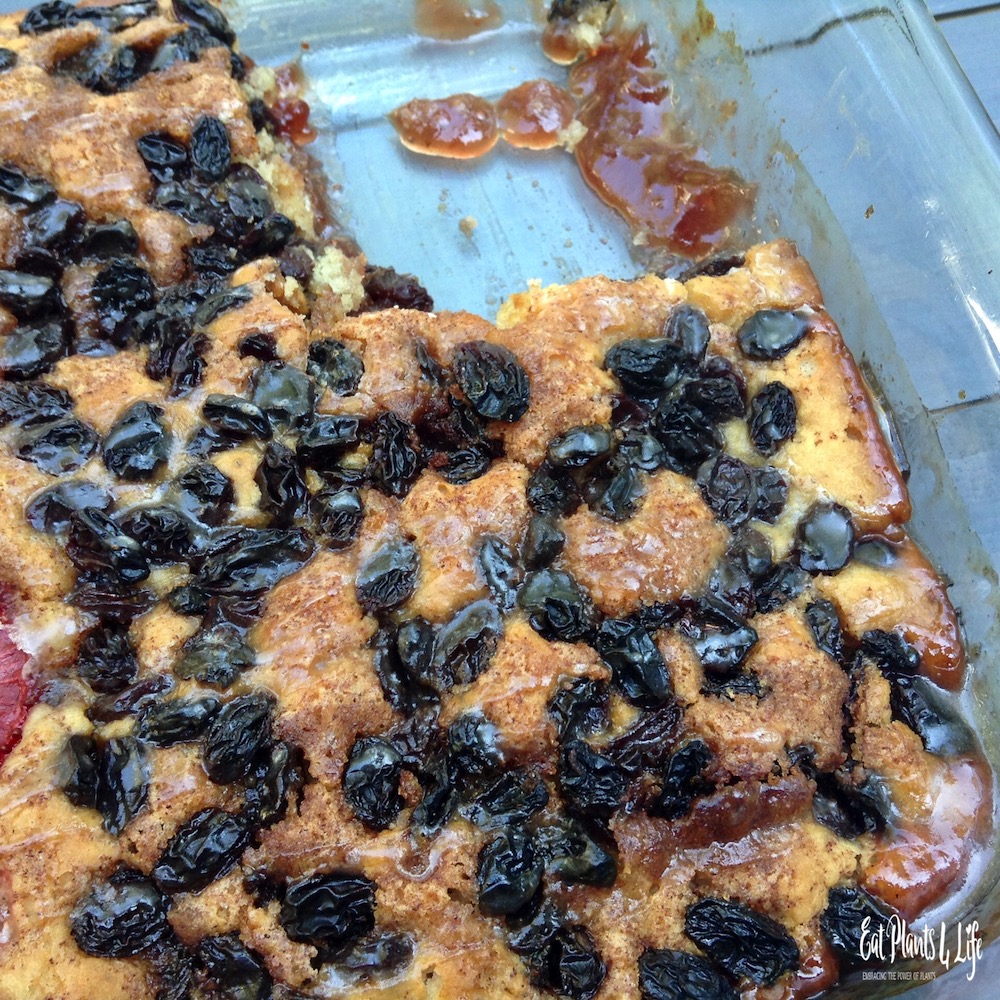 Any day you can legitimately have cake is a day worth celebrating. Enjoy!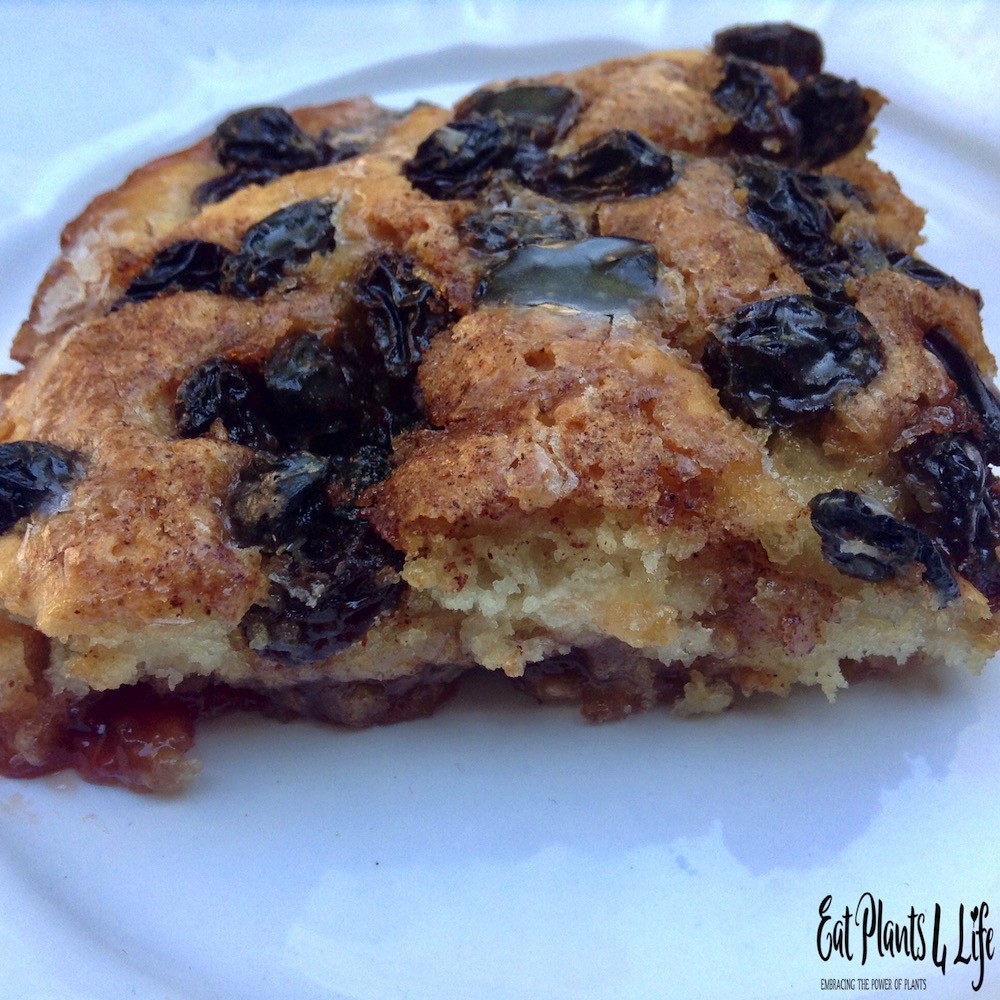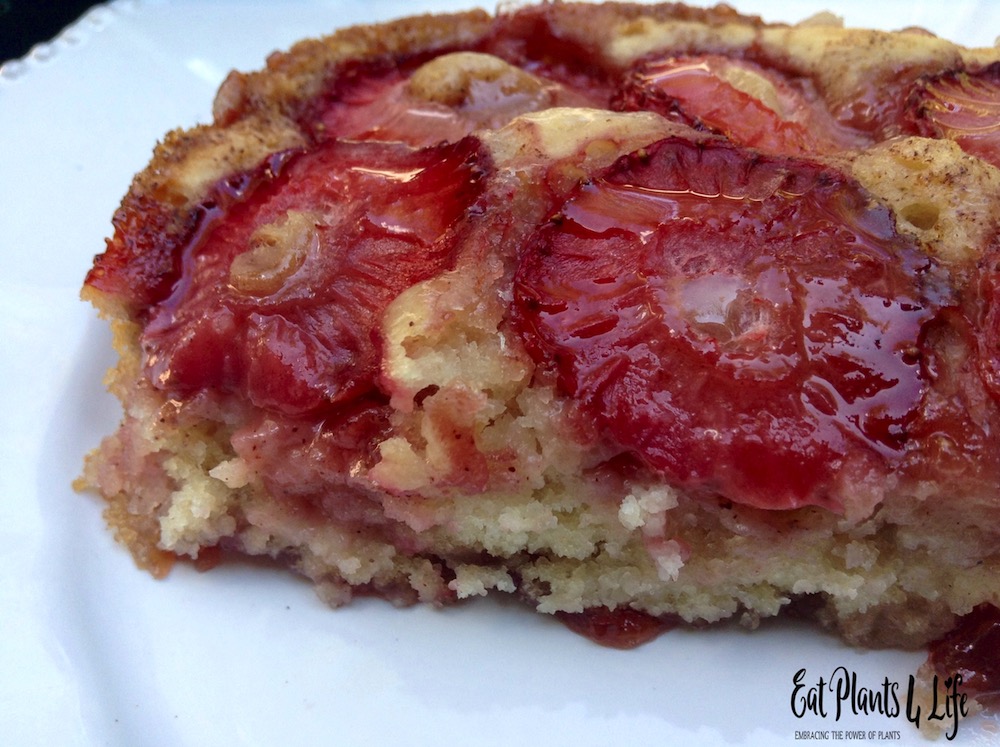 The perfect breakfast, brunch, or dessert for cake lovers. Fresh or dried fruit is used in this sweet, spongy cake with an amazing gooey base. The icing IS the icing on the cake because it melts into the cake making it moist and the perfect along a cup of tea or coffee. Adapted from The Betty Crocker Recipe Card Library Series, 1971.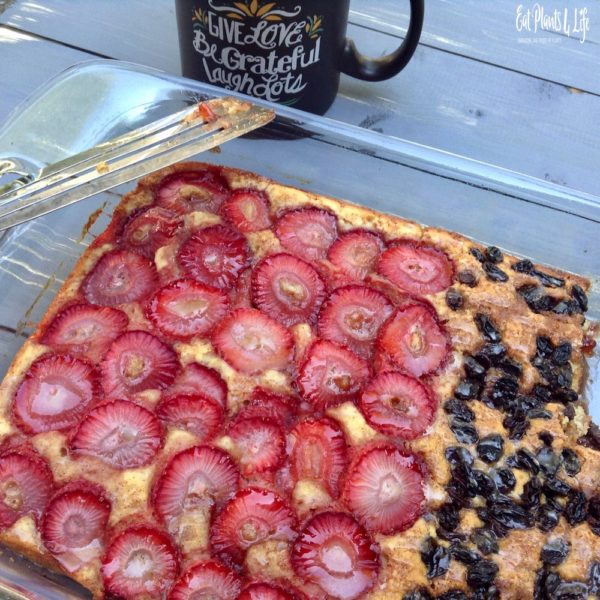 Preheat oven to 400 degrees.

Grease a 9 x 13" baking dish. Spread preserves on the bottom of the pan.

In a small bowl, stir together brown sugar and cinnamon to form a streusel. Set aside.

Mix remaining cake ingredients. Beat vigorously and thoroughly for 30 seconds.

Spread batter evenly over preserves. Sprinkle brown sugar and cinnamon streusel over the top.

Place strawberries or raisins over the top, evenly. I did half and half just for fun!

Bake 25-30 minutes. While baking, make icing by mixing all icing ingredients together and stirring vigorously with a fork until smooth.

Once cake is done and while still warm, drizzle icing over the top of cake.
*Can also use peach preserves/peaches if making a peach coffee cake, blueberry/blueberries preserves if making a blueberry coffee cake, cherry preserves/cherries for cherry coffee cake, so on and so forth. Can also use raisins instead of fresh fruit.