There's nothing quite like the feeling of euphoria that arises from an authentic plate of old world lasagna.
I'm not referring to the store-bought lasagna that comes attractively packaged in a black plastic container, nor am I talking about the kind of lasagna a restaurant chain serves along with a bottomless bowl of salad and endless breadsticks.
I'm talking about the kind of righteous lasagna that originates from a tattered, sauce-stained recipe card that only a little, gray-haired Italian grandma can hand down to the next generation.
Although a hearty plate of lasagna comes at a price – namely your waistline and overall heart-health, an occasional indulgence is okay if you're not strictly plant-based. Taste governs health in the case of Nana's family recipe, but is there plant-based lasagna that can be healthy without compromising on taste?
Nothing will ever replace the sheer genius of Nana's recipe, but my plant-based, season-friendly Pumpkin–Collard Lasagna Rolls puts a modern, healthier twist on a classic. The rich and savory flavor will surprise you so much that you won't even believe it's healthy. And it, too will leave you feeling euphoric.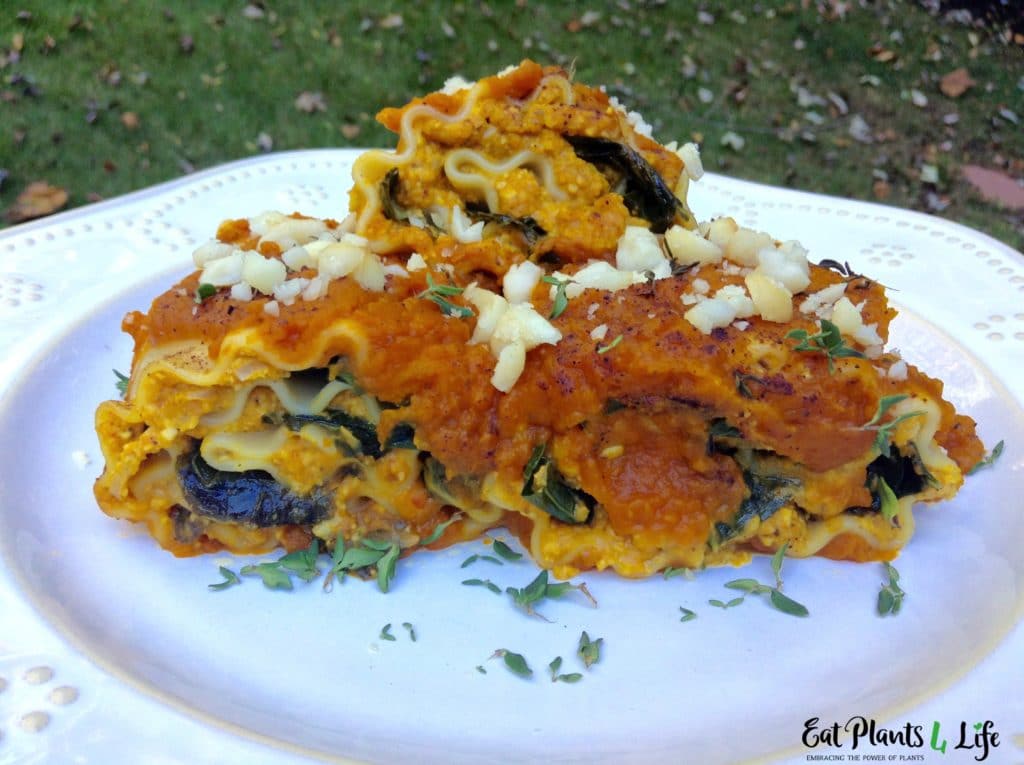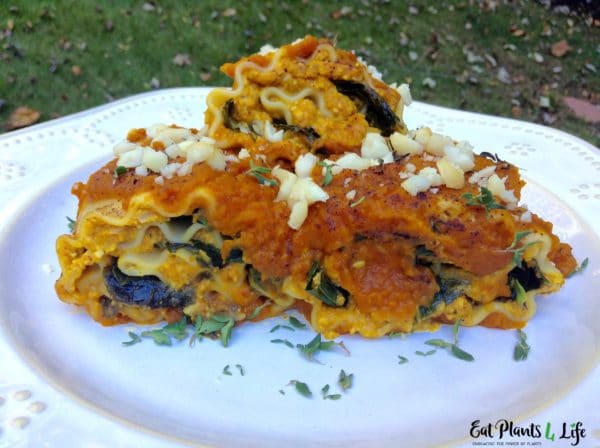 Pumpkin Mixture Ingredients:
| | |
| --- | --- |
| Pumpkin Mixture Ingredients: | |
Place macadamia nuts in a bowl. Add enough water to cover them. Set aside for at least one hour. Drain. Add nuts to food processor. Add about ¼ - 1/2 cup of fresh water and nutritional yeast. Process until mixture is the consistency of cottage cheese. Set aside.

Cook lasagna rolls according to package instructions for al dente. Once noodles are cooked and drained, use tongs to individually lay them across a clean dishtowel.

Heat a large saucepan on medium-high heat. Add 2 tsp. of oil. Add collard leaves, salt and pepper and veggie broth. Cover saucepan and allow collards to wilt down, stirring occasionally. Add additional veggie broth or water to avoid sticking. Cook until leaves are slightly tender (about 15-20 minutes).

Heat a second large saucepan on medium-high. Add 1 tsp. of oil. Add shallot and garlic. Cook for 2 minutes, stirring frequently. Add pumpkin puree, ½ cup water, thyme, sage, ½ tsp. of nutmeg, sugar, sea salt, and nut mixture to skillet. Mix thoroughly. Bring to a slow boil. Reduce heat to medium-low and simmer for about 15 minutes, stirring occasionally. Add additional splash of water to mixture if necessary to avoid sticking. Remove from heat. Set aside 1-½ cups of mixture to use for base of casserole dish and to top rolls before placing them into the oven. The remaining mixture will be used as the filling for the rolls

Preheat oven to 400 degrees. Spray a casserole dish with cooking spray. Spread ½ cup of reserved pumpkin mixture into the base of the casserole dish.

Assemble Rolls: Spoon pumpkin mixture on to each lasagna roll and spread evenly across entire roll. Place cooked collards across on top of pumpkin spread.

Gently roll up each noodle and place them in casserole dish side by side.

Spread remaining (1 cup) "reserved" pumpkin mixture on the top of the rolls. Sprinkle the top with ½ tsp. nutmeg and additional thyme.

Cover and place in the preheated oven. Cook for 30 minutes. Remove from oven. Set aside for 5 minutes. Plate rolls and add optional toasted and chopped macadamia nuts as a garnish.
*Please read entire recipe before beginning