My mom has a reputation. Whenever there is a family gathering, the dish on the minds of her guests is her infamous Macaroni and Cheese (she's grinning with pride as she reads this). It's also the first item to disappear from the buffet table.
True story – I recently hosted a party for both sides of my husband and my family. I mixed the food choices with Vegan and non-Vegan options to accommodate all guests, which is a notable feat in itself. My mom asked if she needed to bring anything to serve. I call myself being a considerate daughter who just wanted her to come empty-handed, relax, and take a day off from the kitchen. I took it upon myself to tell her to, "just bring yourself."
Wrong. Move.
Long story short, according to my guests, who were already familiar with my mother's genius dish, my buffet table was missing one important element, the centerpiece, the pièce de rèsistance – – her macaroni and cheese. It was quickly noticed upon arrival. I was actually chastised for not including it on the menu.
People travel many miles to get a plate of her golden, ooey, gooey glory. It's the side dish among side dishes but can stand on its own. Pre-Veganism, I could eat a plate of it and not think twice about what else was being served along side of it. It was my main course.
I've never quite mastered creating her recipe before giving it up altogether for a plant-based diet.  I make no apologies and have erased all the guilt associated with the amount of butter, cheese, eggs, and full-fat milk it entails. Trust me when I say that it's primo delicious, but the amount of fat in a serving is cringeworthy if you're like me and are no longer in your twenties and no longer have a tight @ss.
******Spoiler Alert Warning for all Mac and Cheese Lovers******
Drum roll please…
To put it all into perspective, a single serving (one measly cup) of this gooeyness is a whopping 400 calories and nearly 30 grams of fat (18 grams of which is saturated fat).
But, who eats just a cup of anything these days? So, you do the math.
Do I miss my mom's Macaroni and Cheese? 
H#ll friggin', yeah!
But, not for the obvious reason – taste. I miss what it symbolizes. It's Mom's – it symbolizes childhood, comfort food, traditional Sunday, after church dinners aka Southern soul food at its finest.
In honor of mom's classic dish and National Macaroni Day (July 14th), I've created a healthy, plant-based macaroni and cheese dish that will knock your socks off!
My Cauliflower Mac & Cheese is my new favorite side dish. It has the same creamy 'cheesy' flavor (thanks to a rockin' cashew cream sauce) as traditional Mac n' Cheese and a crunchy topping that makes it a winner in my household. If calories aren't an issue for you, my kids love it when I replace the cauliflower with cooked pasta.
Just like Mom and her recipe, it rocks!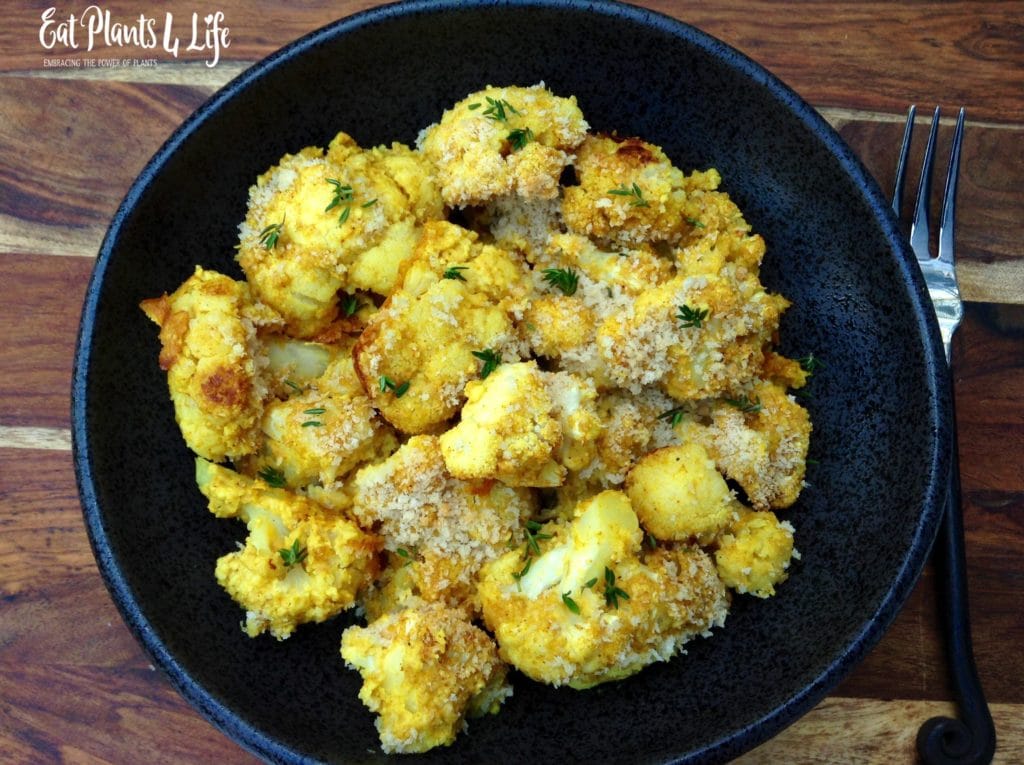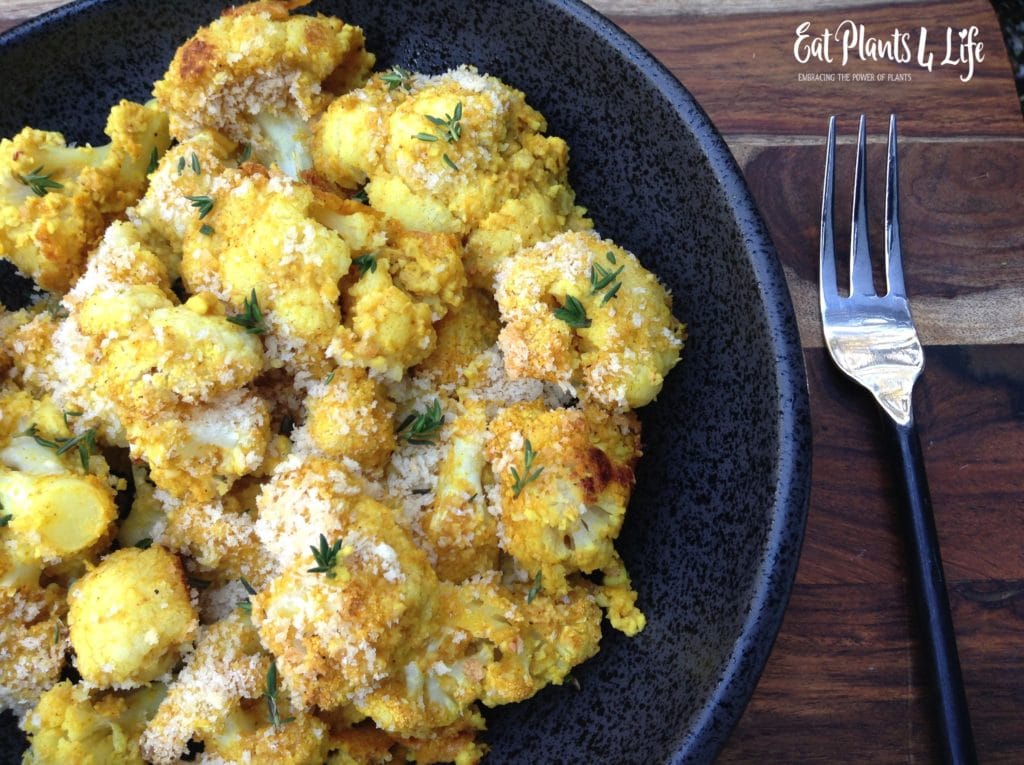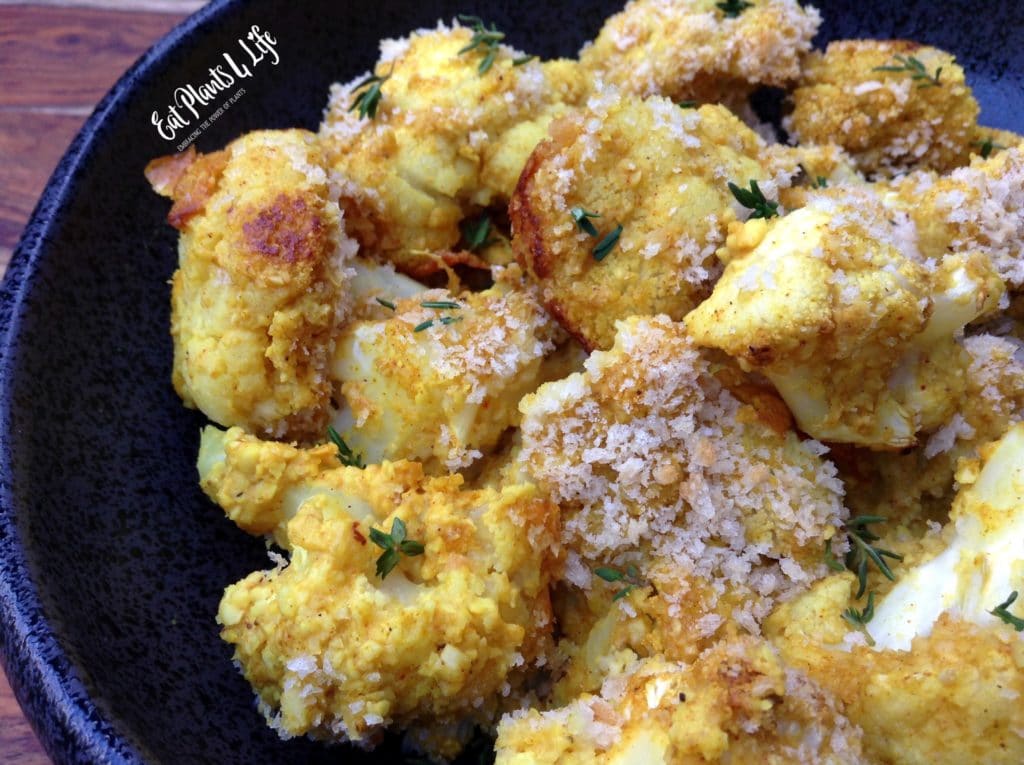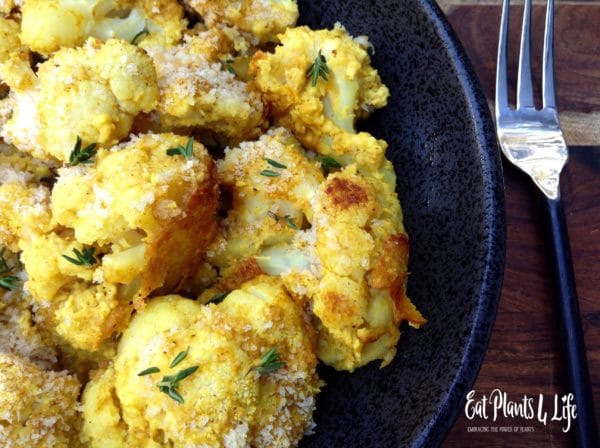 | | |
| --- | --- |
| | |
Preheat oven to 400 degrees.

*Process all ingredients, except cauliflower breadcrumbs, and thyme in a food processor or blender until very smooth. Scrape down sides and continue to process until well combined and smooth. Add additional almond milk if the mixture is not smooth and creamy.

Place cauliflower florets in a large mixing bowl. Add cashew cream sauce. Stir until cauliflower florets are well coated.

Place cauliflower mac and cheese in a 9x13" baking dish that has been sprayed with cooking spray. Spread out evenly. Sprinkle top with breadcrumbs.

Cover with foil and bake for 40 minutes. Remove cover and bake an additional 5 minutes or until breadcrumbs are golden brown and cauliflower is tender.

This also works well with traditional macaroni-style pasta. Substitute cauliflower with 1 lb. of uncooked pasta, prepared according to package instructions for al dente. Bake for 20 minutes instead of the 40 minutes required for the cauliflower. Garnish with optional fresh thyme leaves.

Enjoy (with cauliflower)!
*Add ½ - 1 tsp. of cayenne to the food processor in step 2 to turn up the heat!