Every year this is the week we celebrate, Earth Day. What exactly is Earth Day?
Earth Day is an annual day of environmental awareness. Sparked by growing concerns over air and water pollution, wildlife preservation, global warming, climate change, and a host of other environmental concerns, Earth Day founder and former U.S. Senator Gaylord Nelson laid the groundwork to challenge big businesses, politicians, activists, and the community to take part in becoming more conscious of the sustainability of our precious, natural resources.
In 1970, Earth Day was born. That same year, so was the EPA or Environmental Protection Agency. What began as a national push for advocacy became a global effort in 1990. And what began as a day to honor Earth, is now a weeklong event meant to provoke change and incite involvement.
To learn more about Earth Day, click here for Earth Day Network's website. It gives more information about the cause, provides local Earth Day events in your area, and offers an Earth Day Toolkit for those wanting to take action, not just this week but each day.
As we celebrate, Earth Day, let's keep in mind how we individually impact our environment, how we can do our part to preserve it, and how we can teach the next generation to continue the fight to protect it. You can plant a tree or take part in a scheduled Earth Day event in your area.
Wouldn't be great if everyone on Earth could go Vegan for a one day – just 24 hours? Imagine the impact that would have? Perhaps, I'll contact the Earth Day Network with my proposal. In the meantime, let's celebrate Earth Day with a springtime, light, colorful, chock-full-of-veggies Earth Day Vegan Pasta Primavera (that was a mouthful).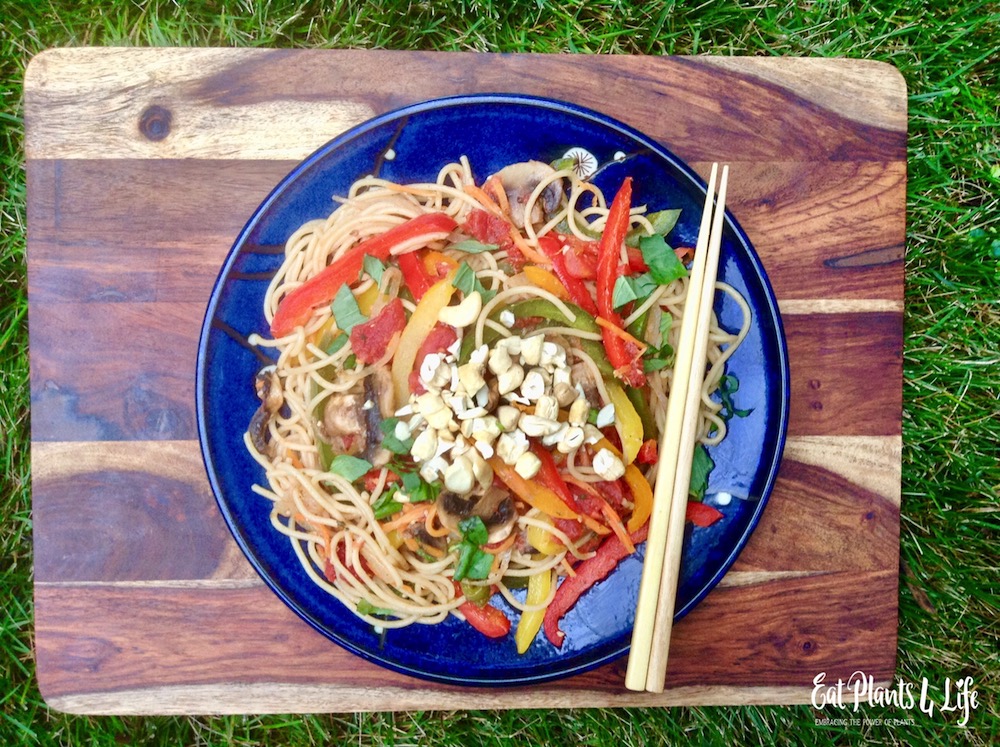 Earth Day Vegan Pasta Primavera is a generous amount of healthy, garden veggies combined with whole-wheat pasta make this dish healthy and satisfying. Add the suggested veggies, but feel free to substitute with any leftover produce you have in the fridge. My favorite subs are zucchini (cut into strips) and asparagus tips.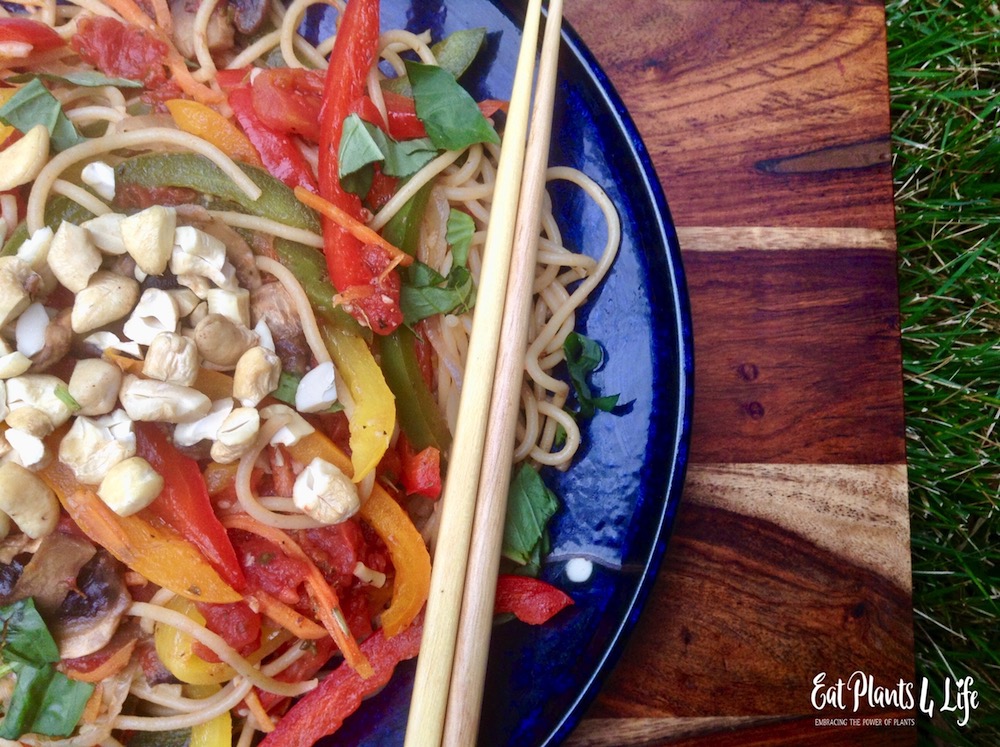 Earth Day Vegan Pasta Primavera is a rainbow on your plate and gives new meaning to the catchphrase, "eat your colors." The kids will love it. Anything paired with noodles is a big hit in our house. Check out the video for this delish dish: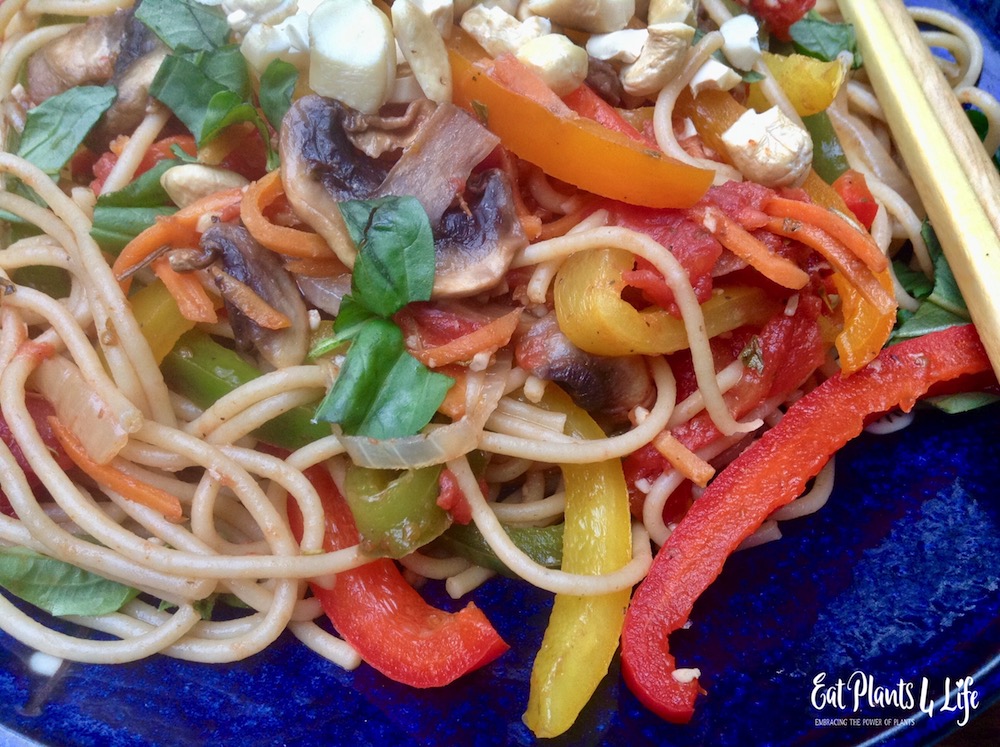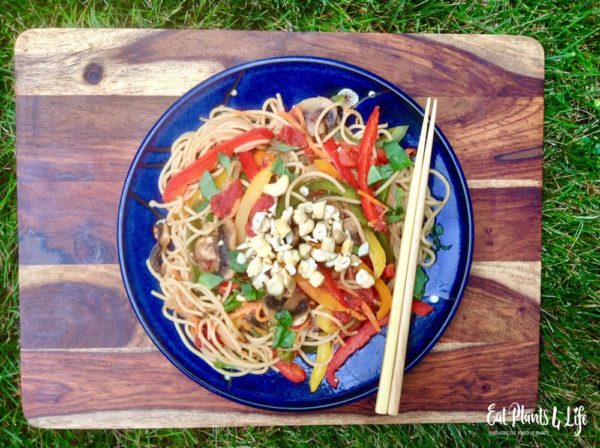 | | |
| --- | --- |
| | |
In a large skillet, heat oil over medium-high heat.

Add garlic, onions, and shredded carrots. Cook (stirring occasionally) until onions are translucent.

Add mushrooms, peppers, salt, ground pepper, and a splash of vegetable broth or water create a steaming action. Stir and place top on skillet. Cook 4-5 minutes or until peppers are tender. Add another splash of water or veggie broth to avoid sticking, if necessary.

Add canned tomatoes and Italian seasoning. Stir.

Bring to a boil. Reduce heat and simmer for 10 minutes.

Toss in cooked spaghetti.

Plate and garnish with optional chopped roasted cashews or peanuts.
Adding any leftover veggies (i.e. zucchini cut into strips, asparagus, etc.) will work well in this recipe.