When I was a kid, I remember looking forward to every other Friday because that signified payday. In our house, payday always meant that we were going to have the much anticipated, special treat of "eating out."
Fast-forward several decades and the term "eating out" is a lot more often and waaaaay more expensive in comparison. Back in the day, it meant a McDonalds $.79 cheeseburger, small fry, orange drink, and the occasional cherry turnover. Now that I think about it, my parents could actually feed all 4 of us kids for less than $20. 
The highlight of that meal was of course the cherry turnover. Cherry turnovers with icing or cherry pie a la mode has always been one of my favorite treats. Where else could you get a sweet and tart flavor nestled between a buttery, flaky crust? 
As I got older and mostly definitely prior to becoming Vegan, my love for cherry turnovers remained, even though McDonalds took them off of their menu. I didn't let that stop me from occasionally buying them in the store and making the processed version at home.
Then, I became a mom and you know what that means. It means that, if you hadn't before, you suddenly become more aware of the junk you bring within reach of your little ones.
Once, I was brave and actually read the back of a popular brand. My mouth literally fell open. Red 40, Blue 1, mono and diglycerides, high fructose corn syrup, TBHQ, 4 types of preservatives, dough conditioner (what the heck is that?), and artificial flavors. There were literally over 40 ingredients listed on the back of the box! Yes, you read that correctly – – over 40 freakin' ingredients (most of which are hard to even pronounce).
Even if you're not Vegan, you just can't pollute your body with this stuff! No wonder we have gut problems!
Quick and healthier solution? My Cherry Turnovers.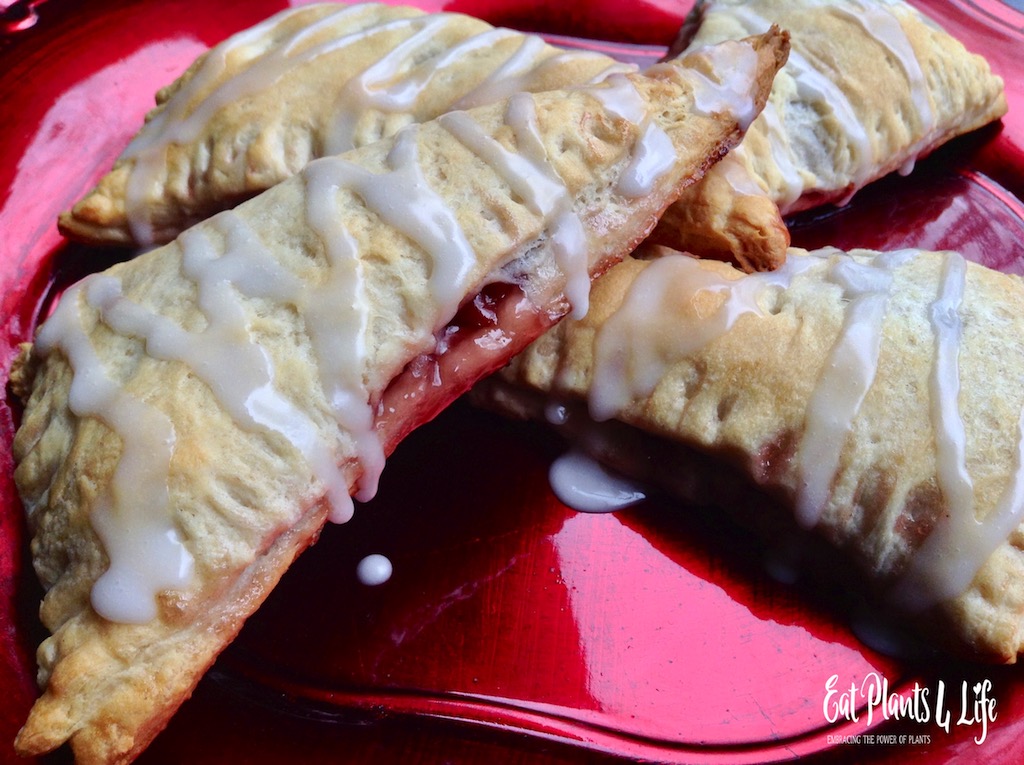 To celebrate National Cherry Pie Day (February 20th), I'm posting a quick and easy, household treat void of a gazillion ingredients. EP4L's Cherry Turnovers are the perfect way to curb that sweet tooth and only require a few ingredients to create. Using Annie's Organic (Vegan) Crescent Rolls and Duncan Hines' Simply Pie Filling will keep the ingredient list shorter and healthier. I like Duncan Hines' Comstock Simply Pie Filling because unlike regular pie fillings, it has no artificial colors and no preservatives. It's just fruit, water, sugar, cornstarch, lemon juice and salt –  that's it! Yes, they're still considered "processed," but if you're in a pinch and don't want to compromise your health when indulging, this recipe is for you.
My kids love making my Cherry Turnovers. Check out the video of my 10-year-old slaying it in the kitchen…
With a flaky crust, warm cherry filling, and a sweet icing, Cherry Turnovers can be made with any pie filling flavor. In our house, apple and peach pie filling are a big hit, but I am all about the cherry. It brings back a favored childhood memory – – only this time, I don't have to wait until payday to enjoy them!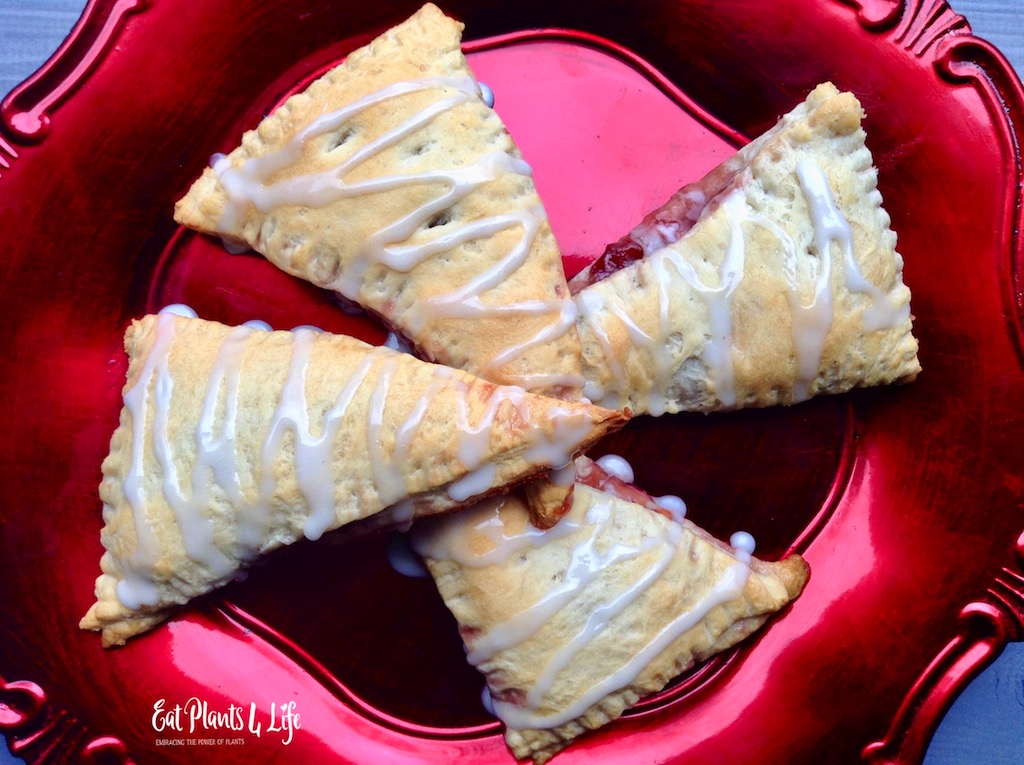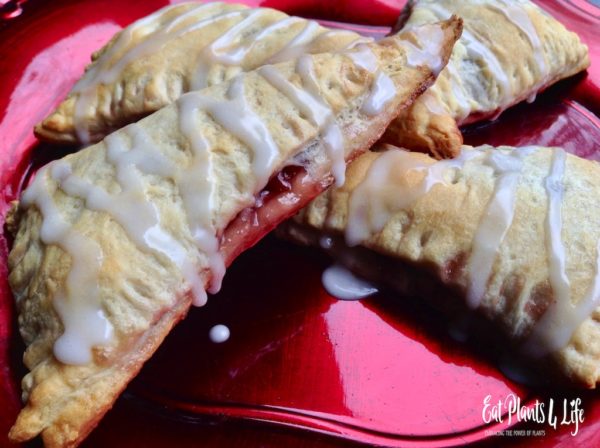 | | |
| --- | --- |
| | |
Preheat oven according to Crescent rolls instructions.

Place 4 crescent rolls on a baking sheet sprayed with cooking spray or lined with parchment paper. Using a dinner spoon, place a spoonful of pie filling on each crescent roll, directly in the center. Be sure to leave a ½" border on each roll.

Place another crescent roll on pie filling. Make sure the roll is positioned equal to bottom layer. Seal each turnover by using a fork and pressing the edges together, completely sealing the edges.

With a knife, poke 2 small slits in each turnover. Bake according to crescent roll instructions (11-14 minutes) or until golden. While baking, place powdered sugar in a small bowl. Add a splash of almond milk and stir vigorously until it reaches the consistency of icing. It only takes a little liquid to achieve this.

Pour glaze in the inside corner of a pastry or Ziploc bag. If using a Ziploc bag, cut the tip with scissors (a tiny cut). Once turnovers are done and while still warm, drizzle turnovers with icing. Serve while still warm. Tastes great alone or with vanilla cashew ice-cream.
*I like to use Duncan Hines' Comstock Simply Pie Filling. Unlike regular pie fillings, it has no artificial colors and no preservatives. It's just fruit, water, sugar, cornstarch, lemon juice and salt -  that's it!