When I think of traditional Southern cuisine (aka. soul food), sweet tea, pound cake, collard greens, black-eyed peas, mac n' cheese, cornbread, fried green tomatoes, and "fried chicken" come to mind. There is nothing like "food for the soul." We called it Sunday Dinner (Sunday Supper to some) in grandma's house.
She would start cooking Sunday Dinner the Saturday before. Us kids would be antsy just sitting in the church pews daydreaming and salivating over the feast that awaited us after Sunday service while clapping and head bobbing in rhythm with the choir. Back then, service lasted until 2:00 (unless the preacher was feeling extra spiritual that day), so we always knew that 3:00 was "prime time." Being the typical, impatient kid that I was, I was always annoyed by the church goers that prolonged service by getting the "Holy Spirit" up and down the aisle or distracted grandma after service with idle, mini adult conversations about nothing. I just knew that it was standing in the way of Sunday Dinner.
Today and as a Vegan, I can still enjoy a few Southern food traditions (with a few modifications), but the only one that rrrrrrreally stands out in my mind is the fried chicken.
I've passed the point of craving it. My taste buds have successfully graduated after years of self-fulfillment in grandma's sacred kitchen. Today, even the aroma does nothing for me (whew…thank goodness). But, as with many Southern girls, sometimes you just crave something generously seasoned and battered, deep fried to a golden, with an extra-crispy bite. Some old habits never die.
To satisfy that craving for battered, deep fried, and crispy, I've created EP4L's Chicken Fried Cauliflower. My Chicken Fried Cauliflower is the best of both worlds because it's perfectly seasoned, double battered, and fried to a crisp like traditional fried chicken, but its also happens to be a vegetable – making it a somewhat healthier option (no judgement). Chicken Fried Cauliflower won't compromise your meatless diet, but does promise to deliver on texture and flavor, thanks to an eclectic combination of seasonings and the double-batter.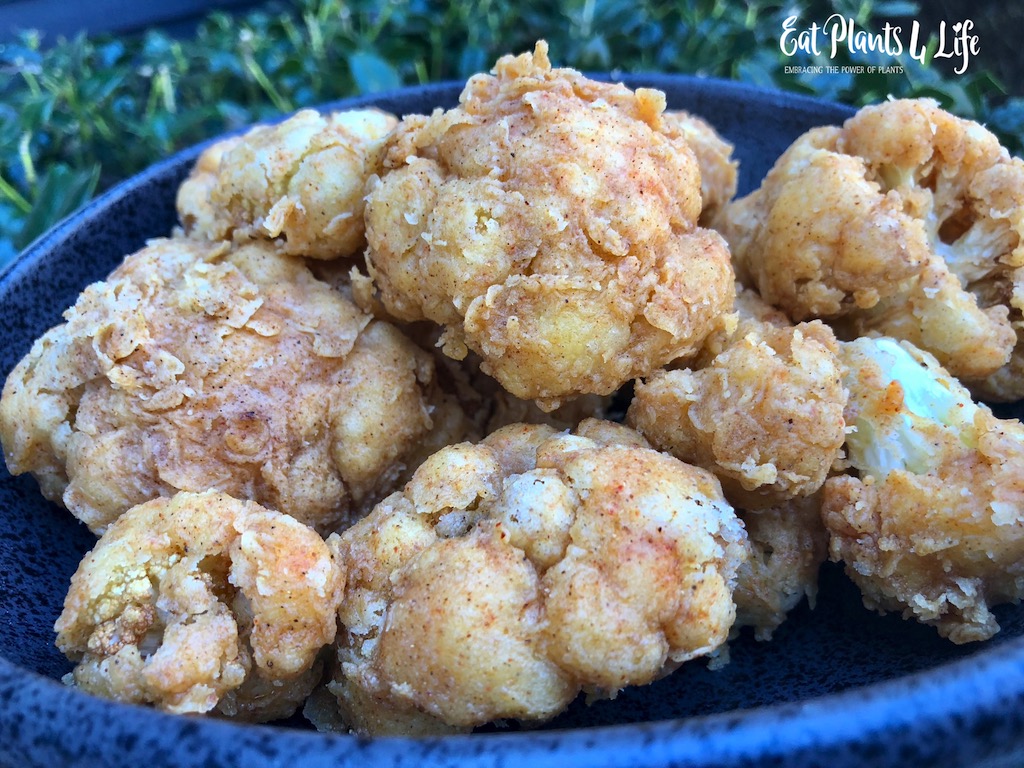 My magical, favorite egg replacement, aquafaba, does the job of making sure that the batter sticks to each and every floret, making it extra crispy. 
I love making Chicken Fried Cauliflower in true Southern fashion; alongside EP4L's Vegan Potato Salad , the pasta-version of EP4L's  Mac n' Cheese, collard greens, black-eyed peas, thick-sliced tomatoes, and Vegan cornbread. Click the recipe titles to complete your feast.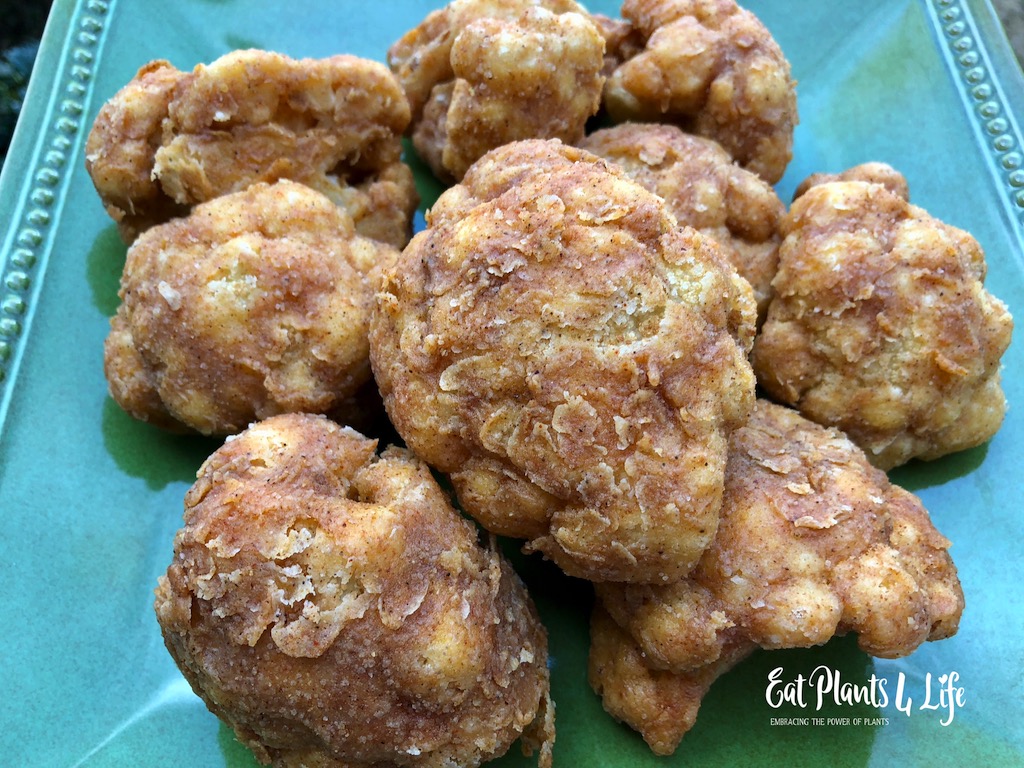 Everyone in my house knows what time it is when I pull out the Presto 06006 Kitchen Kettle Multi-Cooker/Steamer . They know it's Chicken Fried Cauliflower Day!
Check out the video recipe of EP4L's Chicken Fried Cauliflower, click the link to get your very own deep fryer, Presto 06006 Kitchen Kettle Multi-Cooker/Steamer and bring the traditions and memories of Southern food for the soul  into your kitchen – in a Vegan way, of course.  Enjoy, ya'll!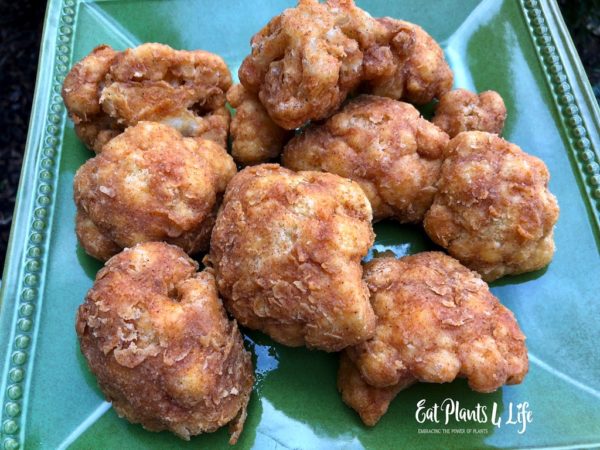 | | |
| --- | --- |
| | |
Rinse cauliflower florets in cool water. Do not dry. Leave it wet.

Add flour, paprika, garlic powder, seasoning salt, pepper, and onion powder to a plastic bag. Mix thoroughly.

Heat oil in a fryer or large saucepan.

Place aquafaba in a small bowl.

Working in small batches, place wet cauliflower florets in seasoning bag. Dip seasoned florets in aquafaba. Place back in seasoning bag for second coat. Shake florets free of excess flour.

Once oil is hot and working in small batches, place battered florets in oil. Fry until golden. Drain excess oil on paper towel.
This batter can also work with extra-firm tofu!