Do you know what animal-based food item most new Vegans proclaim to "miss" the most?
Eggs. Specifically — scrambled eggs. This surprised me. Personally, the answer is clearly cheese. It was the toughest for me to give up and still takes refuge in my thoughts from time to time—especially if there is a cheesy pizza to be had.
However, the most popular breakfast staple, takes the prize for "Most Missed" animal-based food item for Vegan newbies.
How do or did you enjoy your eggs? Most will say scrambled. For me, it was definitely scrambled, with an egg-white/veggie omelet coming in a close 2nd.
I personally no longer miss the taste of fluffy, scrambled eggs. I can see a plate of them now and shrug. I do however, miss the ease of preparation and their low calorie, high protein appeal. It's so easy to just crack one open, scramble it up in a pan, and enjoy without worrying about the calories or feeling hungry an hour later. It was a filling breakfast choice. Back in the day, I'd eat 2 eggs alongside fruit and be completely full until lunch, thanks to brilliantly paring fiber with protein. 
I discovered that there was a Vegan way to get my low-cal, high protein-fix without sacrificing much of my morning. 
Those who are exclusively plant-based or egg-free will tell you that one way around eating actual eggs, is recreating them in a tofu scramble. It captures the exact texture of scrambled eggs. Just adding ground turmeric to the party will even replicate the golden color.
EP4L's Chipotle-Lime Tofu Scramble is my plant-based version of scrambled eggs. It's low in calories and loaded with protein and iron like eggs, but unlike eggs, it's calcium-rich.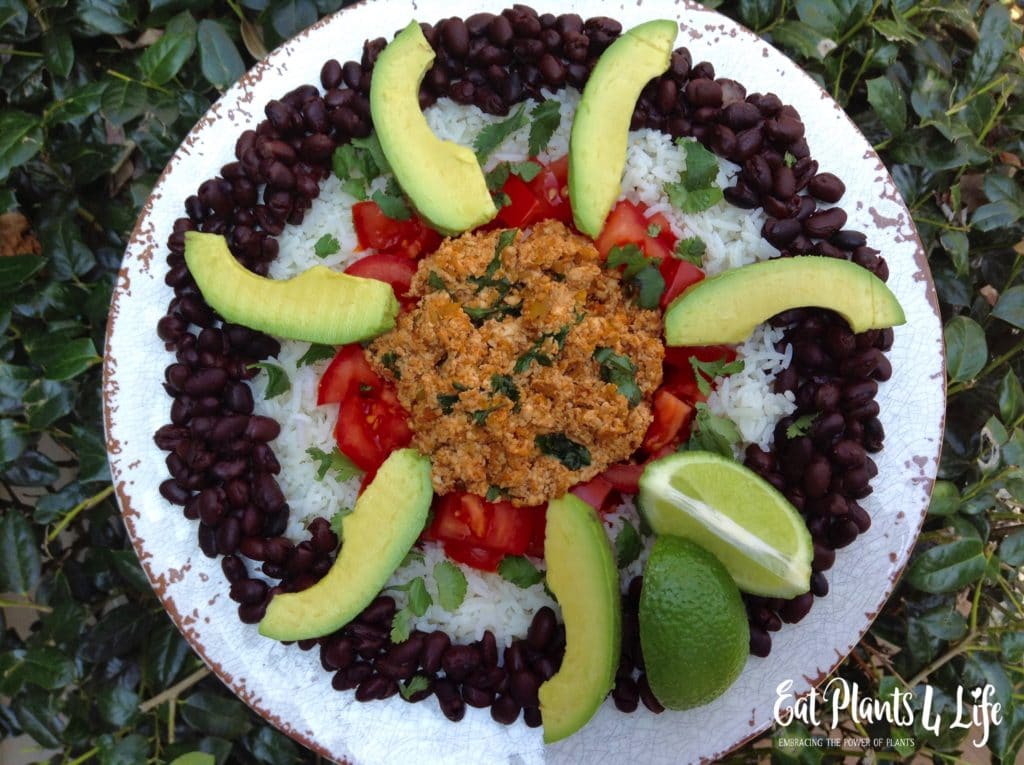 Organic tofu is marinated in a mango puree along with, scallions, garlic, cilantro, lime, and chipotle pepper seasoning in order to create a low calorie, protein-packed scramble. The great thing about versatile tofu is that you can play with the flavor combinations. Instead of mango, you can use pineapple. Add jalapeño peppers or cayenne instead of chipotle pepper seasoning. You can even marinate you tofu in salsa. The possibilities are limitless.
I allow my tofu to sit in its marinade bath for at least a day, but up to 2 days in order to fully encapsulate the flavors. It pairs well with hearty beans and rice.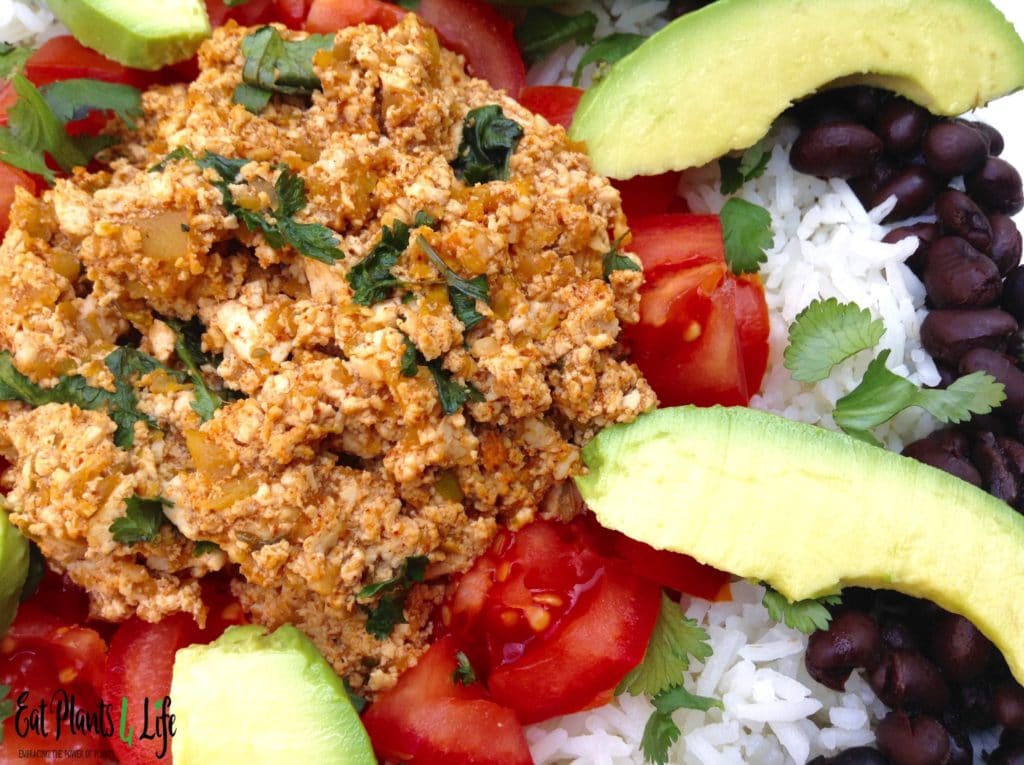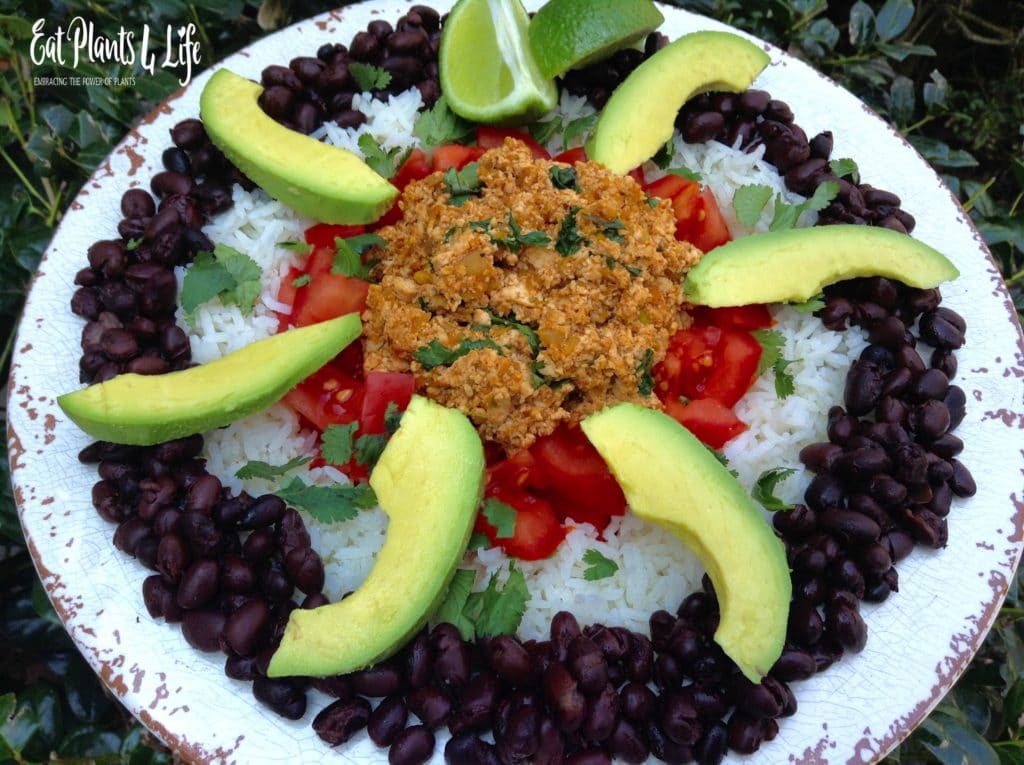 It's also the perfect taco filler – replacing traditional, seasoned, crumbled ground beef.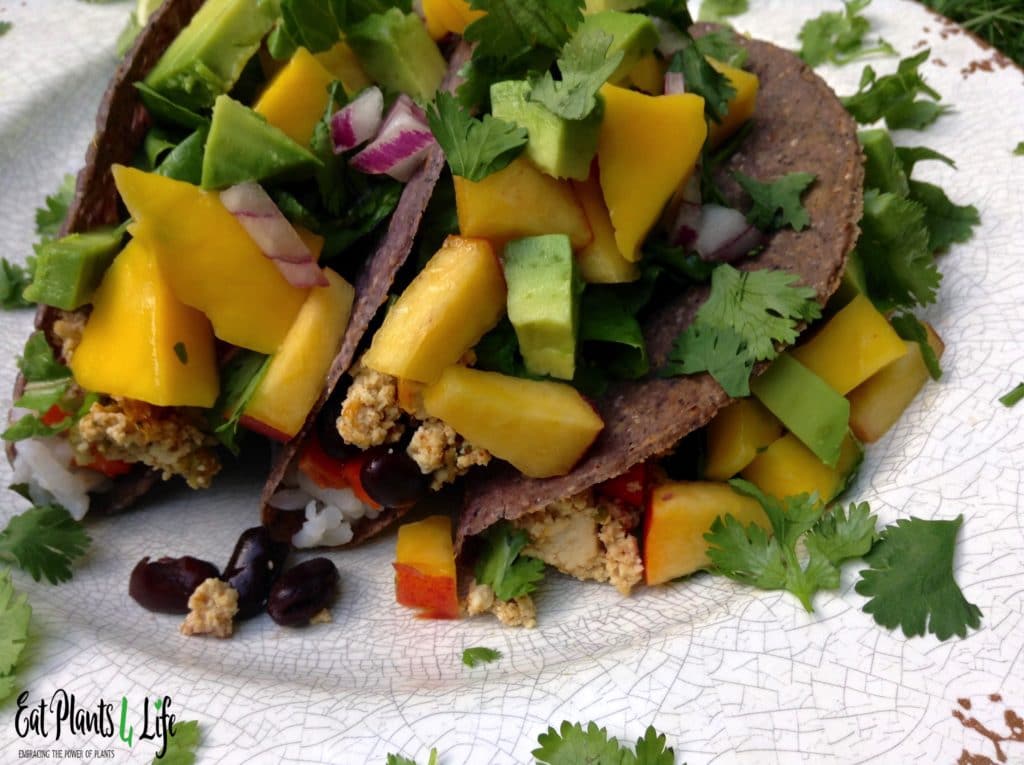 As a fluffy scrambled egg substitute, this spicy, plant-based tofu scramble is marinated in an eclectic mix of mango puree, scallions, garlic, lime and chipotle pepper seasoning. Packed full of protein, calcium, and iron it make a great rice topper or taco filler.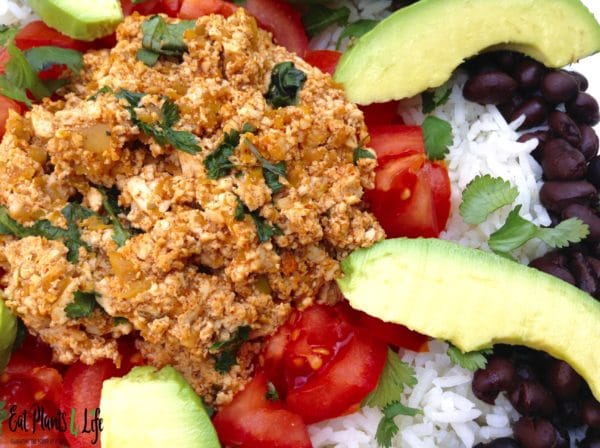 | | |
| --- | --- |
| | |
Remove tofu from packaging. Cut block into 4 equal parts and place between two clean towels. Gently press excess liquid from tofu. Set aside.

Place garlic cloves, sliced mango (or pineapple), green onions, chipotle seasoning, salt, and lime juice into a food processor. Process until mango is pureed.

Use the "pulse" button on your processor and pulse 5-6 times or until tofu forms crumbles. Do not over pulse, as it will liquefy the tofu.

Place tofu mixture into a bowl. Gently stir one last time. Cover and refrigerate for at least 1 hour but up to 2 days.

After marinating tofu, heat oil in a large skillet. Add marinated tofu. Cook, stirring frequently until lightly browned.

Remove from heat and fold in optional cilantro.

Serve over jasmine rice with black beans, chopped tomatoes, and avocado slices...
Optional additions: cooked beans, cooked rice, avocado slices, chopped tomatoes, your usual taco condiments.
If you really want to capture an egg-like scramble, add ground turmeric to the pan while sautéing the tofu. It will transform your tofu into a bright, golden egg-like color.