Wow, for the next few days we celebrate not one, not two, but three awesome National Food Holidays. February 25th is National Chocolate-Covered Nut Day, February 26th is National Pistachio Day, and February 27th is my personal fav – National Strawberry Day!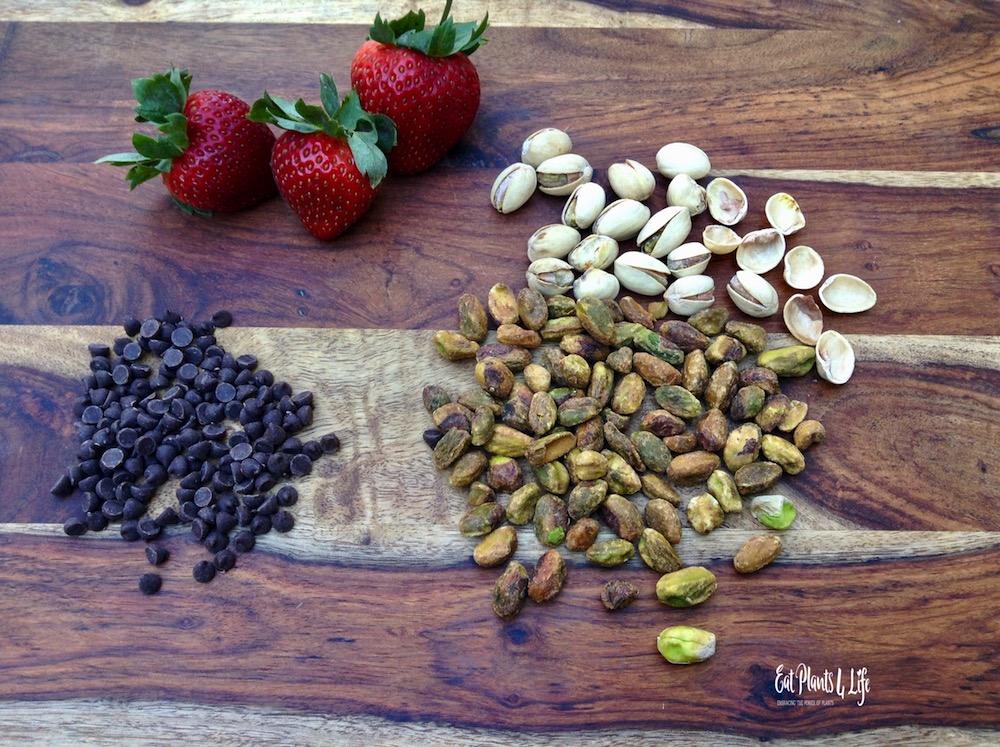 To celebrate these food holidays I decided to share two of my favorite Vegan snacks. First on deck is the lovely pistachio.
The Pistachio is a nut that I personally did not appreciate until 2014. Now, I can't get enough of them. As a member of the cashew clan, this delicious tree nut is a great source of protein, healthy fats, thiamin, iron, magnesium, potassium, calcium, zinc, vitamins A and E, and fiber. The magical, heart-healthy nut is great for the skin and weight and blood sugar management. It is also a super-star antioxidant and is the perfect post workout snack.
As a great addition, crushed over a vegetable or fruit salad, the green-hued pistachio can also be added as a topping to desserts; like muffins, glazed doughnuts, and other pastries. They're often used in sweet dishes in Indian and South Asian countries.
To find out more detailed information about the health benefits of pistachios and find great recipe/snack ideas, click here for the link to American Pistachio Growers.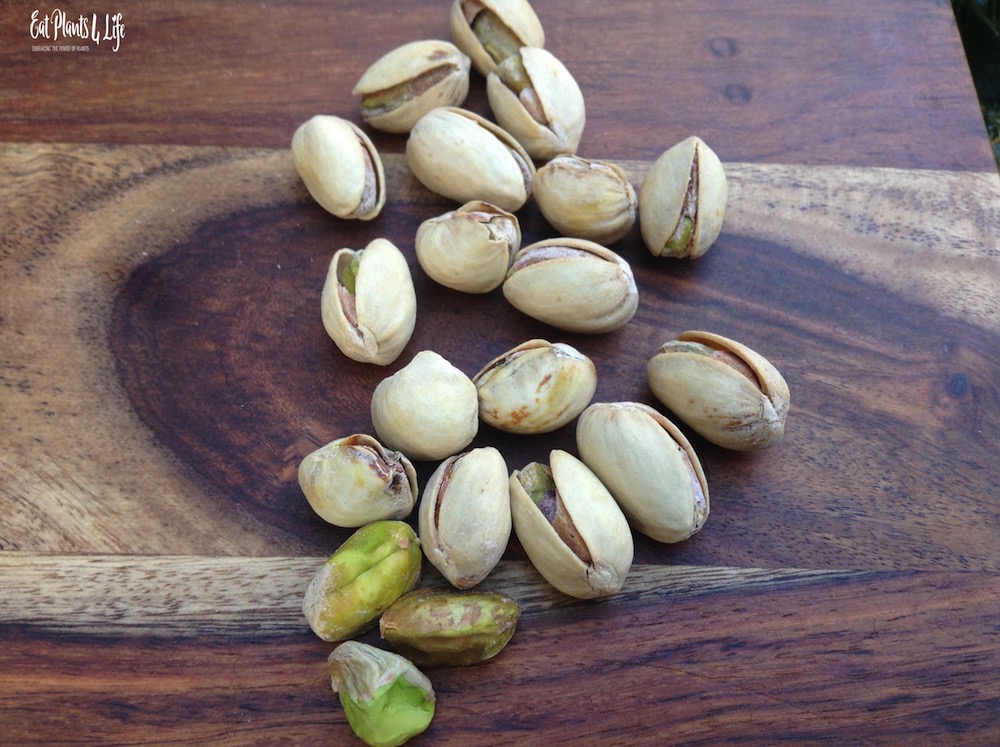 In honor of National Chocolate-Covered Nuts Day and National Pistachio Day, create this quick, delicious snack.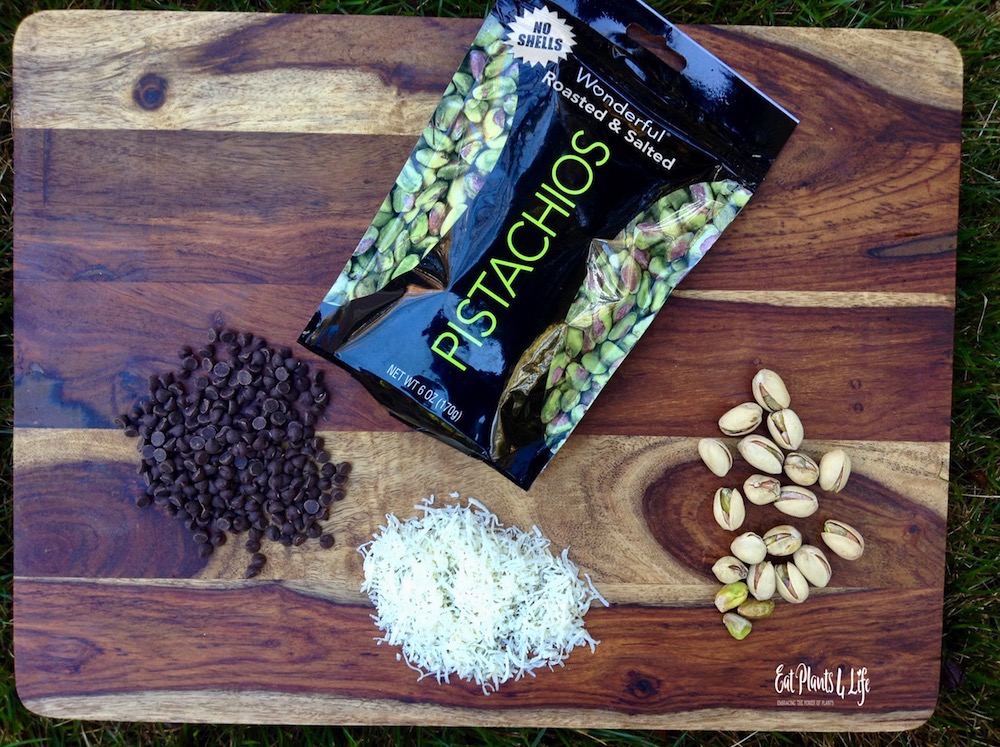 In a bowl, melt some Vegan dark chocolate chips in the microwave.  Add unshelled pistachios to the melted chocolate and coat evenly, using a fork. Spread pistachios in a single layer on a baking sheet lined with parchment paper.  Try not to allow the nuts to touch. Sprinkle with shredded coconut. Place chocolate-covered pistachios in the refrigerator to set. Serve it for dessert or as a snack.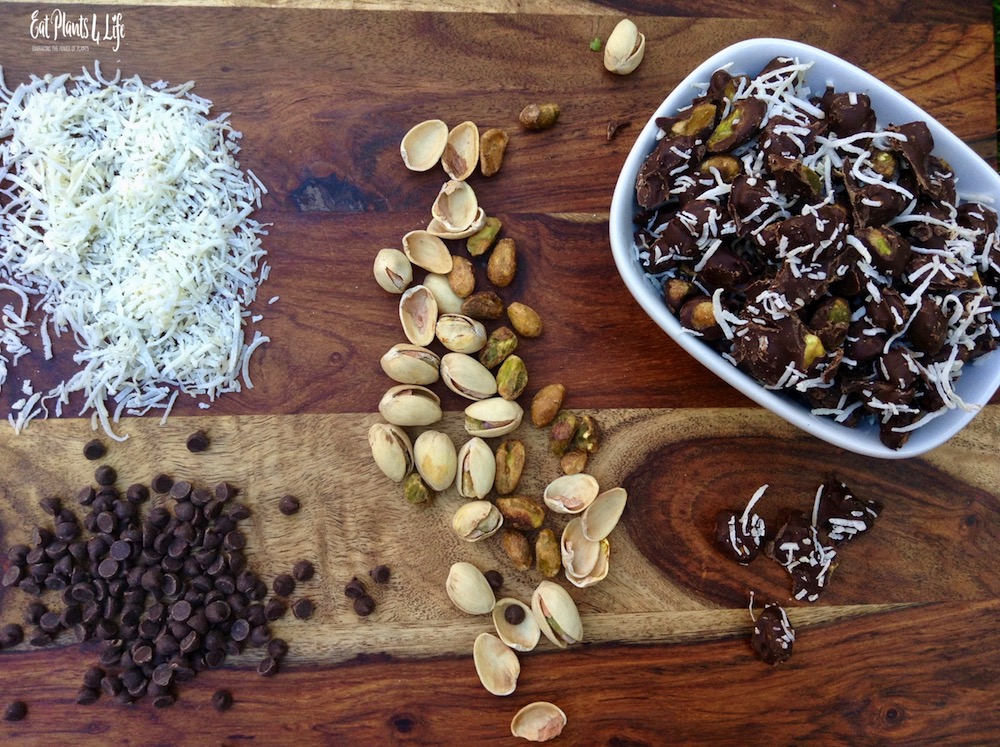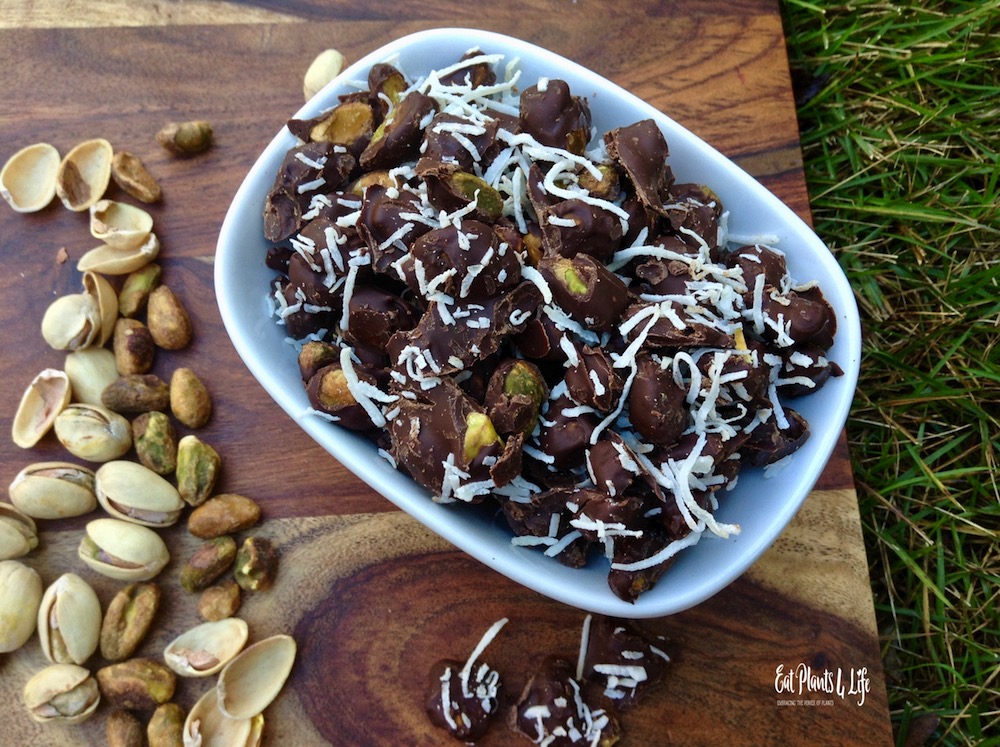 Next up…strawberries! Ode to a Strawberry. Oh, how I adore thee. Strawberries are ranked in the top tier when it comes to antioxidant benefits. These fragrant, low-calorie gems are the perfect dessert or snack. My favorite way to enjoy mine and knock out a chocolate craving at the same time is generously dipped in dark chocolate. I remember craving them during my first pregnancy – and fleeing to Godiva Chocolatier in the mall to get some on my lunch break. I quickly learned that making my own was definitely the way to go (especially when the cashier dropped the $6 per strawberry bombshell on me). Sticker shocked, I've made my own ever since.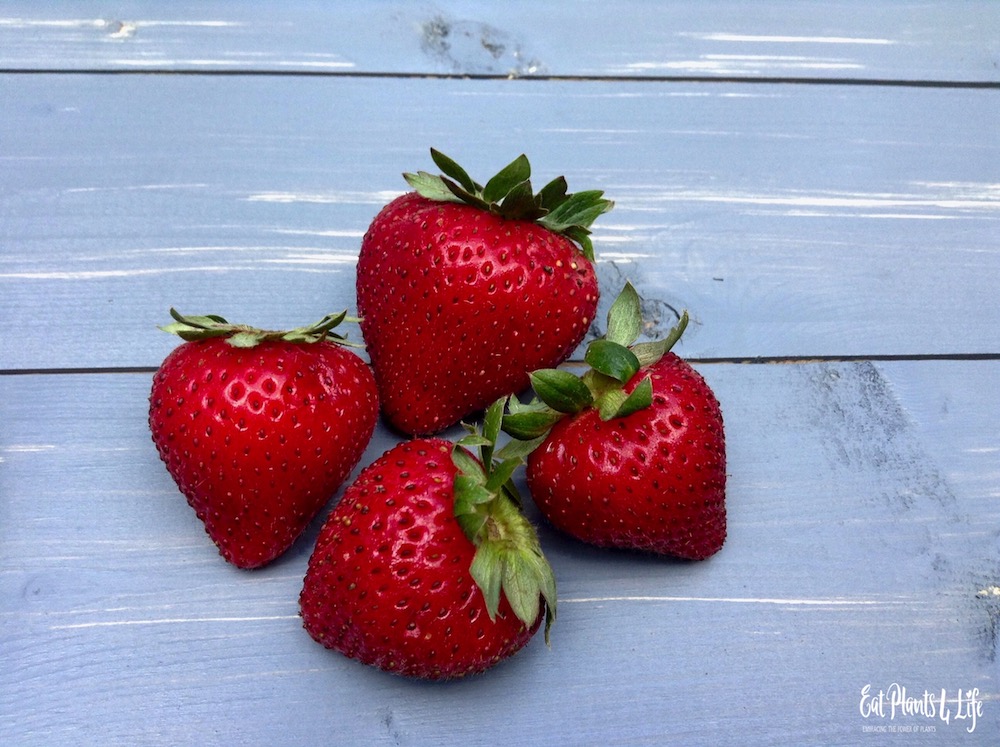 Don't underestimate the power of this vibrant colored fruit. Did you know that strawberries have more vitamin C than citrus fruits like oranges, lemons, limes, and grapefruits? So, if you want to stave off the common cold and someone suggests that you drink a glass of orange juice, reach for a bowl of strawberries instead. Not only does it have more fiber and cancer-fighting antioxidants than a glass of OJ, strawberries also have blood pressure reducing and anti-inflammatory properties. They're rich in vitamin A, folate, potassium, calcium and fiber, proving that this is indeed a super-fruit.
So, pay tribute on National Strawberry Day by dicing them up and adding them to your salad,  smoothie, dessert plate, Vegan pancakes, oatmeal, or muffins. Or, make my tasty, easy, Strawberry-Kiwi Salsa. It's loaded with fiber and healthy fat, thanks to the addition of avocado and chia seeds. It's a big switch from traditional tomato-based salsa ingredients, but worth the switch.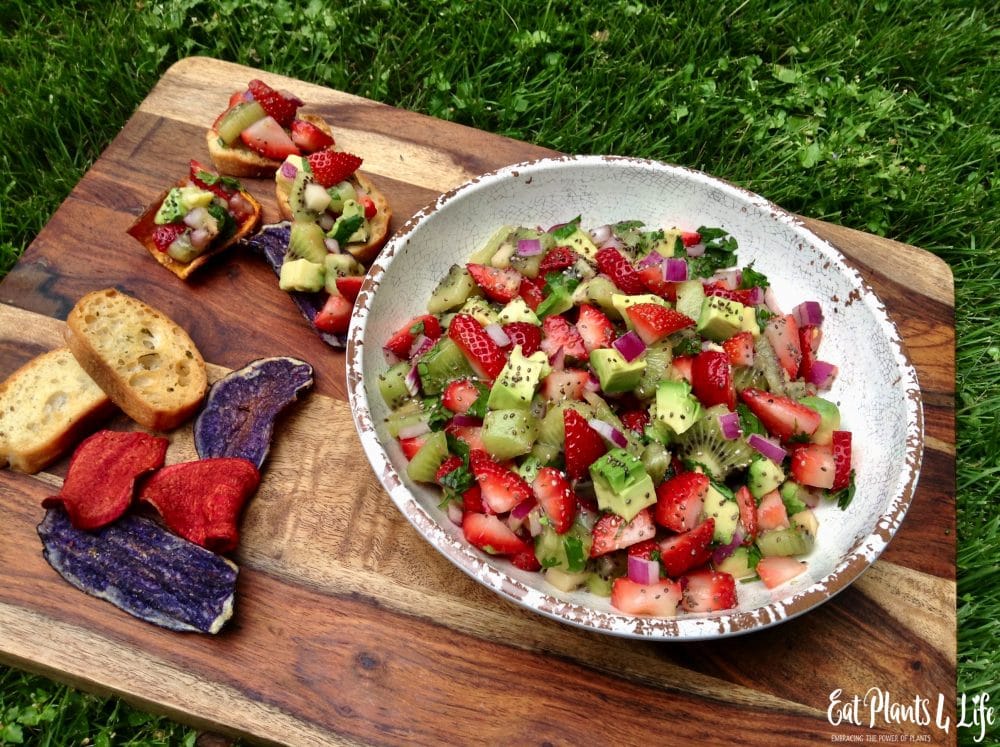 Serve it alongside your favorite crudities to make it a light meal.  It even works well as a baked potato, salad, or taco topper. 
Check out our video to see just how easy this is to make…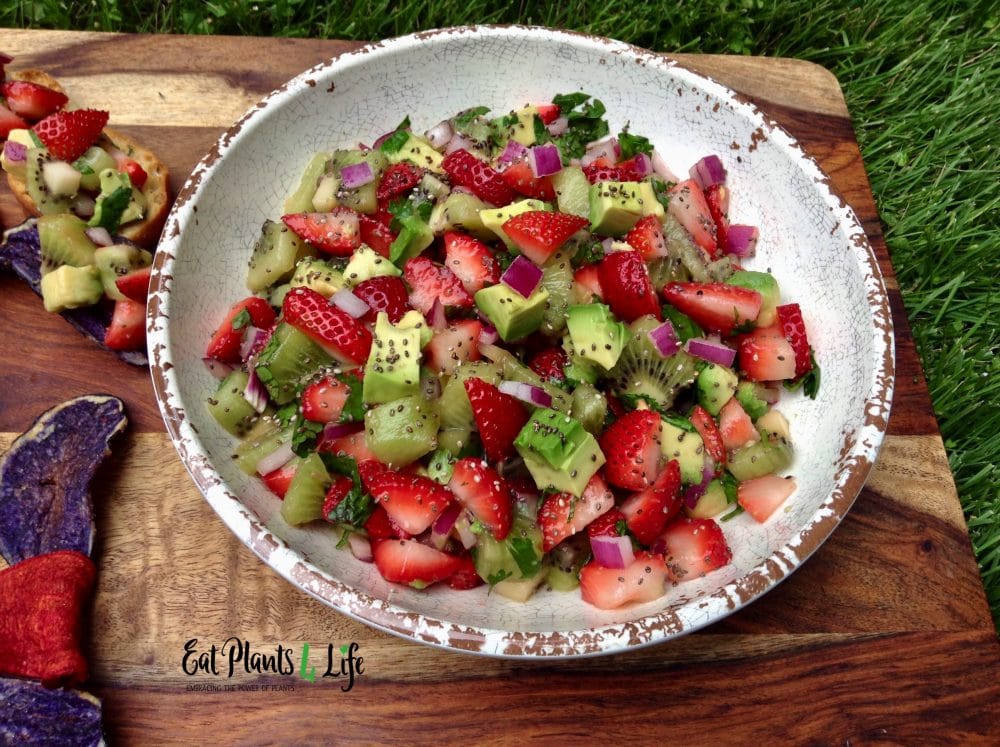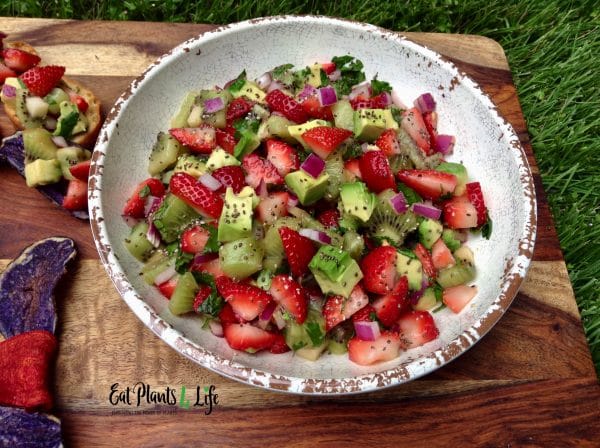 | | |
| --- | --- |
| | |
Combine strawberries, kiwi, onion, and cilantro. Add salt.

Add avocado and lime juice. Gently fold.

Sprinkle with chia seeds.

Serve along side pita chips, toasted baguettes, or tortilla chips.

Or serve as a baked potato, salad, taco or burger topping.