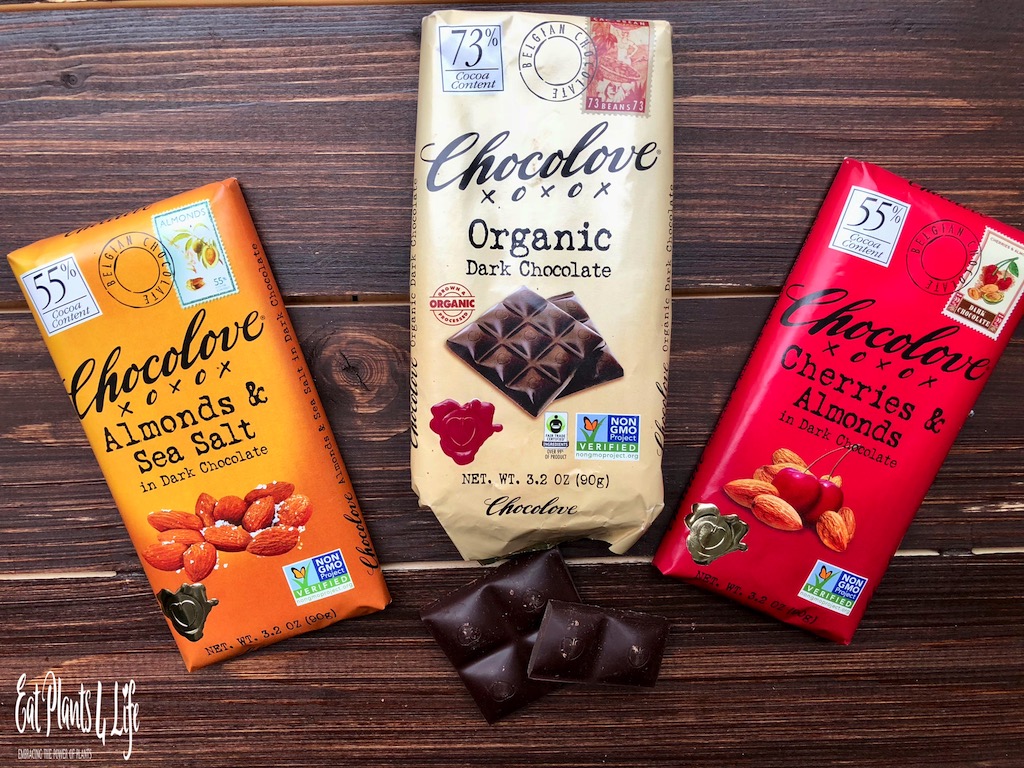 Found in stores like Whole Foods, Target, most gourmet stores and even on Amazon, Chocolove Premium Bars originate in Boulder, CO and is made with Belgium chocolate.
The ingredients are simple – – ranging from cocoa liquor, cocoa butter, sugar, and vanilla as the base. Then, depending on the variety you chose, other simple, real ingredients are added. For example, the "Cherries & Almonds" bar (my personal fav) has almonds and dried cherries and the "Orange Peel" bar has orange oil and freeze dried orange peel infused into it. My favorite during the holiday season is the "Peppermint Dark Chocolate" bar, which is of course infused with peppermint oil. Keep in mind that with 24 different varieties to choose from, not all are Vegan-friendly. Chocolove does make milk chocolate, too. As always, be sure to read the ingredients.
All you will need to satisfy that chocolate craving in 1/3 of a large bar or ½ of a small bar. I like to freeze mine. In my mind, it lasts a little longer. An added bonus is that each large bar includes a love poem inside the wrapper.
So if you're watching your calories, take solace in knowing that a small serving of Chocolove is just enough to satisfy your sweet craving, while allowing you to keep your weight-loss or maintenance goals.
Your Welcome!
XOXO!