What if I told you that you could chow down on America's #1 food obsession without the guilt and burden of excessive saturated fat and sodium? You would probably think I was crazy, right?
And you would probably think I was also crazy if I suggested that cheese (the culprit of your pizza's salt infested and fat-laden woes) be eliminated from your toppings, right? Nod if you agree..
Regular cheese pizza will always taste better than cheeseless or dairy-free cheese pizza. Come on, even I can admit that.  But if you have a dairy sensitivity or if you're like me and committed to living a dairy-free lifestyle, there are other options. You don't have to forgo pizza altogether. Pizza without cheese or with dairy-free cheese can still deliver on flavor.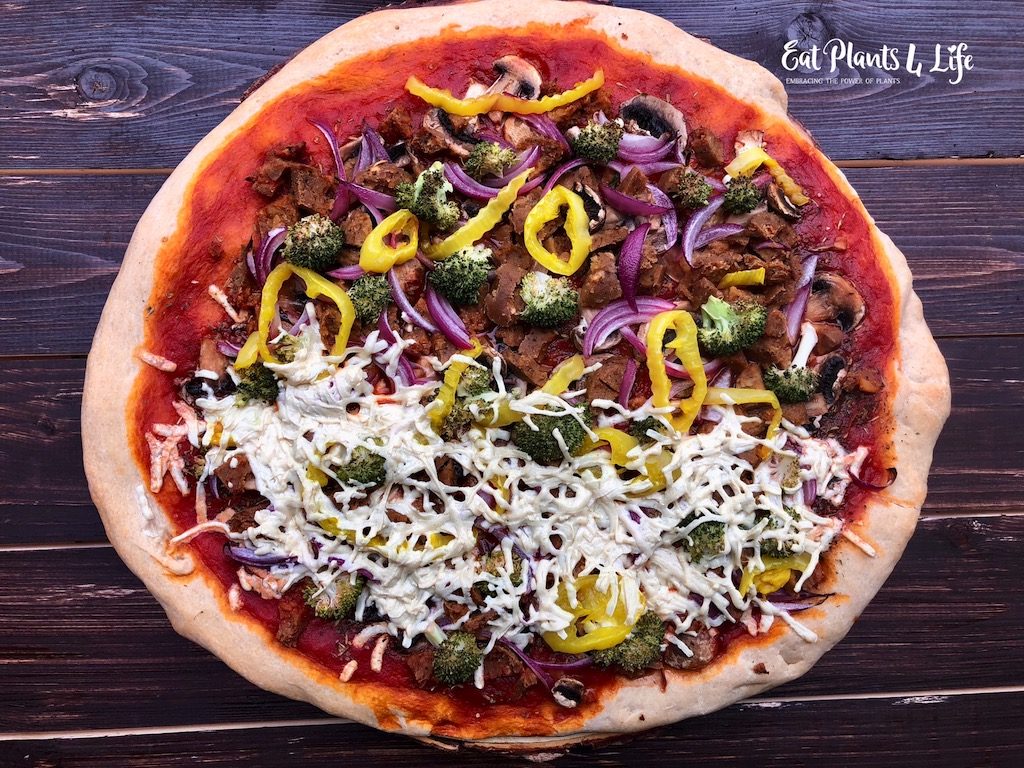 I use to think it was absolutely absurd to even consider a pizza without cheese. I thought, "What's the point of having pizza without cheese?" "Cheese-less pizza masquerading as the real thing is whack!" 
I thought that Veganism would equate to me giving up one of my favorite weekend luxuries.
Little did I know that I was wrong — very wrong.
I decided to give cheeseless pizza a try. Yes, you read it right – cheeseless pizza would soon canvas my plate, replacing the ooey, gooey decadent variety that once adorned it. Not only was I going to experiment with a healthier version, I was determined to make it from scratch because many pizza doughs are not Vegan. What the heck! Go big or go home, right?
It turns out that I was wrong about the effort, too. D.I.Y. Vegan Pizza Dough (and not the less favorable, preservative-filled, pre-packaged store-bought crusts) was less laborious than I expected. In fact, kneading dough is actually a built-in stress reliever and fun for the kiddos.
I searched the web for Vegan pizza dough recipes. Here is one that I really like…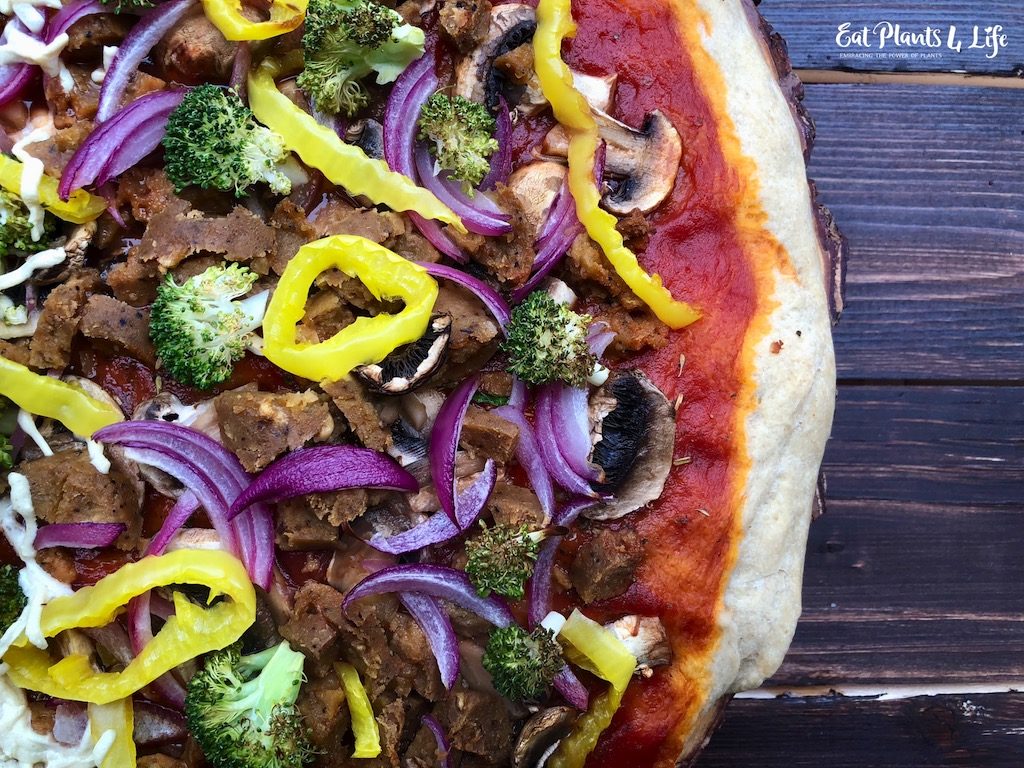 Vegan Pizza Dough is both crunchy and chewy, takes just a few ingredients and a little elbow grease, and tastes great! Because I'm not using regular cheese, I take it upon my greedy self to eat several slices – because the fat and calories still won't add up the your standard pizza. 
And although it can never tru-ly top the cheesy pizza you're use to (if we're being completely honest), my New York-style Vegan cheese-less pizza is a flavor-packed and delicious substitute. Give it a try. You may miss cheese (initially), but you definitely won't miss the heartburn.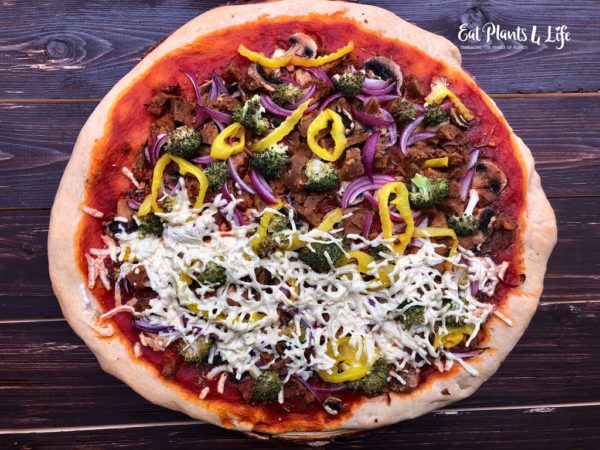 | | |
| --- | --- |
| Servings | large (or 2 personal pizzas) |
| | |
| --- | --- |
| Servings | large (or 2 personal pizzas) |
Add the water, yeast, sugar and ½ cup of the flour into a mixing bowl. Stir well and let it sit for 20 minutes. It will get bubbly.

Add olive oil, salt, and 2 cups of flour, and mix with a wooden spoon until it's together enough to turn out onto a lightly floured surface to knead.

Knead for about 10 minutes (let out that aggression), while adding more flour (a little at a time) to produce a soft, elastic and slightly sticky dough. Do not add too much flour, just enough to keep it from sticking to your work surface as you knead.

Form the dough into a ball and place in a large oiled bowl. Drizzle a few drops of oil and coat the top of dough to prevent the surface from becoming dry.

Cover with a kitchen towel and place in a warm spot for 2 hours, or until the dough doubles in size.

Punch down the dough, form into a ball, and place in large zip lock plastic bag. Refrigerate overnight (up to 2 days).

Once, you're ready to enjoy, pull the dough out of the frig and let it get to room temperature before handling.

If you're making 2 small pizzas, divide dough in half. Using your hands, work your way around the edges and stretch out the pizza dough. Stretch out the edges until a circular pizza is formed. Place on a baking sheet that has been sprayed with cooking spray. Continue to press out the edges. Be sure pizza dough is spread out evenly.

Add tomato sauce (keeping 1" of edge free of sauce). Load pizza up with your favorite toppings! I like to use red onions, peppers, torn spinach, mushrooms, broccoli florets, fresh herbs, banana peppers, crumbled vegan sausage, etc.

Sometimes I like to skip the dairy-free cheese, but my husband loves it, so we make it a half-n-half.

Bake your loaded pizza on 425 until the crust is a golden brown (about 15-20 minutes).
Tired of tomato sauce base? Use barbecue sauce or add more protein by substituting with a simple, white sauce: Place a can of drained cannellini beans, garlic, any fresh or dried herbs, diced jalapeño, and a little oil in the food processor. Blend it and use as your pizza sauce instead of red sauce.