My kids hate school cafeteria lunches. I don't recall that being the case for me when I was a kid. I specifically remember loving Friday's menu. And although I know that I run the risk of exposing my age by mentioning that Friday Pizza Day was a well spent $1.10, the rectangular-shaped cheese pizza and side of corn along with the thick chocolate shake that chased it all down, made Fridays a school day worth not skipping. Perhaps that was the point.
But my kids? Nope! They prefer to bring their own. I'm actually pleased that they're not fans of cafeteria food because #1) I've tried it and it looks and tastes unappealing (everything is heavily breaded and/or deep-fried). #2) Nutritionally speaking, it doesn't look very good for you (again, everything is heavily breaded and/or deep-fried). But, for $2.60, it is what it is.
My kids are big fans of sandwiches. I try to switch it up sometimes by offering meatless fillings like hummus, PB&J, and roasted veggies. If they give me grief for not piling on the meat, I usually follow their complaint with a mere suggestion that they skip the lunchbox that day and buy whatever the cafeteria lady is offering. That usually shuts down the complaining.
Because I am not a big fan of shelf bread (with the food additives, etc.), whenever I have the time, I like to make my own. Sundays are perfect bread-making days. My "go to" is Holy Cow's Perfect Vegan Sandwich Bread. Not only is it dairy and egg-free, it's soy-free and nut-free! I try to do recipe instructions 1-7 before church, then 8-12 when I return to a rising dough. Click the title link and check it out!
Alongside their sandwich, is the special treat my kids are always hunting for in the bottom of lunchboxes. It's not the apple I've stashed in their sack in hopes that it wouldn't be traded or left inside untouched. It's the Easy Vegan Fruit Roll-Ups.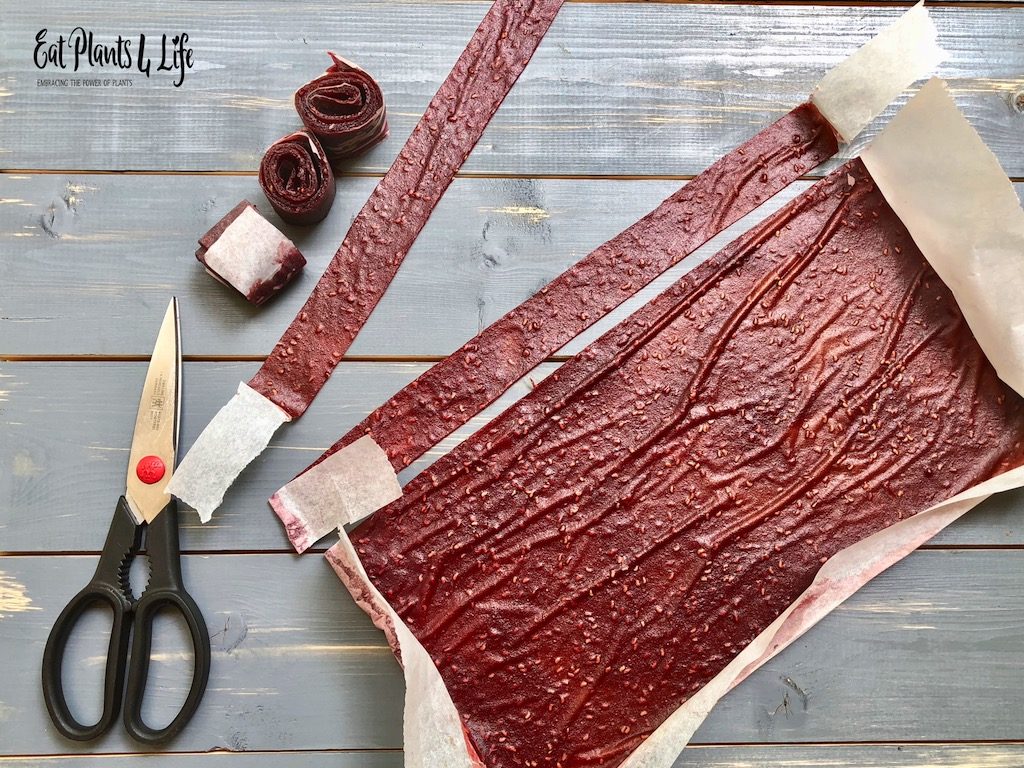 Instead of store-bought fruit leather, fruit gummies, or fruit roll-ups, which can include host of unhealthy ingredients like: yellow 5 & 6, red 40, blue 1, animal-based glycerin, monoglycerides, and other genetically engineered ingredients, I whip up a healthier version of the kid-friendly treat. A batch of three-ingredient, easy-to-make, Easy Vegan Fruit Roll-Ups are the prefect back-to-school snack or lunchbox addition.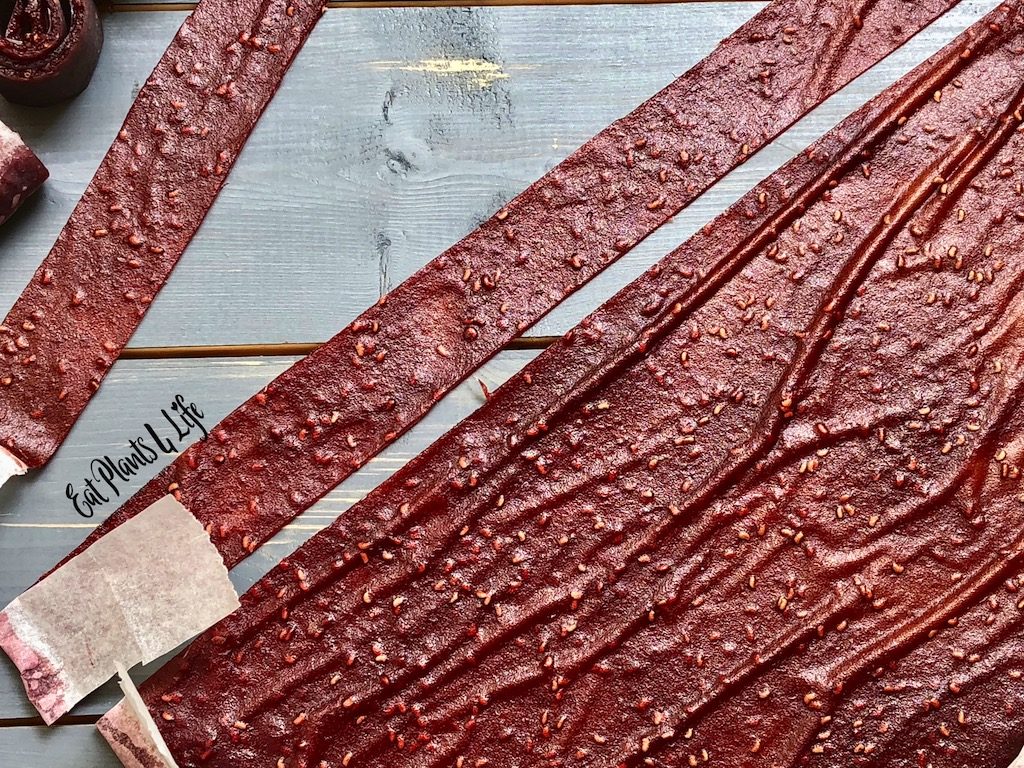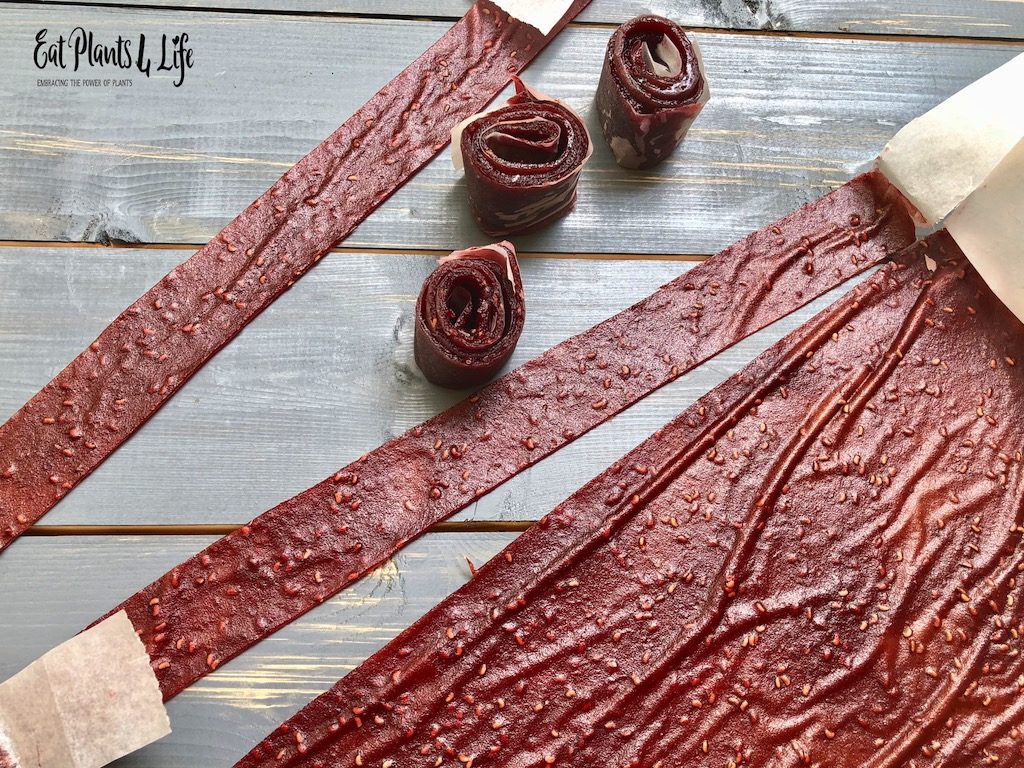 Easy Vegan Fruit Roll-Ups are so easy and fun to make. Your kids can actually help do this (check out the recipe video below and see for yourself). You only need three food ingredients and parchment paper. If you have a can of leftover Thanksgiving jellied cranberry sauce (and you know you do), dust it off! To avoid high-fructose corn syrup, I like to use Whole Food's 365 Organic Jellied Cranberry Sauce. Its simple ingredients include: cranberries sugar, filtered water, and lemon juice.
Easy Vegan Fruit Roll-Ups travel well and are not just lunchbox ready, they're car-trip friendly, after-school snack perfect, and even ideal for camping/hiking trips. I've even fed them to my pint-size, finicky breakfast eater just before catching the school bus.  
They're only 66 calories per strip, so if you're watching the calories, Easy Vegan Fruit Roll-Ups  will definitely keep you on track with your weight goals. They're sweet, tart, and will cure a sweet tooth.
If you're kids are anti-school lunch goers, pack Easy Vegan Fruit Roll-Ups into their lunch sack without worrying that they will give away the healthy fruit that you've dutifully packed. Easy Vegan Fruit Roll-Ups  are guaranteed non-tradeable!
Check out the video to see me create this easy recipe:
A yummy, kid-approved, healthy fruit leather snack that combines leftover canned cranberry sauce and fresh raspberries. Only 66 calories each and 3 ingredients needed!! **You will need parchment paper for this recipe. Recipe Source: Family Fun Magazine, Oct/Nov 2017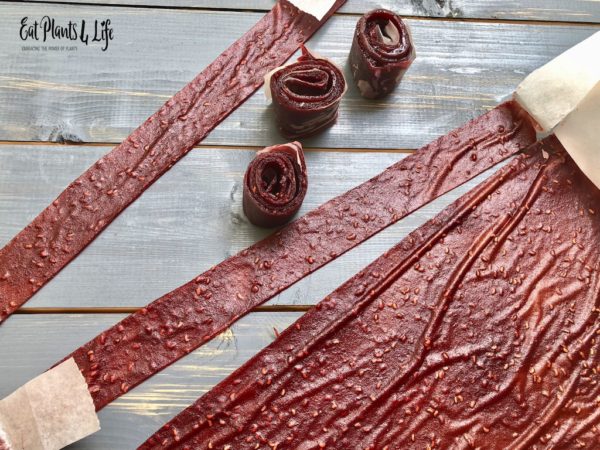 Heat oven to 200 degrees F. Line a large baking sheet with parchment paper.

Add all ingredients to a food processor or blender.

Pour mixture onto lined baking sheet. Spread into a thin, even layer (no more than 1/4" thick) with a spatula.

Bake 4 to 5 hours, or until the middle is dry. Keep checking after the 4th hour.

Remove from oven and allow to cool.

Using kitchen shears, and leaving parchment paper attached, cut into strips.

Roll up and serve! Store in a plastic storage bag for up to 2 weeks (but they won't last that long).