Blah – adj. a feeling of physical uneasiness, general discomfort or mild depression: the 18° wind chill factor and wintery mix of rain and sleet made for a blah weekend.
This describes me during a very particular time of the year. It usually occurs sometime between January and the first sign of spring. Have you ever had that same feeling? For me, it happens the minute the Christmas tree comes down and the decorations are carefully and sadly stowed away until next November. It's too cold to snow and the air is frigid and dreary, often combining with unrelenting rain. I'm stuck in the house, hoping to see a glimmer of the sun behind a stubborn formation of gray clouds. Starting to sound familiar?
Now that the holiday season is behind you, you have your sights set on warmer weather, flip-flops, and coatless outings. But instead of planning your next outdoor event, you're stuck with the drudgery of peeling off layer upon layer of clothing after a simple trip to the grocery store. To top it off, it's completely dark by the time you get home from work.
There are other names for this very common feeling that often pops in, then ducks back out sporadically throughout the season. It's the Winter Woes, Winter Blues, or a simple case of The Winter Blahs.
This year, I decided to be proactive in my effort to stave off this year's case of the blahs. I incorporated a few ways to deal with the situation at hand, meet it head-on, and ultimately savor winter and all that it does offer.
This week, I'll be posting my ways to perk up, in hopes that it will do the same for you. Now, it's time for a little homework…
Beating The Winter Blahs – Tip #1: Find Something to Do That Brings You Comfort or Simply Take Comfort in the Little Things.
That can be anything. Be spontaneous. Go pamper yourself, play hooky from work, take a yoga class, change your hair color, take a fun cooking class, make your favorite comfort food, go to an indoor trampoline park with the kids, or commit to learning a new language.
I decided to do a couple of things. The first was relearning French. I had a knack for it in high school and I've always loved it for its romanticism. So, I decided that no matter how busy I get or how long it takes (possibly years in my case), I will pick back up the language of love and eventually become fluent.
Next, I decided to be spontaneous and take comfort in the little things by surprising my kids at school and having an impromptu lunch with them. I committed to it being at least a monthly event, even when the warmer weather arrives. To see their faces when I stood near the cafeteria doors was the dose of medicine I needed. My objective was twofold. The grade school years are precious. There may (will) come a time when your future "tweens" will think that the idea of sharing a meal with their mom and their gawking, preadolescent peers is more repulsive than special. I want to not only survive the season, but also savor those brief moments in their childhood when they actually enjoy my company, even in front of their friends.
Lastly, I decided to make one of my favorite comfort foods – – soup/chowder (Vegan, of course). It's a recipe my husband also loves. I discovered it on VegNews.com, so I am sharing it with you. It was created by Isa Chandra Moskowitz and featured in her book, Vegan with a Vengeance.
Vegan Corn Chowder is the definition of comfort food. The hint of lime is the secret super-star, especially when combined with the heat of the jalapeño peppers.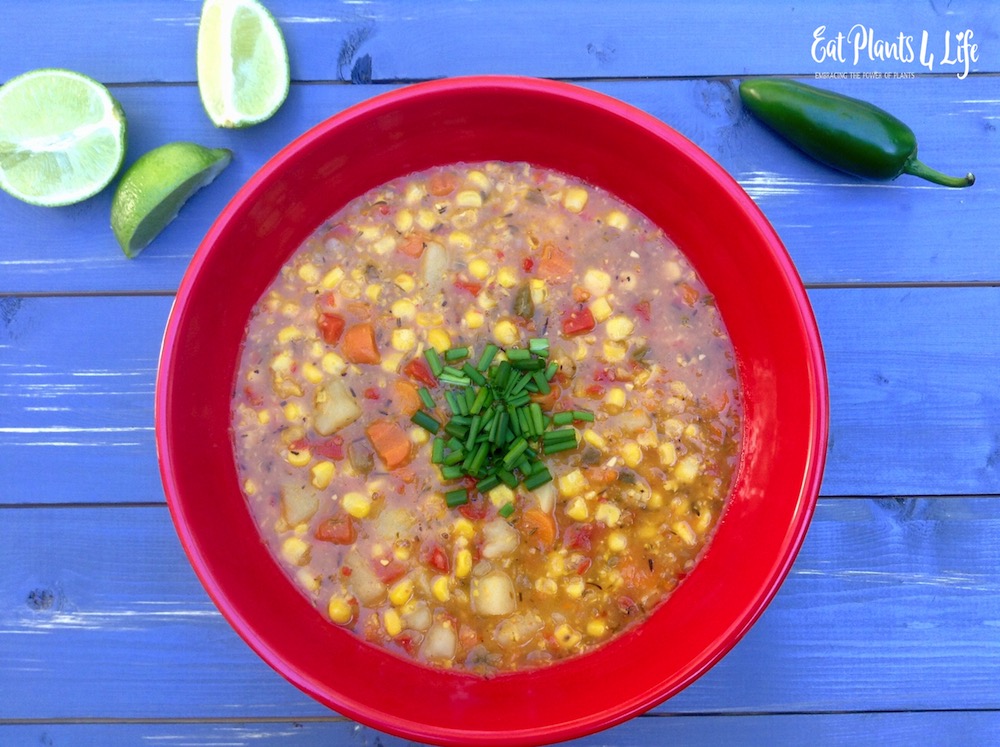 Do you remember having Campbell's Chicken Noodle Soup as a kid when you were sick? My mom always kept it on hand whenever we had a tummy ache or cold. I don't miss it because Vegan Corn Chowder is my Vegan replacement for whatever ails me.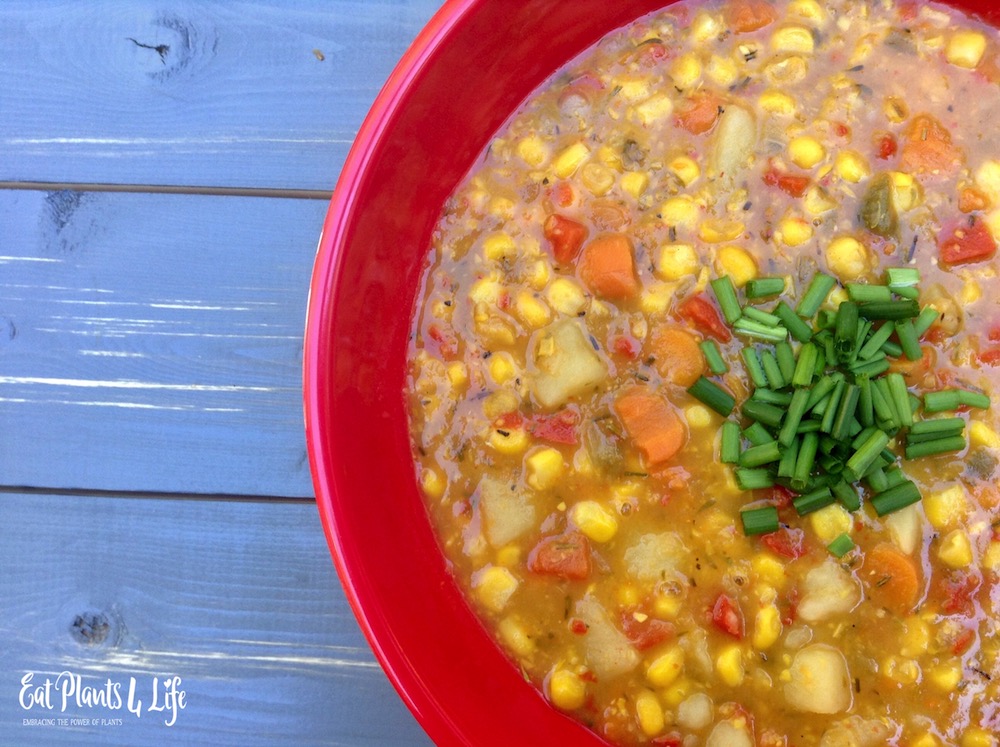 A farmer's market basket full of vegetables: corn, potatoes carrots, red bell peppers, onions, and jalapeño peppers are combined to create a bowl of slow-simmered heaven. Vegan Corn Chowder is a year round recipe. Frozen corn or summer corn can be used. It works the same. I love to make this recipe when it's cold. I like to divvy it up in freezable single-serve containers, freeze it, and pull it out as a quick lunch or dinner option.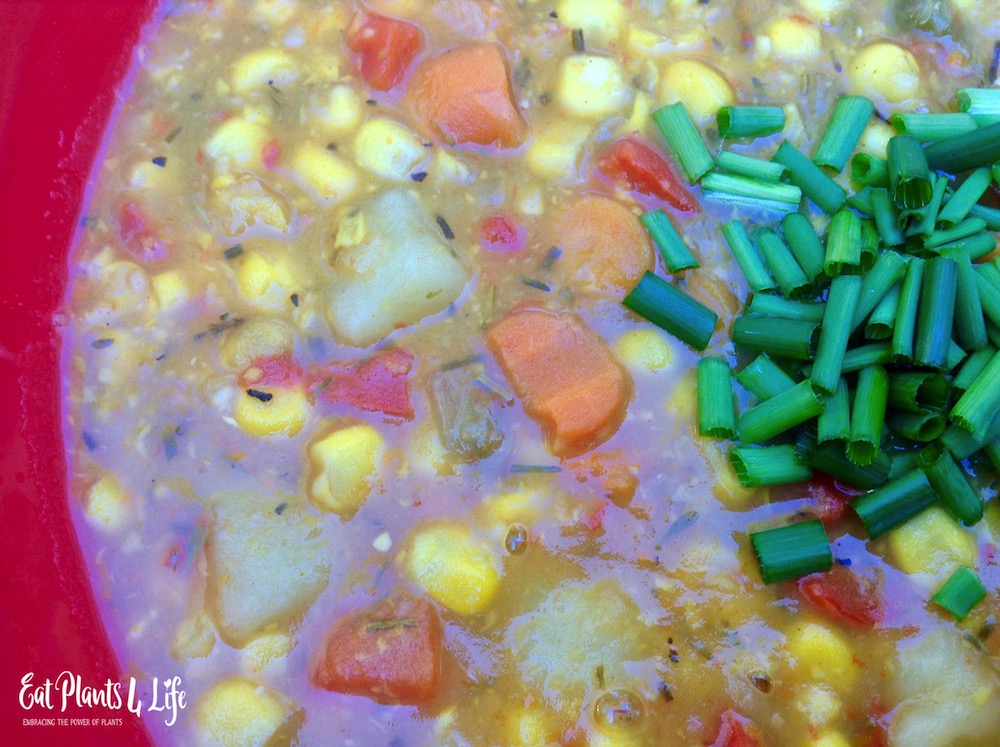 My kids give this one a thumbs up! They enjoy it with crusty bread or saltines. I'll add it to their thermos' for a healthy, winter soup in their lunch boxes. As I show up to their school for lunch, they pull out theirs and yours truly pulls out hers. Yum. Enjoy!
Look up the phrase "comfort food" and you will see a picture of this hearty, plant-based recipe. Fresh or frozen corn kernels, potatoes, red peppers, onions, and carrots create a kaleidoscope of healthy, farmer's market vegetables simmered in vegetable broth. Pump up the heat with jalapeño peppers and a pinch of cayenne. Recipe Adapted from: Isa Chandra Moskowitz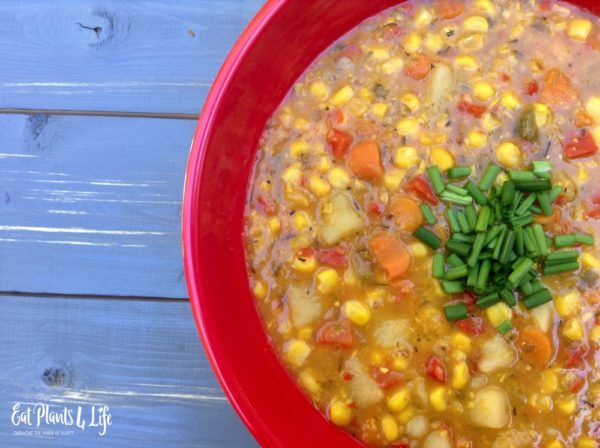 | | |
| --- | --- |
| | |
Over medium-high heat, heat 4-qt pot (preferably cast iron). Sauté onions, bell peppers, carrots, and jalapeño in oil. Add a pinch of salt. Cook until translucent (about 7 minutes). Add rosemary, thyme, black pepper, and more salt. Continue to cook 1 minute.

Add broth, corn, potatoes, bay leaf, and cayenne. Cover and bring to a boil. Lower the heat and simmer for 20 minutes or until potatoes are tender. Uncover and simmer an additional 10 minutes in order for the liquid to reduce a little.

Remove bay leaf. Transfer half of the chowder to a large mixing bowl or blender. If you have an immersion blender, blend in mixing bowl. If using a blender, blend mixture until smooth. Add pureed mixture back to chowder. Stir in lime juice and maple syrup. Thin out chowder with a little water if you prefer a thinner soup. Simmer for 5 minutes. Let it sit for 10 minutes and serve topped with chosen garnish. I like to eat mine with chives or minced red peppers and crusty bread or sourdough croutons.
In my next post, Beating The Winter Blahs – Tip #2, we'll get back to our roots…
Want to know what else would beat the blahs? Signing up for my email newsletter. I'm just sayin.