Where has the time gone? It's official –  I've been exclusively Vegan for a year now!! Although I've seen positive changes in many areas of my health, they haven't been easy to come by. There have been moments of weakness and frustration. Like with any transition, I knew it wouldn't be easy and I still struggle in some areas. I'm human. The cliché, "anything worth having doesn't come easy" comes in handy during those moments. 
But let's start on a positive note…
Besides reducing my carbon footprint (woo-hoo!), the biggest plus over the course of this year has been my energy level. Although I was a Vegetarian prior to my transition, I noticed a spike in my energy level within days of eliminating the dairy. Unless I'm sleep-deprived or sick, I don't feel sluggish and I'm never bloated.
My sinuses/nasal congestion has also shown some overall improvement, especially during the early Spring allergy season. On a scale of 1-10 (10 representing breathing solely through my mouth in order to live), I would rate my degree of nasal stuffiness prior to becoming Veg an undisputed 9. Now, it's a meager 3. Perhaps this means that I've always had a sensitivity to dairy.
I'm pleased to see my family take on more plant-based foods as a result of my transition. They are my recipe guinea pigs. Now my daughters love things like roasted cauliflower and sweet potatoes, leeks, avocado pasta, Vegan pizza, mushrooms, hummus with raw veggies, raw almonds, sautéed kale, black bean burgers, Vegan pasta salad, and dairy-free pancakes and treats.
Many of you are probably thinking, "What about weight loss?" If you recall in my January post, Hello…2016, I vowed to ditch the scale for good. So, to date, I have not weighed myself. I can tell you this–my clothes are looser and I've had to buy smaller sizes since becoming Vegan.
I do have an annual check-up coming up in a few weeks. There is always that infamous doctor's scale that compels me to wear my light-weight knit pants and flip flops that I can quickly kick off before hopping on. I will be the one anxiously standing there forcing light conversation and awkwardly looking elsewhere as the nurse glides that little black scale reader all the way to the right. I'm sure I'll peek. When I do–I'll share the results.
With every transition, however, there are those pesky negatives…
In an effort to remain candid and transparent in my transition to Veganism, I feel compelled to reveal the negatives over the last year. That's what this whole transitioning experience is all about, right?
First, I had to tweak my diet. This is when I felt frustrated. No longer was I foot-loose and fancy-free about my Iron intake. I had to be diligent in making sure that I was eating my recommended daily dose of iron-rich foods. This is totally doable on a Vegan diet, but because it was new to me, I had to be more mindful at each meal. In the beginning, it was time consuming. I'll go into more detail about this in an upcoming post.
Next, traveling to remote areas where a plain salad was the only Vegan option, eating out with large, non-Veg groups, and constant and often time consuming meal pre-planning made the transition an inconvenience for the first half of the year. Now, I'm more assertive in asking a restaurant to make a non-Vegan menu item Vegan and there is less effort and time spent on forecasting dinner or traveling plans. It is becoming second nature.
Next, I did have to spend a lot of time finding alternatives to my former animal-derived favorites, like Parmesan cheese and chocolate cake. This negative is also a positive because I always enjoy a challenge and there's fun in trying new recipes. Some have been flops that have been tossed in the garbage disposal, but most have made the permanent meal rotation.
Lastly, I recently had a reality check. I came very close to a slip-up during a recent family trip. Through the support and encouragement of my youngest daughter, who threw me a life preserver during a moment of weakness, I was able to avoid a colossal personal setback.
Here's the 4-1-1…
Temptation got the better of me a few months ago. It came out of nowhere after months of perseverance. This temptation was round, sweet, and fluffy. It was an I-Hop pancake.
My husband and I took the kids on a trip to the beach. We'd frequented there preciously, even before kids entered the picture. In the olden days, the Den of Doom aka I-Hop was a tradition for the hubby and I. Those were the days when short stacks, scrambled eggs, and turkey bacon canvassed my plate like nobody's business and I wouldn't even consider Veganism.  If it wasn't slathered, smothered and covered, it wasn't on my plate.
On this particular trip, my body was propelled by the aroma of buttery goodness, making the urge to devour a short stack overbearing after nearly 9 months of diligence. I felt powerless. 
Call if vacationitis syndrome or the mere fact that a long car ride with two quarreling siblings was driving me to the brink of frustration.
My daughter Grace was practically in tears as I considered ordering pancakes. She wanted me to stick to my goal. The look of disappointed became more powerful than the urge, so I bailed on the idea. Hopefully it taught her that I'm not perfect, nor should she ever expect herself to be. Sometimes you have to depend on loved ones to see you through the bumps. I learned that although it had been 9 months since my initial transition, The Vegan Struggle is alive and real. I may never be free of random moments of weakness and temptations, but that's ok. To be honest, I'm not sure of the outcome had she not been there, but I have to give myself a break on the what if's. I do know that watching her little sad face while eating pancakes probably would have made the entire experience worthless.
Overall, the V journey has had its ups and downs. The result is still worth any struggle and it has become a lot easier over the span of a year.  Year 2 may present new struggles, but even more highlights. Ultimately, I'm just a work in progress. Aren't we all?
Since EP4L just turned 1, I decided that a cake was in order. In honor of my recent almost slip-up at the Den of Doom, I'm celebrating with my Veganversary with the Best Vegan Pancakes. 
These yummy little doohickies also happen to be oil-free! Enjoy and thank you for supporting EP4L and  allowing me to share my transition!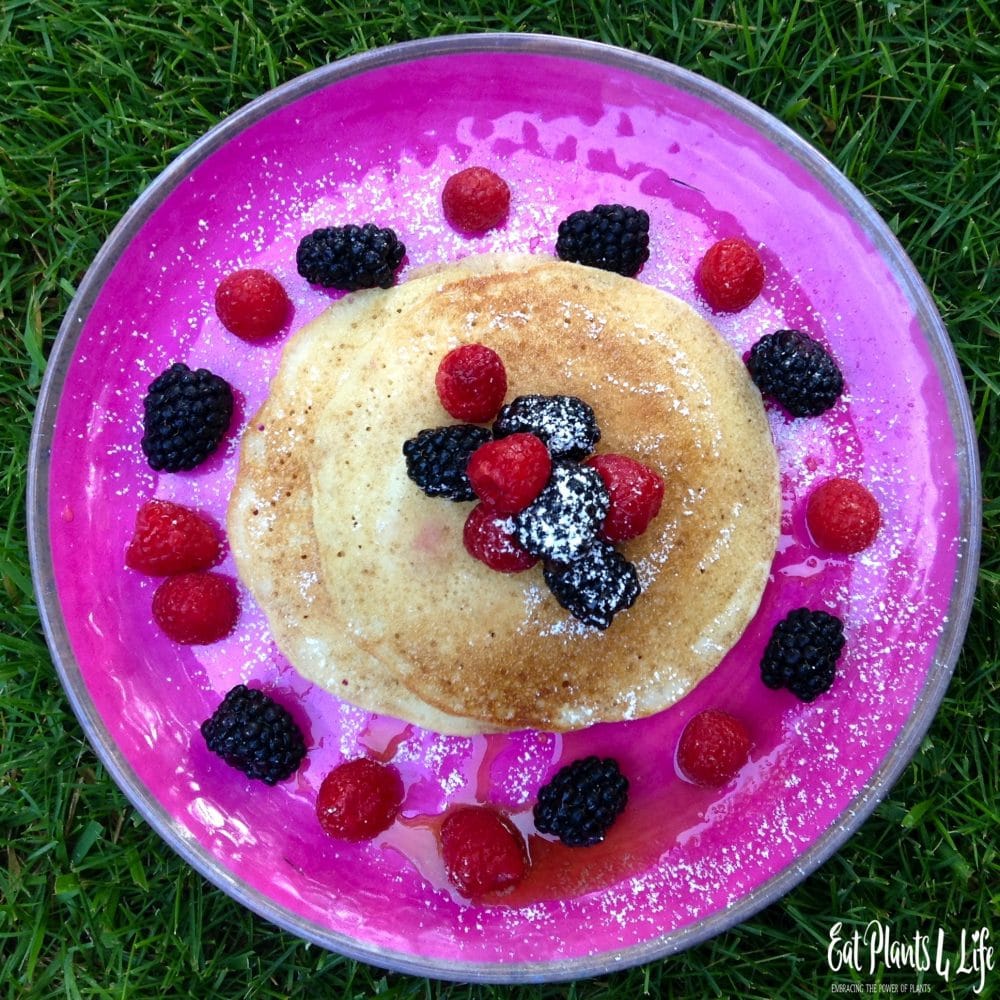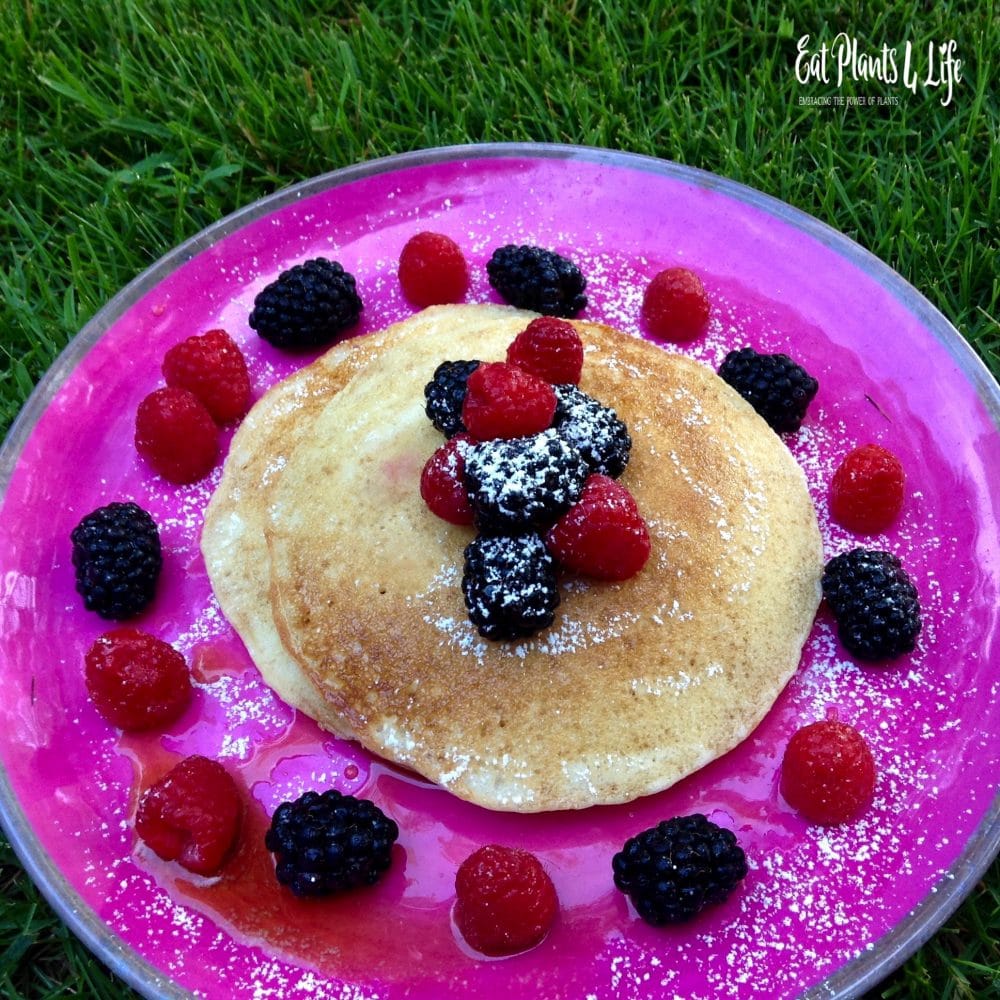 | | |
| --- | --- |
| | |
In a small bowl, add almond milk. Sour the milk by stirring in the vinegar. Let sit for 5 minutes.

In the meantime, in a large mixing bowl, combine flour, baking soda, salt, baking powder and sugar.

Add applesauce and extract to soured milk. Stir. Add wet mixture to flour mixture and stir until well combined*.

Working in batches, pour batter on a hot griddle to form individual pancakes 4" in diameter. Flip once small bubbles form. Remove from heat.
If your batter is too thin, add a splash of almond milk until desired thinness is reached. Or if it's too think add additional flour in 1 tsp. increments until desired thickness is reached.
Add 1-2 tsp. of cinnamon for cinnamon-flavored Vegan pancakes.