Valentine's Day, the holiday of love, is fast approaching.
I thought about writing a brief history of this over-commercialized occasion in today's post; however after researching its genesis, I came to the conclusion that it was way too dark and at times too disturbing to go back in time. Let's just say that some of my research of the holiday's origin involved beheadings, animal sacrifices (something a Vegan does not want to read about), and public indecency. I emphatically decided to stay in present day, restoring V-Day's lighted-hearted and festive association.
Are you amongst the many consumers who run out to the stores, get cards for the kids to distribute in class, a card, candy and flowers for your honey, and secure dinner reservations weeks in advance? Or do you prefer the less commercial approach – a homemade dinner and romantic evening with your boo (one raised eyebrow).
I'm more of a nonconformist when it comes to the Valentine's Day hype. Although I support the retail industry's need to make a profit and stimulate our economy (yada, yada, yada), I don't appreciate it when restaurants jack up their prices or charge a surcharge for reservations on V-Day weekend. I don't like the pressure the holiday ensues on millions of husbands and boyfriends, or how endless commercials cast subliminal reminders that make singles feel lonely.
That being said, I'm not a total wet blanket. I decided to remind my loved ones how much I appreciate them with a low-cost gift that also just happens to be heart-healthy and Vegan. Originally created as a healthy afterschool snack or surprise in my kid's lunch box, Vegan Confetti Pretzel Sticks can also be gifted to a favorite teacher, babysitter, or significant other.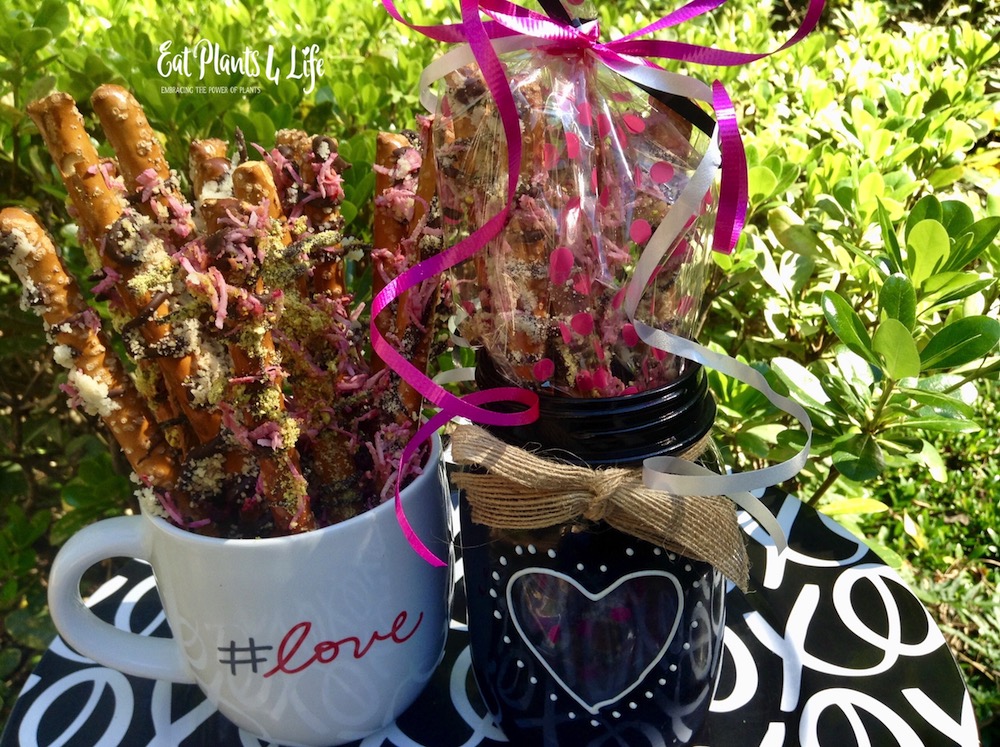 Vegan Confetti Pretzel Sticks are embellished pretzel rods that satisfy every taste bud craving. If you're seeking a crunchy, sweet, salty, and nutty flavor, this one is right up your alley. Melted dark chocolate is generously drizzled onto pretzel rods and then bathed in naturally dyed pink, shredded coconut, and crushed nuts.
To keep the cost down, I decided to get the coffee mug and glass bottle the day before V-Day. It was 50% off. Sometimes I'll wait until the week after a holiday, when everything is 80% off and stock up for the next year. The container can be a coffee mug or glass bottle that can be used as a pencil holder, beverage holder, or vase afterwards. You can also use plastic, festive gift bags from a dollar store.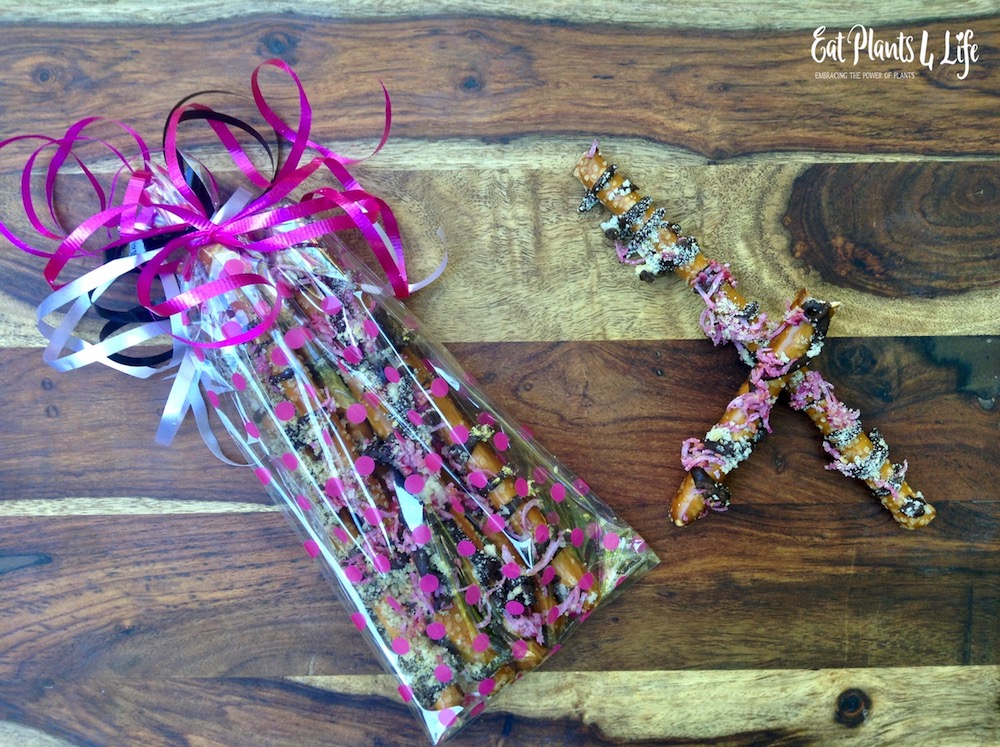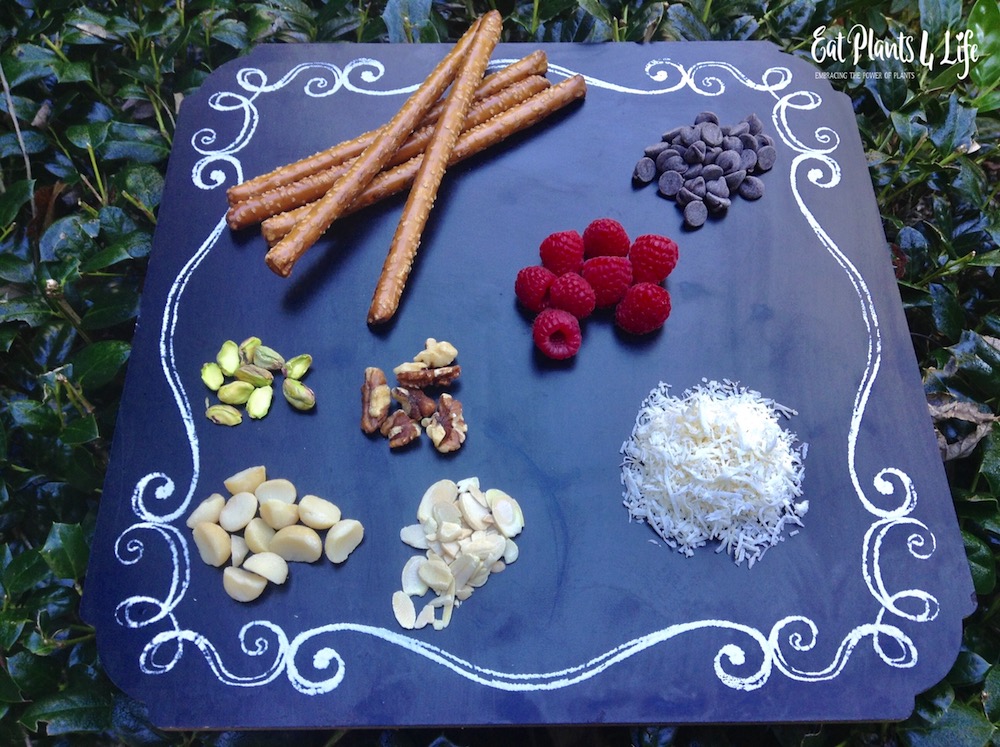 Whether you're over the moon about Valentine's Day and all of its pomp and pageantry or you're just looking for a fun, healthy, yummy treat, be sure to add these tasty cupid's arrows to your Vegan snack list. Remember to remind someone that you love them with Vegan Confetti Pretzel Sticks.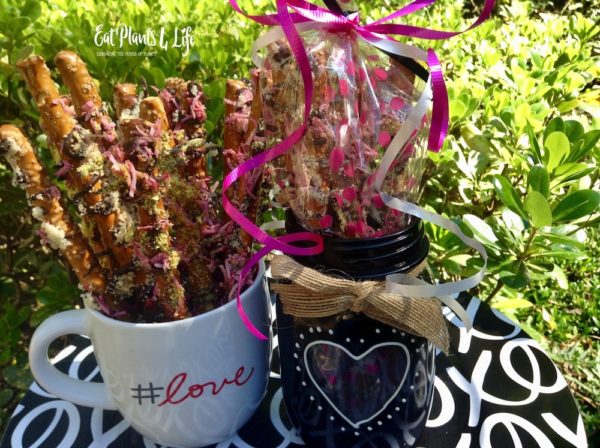 | | |
| --- | --- |
| | |
Add coconut to liquefied fruit. Be sure coconut is evenly coated and allow it to sit in the mixture for a few minutes. Remove coconut from liquid, place on paper towel and blot to remove excess liquid. Your coconut should be pink. Hey, who needs unhealthy food dyes? You just created your own.

Lay your rods out on a baking pan lined with parchment paper. Be sure they are not touching.

Place chocolate chips in a small, microwave-safe glass bowl. Microwave in 30 second increments (stirring in between) until chips are melted. Allow to cool for a few minutes. Fill a pastry bag or a Ziploc freezer bag with warm, melted chocolate. Be sure to place the chocolate in the corner of the Ziploc bag. Cut a teeny, tiny hole at an angle in the corner of the freezer bag.

You need to work quickly for this next step. Drizzle a generous amount of chocolate on the rods. Before the chocolate dries, evenly place dry, pink coconut, then the crushed nuts on wet rods. You can wait a few minutes, turn the rods over and repeat this step, but I did not think it was necessary for my rods.

Place baking sheet in the refrigerator for about 20 minutes.

Gift by wrapping in a cellophane bag tied with raffia or ribbon and placing in a keepsake mug...

Or place in decorative giftbag...