At the close of every year, one thing always comes to mind, my grandmother (who would have been 104 this year). She was (and apparently still is) the one person who can will me to the store on New Years Eve on a scavenger hunt for the last of the collard greens and black-eyed peas. Call it tradition, call it superstition, or just call me an involuntary creature of habit, but for all of my adult years, I've succumbed to the notion that eating collard greens and black-eyed peas on New Years Day will bring a year of monetary fortune. My grandmother willed this tradition to my mother, who then passed it to me.
Unfortunately, this is not the only New Years tradition in our household thanks to grandma. I've also inherited several other rituals that will either sound downright peculiar or surprisingly familiar.
#1 Don't wash your hair on New Years Day
#2 Don't do laundry on New Years Day
These rules have been a longstanding decree in my family. Meant to ward off bad luck and avoid "washing away your fortune," these so-called family truisms have always generated some doubt. Nevertheless, I've always felt compelled to abide by them (shaking my head and shrugging my shoulders).
Rule #1 seems simple enough, as I've always managed to just wash my hair the night before. Rule #2 became a dubious task once I had kids, because let's face it, most of my life is either spent sorting, washing, folding, or putting away laundry.
This brings us back to the more common tradition of collard green and black-eyed pea consumption on the first day of each year. Fortunately for me, these two items are Vegan-friendly. However, I had to make a few minor adjustments over the years.
In my culture, collard greens and black-eyed peas were always cooked in some sort of animal fat – whether it be in the form of chicken broth, pork fat or smoked turkey parts. When I became a Vegetarian, I eliminated the animal products and just drowned them in vegetable broth, a little trusty vegetable oil, red peppers, garlic, onions, a little sugar and good ole' salt and pepper. At best, I think the combination was tolerable or reasonably good. Then, I was enlightened…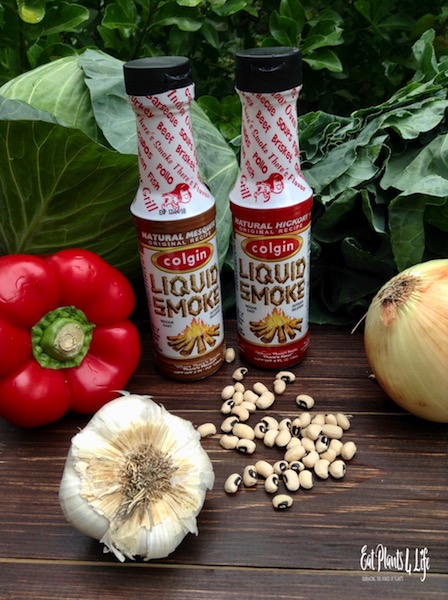 I've renamed this condiment the magic potion in my witch's brew. Just imagine me standing over a huge stock pot, pouring just a drop of it into the mixture, and watching a puff of smoke and then fireworks explode from the brew. That's what this stuff does. Simply put, it's magic in a bottle.
Colgin Liquid Smoke is a flavor enhancer that brings that missing outdoorsy smoky flavor to any dish that requires it. You can find it in most major grocery stores and you only need a few splashes in order to add smokiness to your favorite dish. A little goes a long way. I favor the Natural Hickory flavor, but it comes in several other varieties, like Natural Apple, Natural Pecan, and Natural Mesquite.
The best part is that this is an all-natural condiment with no additives or preservatives.
I add it to any cooked greens, beans, veggie burgers and even chili. It gives your taste buds a kick of woodsy flavor. Now my greens are more than just tolerable or reasonably good. And to think – – I didn't have to add a bunch of saturated fat and salt to achieve this.
So, there's still time to get to the store, rummage through the last of the collard green selection, grab a bag of black-eyed peas, and nab a bottle of magic potion.
As I soak my black-eyed peas and uphold family tradition by avoiding the need to wash my hair and letting the laundry pile up for just one day, I'll look up towards the sky and smile at my grandma – missing her and hoping that she approves of my avidity to pass along the rituals that make the prospect of the New Year aglow and full of prosperity.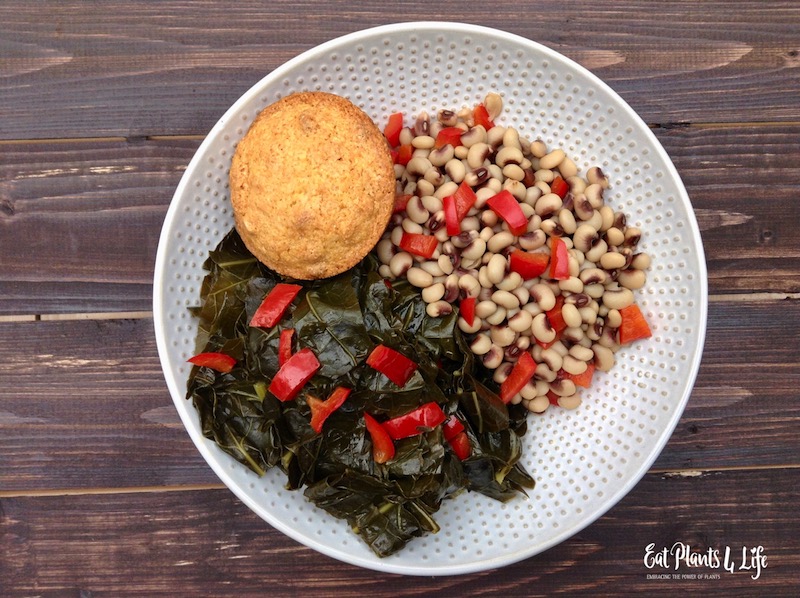 Be safe and responsible. 
Goodbye 2017…Hello 2018!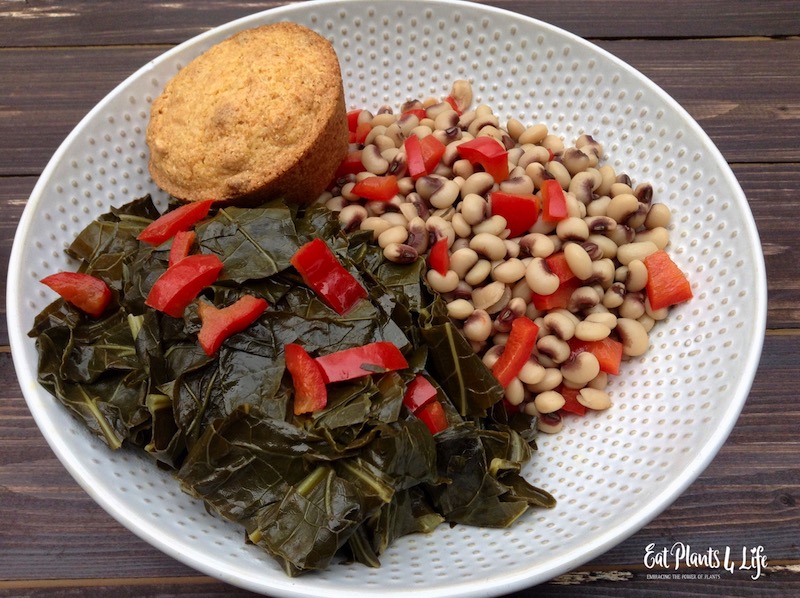 Happy New Year!