Heath experts are always selling the long-term affects of processed sugar. It has been blamed for a host of health issues including obesity, wrinkles, fatigue, heart disease, diabetes, and a slew of other chronic problems.
The fact is, we get too much of it, kicking our poor livers into processing overdrive.
We could commit ourselves to cutting back on sugar, replacing cravings with natural sugars like fruit, or avoiding it altogether, but there are the everyday items we consume where sugar is hidden and lurking. One product in particular is store-bought marinara sauce.
Ideally, when we consider store-bought marinara sauce, we say to ourselves, "well it's healthy – crushed tomatoes and their heart-healthy, antioxidant properties has to be good for me."
The truth is, marinara sauce in a jar usually has added sugars and not just the natural sugars typically found in tomatoes. Don't get me started on other additives like calcium chloride or citric acid.
This is not a soapbox moment where I begin to preach about boycotting the spaghetti sauce aisle in your grocery store. Let's face it, marinara sauce in a jar is cheap, convenient, and does have some noteworthy health benefits.
However, if you are looking to have more control over the ingredients that ultimately go in to the mouths of you and your family, don't settle. Try switching it up on occasion.
I've created an easy solution to your added sugar-laden marinara sauce woes.
My Herb Roasted Tomato Sauce is easy breezy to make, is guilt-free, and will give the stuff in the jar a run for its money in taste.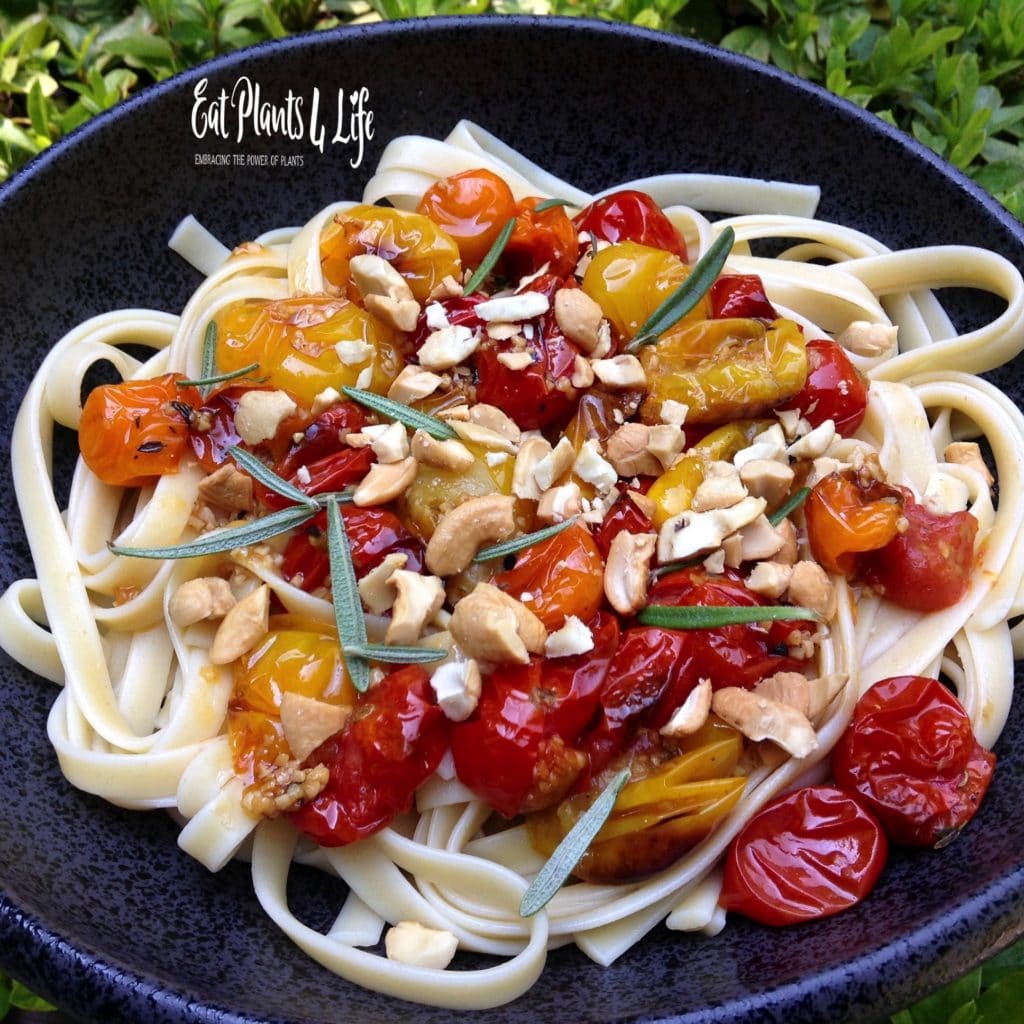 It looks sophisticated and pretty on your plate, especially if you use multi-colored grape tomatoes. Select your favorite fresh herbs to include, so you can create a different taste combination each time you prepare it.
Will I still buy the store-bought stuff? Without doubt, I will. But at least I know exactly what I'm eating and if I feel the urge, I can easily ditch the jar!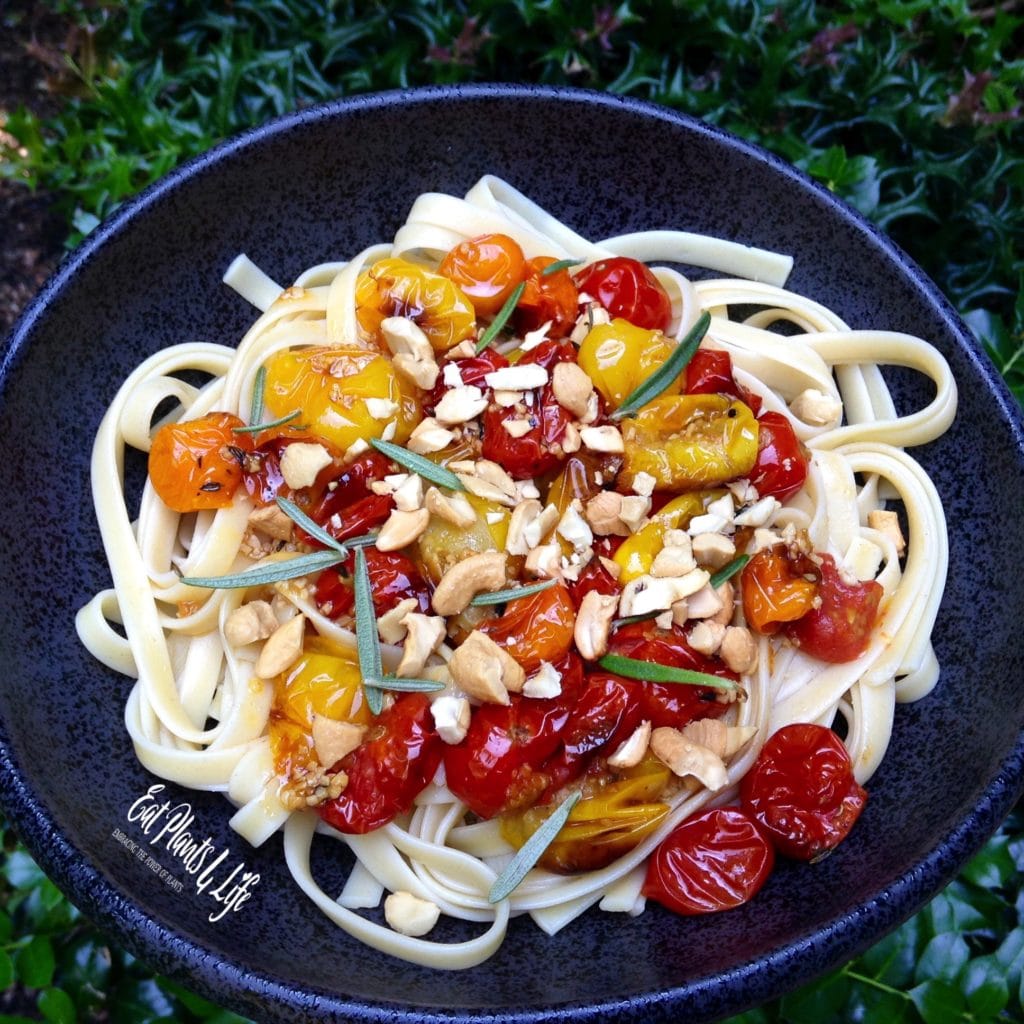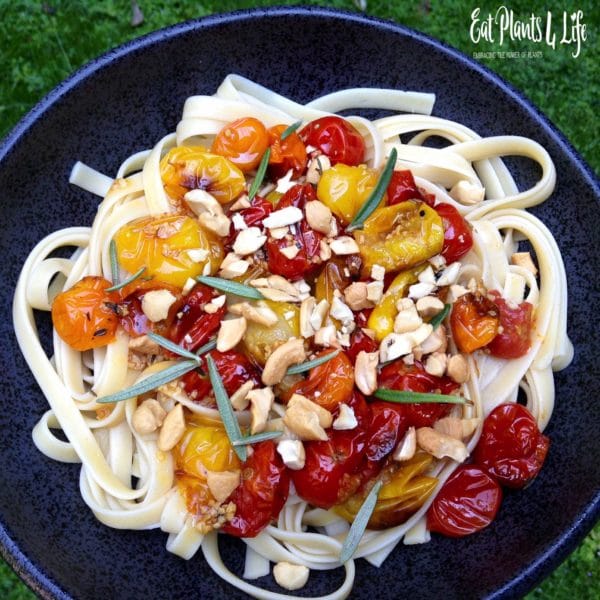 | | |
| --- | --- |
| | |
Instructions
Preheat oven to 425 degrees.

Place tomatoes in a shallow pan. Drizzle with oil. Add garlic, salt and pepper. Hand toss until oil is evenly coated. Lay fresh herbs across tomatoes. Cover and roast until tomatoes break open (about 15-20 minutes).

Remove from oven. Discard sprigs of herbs.

Pour tomatoes and pan drippings over 8 oz. of your favorite cooked pasta.

Easy, right? Enjoy!
Recipe Notes
*Dried herbs can also be used.