Within my innermost circle, I've been known to go against the grain and stir things up sometimes — who doesn't from time to time? I do love traditions, but sometimes there's that urge from deep within that sparks the need to switch gears and spice things up a bit.
If you're a southerner like me, you know all about that New Years Day tradition of eating collard greens (dollar bills) and black-eyed peas (coins) on January 1st, in order to sprout monetary prosperity in the New Year. It's a fun and healthy way to start the new year and my crew has been participating in this tradition for as long as I can remember.
Being the superstitious person that I am, this year I'm going rogue (somewhat). Instead of pulling out a ginormous stockpot in order to cook bunches and bunches of collard greens, I'm keeping it simple and keeping with tradition with my Southern Flatbread Bites.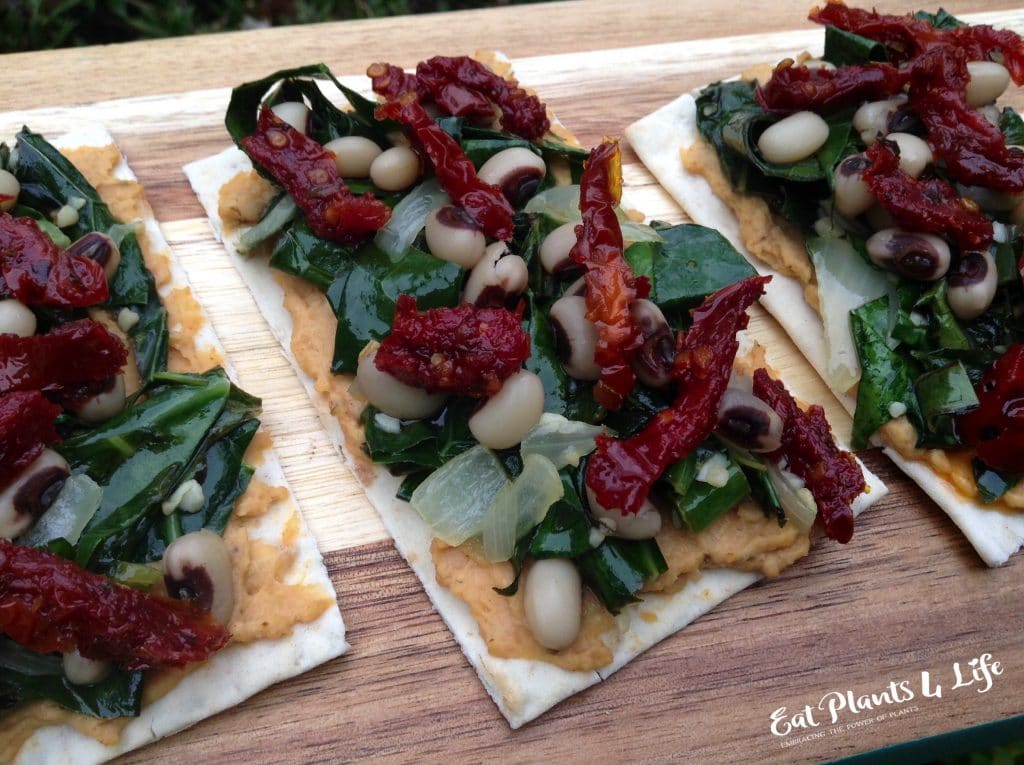 They can be served as an appetizer (like a New Years Eve party) or main meal. The sundried tomatoes will give your taste buds a flavor zing and the flavored hummus serves as the perfect, creamy base that allows you to pile on the dollar bills and coins. Loaded with fiber, plants, and protein, these healthy bites will not make you feel like you've totally skimped on tradition.
Be safe and Happy 2017!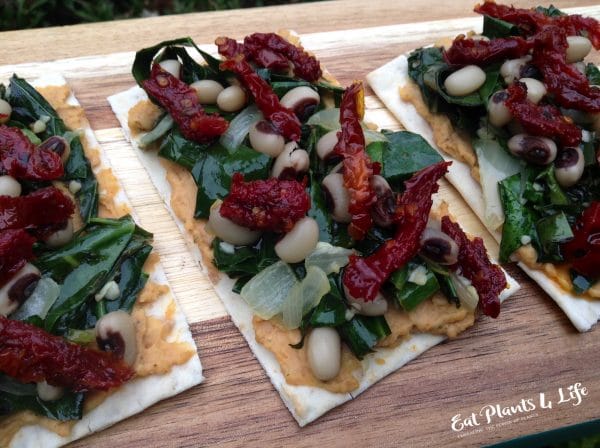 | | |
| --- | --- |
| | |
Preheat oven to 400 degrees.

Remove stems from collard green leaves, stack leaves on top of one another, roll them up, and slice leaves at ½" intervals, forming thin slices.

Heat oil in a large skillet over medium-high heat. Add thinly sliced collards, garlic, and onions, salt, and 1 cup of water. Sauté until onions are translucent and collards are tender, adding additional water if necessary to avoid sticking (5-6 minutes). Set aside.

Place flatbread sheets in preheated oven directly on rack. Toast lightly. Remove from oven. Spread hummus onto flatbread sheets while flatbread is still warm (the flatbread will warm the hummus).

Evenly distribute collard/onion/garlic mixture, cooked black-eyed peas, and sundried tomatoes on each flatbread. Use a pizza wheel to section into small rectangular pieces.