Have you heard the latest pasta claim? According to a recent US News & World Report article, Italian scientists have conducted extensive research to back their claim that pasta may not be as bad for you as we all have been programmed to believe.
The scientists affirm that pasta isn't making you fat and does not negatively affect your BMI (Body Mass Index). In fact, in moderation it may actually be good for you, especially if you are considering losing weight.
Is this really news to you? Let's be real, people. Any food in moderation can be eaten without blowing your fitness or weight loss goals. Pasta becomes the counter-productive anti-Christ when we drown it with heavy cream sauces, saturated-fat laden cheese, and greasy, fatty meats or when we scarf down a mountain of it on a 12″ plate.
This so-called revelation is not new, earth-shattering news (smh). Most of us know that pasta isn't making Americans fat. We have over consumption to thank for that.
So what's the best way to enjoy it in moderation and trick ourselves into thinking we're eating more than we actually are?
Simply adding colorful veggies to your bow-ties to mask the fact that you're eating a smaller serving will erase the high-carb stigma attached to the "white stuff." I try to keep my pasta to about 2 servings as a Vegan in order to meet my protein needs. But on top of those 2 servings is always a boatload of veggies.
Now I could be responsible or "PC" and say that whole-wheat pasta is better for you and should be your first choice, but the truth is, I detest most whole-wheat pastas and so do my kids. Give me "enriched" pasta all day long and I won't feel even a hint of guilt. I'm not a big fan of the gritty stuff. I can only eat whole-wheat spaghetti and that's probably because spaghetti is thin, making the grittiness less noticeable. But as a penne, bow tie, etc. variety, I quickly lose interest. If you're like me, that's okay because the added veggies will more than make up for the missing fiber.  And for goodness sake, if you're going to indulge, why not enjoy it?
In the spirit of indulging, Labor Day aka The Last Summer Hurrah, is the perfect day to relax and put the claims of those genius, Italian scientists in motion.  We wouldn't want all of that comprehensive and accurate research to go to waste now would we?
So, relax, indulge, and enjoy EP4L's healthy Laborless Pasta!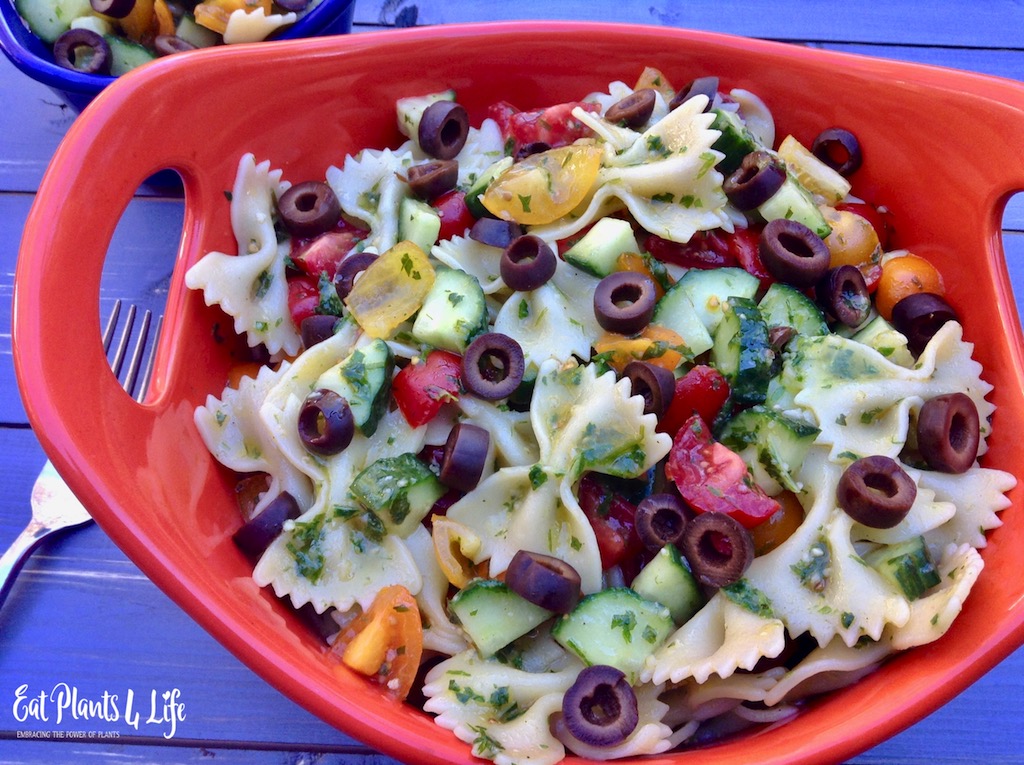 Laborless Pasta is easy-to-make, the perfect take-a-long side dish for your next Labor Day, July 4th or Memorial Day party, and a picnic favorite!
The combination of colorful, raw vegetables, short pasta, and a light herb vinaigrette makes this healthy dish a beautiful addition to your cookout tablescape. Enjoy!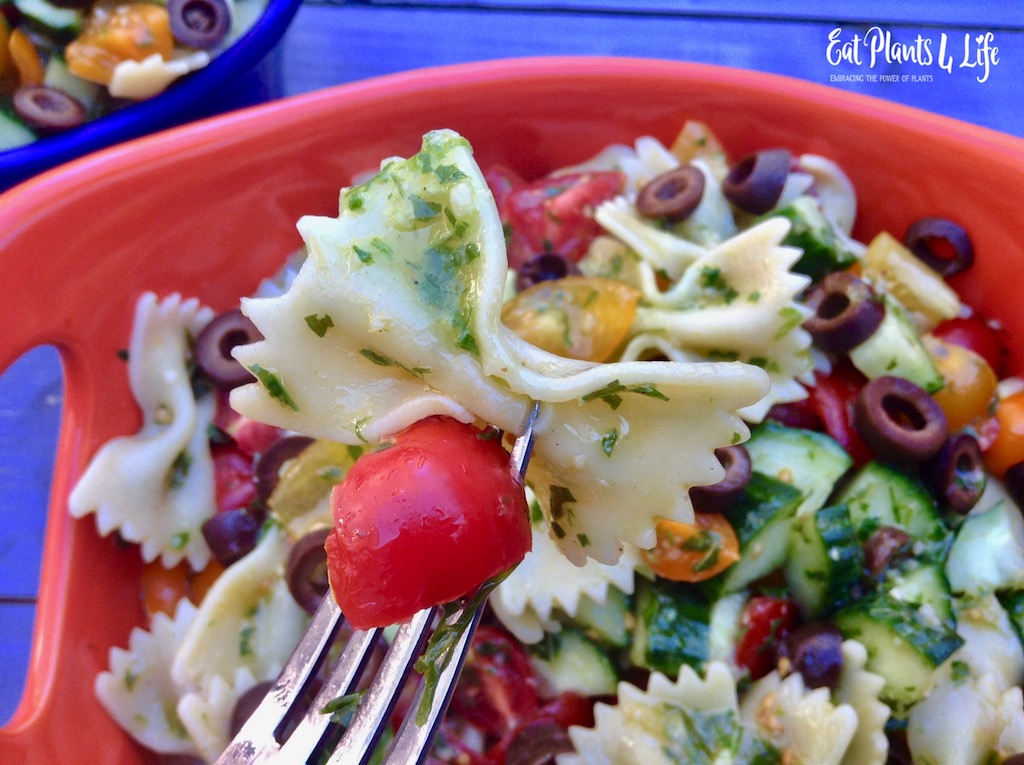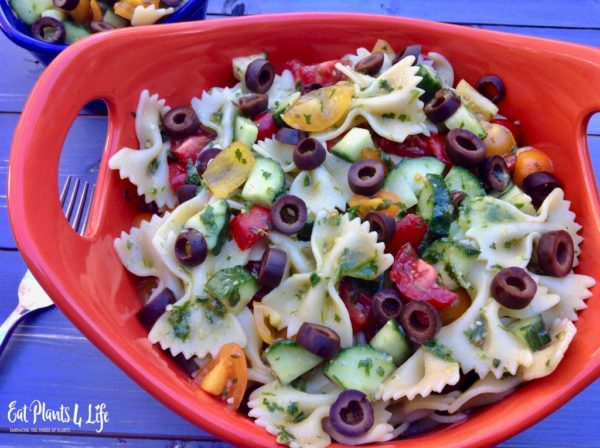 | | |
| --- | --- |
| | |
Cook pasta according to package instructions for al dente. Drain pasta and place in a large mixing bowl.

If using olives, drain and rinse them. Add tomatoes, cucumber, and olives to the pasta. Set aside.

Place garlic, basil, chives, vinegar, salt and pepper in a food processor. *Process until garlic and herbs are minced. Slowly add oil while processing. Taste. Add additional salt and pepper if needed.

Pour dressing over pasta and veggie blend. Combine thoroughly.

Serve at room temperature or cold the next day.
*if you don't have access to a food processor, manually mince garlic and chives and finely chop the basil. Add to a small bowl. Add oil, vinegar, salt and pepper. Whisk until combined.