When I was a young adult, branching out and getting my first apartment, I wanted to emulate my mom and her inherent green thumb. I grew up amongst all kinds of plant life because she and my grandmother kept their houses sprawling in greenery. It was like living in a greenhouse.
My mother, like the woman who raised her, is a Plant Whisperer. Although she did not aspire to veggie-growing artistry like my grandmother, in just a few short months, she can easily resurrect one single, measly, sickly stem that has broken away from its blossom. It is sheer genius, watching her doctor a single stem back to health.
So, of course that trait passed to me, right? Not so much. I eventually kill everything in the plant kingdom. If you can name it, I've probably killed it at some point. I just don't have the knack she has for analyzing, diagnosing or simply keeping a plant alive. I usually over water or totally forget about it altogether. To add insult to injury, my dad is also savvy in the plant department. His yard is immaculate. The sought-after gene runs on both sides of the family, yet it has apparently skipped my generation.
In the beginning, when one of my kids brought home a single plant on Mother's Day, I'd automatically tense up and reluctantly reach for the poor, innocent stem that would ultimately meet its imminent demise in my care. My kids didn't know my criminal history with greenery. Several dead plants into the yearly gift-giving idea, they did.
At first, it was simple – when the plant died, I'd get rid of all evidence, clean up the crime scene and the kids never noticed. As they got older, they became more preceptive CSI investigators. I would eventually get interrogated with the, "what happened to the plant I gave you?" question.
I couldn't hide the truth. I had to finally confess. Now, whenever they bring home a plant or seeds, they know the risks.
Although, I am an admitted plant killer, I did manage to unearth one lesson from my mother's gardening skills. Plants need the sun in order to thrive. Yes, you learned this lesson in grade school, but her guidance took it a step further in self-discovery.
Once upon a time, I had a potted sunflower in my windowsill. It was slumped over and leaning towards the window, thereby awkwardly smashing into the glass. She turned the plant in the opposite direction (away from the sun) in order to as she said, "stand it back up." Two days later, the plant would be robust and erect again and in route back toward the glass. In essence, it was trying to get back to or lean back toward its source of energy – the sun.
This taught me very early on that we too need the sun. Have you ever been miserable because you were cooped up in the house, but once you get out into the sun, your mood changed? Sounds a little like the sunflower, right?
Beating The Winter Blahs – Tip #3: Lean In (towards the sun).
If you get a break in the gloomy clouds, be a sunflower. Get out and point your face directly toward the sun. This sounds incredibly simple and may alarm your neighbors, but sometimes the simplistic task holds the most value. The sun is powerful in its ability to change your mood. I will actually stand outside and mimic the sunflower by pointing my face toward the sun's rays for several minutes.
One cause of the winter blahs could lie within the sun or lack there of.  Getting sunshine is a natural way to get your Vitamin D (the sunshine vitamin). It is an essential nutrient for bone health,  supports the brain, immune and nervous system, and other vital bodily functions. Vitamin D deficiency is common in the winter since we have a tendency to stay indoors more often during the cold season. Getting more sun can increase the level of serotonin (a mood controller) in the body. So, if you're like me and you prefer to take a natural approach to solving the ailments of the body and mind, get some sun!
Next, continue to nourish yourself on the inside. If you haven't already, start juicing at least a few times a week. It is a guaranteed energy booster in my house. I usually do it as a meal replacement for breakfast or a snack for the kids. In a future post, I'll go into detail about the benefits of juicing, but for now, I'll just give you the CliffsNotes.
If you don't have a blender, or powerful juicer like a NutriBullet, you may want to invest in one.  You can get your recommended daily dose of fruits (frozen if not in season) and veggies just using it once a day. Go online to get juicing combinations and be sure to add a seed or nut to the mix. My favorite additions are chia seeds, which are high in protein and fiber and flax seeds, which are high in the Omega-3 fatty acids. There are other great seeds/nuts like hemp seeds, pumpkin seeds, almonds, walnuts, etc. that work just as well.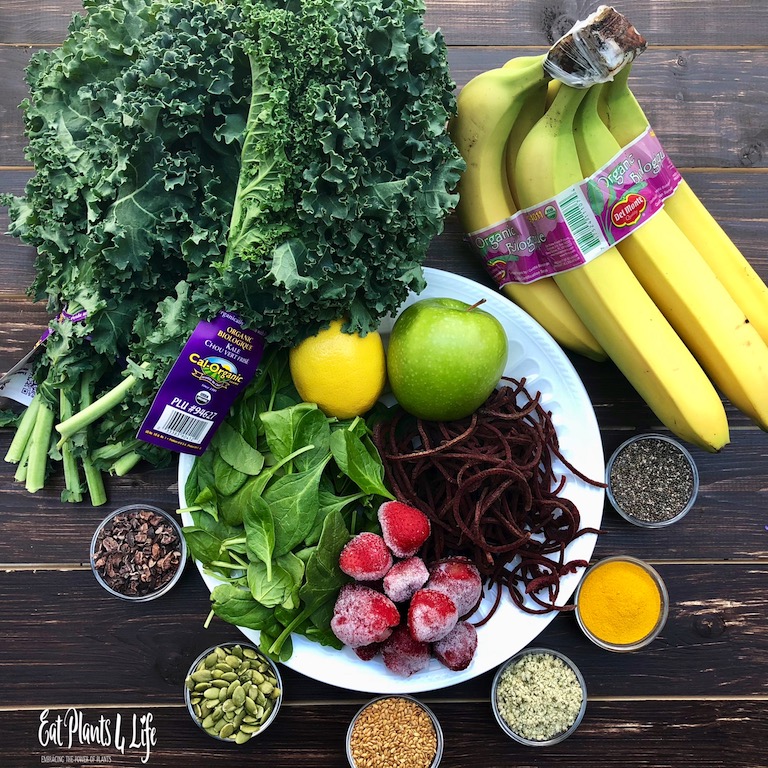 Make sure to use dark leafy greens and include things like carrots, sprouts, healthy fats (like avocado), celery, and broccoli to the mix. Try to use mostly veggies.  If you're new to juicing, start out using mostly fruit and slowly reverse the proportions so that you have at least 70/25/5 –  vegetable/fruit/seed smoothie ratio. If you like creamier smoothies, like my kids, add unsweetened nut milk like almond or cashew. I typically just add water to mine.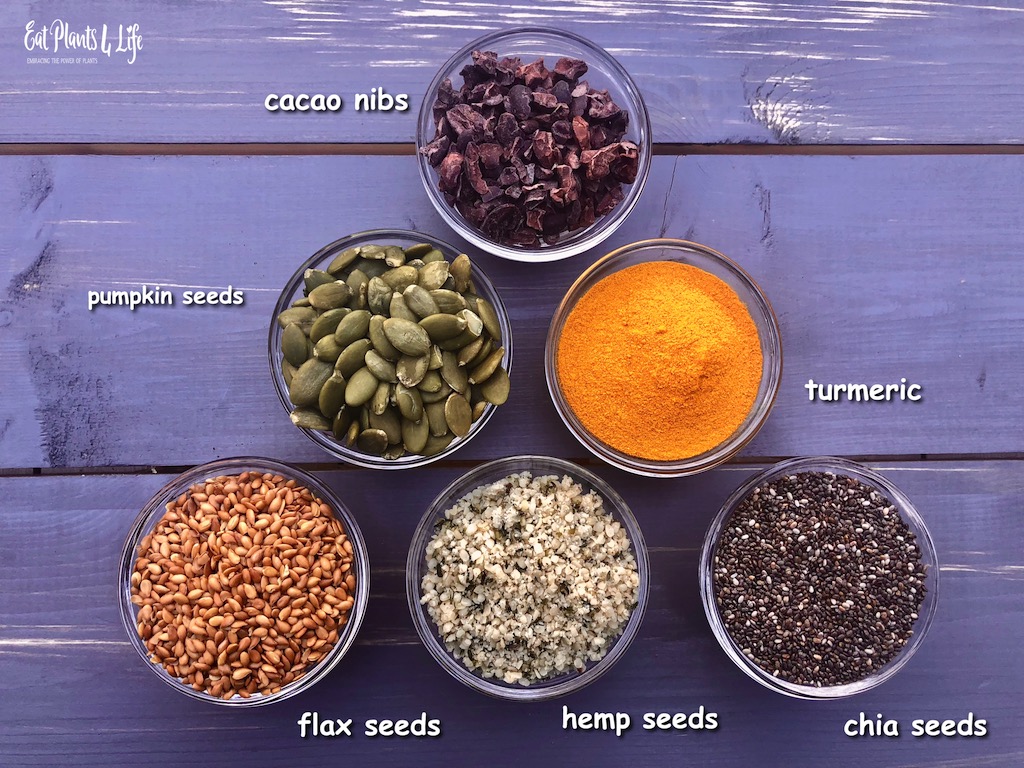 I also love to add a secret ingredient to my kid's smoothies. I like to add a fat-healthy avocado. It replaces the need to add a nut or seed and gives the smoothie a creamy texture without the flavor of the avocado.
I guarantee that you won't find a single living plant in my house. I've succumbed to simply eating them. Your homework assignment is to simply get some good ole' sun and drink your plants, my little sunflowers!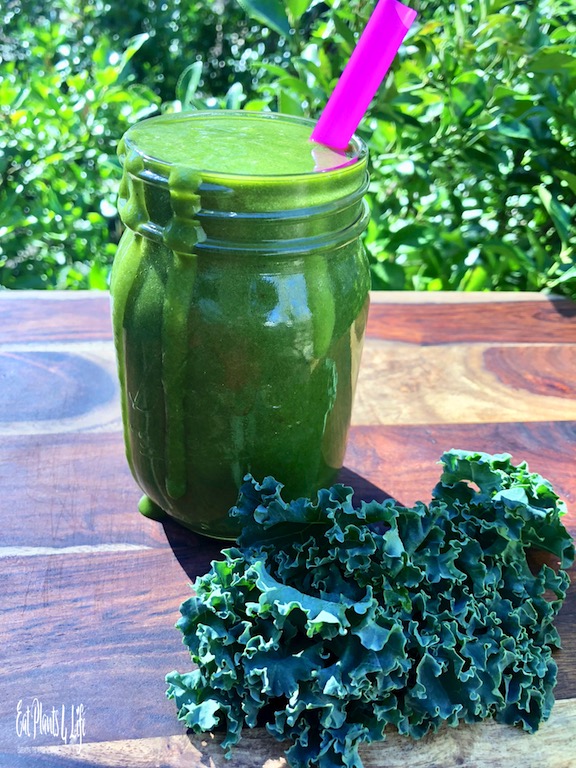 And if you haven't already, while you're leaning into the sun, lean in to signing up for the EatPlants4Life email newsletter. You'll have full access to hundreds of blah-reducing, plant-based recipes!