Many of you have already subscribed to the Meatless Monday phenomenon that has unofficially crept into our households in recent years. It was aimed to get folks to eat less meat and incorporate more plant-based options into their plant-deficient diets. If you have enlisted into a day without meat, whether it be on Mondays or another self-appointed day of the week, great!
That one, meat-free day, positively impacts our environment and your health, exponentially!
If your diet is exclusively plant-based everyday of the week, kudos! Your impact is immeasurable!
For those of you who are on the fence – – who have tried or are at least willing to co-sign to a meatless day, I tip my hat to you, too.
Any progress toward self-improvement is better than no progress at all (hey, I should coin that one).
My platform is not just about reaching those who endorse an exclusively plant-based diet. Believe me, I know it's a tall order. My goal is simply to impact those who already advocate a plant-based diet, those considering incorporating less meat into their family's diet, those just seeking awareness for healthier living, those with compassion towards all life, those concerned with the future of our environment, and those who are concerned about our country's often scrutinized meat processing practices.
Now that we're in the thick of Fall, why not make next Monday meatless, take advantage of the seasonal produce and add to your Fall recipe collection.
Acorn Squash (winter squash) looks intimidating at first glance, but once you get to know this buttery, sweet, and nutty vegetable, you will make a point to add it to your diet.  My favorite way to prepare it is roasted with a little olive oil, salt, pepper, dried herbs, and a hint of brown sugar. But the recipe options don't stop there. EP4L's Stuffed Acorn Squash Recipe is by far my favorite Fall Recipe. It's easy to make, makes the entire house smell like heaven, and is p-e-r-f-e-c-t for a holiday dinner.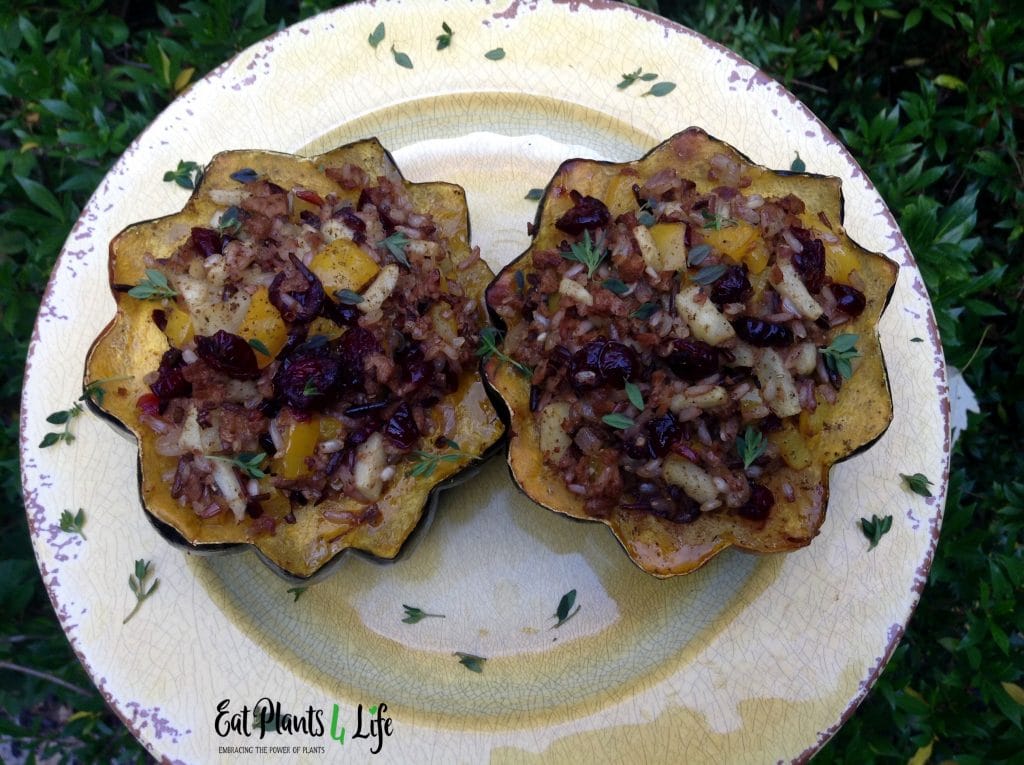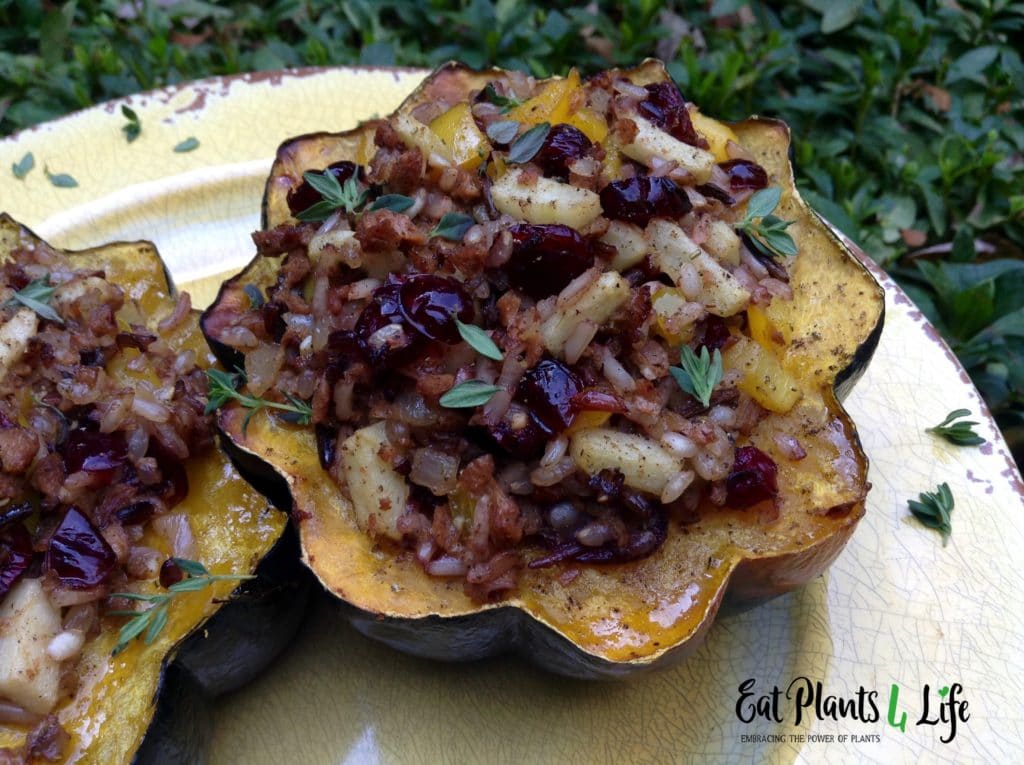 Visually, it's stunning! It comes in its own bowl! My Stuffed Acorn Squash is loaded with plants, flavor, and color. The kitchen will light up with the aroma of pungent sage and onions. It comes with its very own edible serving bowl, which makes it not only healthy and savory but also visually festive.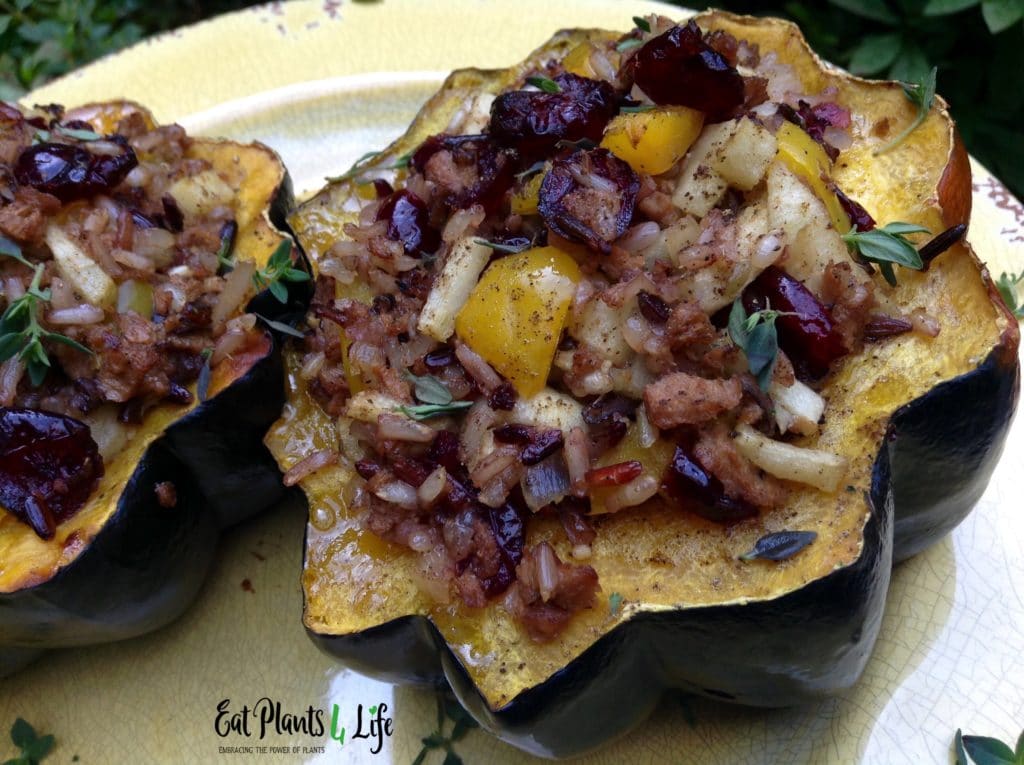 Check out our recipe video: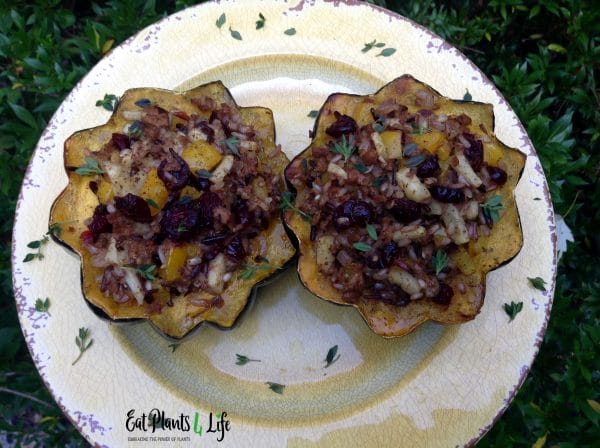 | | |
| --- | --- |
| | |
Preheat oven to 400 degrees.

Cut the tips off of each end of each squash.

Find the center of each squash.

Cut squash in half across the belly. Remove the seeds and stringy strands.

Be sure to keep the flesh in tact.

Place halves on a baking sheet that has been sprayed with cooking spray. Drizzle each half with 1 tsp. of oil, salt and pepper.

Place squash in oven and roast for 30-35 minutes or until squash is slightly tender (prepare stuffing while acorn squash is roasting). Remove squash from oven and set aside. Be sure to leave the oven on.

Heat 2 tablespoons of oil in a large skillet. Add shallot, garlic, yellow pepper, veggie crumbles (or mushrooms), sage, salt, and pepper. Cook until pepper is slightly tender (about 3 minutes). It will smell like heaven. For real!

Add diced apples and a splash of apple juice to prevent the ingredients from drying out. Stir frequently. Continue to cook for 1 minute.

Add dried cranberries. Turn heat on low.

Add cooked rice. Stir until well mixed. If necessary, add another splash of apple juice to keep the mixture moist. Remove from heat. Scoop an even amount of stuffing into each roasted squash bowl. Be generous and pack it in tightly.

Add a tablespoon of apple juice to each stuffed squash. Place in preheated oven and cook, uncovered for an additional 15 minutes.

Enjoy your Stuffed Acorn Squash!
*if you're not a veggie crumble fan, this recipe also works if you substitute with 1.5 cups of chopped mushrooms.