For years, we've heard that adding seafood/fish, like canned or prepackaged tuna, to our diets 2-3 times per week is not only a healthy way to lose or maintain weight, but add low-calorie protein and essential vitamins to our bodies. This was and continues to be a heavily marketed concept that was drilled into me as a young adult.
Recently, however, canned and prepackaged tuna has gotten a bad rep. Because it falls under the processed meats category, many health professionals claim that it is, in fact NOT a healthy choice.
Processed meats have been linked to heart disease, diabetes, and cancer according to the documentary, What The Health. Not only is processed meat a concern for breeding long-term illnesses, "chicken of the sea" if consumed often can potentially contain toxic-levels of mercury, a metal dangerous for human consumption. If the body is exposed to a high level of this metal, mercury poisoning could result. This would of course negatively affect the central nervous system and brain and possibly the kidneys. What The Health calls seafood "mercury sponges." Yikes!
That's just one issue; others include – increased cholesterol levels, saturated fat, PCBs (man-made chemicals), increasingly contaminated oceans and seas (with its accumulated pesticides and herbicides) and the questionable farm-raised seafood industry that uses antibiotics and antifungals in the feed.
I'm not here to scare you – just make you aware, curious to learn more, and ultimately a well-informed advocate for your own health and well being. To learn more about the seafood/fish industry, just click the title and check out the What The Health documentary. You can see it FREE on Netflix or on the What The Health website – www.whatthehealthfilm.com. It's quite informative and has already made many of its viewers rethink their diets.
As it applies to your health, YOU be the judge, jury, and executioner.
Now that I've delivered my sermon on the seafood industry, let's lighten up the mood with a food holiday and recipe. This month, as we celebrate National Sandwich Day, I thought it would be appropriate to offer an alternative to typical tuna salad – a very popular lunch "go-to".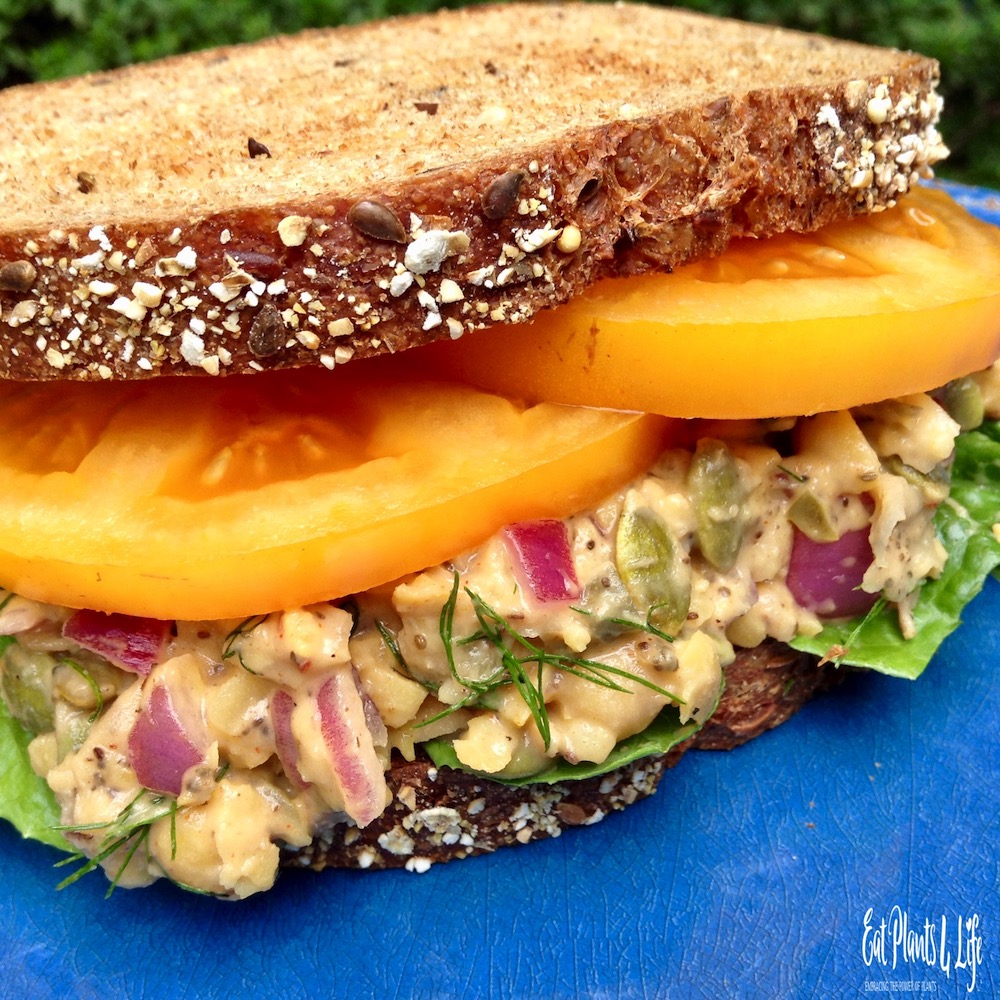 My Mock Tuna Salad Sandwiches incorporate, oh so versatile chickpeas as its base. It will produce a tuna-like texture. Seasonings, including Old Bay (a typical seafood dish seasoning) is included to produce a seafood-like flavor. You won't even miss the tuna –  – Scout's honor.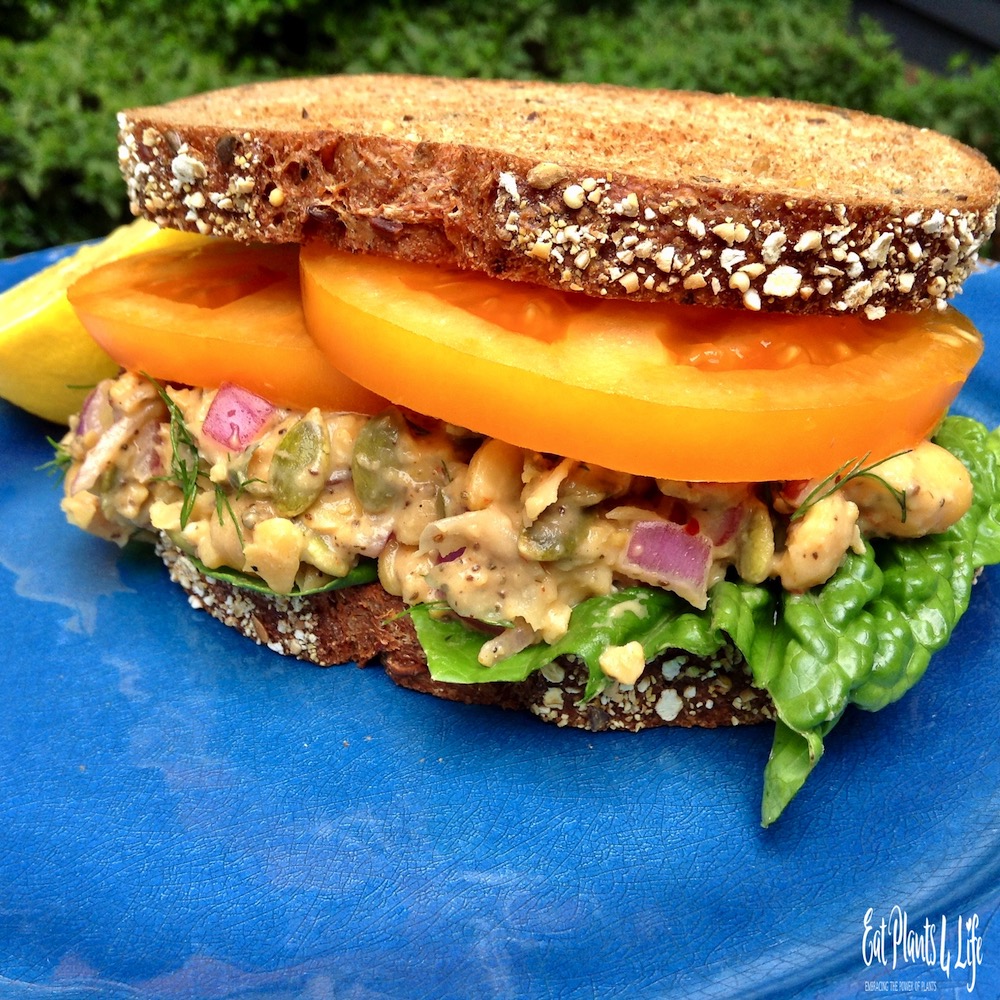 Flavorful, minced red onions and omega-3 and protein-rich roasted pumpkin seeds deliver crunch and even more texture to this mock-tuna. Adding red pepper flakes will give it a little kick!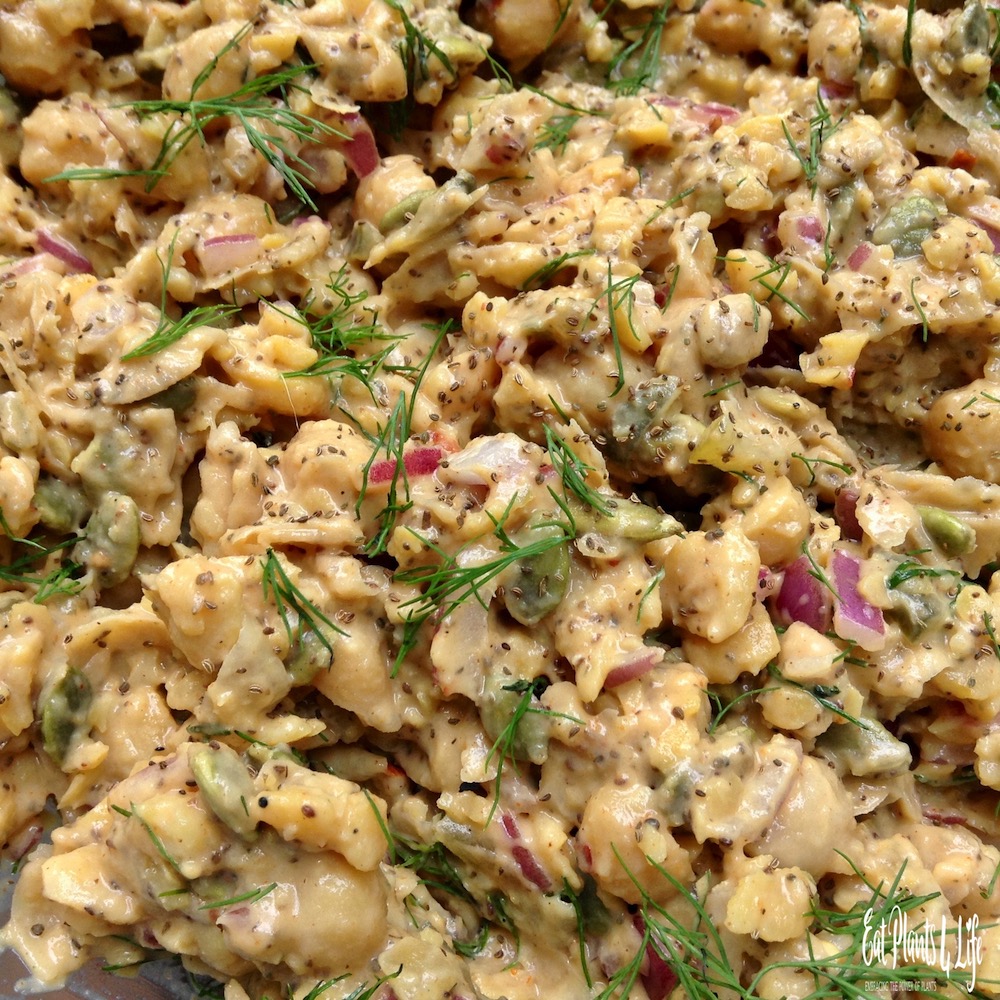 Canned chickpeas could be used but I personally find that soaking raw chickpeas overnight produces a slightly better result. So, plan ahead, if possible.
Check out the What The Health documentary while munching on delish Mock-Tuna Salad Sandwiches! Enjoy!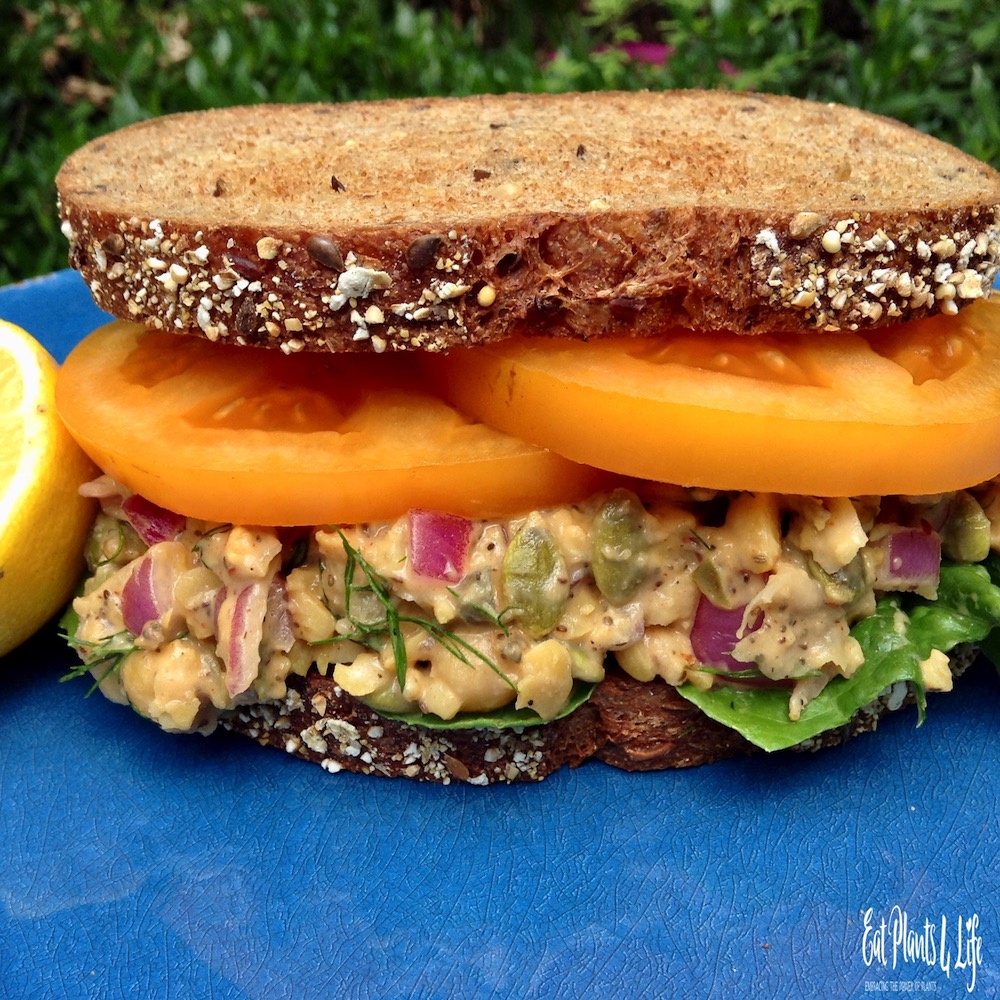 Versatile chickpeas, flavorful red onions, and crunchy roasted pumpkin seeds are used to create texture in this mock version of an American lunch favorite. Classic Old Bay Seasoning, pungent celery seeds and dill are key ingredients. Red pepper flakes add a little kick! You won't miss the tuna!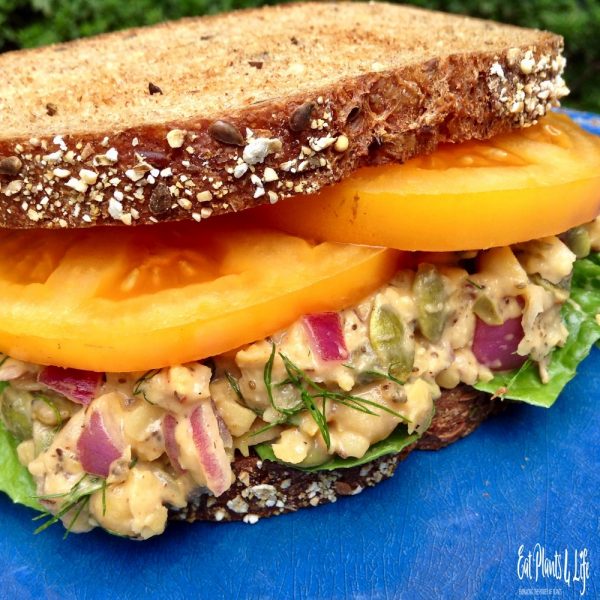 | | |
| --- | --- |
| | |
If using canned chickpeas, skip step 1 and 2. Submerge dry chickpeas in water. Add extra water – 2" above chickpeas and baking soda. Soak chickpeas overnight or for at least 6 hours.

Place soaked chickpeas in a pot, add enough vegetable broth or water to cover chickpeas and 1 tsp. garlic powder. Simmer for 1 hour. Drain well.

Place chickpeas in a medium bowl. Smash with potato smasher or with the back of a fork. Add in remaining ingredients. Mix well.

Serve mock-tuna mixture between toasted, seeded Vegan bread with favorite sandwich toppings.

Refrigerate unused portion of mock-tuna salad. Tastes great warm, at room temperature, or cold. Yummy on crackers or in a salad!
Don't forget to check out my Razzle-Dazzle Roasted Veggie Sandwiches if you're like me and your love of sandwiches runs deep! Click the recipe title link if you've missed that post! It's killer awesome!