This school year our household underwent a few changes. The biggest was my oldest starting middle school. I can finally say that out loud without crying. Now, I officially have a grade schooler and middle schooler, with two completely different schedules, prowling through my kitchen in the afternoon.
The Problem: The 4th grader arrives home from school at 2:30. She is usually famished when she arrives and is always on a very focused, Jason Bourne-like mission to infiltrate a quick snack. Unfortunately, she needs another snack by 4:00 because during her school lunch break she is way too busy talking to notice that her time has ended and half of her food is still in her lunch box. I wonder who she gets that from?
The Colossal Problem: The 6th grader's days are much longer than her grade school days. This was a big adjustment for both of us. She doesn't get in the door until just before 5:00. The Looney Tunes' Tasmanian Devil comes to mind when she comes in. She is not just hungry – she's practically malnourished according to her.
Not only does she have a longer school day, the start of middle school also means–wait for it– – –the end of school snacks. Tossing a mid-morning snack into her book-bag is now a distant memory. To make matters worse, her former grade school 3:00 pm snack is off the table since she's still at school during that time. The image of a nuclear bomb erupting is about what it was like when she discovered this revelation.
Instead of struggling to get dinner made by 5:00 (unreasonable, right?) and before the middle-schooler hits the door aka the moment "the you-know-what hits the fan," I decided that one way to solve the grade schooler's frequent returns to the fridge and the middle-schoolers tirade was to prepare an after-school snack that wouldn't spoil their dinner, create some balance in the house, and have just the right amount of fiber and protein to satisfy their beastly appetites for a couple of hours.
My solution? Parents Magazine's Fruit Trifles, which I gave a Vegan-makeover. Inspired by the artistic talent of Eric Carle and his multi-award winning children's books like, The Very Hungry Caterpillar, these are a healthy solution to an after-school snack or dessert craving.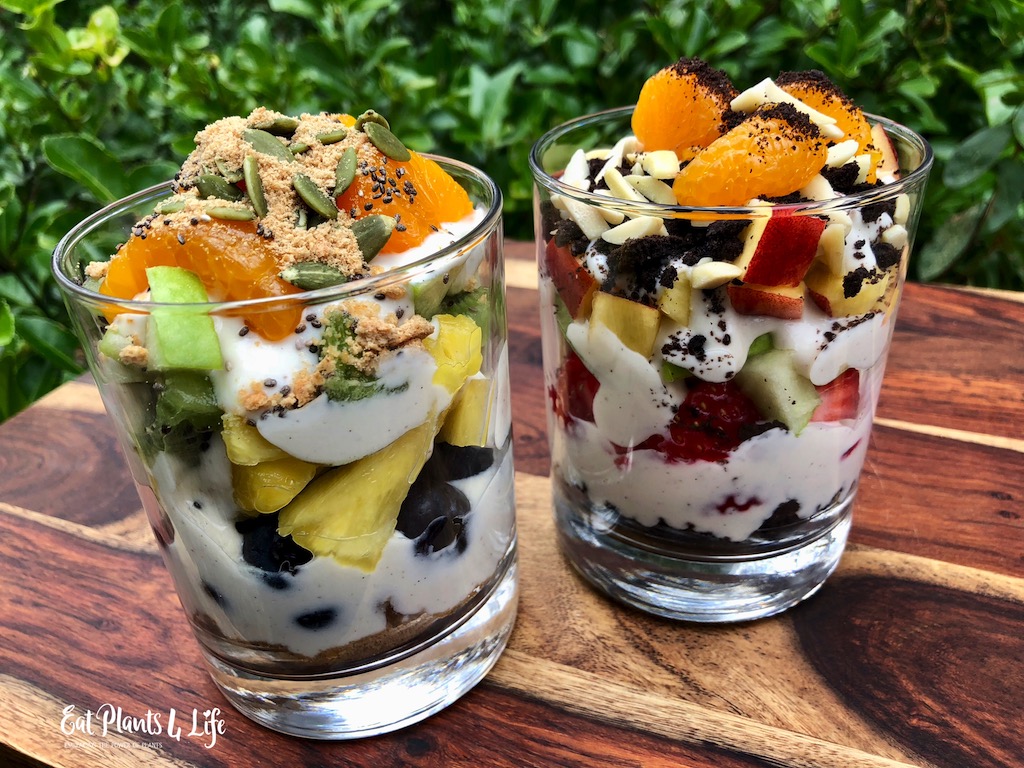 Lay out the ingredients the day before and let your kids do all of the work. Store them in the fridge and they'll be ready before "the you-know-what hits the fan!"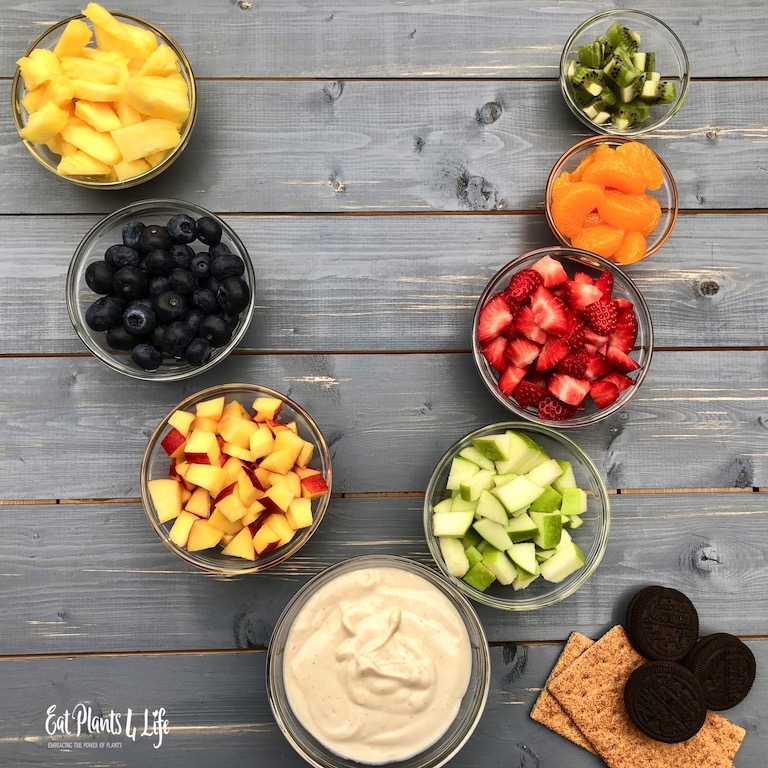 Fruit Trifles are not only great as a dessert or after-school snack. It make a great breakfast. Colorful diced fruit are layered with Vegan yogurt and generously topped with crunchy graham cracker or chocolate cookie crumbs, heart-healthy nuts/seeds, or granola.
Inspired by a favorite children's book, The Very Hungry Caterpillar by Eric Carle, this breakfast treat or after-school kid-friendly snack is perfect from your very hungry caterpillars. This recipe is a colorful mix of diced fruit, dairy-free yogurt, and heart-healthy nuts/seeds. Adapted from: Parents Magazine, November 2011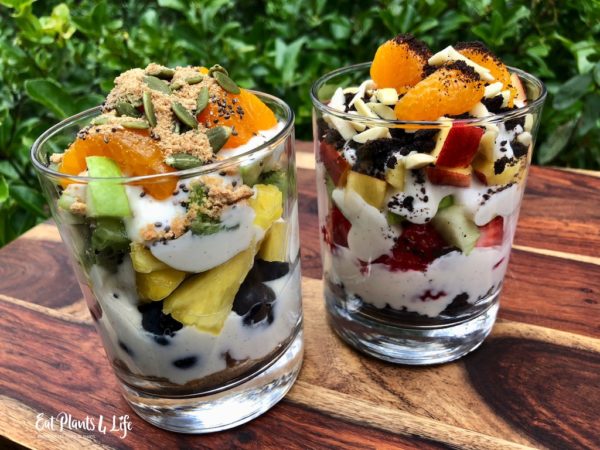 | | |
| --- | --- |
| | |
Place graham cracker squares or Oreo cookie tops and bottoms (cream removed) in a Ziploc bag. Using your hands or a rolling pin, crush the pieces until crumbs form.

Assemble fruit trifles by placing ¼ cup of crumbs in the bottom of each glass. Spoon in yogurt (about 2 tbsp per glass).

Add layer of diced fruit (about 2 Tbsp. at a time mixing and matching the fruit as desired).

Add second layer of yogurt and repeat step 3.

End each trifle with yogurt and 2-3 mandarin orange segments. Top this masterpiece with toasted slivered sliced almonds, pumpkin seeds, rolled oats, granola, grated coconut, chia seeds, or any leftover cracker/cookie crumbs.