Tomorrow, February 23rd is National Banana Bread Day!
Warm, sweet, fragrant, and moist banana bread is perfect during the cooler months for breakfast with a cup of coffee or as a nightcap with my favorite chamomile tea. I love to fill the house with its intoxicating, aroma. It floats everyone to the kitchen.
The kids love it, especially if I let the bananas get really ripe. As a matter of fact, the recipe below is their favorite and just happens to also be Vegan. Although I've managed to avoid capturing my daughters in the photos, they were standing inches away from the finished product, patiently anticipating the completion of my photography and earning the right to devour them.
Bananas, the boss of this recipe, have to be ripe to reap success. I bought mine a week prior to allow them to fully ripen. If time isn't on your side, some grocery stores sell ripened bananas just for customers looking to make recipes that require them.
Loaded with potassium (a whopping 400 mg per serving), vitamin B-6, fiber, and only a trace amount of fat, cholesterol-free, easily digestible bananas are the perfect substitute for butter, oil, and even eggs in dessert recipes. It's my personal secret weapon replacement for some non-Vegan ingredients. Once smashed, they serve as a great binder.
In honor of tomorrow's food holiday, I decided to share my family's favorite banana bread recipe. You'll love these EP4L Banana Mega-Muffins with just a hint of cinnamon. It's even oil-free – another plus!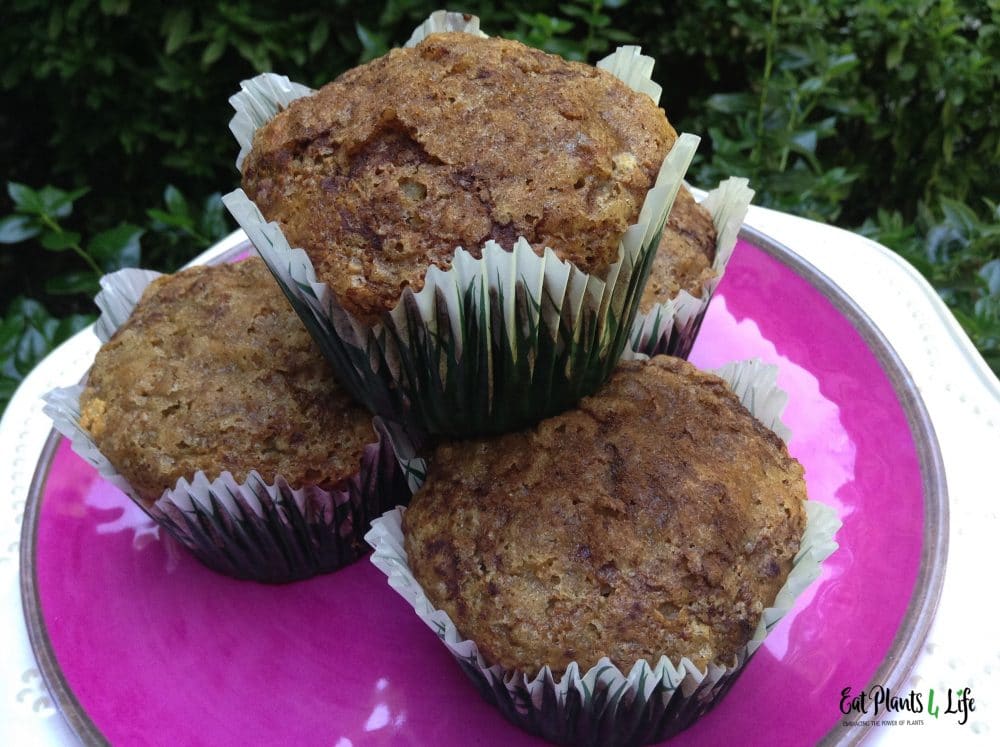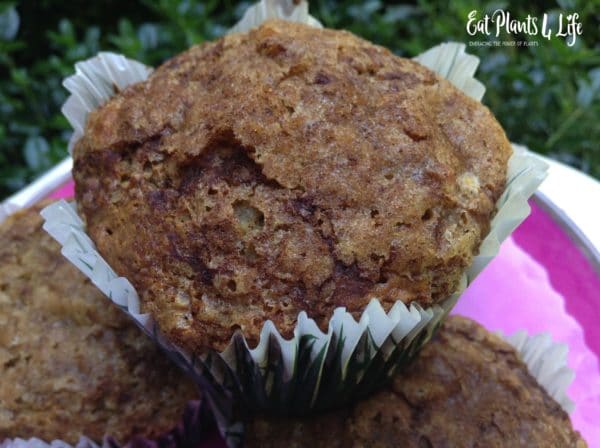 | | |
| --- | --- |
| Servings | large muffins (12 regular muffins) |
| | |
| --- | --- |
| Servings | large muffins (12 regular muffins) |
Preheat oven to 375° F. Line muffin tins with muffin/cupcake liners.

In a large bowl, combine flour, raw sugar, cinnamon, baking soda, baking powder and salt. In a medium bowl, stir mashed bananas, vanilla, applesauce, and almond milk. Hand mix well. Add wet ingredients to dry ingredients. Stir mixture until combined. Fold in optional walnuts or chia seeds.

Spoon prepared batter into muffin tins with an ice cream scooper.

Sprinkle each muffin with optional chocolate chips, raw sugar and a few dashes of ground cinnamon. If you prefer, you can use brown sugar (shown below) instead of turbinado sugar along with the cinnamon and optional chocolate chips, however, turbinado is my favorite.

Bake for 20-25 minutes or until a toothpick, inserted in the middle of a muffin, comes out clean (larger muffins may require more time).

* I used turbinado or raw sugar on these. Delish!
Make sure that your bananas are very ripe (brown spots and all). Ripe bananas will render a sweeter muffin!