Fall has officially made its debut and I am stocked. Not only am I looking forward to the change in season, I'm also amped up anticipating what's probably the most favorably over-marketed flavor of the season – pumpkin! I think that this will be a record-breaking year for all things pumpkin. It's included in so many products – from coffee to breakfast cereals. There is at least one "pumpkin" flavored item on every aisle of the grocery store and most restaurant chains have at least one pumpkin-inspired dish on the menu. 
Whether you love it or hate it, you can't discount pumpkin's health benefits.  This brightly colored squash plant:
is high in vitamin A (great for eye health)

is a great source of vitamin C (immune booster)

is a good source of potassium

is loaded with beta carotene (great for your skin)

is high in antioxidants (a cell protector)

is low in calories

is low in carbs

is cholesterol-free

is high in fiber (keeping you fuller longer)

has virtually no fat

has a buttery, creamy flavor

can replace the use of butter or eggs in a recipe while maintaining the integrity of the recipe

oh, yeah and it's a pretty cool decorative
To celebrate this national symbol of the Fall season, EP4L is featuring a pumpkin-inspired recipe every week this month! 
To get the pumpkin party started and in honor of National Pumpkin Spice Day (October 1st), this week I'm featuring my Pumpkin Spice Muffins.  This ideal on-the-go breakfast can also be a hearty snack or a sweet and healthy dessert. My moist Pumpkin Spice Muffins have a dense, cake-like texture and is flavored with TWO pumpkin ingredients — canned 100% pumpkin puree and pumpkin pie spice!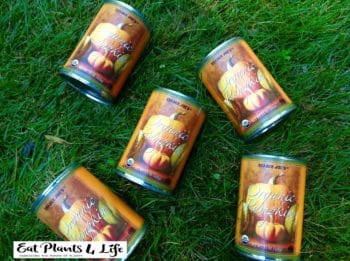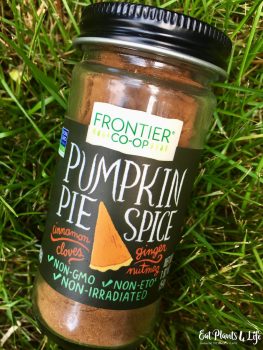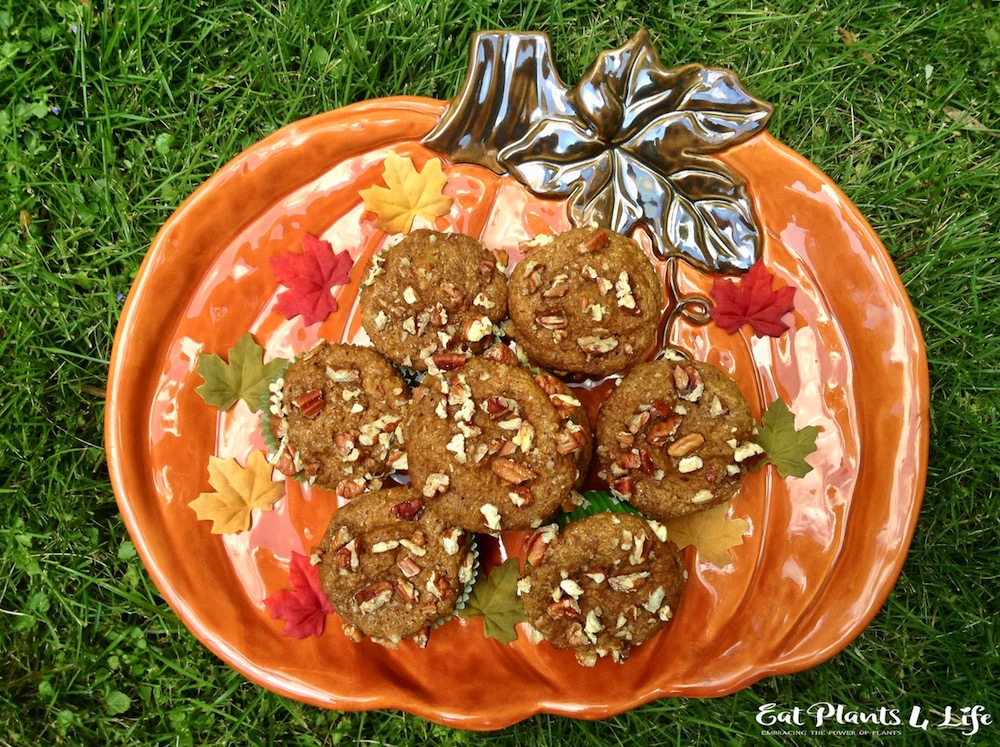 Loaded with a generous portion of pumpkin puree, Pumpkin Spice Muffins have a buttery flavor, without the use of unhealthy animal fat.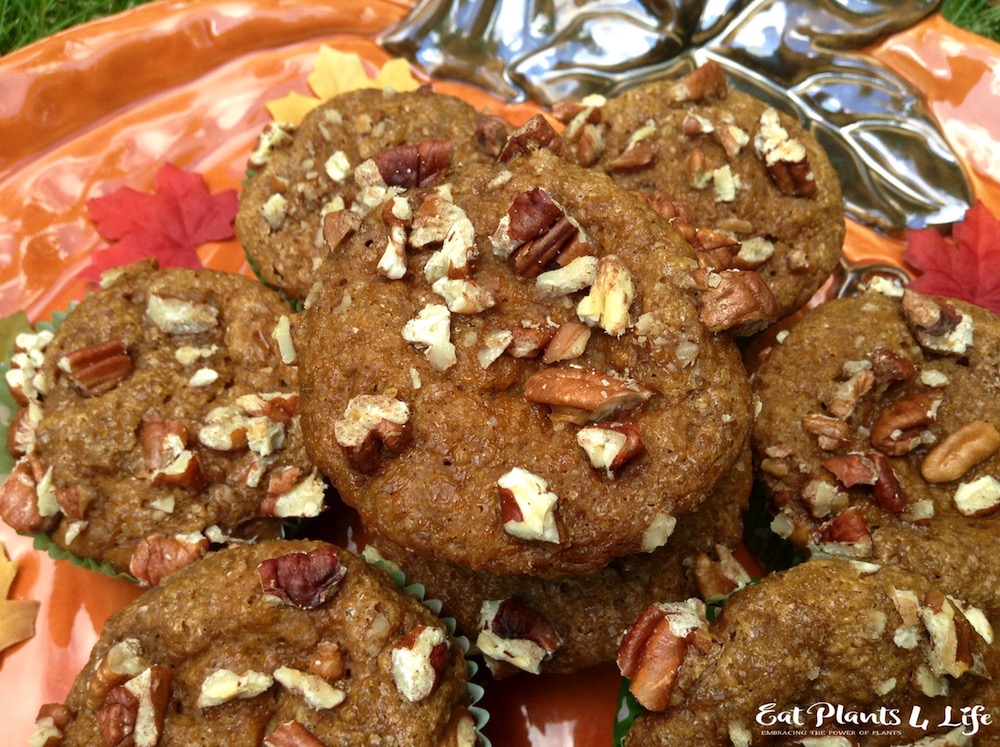 I call it the guiltless breakfast choice because although it could be considered a treat, it does include key nutrients like iron and protein from the nuts (I used Georgia pecans) and a vegetable or fruit (depending on how you look at it) from the pumpkin.  I always thought pumpkin was a vegetable since it's a member of the squash family, but because it grows on a vine and contains seeds, it's technically a fruit.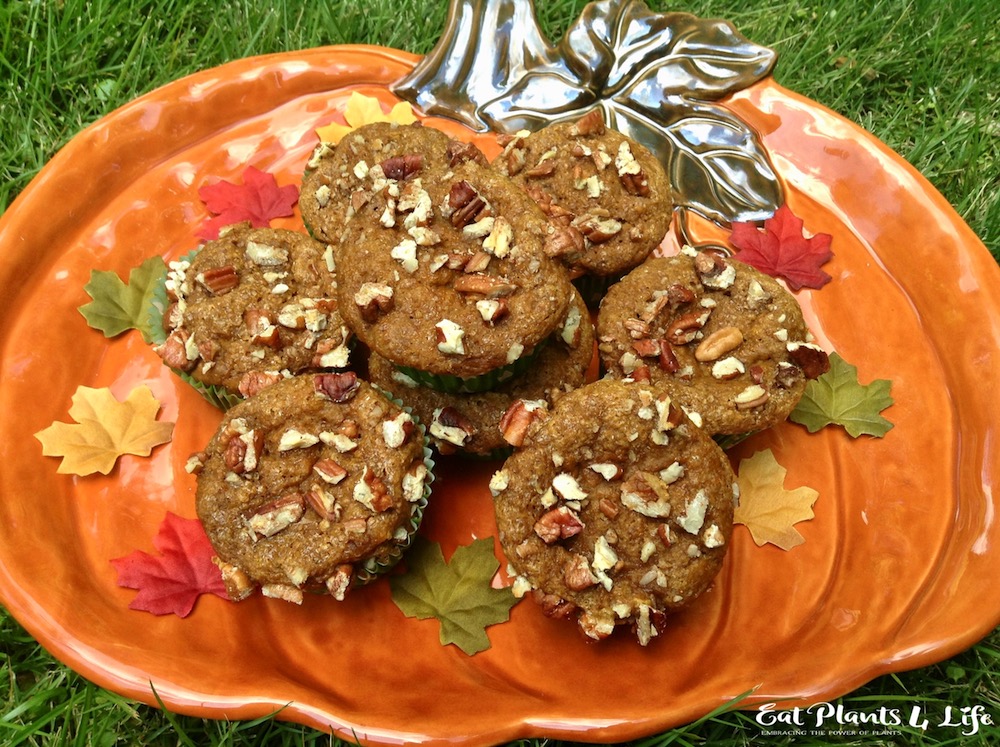 Pumpkin Spice Muffins are splendiferous using any raw nut, but are phenomenal with macadamia nuts (just sayin'). This recipe can be used to make great pancakes, too!
It's dairy-free, egg-free, and delish! Enjoy!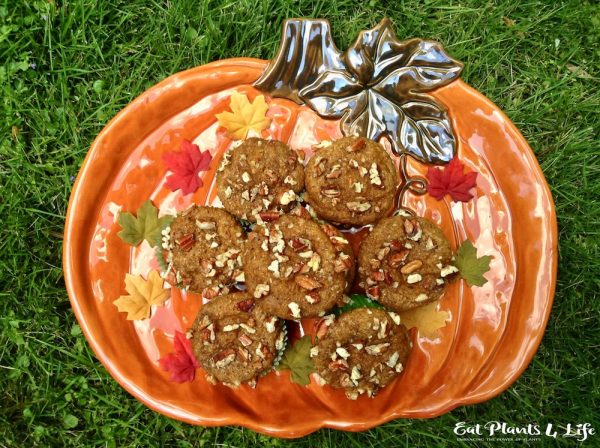 Preheat oven to 325 degrees. Line 8 muffins tins with muffin/cupcake liners. Set aside to prepare batter.

In a medium mixing bowl, combine pumpkin puree, almond milk, vanilla, and brown sugar.

In a separate bowl, mix flour, baking powder, salt, and pumpkin pie spice.

Add wet ingredients to dry ingredients. Stir until combined. Do not over mix the batter. Evenly distribute the batter into 8 muffin cups. Sprinkle each muffin with 1/4 tsp. of raw/turbinado sugar and equal amounts of chopped raw nuts.

Bake muffins for 30-40 minutes or until an inserted toothpick (in center) comes out clean.
I used Georgia Pecans to top these muffins, but macadamia nuts are phenomenal.
This recipe also makes a great pancake batter!