It's that time again – time to gather the crew, grab the brew, and put out the spread for the Ultimate Super Bowl Party!!!
This year is extra special in our house. The Atlanta Falcons are headed to Super Bowl LI and yours truly is rooting for a victory! Whether you're rooting for the Patriots or The Dirty Birds, the Super Bowl is always the place to get your Vegan appetizer game-face on!
I'm joining pumped fans and going loco this year! 
My Oh, Snap! Mushroom Poppers and Boom Bangin' Queso Dip is all plant based and will surely win over the most die-hard meat eaters! These Vegan appetizers are versatile, spicy and creamy cashew queso is perfect for dipping, for your  "ultimate nacho platter" or can be the perfect butter replacement on a baked potato. This plant-based cheese dip is kid and husband-approved! This dairy-free cashew queso is an herbivore favorite that will even please the meat-eaters.
The stuffed mushroom poppers are a great Vegan appetizer or can be stuffed into large Portobello mushroom caps for a main meal. How versatile is that?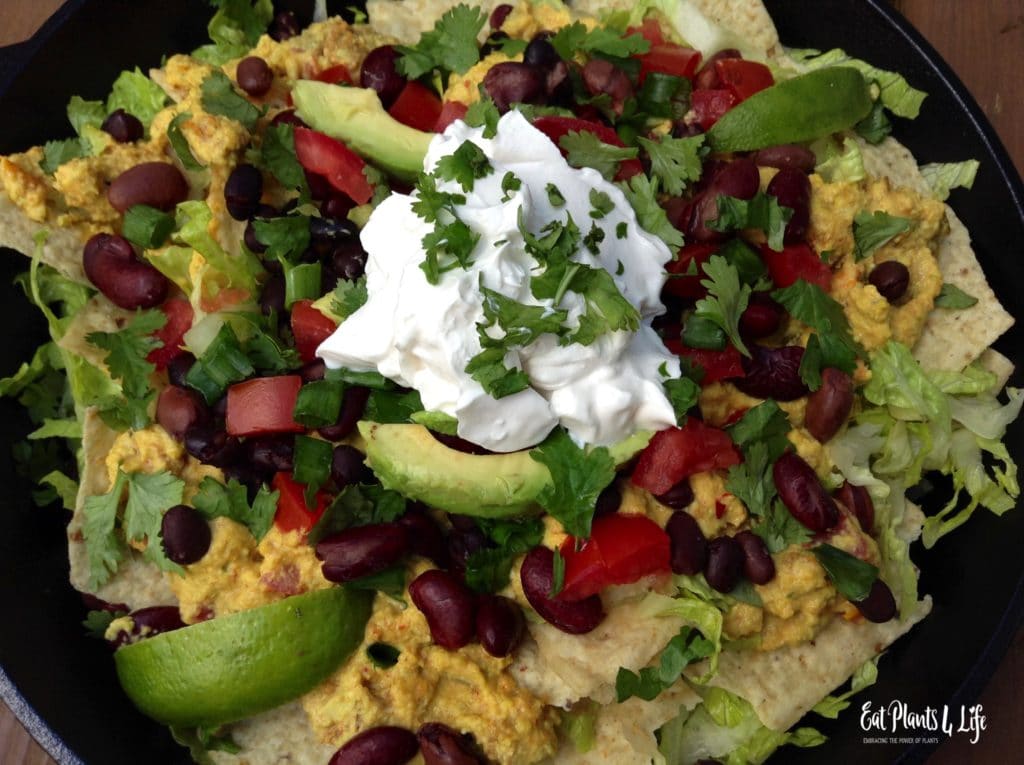 My prediction? You will serve these Vegan appetizers this Sunday and your guests will make you the MVP! 
Enjoy and Rise Up!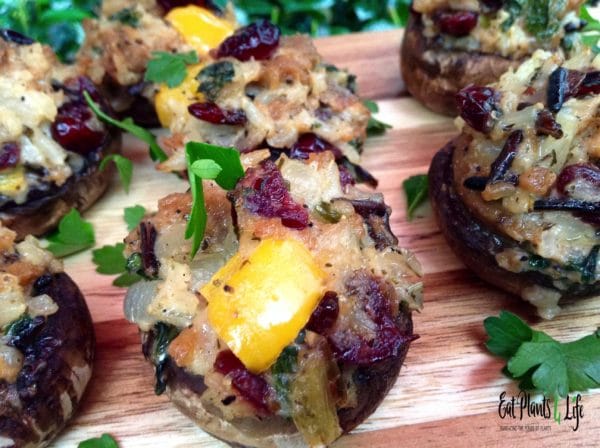 | | |
| --- | --- |
| Servings | Poppers or 6 Portobello Caps |
| | |
| --- | --- |
| Servings | Poppers or 6 Portobello Caps |
Preheat oven to 400 degrees.

Spray a baking sheet or line with parchment paper.

Pop steam out of the base of each mushroom. This should create a cavity perfect for stuffing.

Heat oil in large skillet over medium-high heat. Add garlic, onions, peppers, crumbled veggie sausage, and Herbs de Provence. Stirring frequently, cook until onions are translucent and chopped peppers are tender. Add salt, pepper, and dried cranberries. Stir in cooked rice and a splash of water if necessary to prevent the mixture from drying out.

Add parsley. Stir in dairy-free cream cheese. Mix until well combined. Taste. Add additional salt if necessary. Once heated through, remove from heat.

With a small spoon, scoop mixture into each prepared mushroom. Pack tightly. Place (stuffing side up) in on a shallow baking pan that has been sprayed with cooking spray.

Roast in oven for 15-20 minutes. Serve immediately.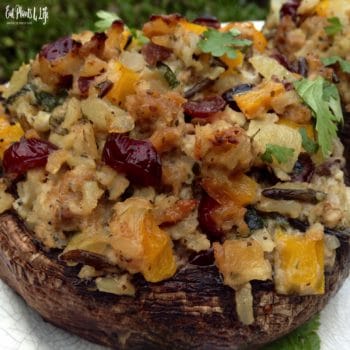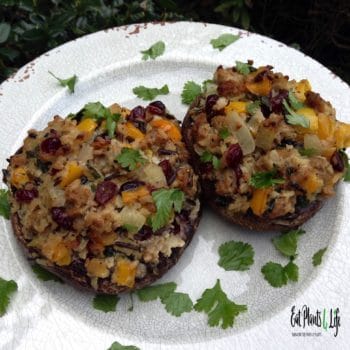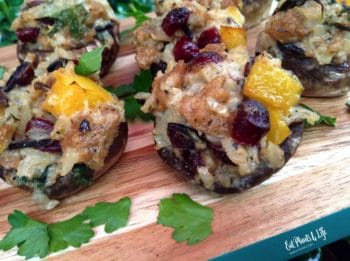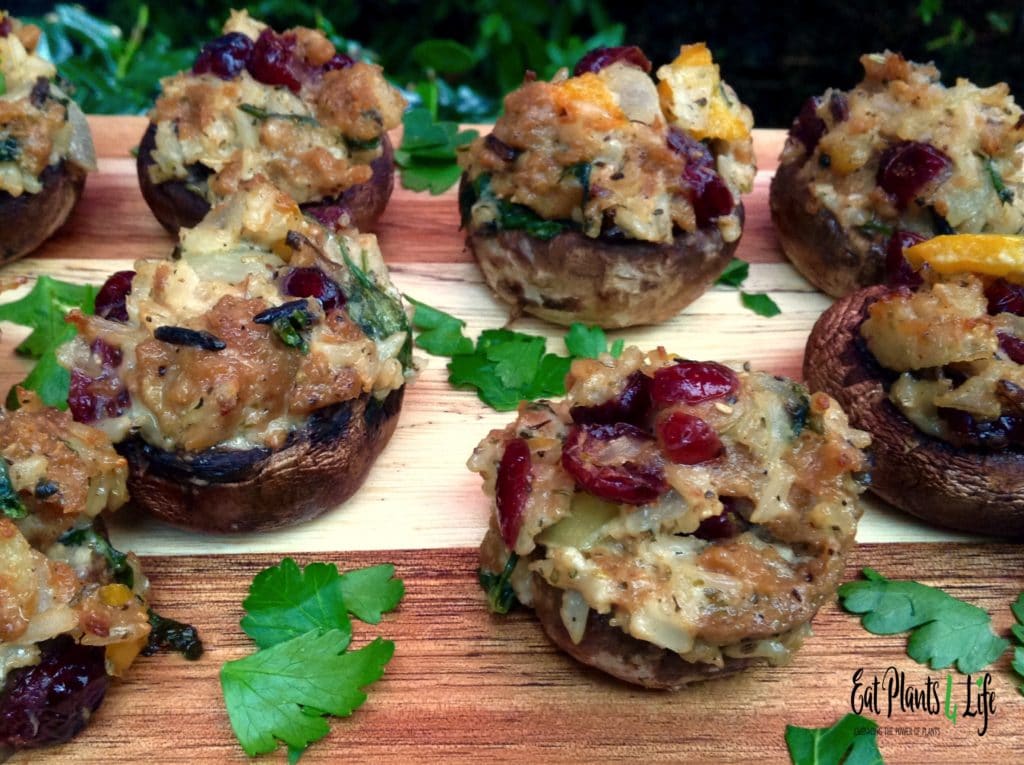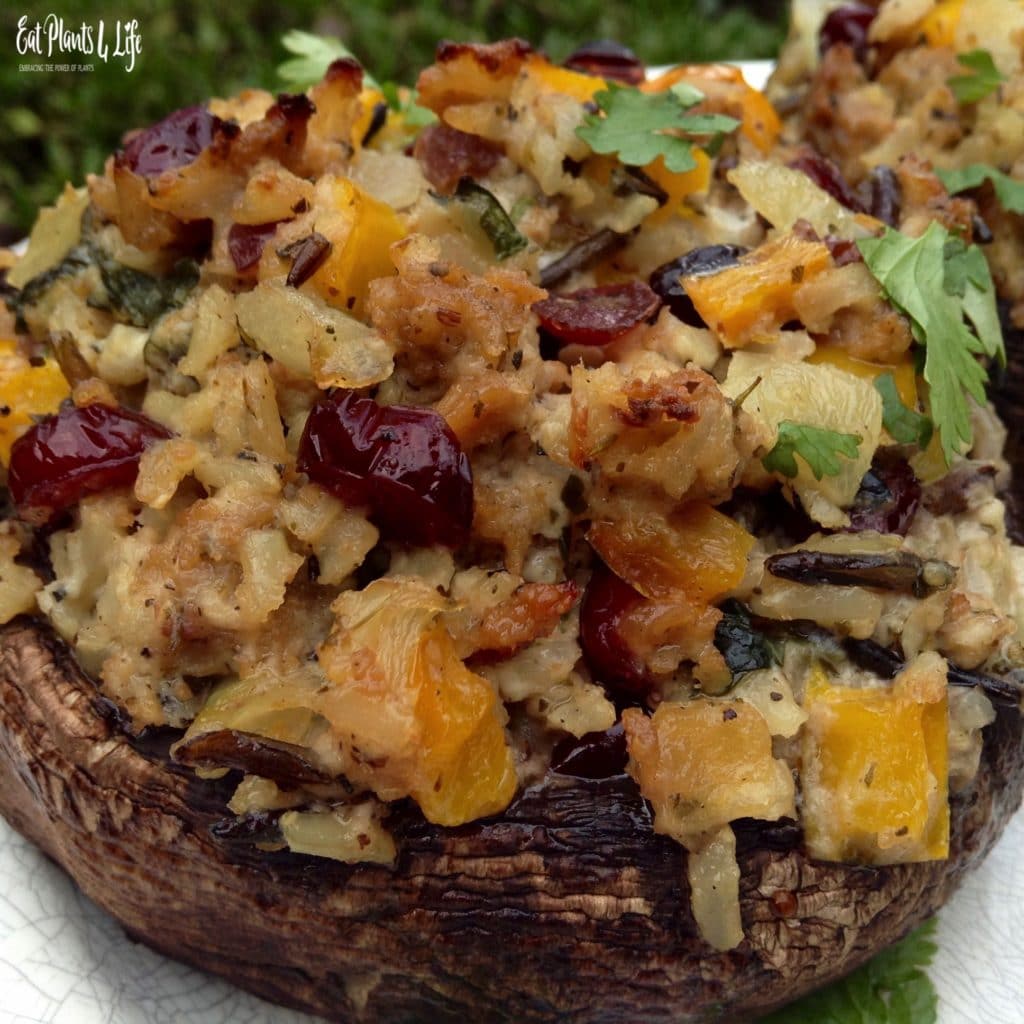 Drain soaked cashews. Place cashews, quartered onion, jalapeño pepper, nutritional yeast and 1 cup of almond milk in a processor. Puree until mixture has a smooth and creamy consistency. Mix until smooth and creamy. Set aside

Heat oil in a pan over medium-high heat. Crumble up Vegan sausages by hand. Add sausage to pan. Continue to break up with a wooden spoon. Cook until done. Place crumbled, cooked sausage on a paper towel in order to drain off the excess oil. Place back in pan.

Stir in cashew cream mixture, 1 cup of almond milk, mustard, turmeric, and salt. Stir frequently adding more almond milk in order to reach desired consistency. Stir in diced tomatoes and green chiles. Heat until warmed through. Taste. Add more salt if needed.

Serve as a part of your ultimate nachos platter, as a dip, or over a baked potato.
If you're short on time, ditch the plum tomatoes and green chiles and just add a can of Rotel!