On Friday night, the last thing I want to do is cook. I'm not too keen on waiting to be seated, waiting for the traffic to die down, or ordering another pizza either. I recently decided to pass the baton and let my two daughters take over the kitchen on Fridays.
I bought my 10-year-old a few starter cookbooks thanks to kid cooking shows like Food Network's The Kid's Baking Championship and Kid's Cook-off and Fox's MasterChef Jr., which have greatly inspired her. She has expressed a passion for cooking on numerous occasions over the years. I'm all for it. Cooking is Science class, reading comprehension practice, and a night off for me.
To support their interest in cooking, I decided to give them each a Friday night of their own – – to select a recipe from a kid's cookbook and plan a meal with little to no help. I tried to combine their night to cook and allow them to select, plan and execute a meal together, but we haven't quite mastered the concept of teamwork in the kitchen yet. No one is willing to be the" sous-chef."
Since their father and I are the dinner guests, lately I've been showing them ways to turn a regular recipe into a Vegan-version.  Now they are both pretty versed in the art of meat and dairy substitution.
My 10-year-old, MasterChef Madison was up first. I wanted her to go first because I wanted the 8-year-old to take notes. She chose Veggie Spring Rolls from her cookbook, Cooking For Girls, by Denise Smart. You can find it on Amazon.
She made a grocery list the day before, checked the cabinets for ingredients we already had, and handed her list to me to retrieve.
The original recipe called for filo pastry, but she substituted that with Spring Roll Rice Wrappers. It also called for butter to serve as the glue for the filo, but because she was using rice wrappers (which only call for a few drops of water to become sticky) we omitted it entirely.
Not wanting to break her concentration, I decided not to take pictures of her cooking. Because she'd helped me with many meals in the past, she required virtually no help in the kitchen. The result? A delicious meal and Dad on cleanup duty. I call that Hallelujah Friday!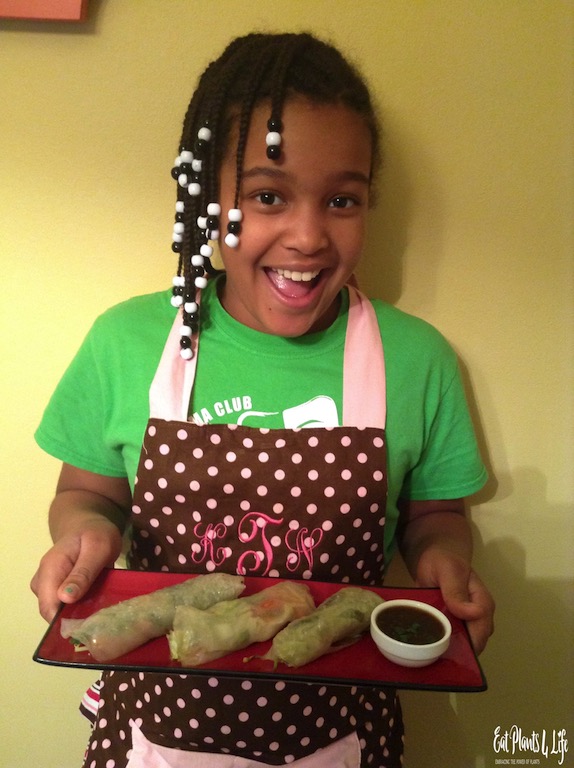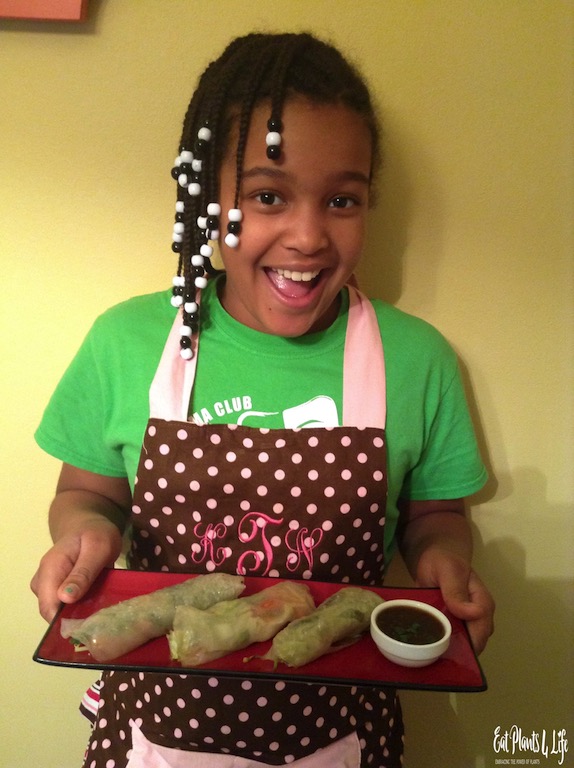 | | |
| --- | --- |
| | |
Preheat the oven to 375°F.

In a large bowl, mix together all of the ingredients, except the rice rolls.

Working with one wrapper at a time, wet wrapper under the faucet with warm water, gently lay it out on a board, and place some of the filling on the bottom edge.

Roll up, folding the ends over. Repeat with remaining wrappers and filling.

Spray a cookie sheet with non-stick cooking spray. Place filled spring rolls on the cookie sheet. Bake for 12-15 minutes. Serve with your favorite dipping sauce.
What a great teaching moment for your kids. They too can make Vegan meals. You're not only teaching them Science and reading comprehension, you're also boosting their self-esteem, and teaching them to make healthy food choices for themselves and future generations.
Next up is my 8-year-old, IronChef Grace. I'll post her gourmet meal next week.