Traditional holiday fruitcake has gotten a bad rep. I don't know too many people who actually like it, myself included. It's probably the most re-gifted holiday item ever.
When I was a kid, fruitcake was not a part of our holiday tradition. My mom created her own version of fruit and cake. It was her warm, moist, hypnotically sweet Pineapple Cake. It was definitely her holiday "ta-dah."
She didn't make it often, but during the Christmas season, it was a staple and always set the festive, holiday tone in our house.
The bad news is, it's not Vegan (bummer). And although I could probably whip up a Vegan-version by substituting a few of the ingredients, I could never do it justice. How can you improve on perfection? There's something about the special, creative hands behind the mixing bowl that would make any replication inferior in comparison. Besides, there's no need to turn a family recipe upside-down.
Instead, I dusted off my baking apron (baking is not my thing) and created my plant-based Pineapple Upside-Down Mini Cakes to celebrate National Fruit Cake Day on December 27th and most importantly, in honor of my mom's holiday classic.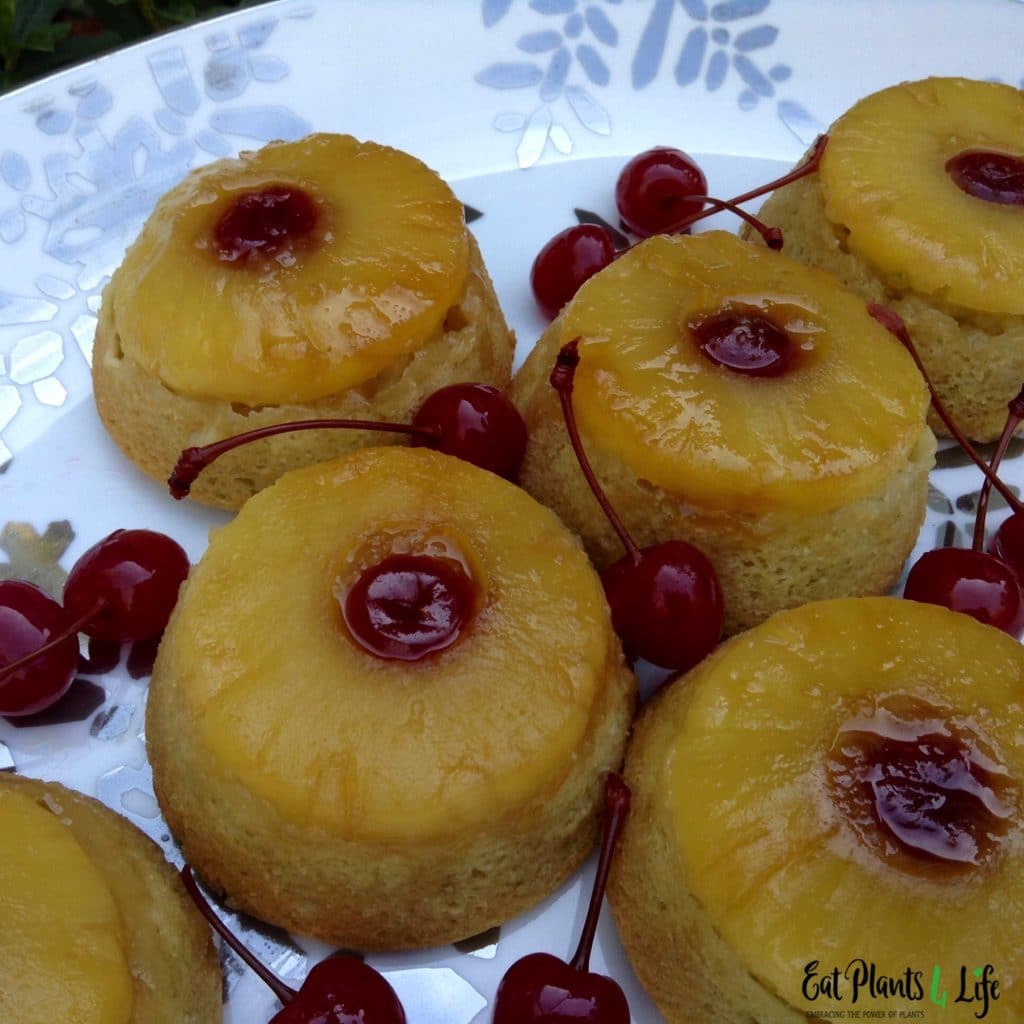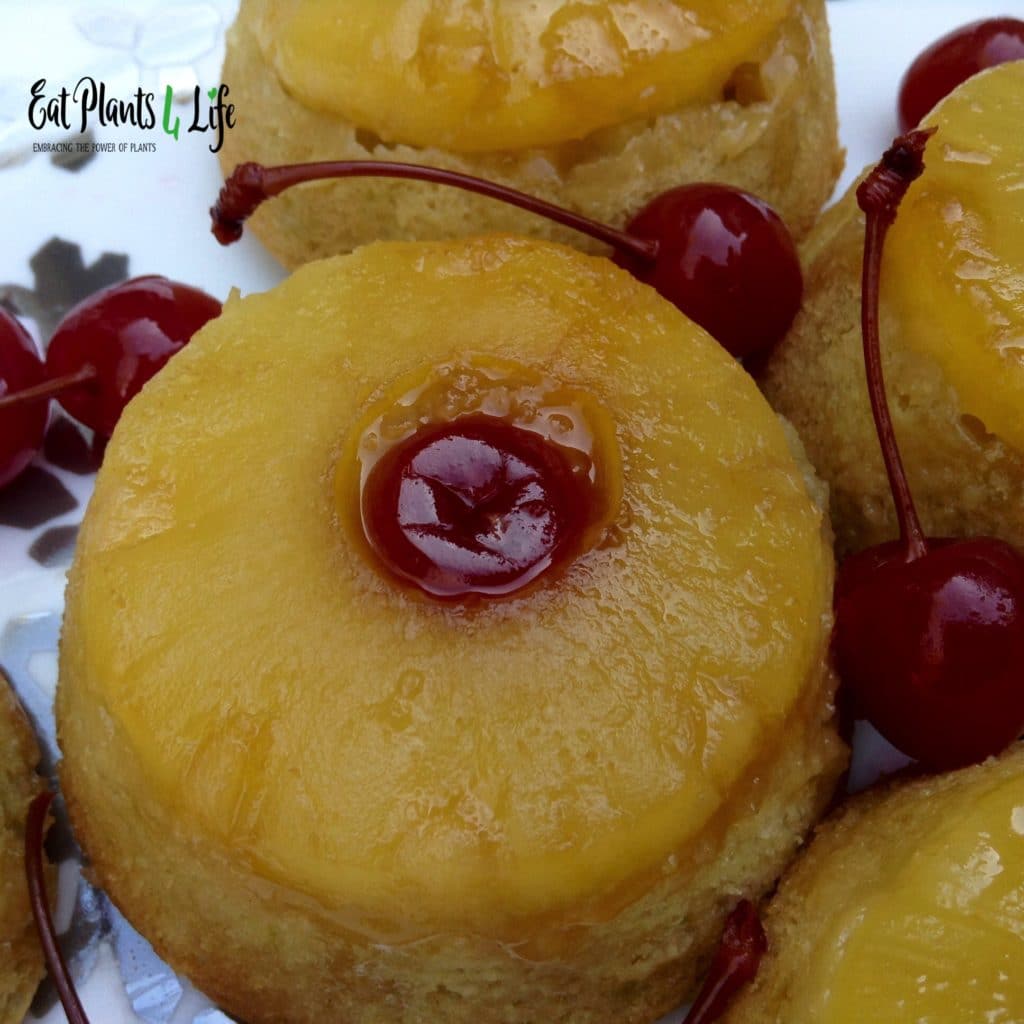 Break one open to discover little green bits of healthy goodness thanks to avocado.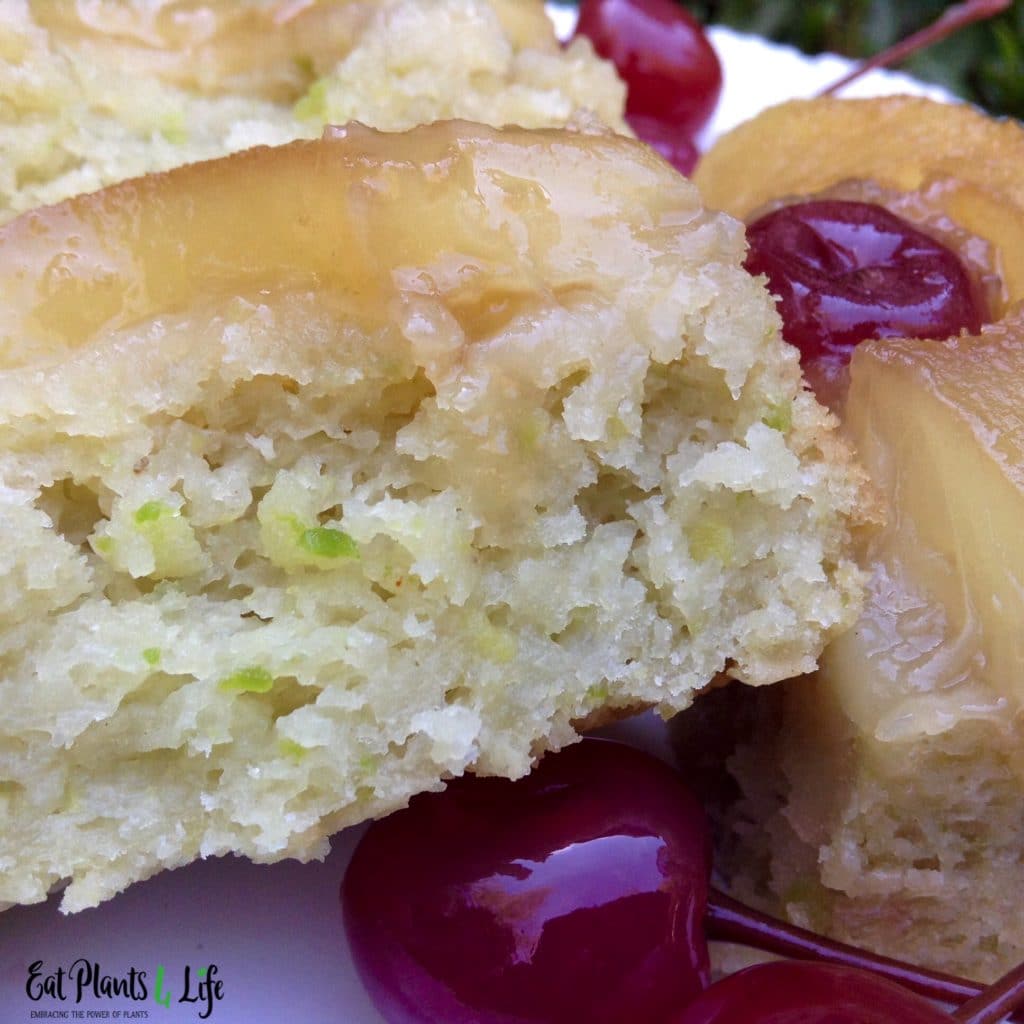 Created without the use of processed oil, it promises to tempt your taste buds and deliver on delish. You won't be able to tell that it's egg and dairy-free!
Happy Holidays!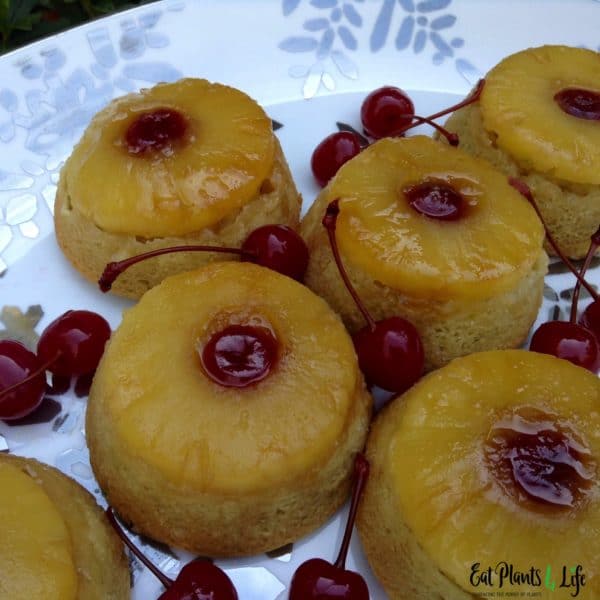 | | |
| --- | --- |
| | |
Preheat oven to 350 degrees.

Spray muffin tin with cooking spray. Scoop 1 teaspoon of light brown sugar into each tin and spread on bottom of each tin.

Place a pineapple ring in each tin on top of pressed sugar. Be sure to reserve ½ cup of the leftover pineapple juice. Add a cherry in the center of each ring. Set aside and make the cake batter.

In a large mixing bowl, sift flour, salt, and baking powder.

In another mixing bowl, add avocado flesh and mash with the back of a fork. Add vanilla, applesauce, almond milk, reserved pineapple juice, sugar. Mix with a hand mixer until combined. Add flour mixture and continue to blend until well combined.

Use a ladle to evenly pour batter in muffin tin over pineapple slices. Bake 40 minutes or until inserted toothpick comes out clean.

Use a butter knife to run along the edge of each mini cake. Please a baking sheet pan or large plate on top of muffin pan. Invert the pan, flipping the mini cakes over carefully. Tap several times on each pan section before removing the pan. Lift the pan gently. Serve immediately.
*Note: This recipe uses an 8-count mega muffin tin. If you do not have a mega muffin pan, you can use an 8"x8" pan. You will need to change the amount of ingredients: increase light brown sugar to 2/3 cup, increase pineapple slices and maraschino cherries to 9. Place sugar and cherries in the bottom of the pan, cover with batter, and bake 40 minutes or until inserted toothpick comes out clean. Use above instructions for inverting pan and flipping out the cake.
**please select maraschino cherries without the added artificial colors most often added to make the cherries brighter.