Happy National Sandwich Day!
One of the first things I struggled with when I became Vegetarian many moons before Veganism, was a good ole' fashioned, classic sandwich consisting of: carved turkey, Havarti or Swiss cheese, mayo, lettuce, and ripe, sliced tomatoes smacked between thick slices of crusty bread.
It was easy and convenient, not to mention belly-pleasing.
Although my turkey sandwich craving days have faded away, my love of the concept of thick, crusty bread sandwiched together with an unforgettable filling still remains.
So what do Vegetarians and Vegans smack between their crusty bread, besides hummus?
Hint: It's just as belly-pleasing…
You guessed it, plants! And roasted plants are awesome!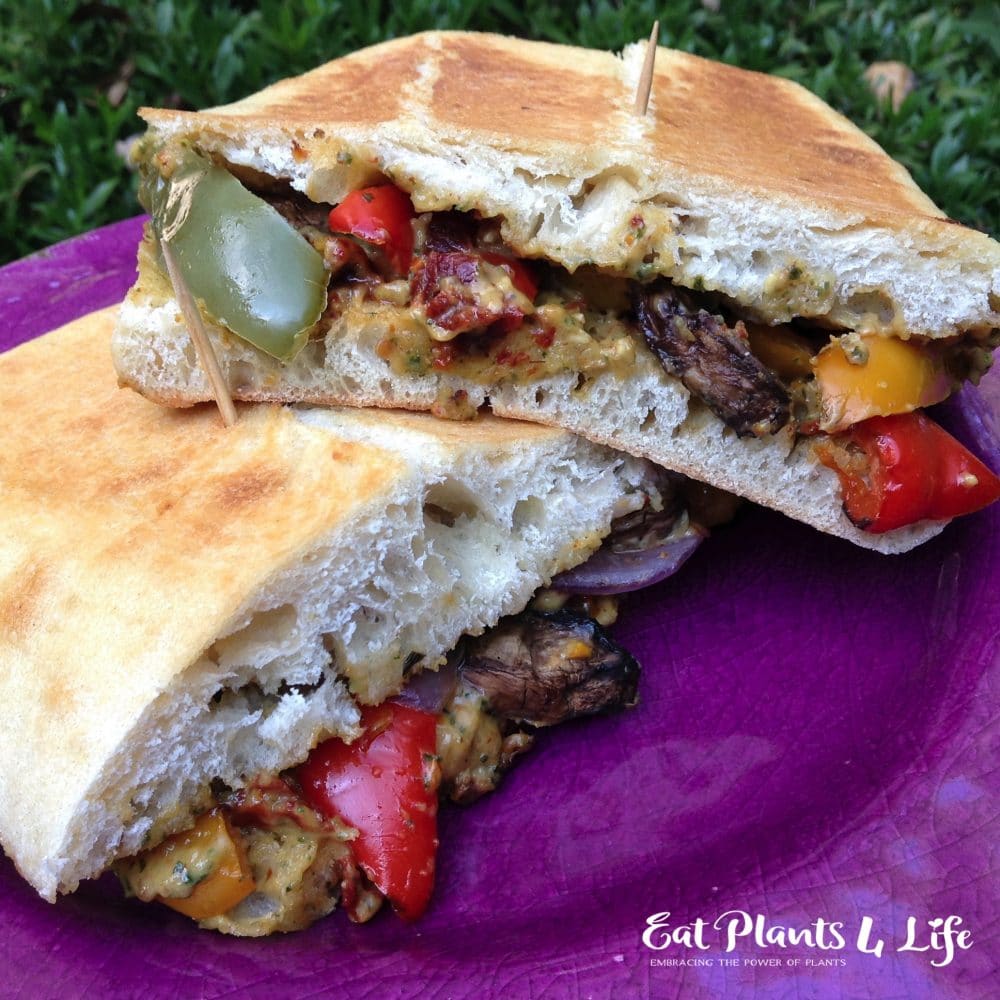 My Razzle-Dazzle Roasted Veggie Sandwiches are a healthier replacement for carved turkey. Razzle-Dazzle Roasted Veggie Sandwiches are guilt-free and will melt in your mouth!
Representing just about every color in the rainbow, this sandwich has just the right amount of bite to satisfy the most stubborn meat-eater.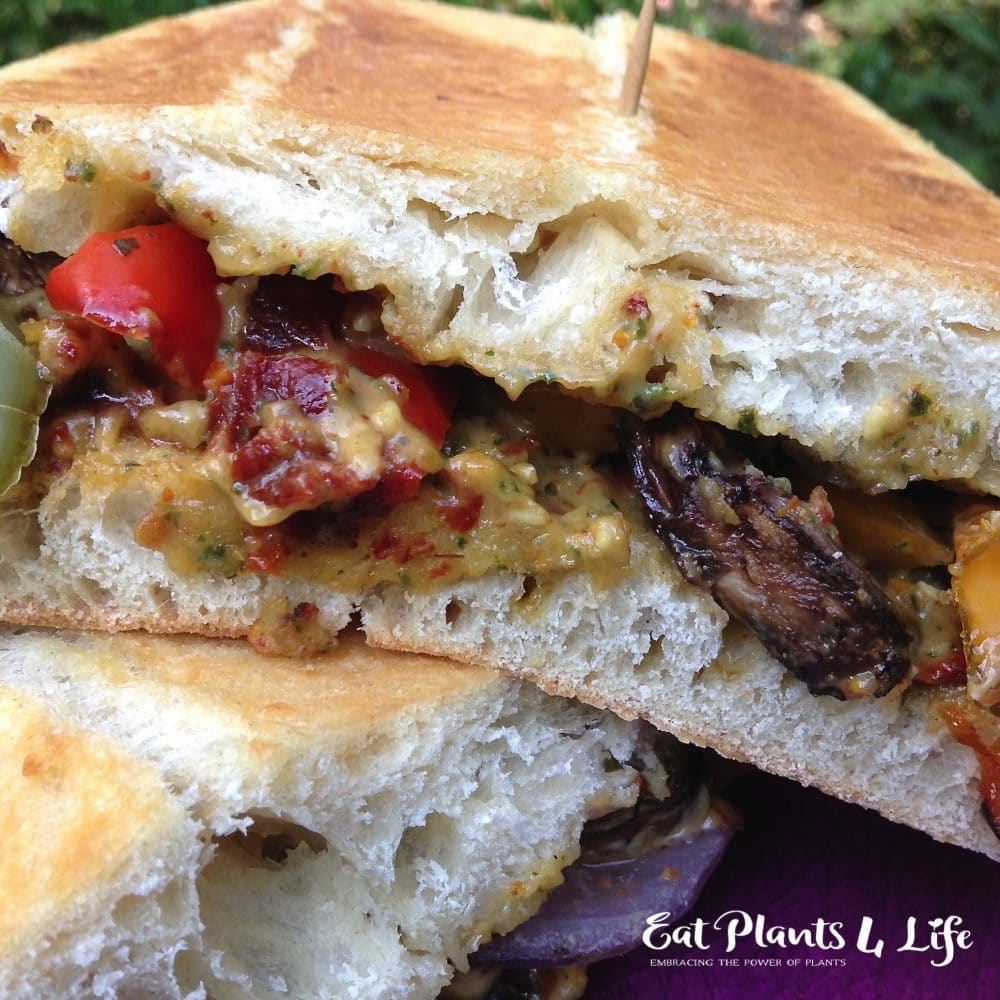 My 'creamy' and 'cheesy' Sun-dried Tomato-Basil Spread is the gooey glue that perfectly binds the rustic bread and hot-from-the oven veggie filling.
Make Razzle-Dazzle Roasted Veggie Sandwiches as an entree or cut them up and serve as a snack or appetizer. Enjoy National Sandwich Day in style!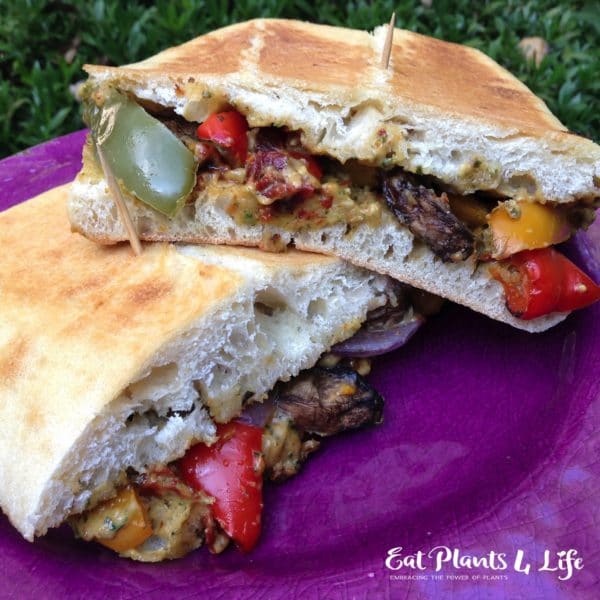 Sun-dried Tomato-Basil Spread
| | |
| --- | --- |
| Sun-dried Tomato-Basil Spread | |
Preheat oven to 400 degrees.

Place cut veggies on a baking sheet that has been sprayed with cooking spray. Add minced garlic, salt, pepper, basil and sprigs of thyme. Roast in oven until veggies are tender, but not mushy (about 20 minutes). While veggies are roasting, prepare the Sun-dried Tomato-Basil Spread.

Sun-dried Tomato-Basil Spread: In a food processor, combine basil leaves and garlic. Process until garlic is minced. Add cream cheese, nutritional yeast, tomatoes, pine nuts, oil, and salt and pepper. Process until well blended. Refrigerate until roasted veggies are cooked and ready to assemble.

Divide bread into 4 equal portions (or 8 to serve as an snack). Slice open bread width-wise. Spread Sun-dried Tomato-Basil Spread on the inside of each slice. Place roasted veggies on one of the slices. Place other half of bread on top.

Grill sandwiches until bread is lightly toasted and golden brown one of three ways: 1. Pressed in a Panini grill or griddle pan grill (my personal fav), 2. On the stove-top in a lightly oiled pan (pressing with a spatula, flipping, and pressing again), or 3. In a 400-degree oven.
*4 hearty sandwiches or 8 snack-size sandwiches