Ready to get your beta-carotene fix?  This week we celebrate National Pumpkin Day!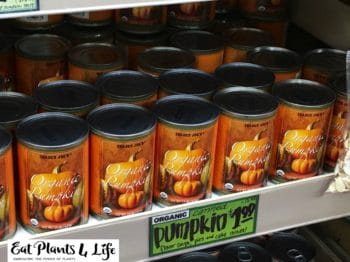 Did you know that pumpkin can replace animal-protein in your favorite recipes? 
Yes, pumpkin can replace eggs, butter, and cheese in many popular recipes because it is a great "binder" and has a natural buttery flavor.
Considering pumpkin, which is a member of the squash clan, is loaded with vital nutrients like potassium, folate, calcium, vitamin A and C, beta-carotene, and fiber, void of cholesterol, and has minimal fat, sodium, and calories per cup, it's a no-brainer to incorporate this Super Squash into your family's favorite foods/recipes.
Add pumpkin to these items to get more bang for your health:
Oatmeal instead of butter.

Smoothies instead of dairy

Tacos or burritos instead of refried beans or cheese

Pasta instead of traditional pasta sauce

Cake or muffin mixes instead of eggs or butter (makes a great binder)

Favorite homemade pancake recipe instead of eggs
Be sure to buy organic pumpkin. The price is less than $2 per can, making it practically a bargain compared to non-organic brands. The shelf life is long (the cans I picked up last month have a September 2019th expiration date), so be sure to buy more than you need so you're not affected by the limited Fall season supply. Buying several cans will keep it on-hand throughout the year. It's one of EP4L's Pantry Staples!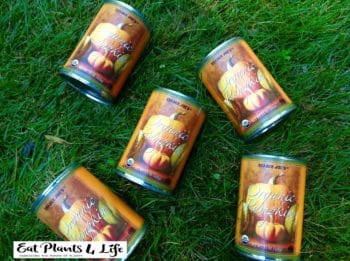 To continue the EatPlants4Life's Month of all things Pumpkin, my throwback plant-based Hella Good Pumpkin-Black Bean Quesadillas are definitely a must and a hit with the kids. They didn't even notice that I used plant-based cheese (hee hee).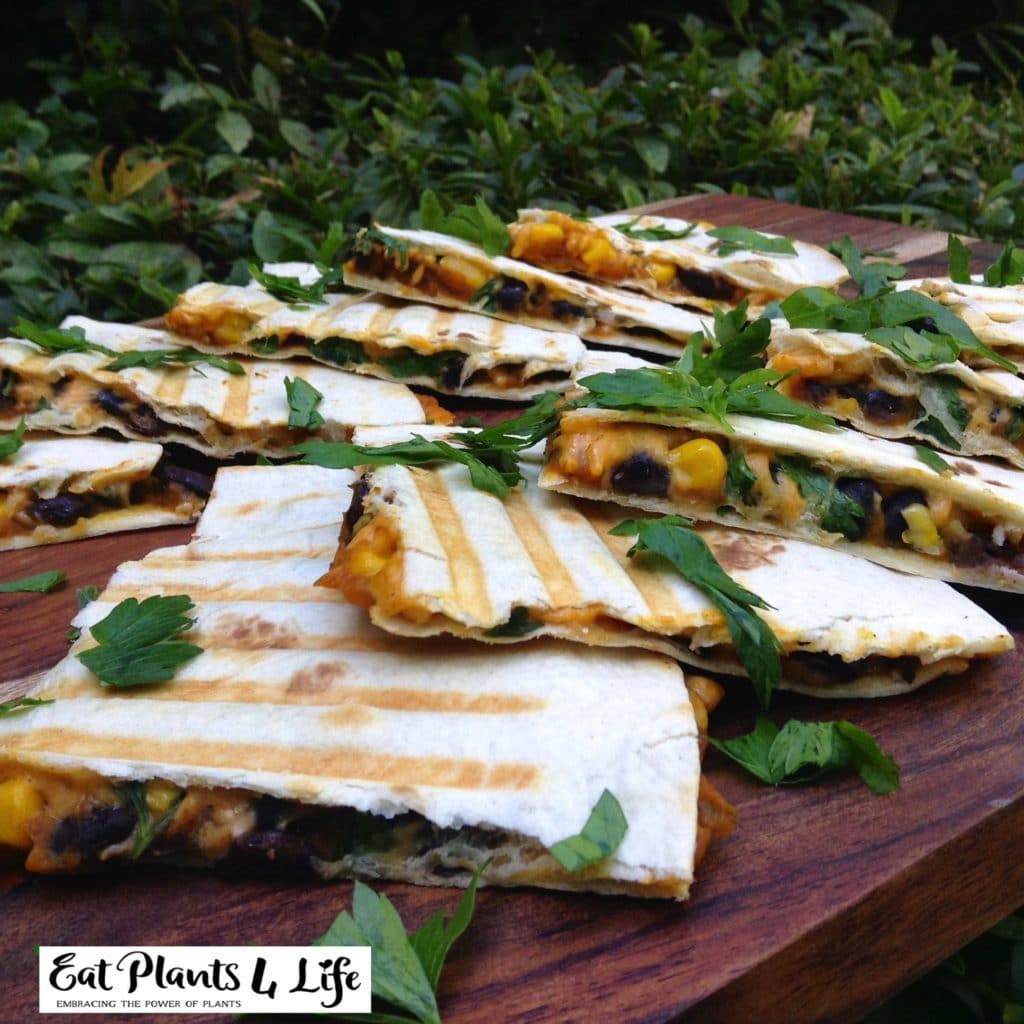 These 'cheesy' Vegan Quesadillas are a melted blend of organic pumpkin puree, black beans, plant-based cheese, and corn. It's a quick and super eeeeasy recipe that you can make any busy day of the week!! Add chili powder if you like it spicy!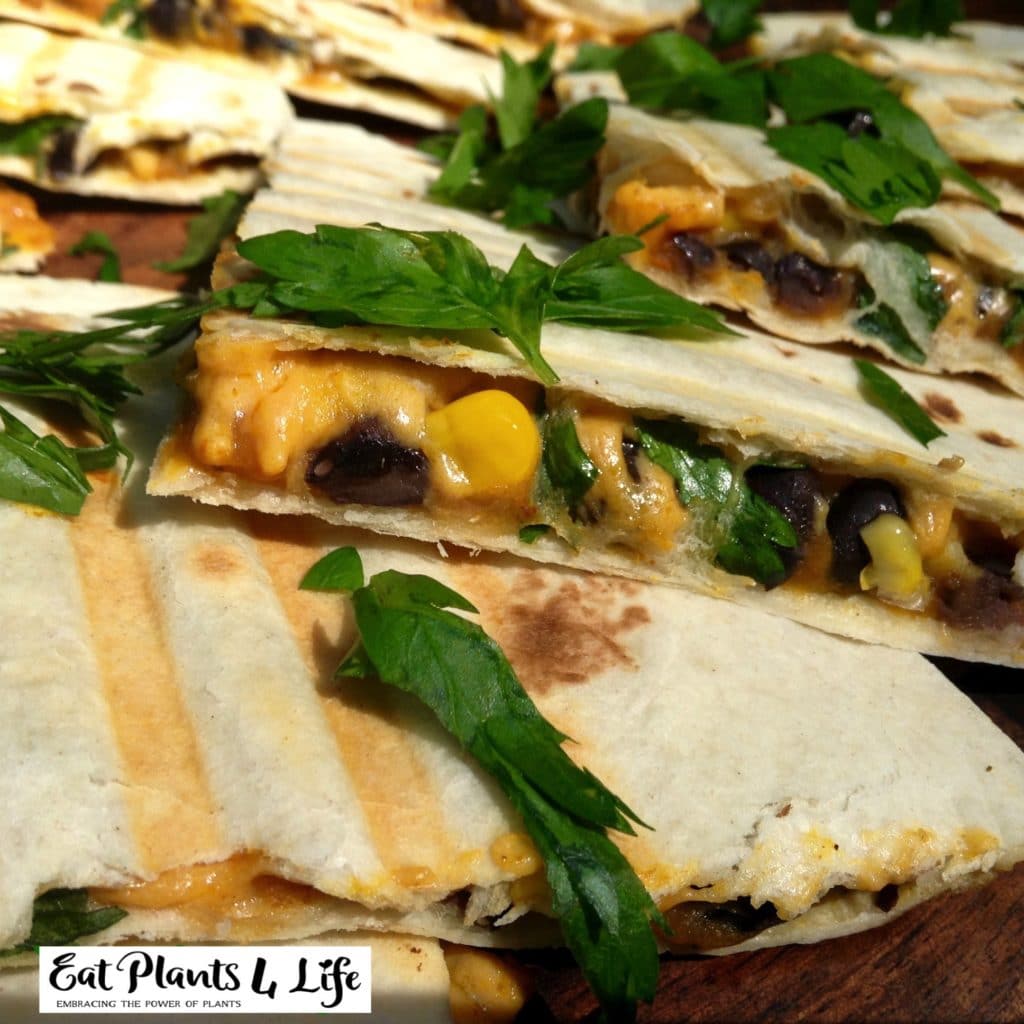 Celebrate National Pumpkin Day and enjoy!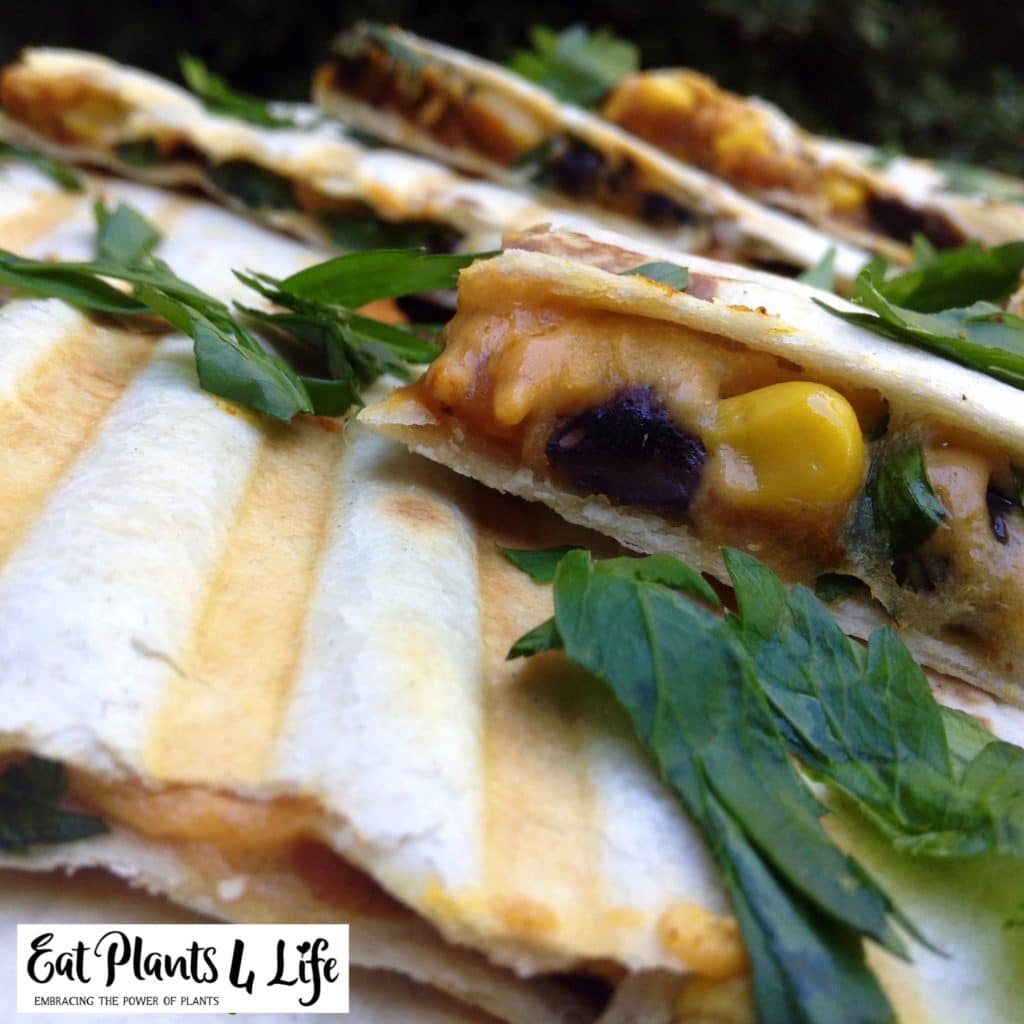 Check out this video for Hella Good Pumpkin-Black Bean Quesadillas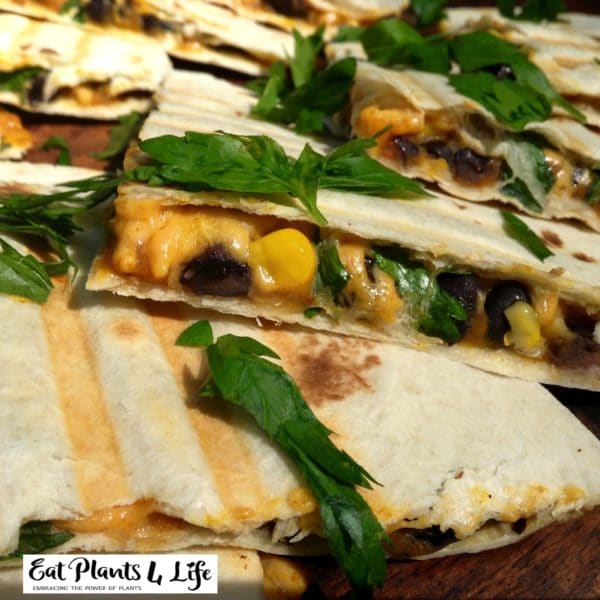 | | |
| --- | --- |
| | |
Heat oil in a medium saucepan. Add garlic. Sauté until garlic is golden brown (about 1 minute). Add pumpkin puree. Stir in cumin, chili powder, salt, and thyme. Cook for 3 minutes or until pumpkin is heated through. Add a splash of water if necessary to avoid burning. Remove from heat.

To assemble quesadillas, equally divide seasoned pumpkin puree and spread onto 4 tortillas. Add 1/3 cup of black beans to each tortilla. Then add 2 Tbsp. of corn to each tortilla. Add ¼ cup of dairy-free cheddar shreds onto each tortilla. Sprinkle chopped parsley evenly over filling. Place the second tortilla over filling.

Spray large pan or griddle with cooking spray. Cook quesadillas, one at a time over medium-high heat, grilling both sides until tortillas are golden brown and shreds have melted. Cut cooked quesadillas into quarters. Serve as is or with your favorite quesadilla toppings.