Eat Plants 4 Life hit the trails and landed in a place where music is the heart and soul, Nashville – a place where it's not all about legendary country tunes. The spirit of bluegrass and rhythm and blues is also a part of the vibrant scenery.
Nashville, TN was the destination. Saturated with aspiring artists performing LIVE on every street corner and bellowing their passion while waiting to be discovered, the backdrop for this bustling city reeks raw talent and fearlessness. Walking the streets feels like a kaleidoscope of musical talent in an outdoor concert arena.
Nashville is also known for something else – its southern roots. When I say southern, I undoubtedly mean food – specifically barbeque. As a Vegan, I thought that I had my work cut out for me. I assumed that I would have a problem finding cooked vegetables that weren't drowned in animal fat.
Fortunately, I didn't have to go very far to find Vegan. All I had to do was hit the trails and migrate a little East – to the artistic, multi-cultural, and eclectic vibe known as the Eastwood District.
There, I discovered eateries like Graze, Wild Cow, and Five Daughters, that personify the diverse, trendy, urban, and family-friendly charm that I instantly fell in love with.
My first stop was Graze, a 100% plant-based bistro and bar that serves brunch, dinner, and spirits. With menu items like Chickpea Bay Cakes, Chorizo Con Papas, and smoothies with names like: Vegasaurus, Curious George, and You Are Beautiful, I had an abundant pick of plant-based items to devour. It was so h-e-a-v-e-n-l-y, I unapologetically ate there two days in a row.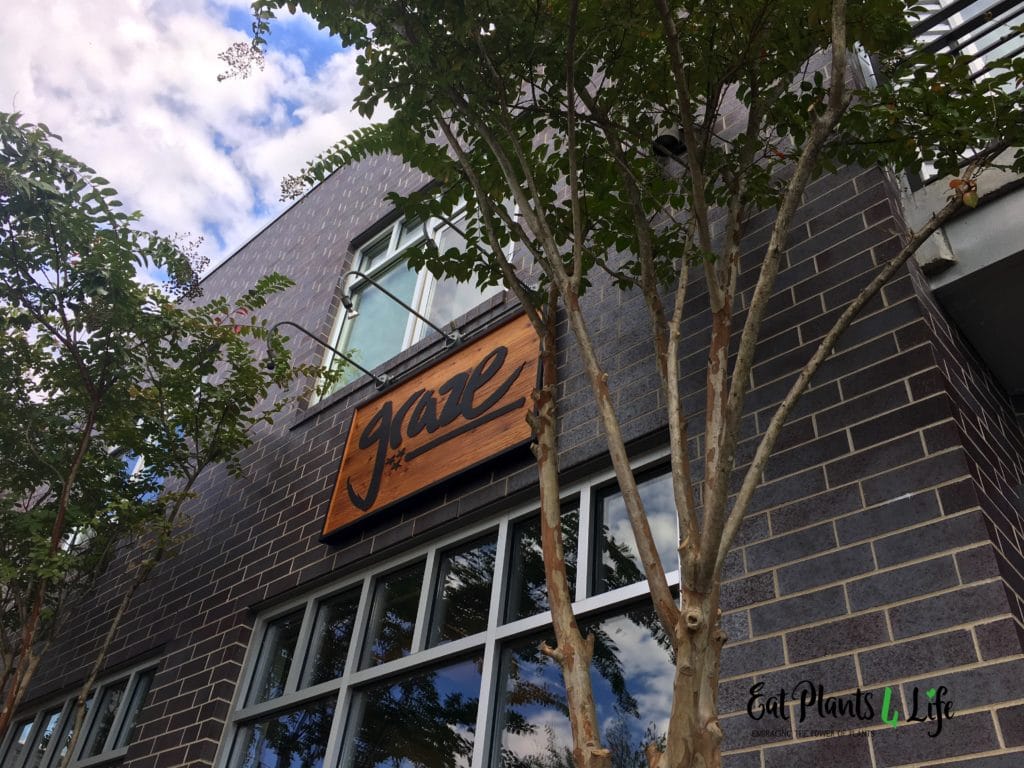 Here's where I landed for brunch on day one…
Loaded Potatoes: Oven fries in a creamy cashew cheese, pickled jalapenos, seitan chorizo, guac, and green onions. In a word… savory.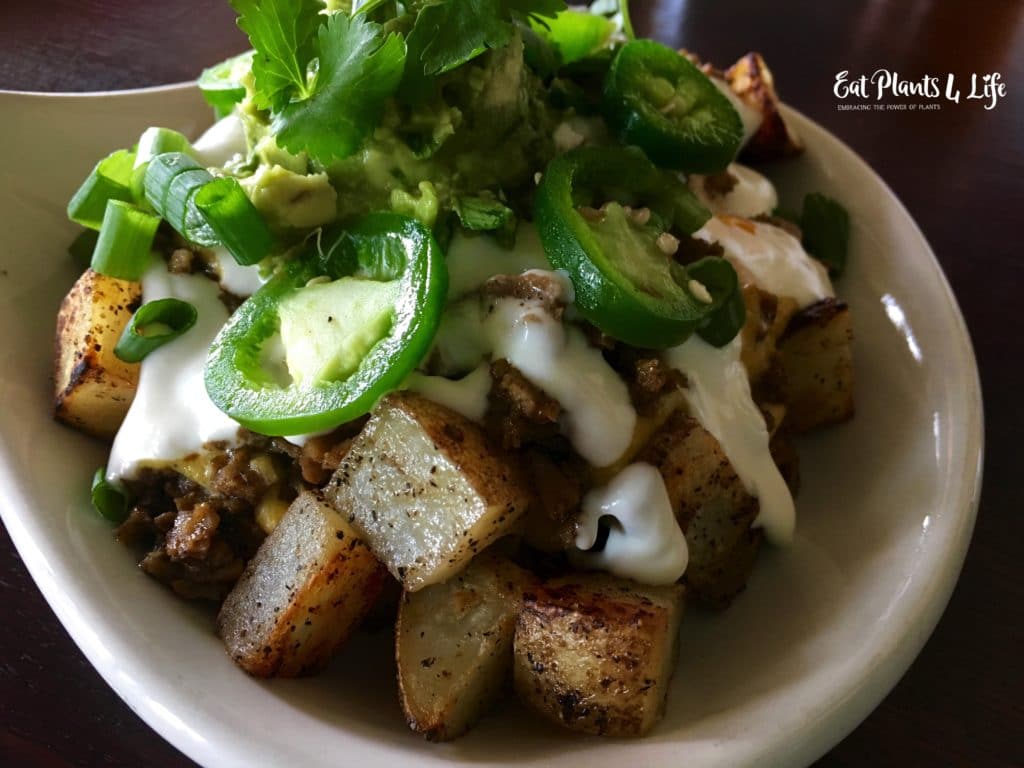 I also tried the Roasted Veggie Burrito: Roasted veggies and potatoes, creamy cashew cheese, spinach, quinoa, and dairy-free sour cream. It was simply healthy and hearty.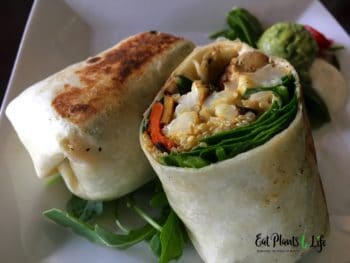 I topped it off with their Cupcake of the Day: Raspberry Pistachio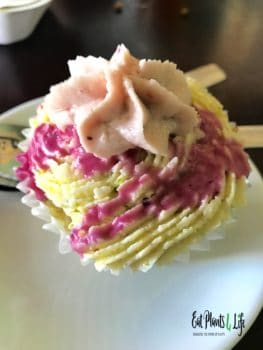 The next morning, I unearthed Graze's Veggie Sausage Biscuit, which was customized. Normally, it's a house-made biscuit along side veggie sausage, tempeh bacon, avocado, arugula, red onion, and a dairy-free hollandaise sauce, however I decided to forgo the hollandaise and traded up for their take on a plant-based gravy. Who wouldn't like biscuits and gravy? It was a wise choice.
Last, but certainly not least was the Breakfast Burrito: Seitan chorizo, tofu scramble, roasted potatoes, quinoa, spinach, and dairy-free sour cream. It was by far, my favorite menu item.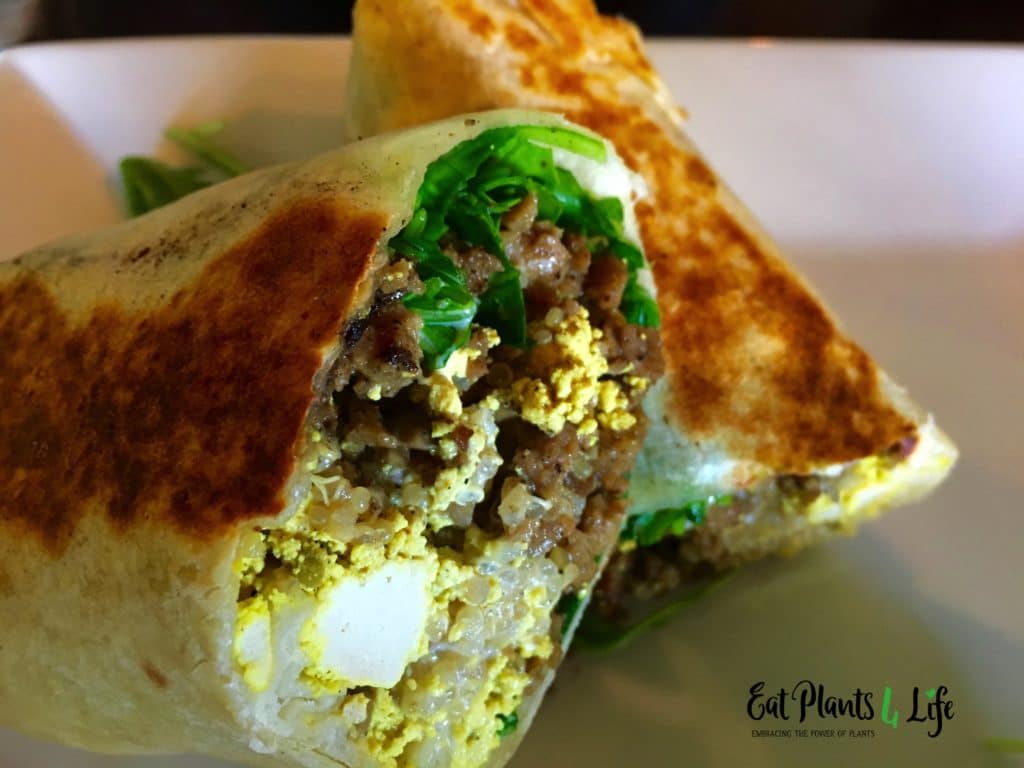 You can find Graze by visiting their website: grazenashville.com, by calling: 615-686-1060, or simply dropping by at: 1888 Eastland Ave. They are closed on Mondays and welcome reservations.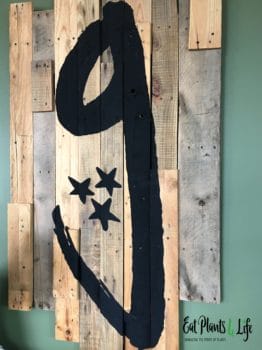 Next on the trail was my dinner spot: The Wild Cow, which is actually within walking distance of Graze and just so happens to also have the same owners. The Wild Cow is a Vegetarian eatery that has Vegan menu items or customizable Vegetarian items.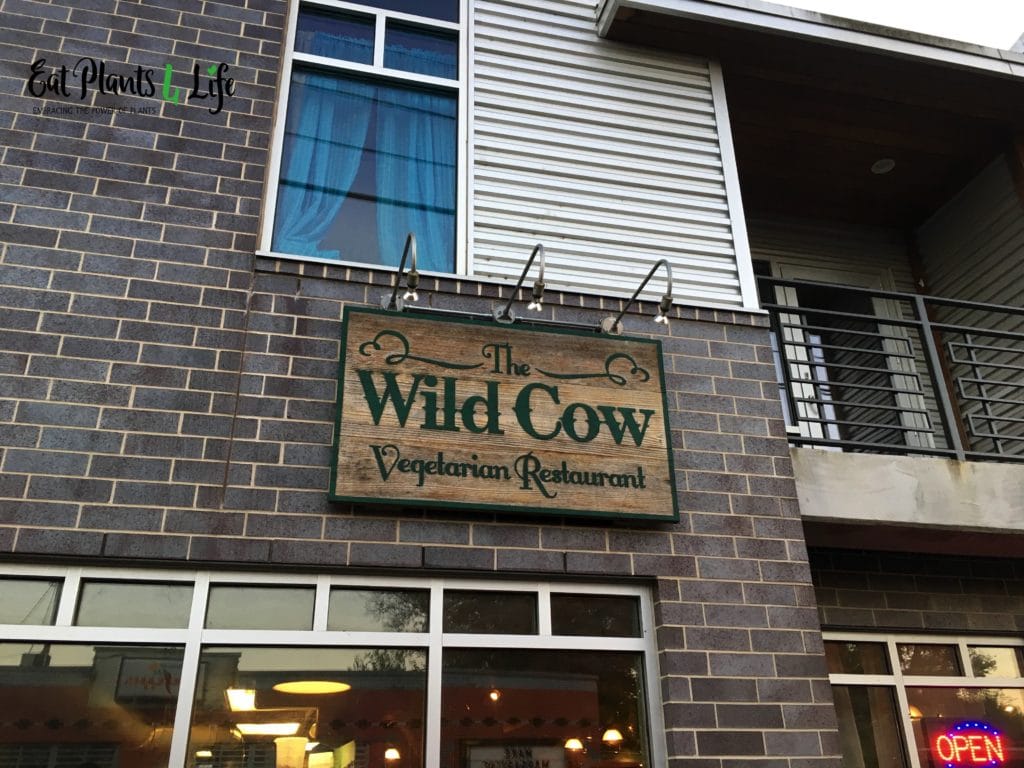 The Wild Cow is charitable eatery that donates 2.5% of their total sales once a month to a charitable organization. They call it their Charity of the Month.
With menu items like: Pistachio & Pear Salad, OG Beans and Greens, The Buffalo Grinder, and French Quarter Dip, The Wild Cow prides itself on cooking with recognizable, mostly organic ingredients that are sourced locally. Their food is so fresh, they don't even own a freezer or microwave. They also offer High Gravity Beers with funky names like Yazoo Sue and Lawyers, Guns, and Money.
I started with The Wild Cow Nachos: seasoned black and pinto beans, Vegan queso, salsa verde, diced tomatoes, red onions, rice, and dairy-free sour cream served over non-GMO blue tortilla chips. YUM! I could have stopped right there, but I kept going…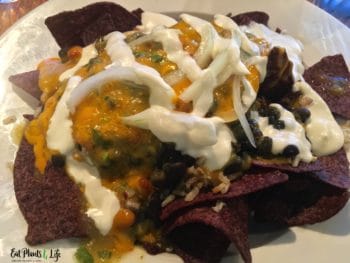 Next was The Wild Cow's take on The Philly: grilled peppers and onions and marinated seitan topped with Vegan queso.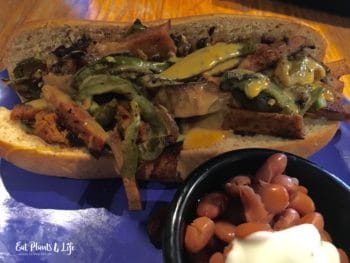 My final pick was a 3 Taco Sampler: Chipotle Seitan (my personal fav), Sweet Potato and Black Bean, and Peanut Tempeh Tacos.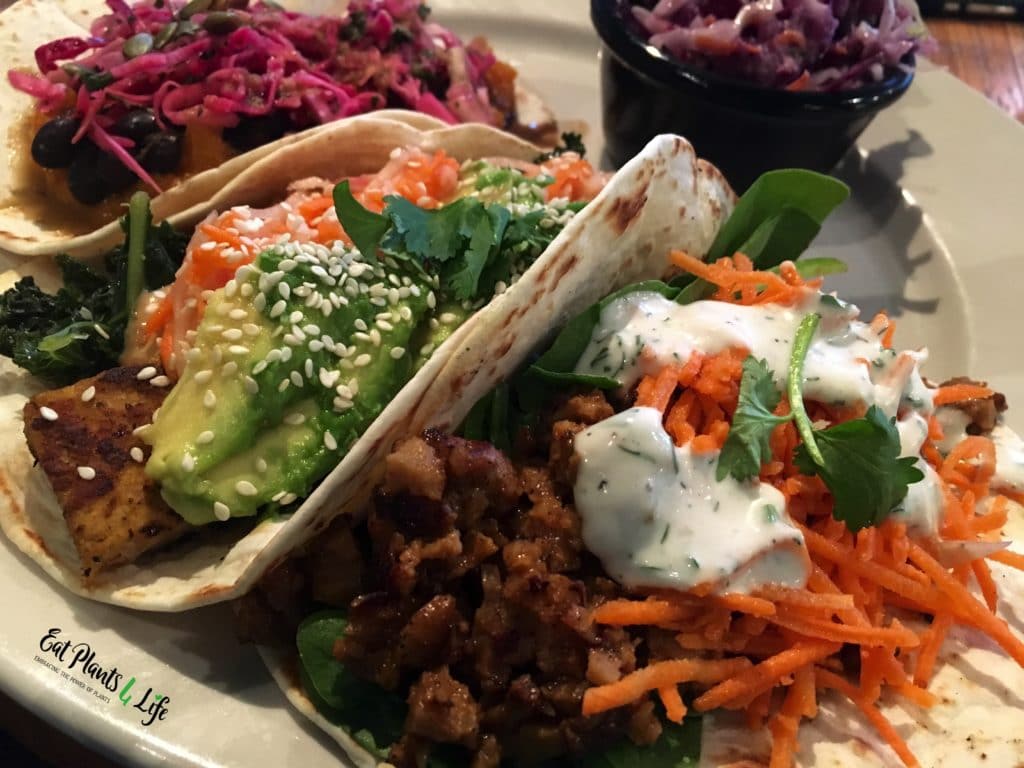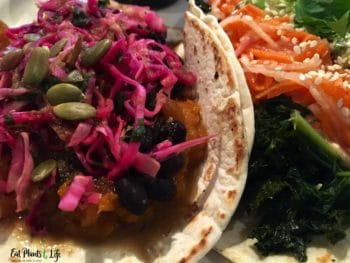 You can find The Wild Cow by visiting their website: thewildcow.com, by calling: 615-262-2717, or simply dropping by at: 1896 Eastland Ave. They are closed on Tuesdays and have Happy Hour Wednesdays.
My final destination landed me just a few feet from both Graze and The Wild Cow. I couldn't leave Nashville without satisfying my sweet tooth. So, I dropped by Five Daughters Bakery for, what else – Vegan Doughnuts!
Score!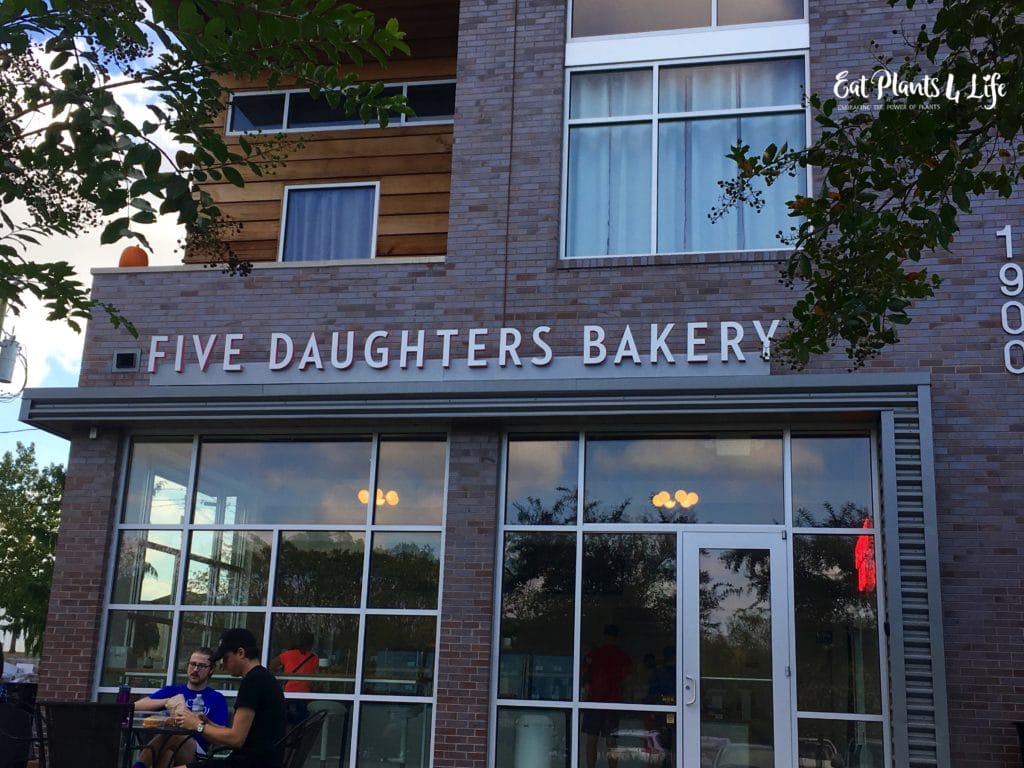 Named after their five daughters, Five Daughters Bakery is a family-owned, made-from-scratch bakery that prides itself on using locally sourced ingredients. They serve soy-free sweet treats that are void of GMOs, chemical preservatives, hydrogenated oils, and artificial colors and flavors.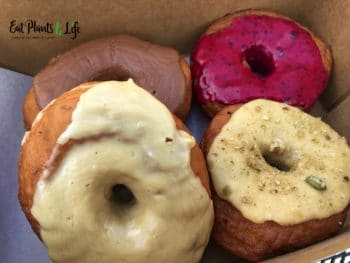 FDB, is not exclusive to Vegan treats, so if you're traveling with a non-Vegan, they accommodate both. There were quite a few Vegan options, so I chose them all to take home (of course). That day, it included: Huckleberry, Pumpkin, Maple, and Chocolate Glazed doughnuts. I loved them all!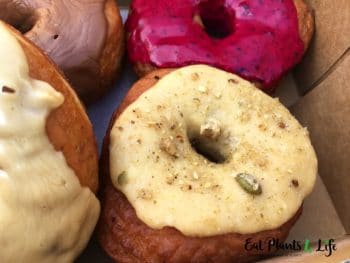 You can find this gem by visiting their website: fivedaughtersbakery.com, by calling: 615-891-1293, or by simply dropping by one of their locations. I visited them at the 1900 Eastland Avenue location. Remember to visit them early in the day. They can sell out!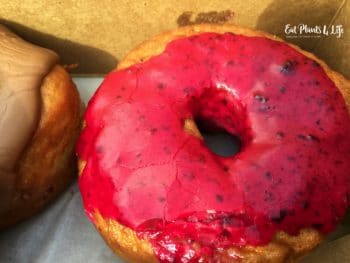 Happy Trails!