School is almost over, so it's about that time to pack it up and hit the road!
As many jet-set via the friendly skies, our thrifty family's summer vacation usually means "road trip." Flying to a destination can be very expensive for a family of four. We live in Georgia, so our summer trips usually land our feet some place in Florida or South Carolina. That's a blessing for me because I hate to fly and I get to pack "everything" or the things that would otherwise burn a whole in my wallet if I were to bring it on an airplane or rent it from a beach shop. Items like: bikes, roller-blades, beach gear, or golf clubs will all be in tow.
Hitting the road means packing easy Vegan snacks for the long car ride. The last week of school is like nearing the finish line of a 26-mile marathon, so I don't have time to labor over what to pack. I need quick and easy Vegan snacks to be front and center.
Since my kids are a little older now (middle-schoolers) they have packing the car snacks down to a science. They just pack whatever they see that has survived the last pantry raid  – – it takes priority over packing the essentials like clothes and a toothbrush.
This leaves me to consider the Vegan snacks for me and the hubby. Packing Vegan snacks for my husband and myself was challenging in the beginning of our Vegan journey. It still remains a priority because sometimes we can only rely on packed snacks for meals on the road. I am more likely to win the Mega-Millions Lottery than I am to find a Vegan-friendly fast-food restaurant on a country road.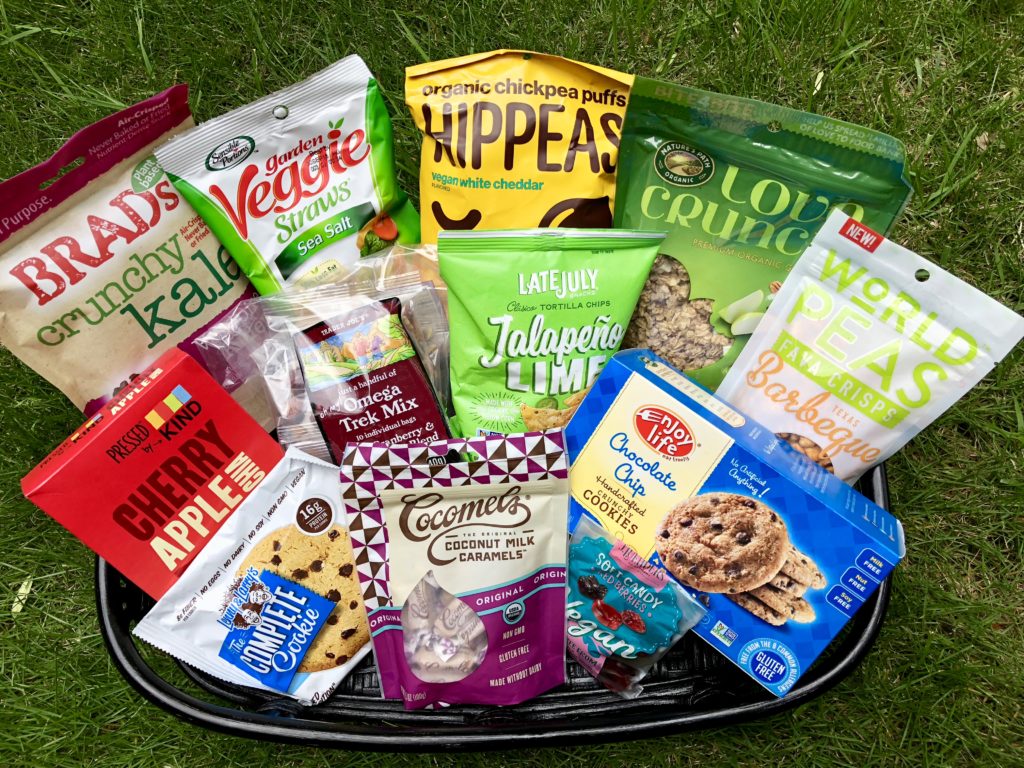 Although, I can usually find minimally processed and healthy store-bought items like the goodies above, here is a list of 15 of my favorite, easy, Vegan snacks for the road, pool, or beach:
Granola with dried fruit added

Homemade Kale Chips: Line a baking sheet with parchment paper. Rinse and pat dry torn kale pieces (i.e. curly kale or Tuscan kale) that have the stems removed. Drizzle with a little EVOO and sprinkle with sea salt. Toss with hands. Roast on 350 degrees until lightly browned. Sprinkle with optional nutritional yeast for a cheesy-flavored chip.

Soft pita bread triangles and hummus

Pre-made popcorn sprinkled w/ nutritional yeast or chipotle-lime seasoning & stored in portable, quart-sized plastic bags

Pre-frozen grapes

Homemade trail mix

Raw veggies in snack baggies

Pretzel sticks and flavored hummus

Pre-sliced apples dipped in peanut or almond butter 

Taco-Roasted Chickpeas: Rinse and pat dry a can of garbanzo beans. Toss in a tablespoon of EVOO and a packet of taco seasoning. Bake on 425 degrees for about 35 minutes (stirring occasionally) and allow to cool.

Pre-made dark chocolate-covered pistachios or roasted almonds

Twisted pretzels dipped in melted dark chocolate and sprinkled w/ shredded coconut
Since I'm so stoked about being able to pack "everything," I'm adding another gem to the list. I've created a Vegan snack recipe that will make the road a little more bearable for the Vegans and also please the kiddos. EP4L's Everything Vegan Granola Bars are a healthy Vegan snack or Vegan breakfast option. They're "everything but the kitchen sink" Vegan granola bars.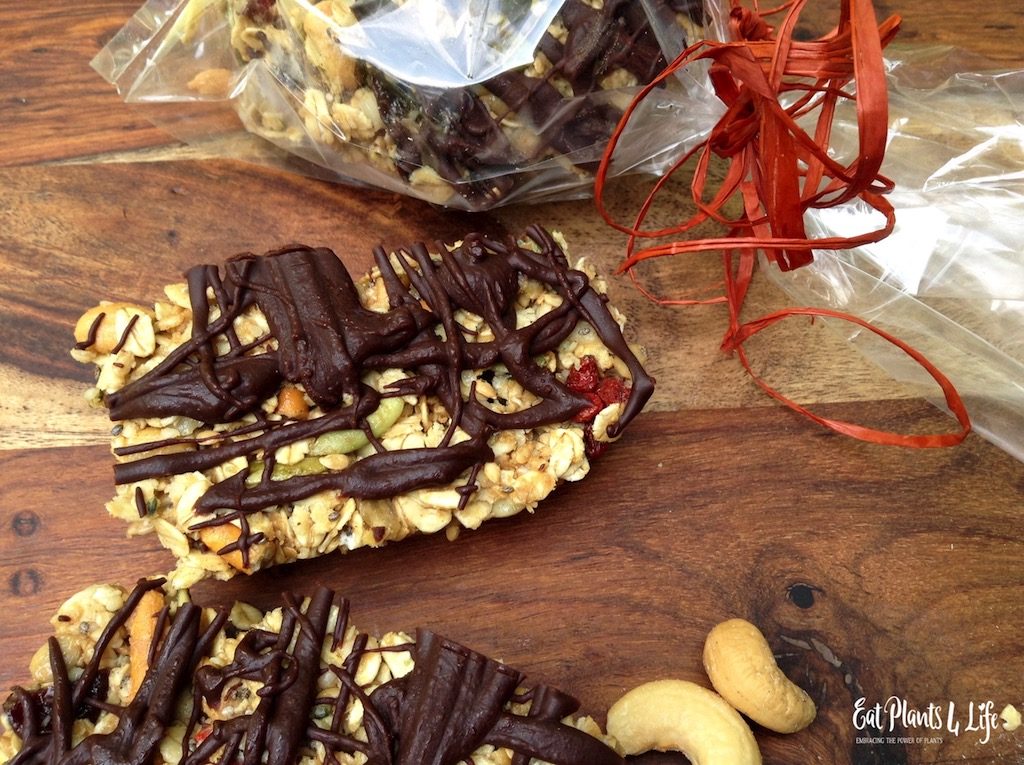 I like to make these bars because many store brand granola bars use non-Vegan honey or high-fructose corn syrup as its glue. Instead of honey or HFCS, I like to incorporate agave, a great Vegan-friendly honey substitute. Maple syrup would also work but will produce a sweeter bar.
My Everything Vegan Granola Bars are my clever way of using up the remaining nuts/seeds in my pantry which were left over from my recipes or are due to expire soon.
If you don't have any leftover nuts/seeds lingering in your pantry and you want to save a buck, don't go out and buy prepackaged nuts and dried fruit. Many stores have an option to purchase "by the pound." Measure out and purchase only what you think you'll need (¼ – ½ cup each and even less for seeds).
It's pretty obvious that healthy Everything Vegan Granola Bars have just about every vitamin/mineral covered. The ingredients are rich in: fiber, iron, potassium, magnesium, omega vitamins, antioxidants, protein, Vitamin B-6, calcium, etc. It's like eating a vitamin. The flavors of sweet, salty, and tart will have your taste buds covered as well.
Including these bars on your summer road-trip packing list will make the car ride a little less hectic and definitely healthier. Enjoy and safe travels!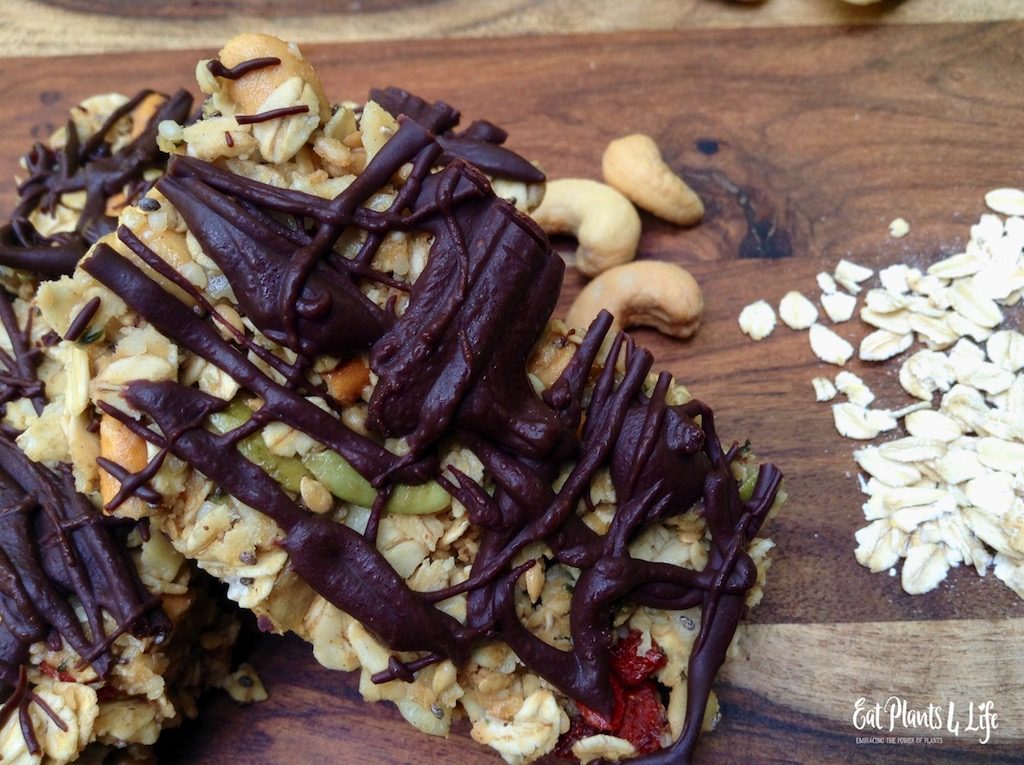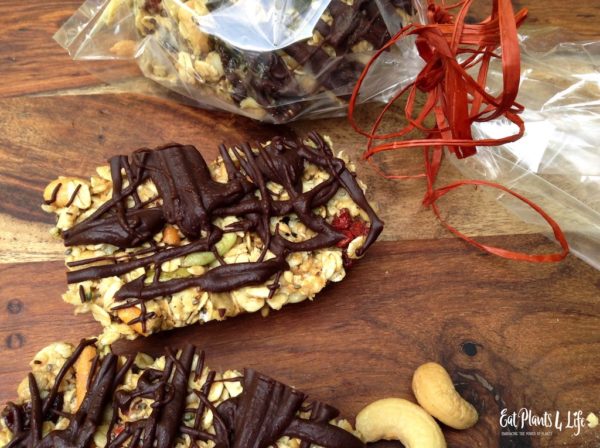 | | |
| --- | --- |
| | |
Instructions
Line an 8 ½" x 11 (9" x 13" if you prefer thinner bars) dish with plastic wrap or parchment paper (plastic wrap is easier).

Place all ingredients (except chocolate chips) in a large mixing bowl. Stir until all ingredients are fully incorporated.

Place granola mixture in lined dish and spread out evenly. Press granola firmly and tightly into the dish. I used a potato smasher. Be sure to leave no gaps.

Place chocolate chips in a small microwave safe bowl. Microwave on high for 1 minute. Stir mixture. If not fully melted, microwave again in 15-second increments (stirring in between) until fully melted. While stirring vigorously, add a few more splashes of non-dairy milk to thin out the melted chocolate.

Generously drizzle melted chocolate over granola mixture.

Place granola in the refrigerator for an hour or freezer for 20 minutes (if you just can't wait) in order to set.

Remove from frig or freezer. Lift granola from dish. With a serrated knife cut individual bars. Store bars individually in sealable snack bags, plastic, or other decorative cellophane bags tied with ribbon. Store in refrigerator for up to a week (if they last).

Enjoy!
Recipe Notes
** You can swap out or leave out any of the ingredients in order to customize your granola bars! The sky's the limit!