What item(s) currently in your fridge could be accelerating the aging of your skin?
For years, dermatologists/skin experts, allergists, and some nutritionists have said it – – eliminate the dairy from your diet and slow-down the aging process, add a glow back to your skin, and eliminate adult acne and other skin problems. If you Google "dairy and skin" or "dairy and acne" right now (or after you read this post), you will be bombarded with a slew of articles from health and skincare professionals regarding the affects dairy products have on the skin. Many of these professionals have suggested dairy elimination from the diets of clients with problematic skin and have reported significant skin improvements, ending the need for expensive creams and lotions. 
For me personally, avoiding dairy is a cheap and natural solution to acquiring clearer skin that also does not come in an expensive tube or bottle. My husband use to constantly deal with adult acne. He noticed a significant difference in his skin after eliminating the dairy.
I spotted an online OWN (Oprah Winfrey Network) video and Huffington Post article that talked about this very topic. I was surprised to learn that the increased hormone level in dairy products is the culprit. Because most cows are pregnant when they are milked, the increased hormone level (which does not include the hormones they may be injected with) are transferred to the milk supply, leaving dairy consumers with acne breakouts, eczema and inflammation.
How Do You Know?
So, how do you know if dairy is in fact the cause of your drab skin tone and breakouts? The only way to test this claim is to try a 120 Day Elimination Test as suggested by registered dietician, Maria Bella. By avoiding dairy for 120 days, one could assess the affect that dairy has on them personally. I can personally take it a step further and say that it will also diminish belly bloat. This will be evident just days after becoming dairy-free. Check out the complete article and video featuring Maria Bella by clicking here.
Then check out Vegan Chocolate Cupcakes from Allrecipes.com. Before I tried it, I thought that if chocolate cake batter didn't consist of eggs, butter and/or milk, it would be a disaster (dry dirt more specifically). Not true. Dairy and eggs are not necessary ingredients needed to achieve moist, delicious cupcakes. Try Vegan Chocolate Cupcakes out on your family and see if they notice the difference.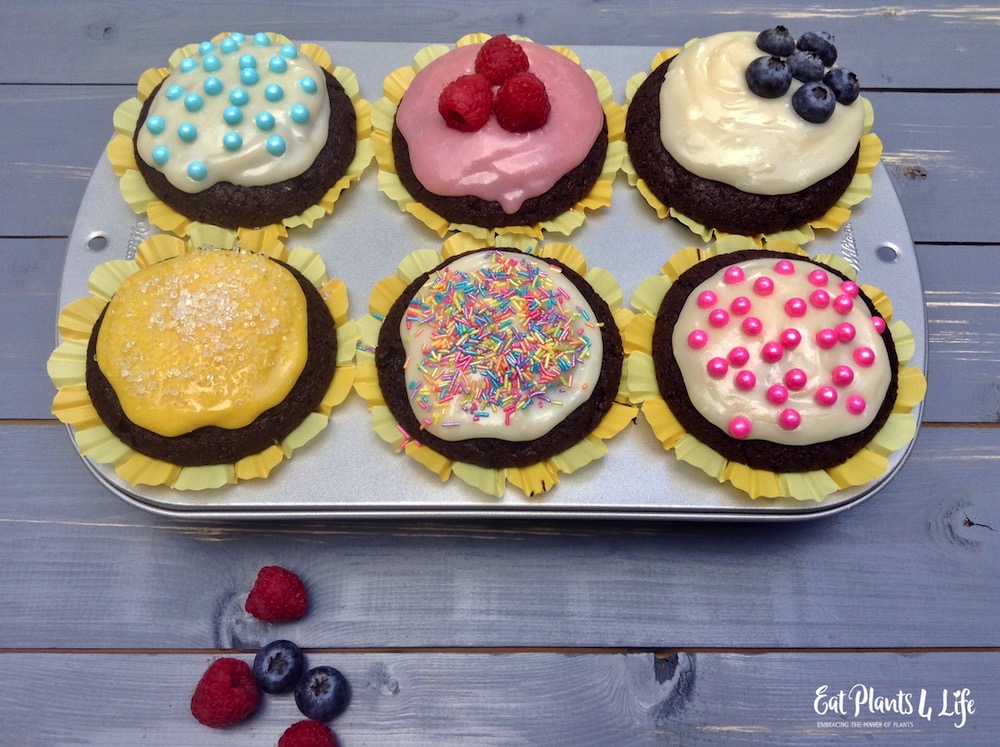 They're rich, velvety, and perfect if you have kids with a dairy or egg sensitivity. These Vegan Chocolate Cupcakes won't disappoint.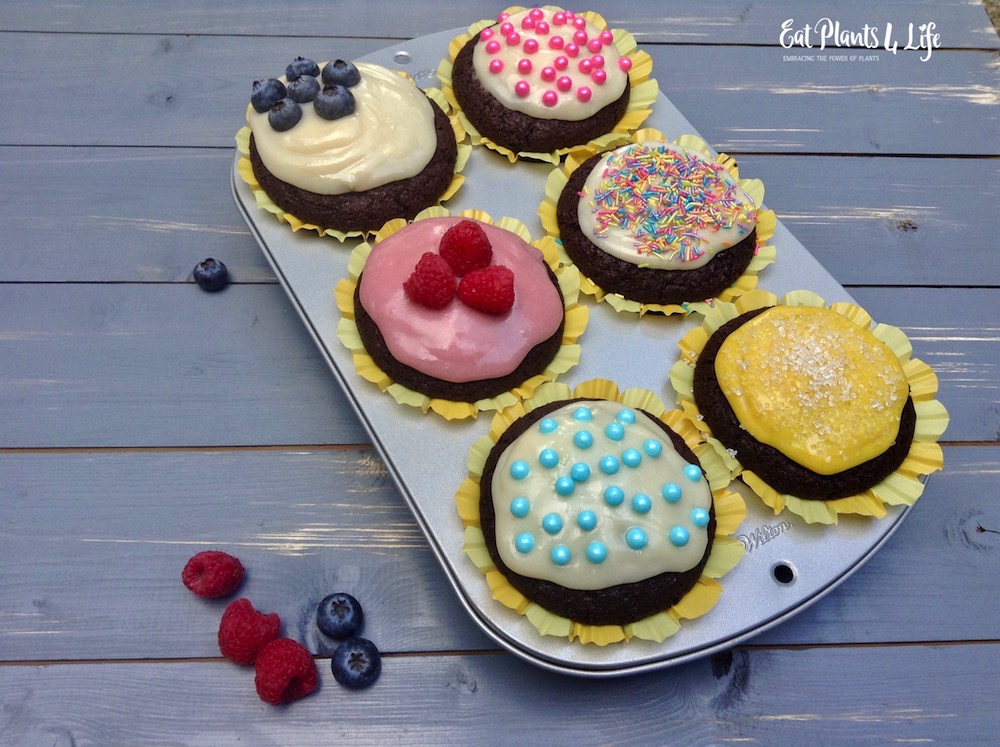 I've topped these heavenly, chocolatey pillows with a super easy, yummy Vegan Cream Cheese Frosting from my favorite online Vegan baker (Minimalist Baker).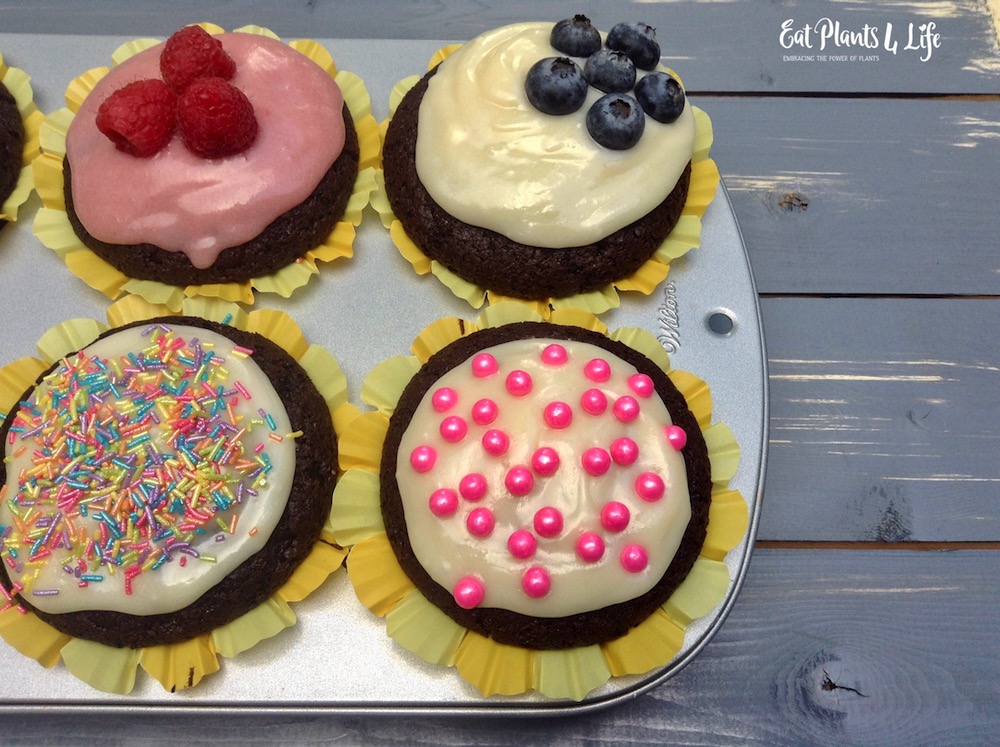 And if you love embellishing your cupcakes but you're like me and don't like artificial food coloring/dyes in your food, I've found natural and healthy alternatives to add vivid hues to your frosting. Thanks to Kroger.com, I've also included their simple suggestions for adding color to your frosting without harming your body. Many of the ingredients are already in your kitchen. They really work and taste great on Vegan Chocolate Cupcakes!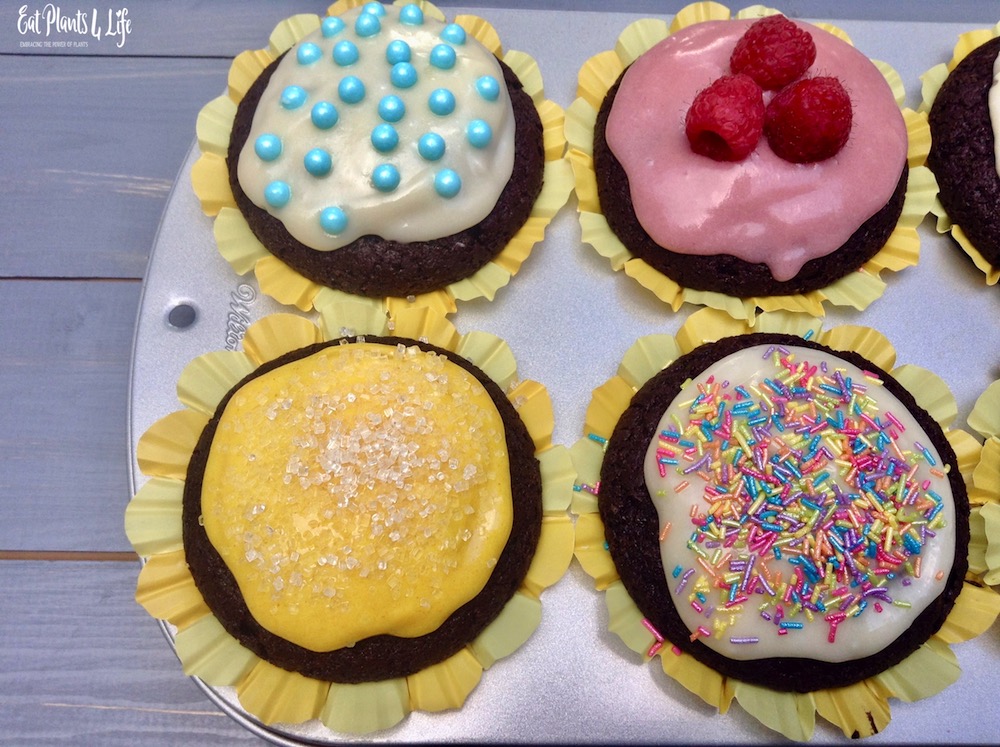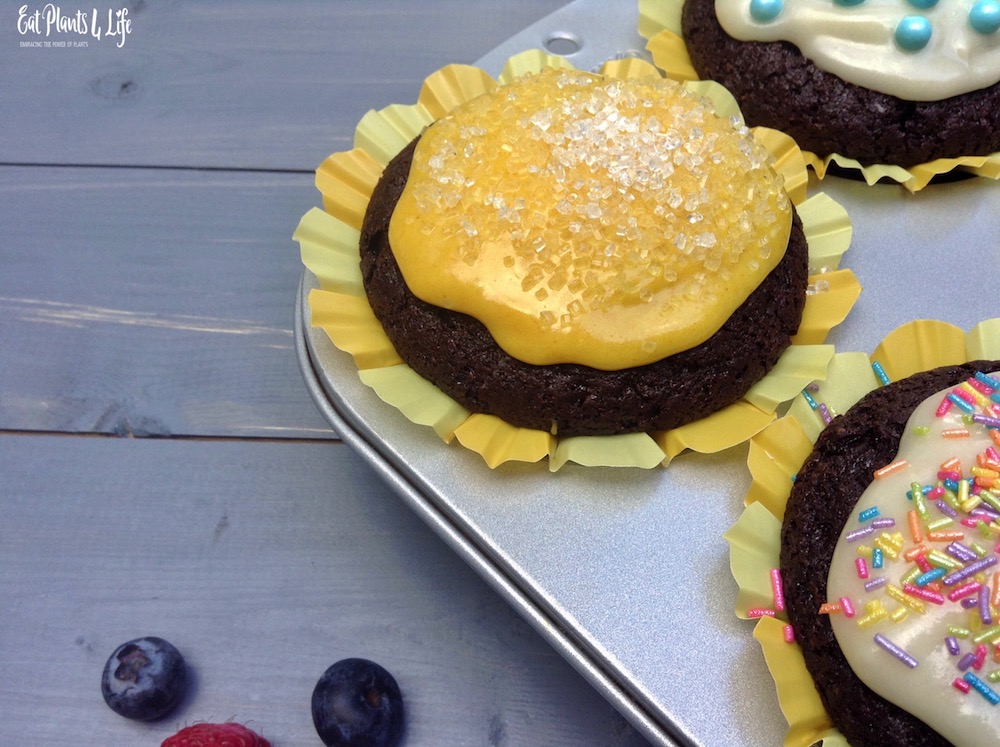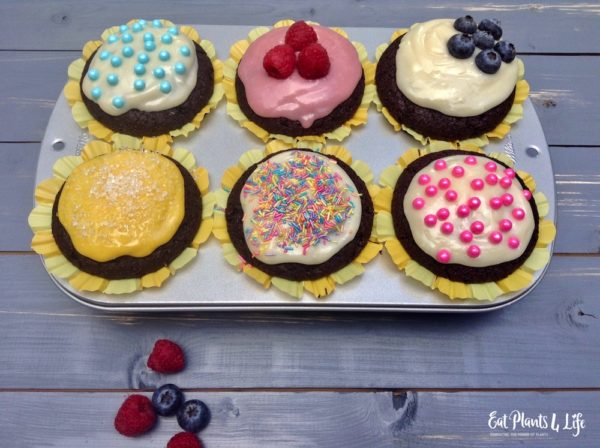 | | |
| --- | --- |
| Servings | cupcakes (or 6 mega cupcakes) |
Vegan Cream Cheese Frosting
| | |
| --- | --- |
| Servings | cupcakes (or 6 mega cupcakes) |

Vegan Cream Cheese Frosting
Preheat oven to 350 degrees.

Spray a 6 or 8 count cupcake baking pan (or line with cupcake liners).

Sift together the flour, sugar, cocoa, baking soda, and salt. Add oil, water, vinegar, and vanilla. Mix together until smooth.

Pour batter into prepared pan.

Bake for 35-40 minutes or until an inserted toothpick comes out clean. Remove from oven and allow to completely cool before adding frosting. Prepare frosting in the meantime.

Add Vegan Cream Cheese Frosting and your favorite Vegan toppings.
Vegan Cream Cheese Frosting:
Add softened cream cheese and butter or oil to a large mixing bowl. Beat or whisk vigorously to combine. Add vanilla, then sugar in 1/2 cup increments until thickened.

Add flour (a little at a time) until desired thickness is reached. It should be thick enough to avoid sliding off of your cupcakes.

Add natural food coloring to the frosting, if desired. See tips in Recipe notes below.

Refrigerate unused frosting.
Easy Natural Food Coloring (Source: Kroger.com)
YELLOW: add 1/2 heaping tsp. of turmeric (no worries, turmeric is tasteless in this frosting) directly to frosting.
MAGENTA/PINK: 1/2 cup pureed and strained raspberries or pureed & strained canned beets, including a little of the liquid (You may taste a little of the raspberry but you won't taste the beets). Add to frosting.
PURPLE: 1/2 cup pureed and strained blueberries. Add to frosting.
LILAC-PINK: boil 1 cup of red cabbage in just enough water to cover. Add 1 tbsp. vinegar for boil for 10 minutes. Drain and cool. Add to frosting.
GREEN: Boil a handful of spinach leaves in 1 cup of water for a minute. Shock the leaves in ice water for a minute to retain bright color. Drain and puree to make a smooth paste. Strain. Add to frosting.