If you were trapped on a tropical, deserted island (like Tom Hanks in Cast Away) for one month and could bring an endless supply of only one vegetable, one grain, one fruit, and one protein to eat exclusively, which would you choose?
For me, the grain would most definitely be rice. I love it and always have – basmati, jasmine, brown, white, yellow, wild and even black. The protein would probably be the pistachio, the fruit (the hardest of the 4) could be nectarines, watermelon, lemons, strawberries, or oranges. See, I can't just choose one. Hopefully, the tropical island will come with its own supply of fresh fruit eliminating the need to.
The vegetable, however, is a definite no-brainer. I would choose the spud over and over (and over) again. Although potatoes are versatile, my personal favorite preparation, unsurprisingly is also the most popular – the French fry.
Yes, I know – French fries can be a death trap. Potatoes are already the starchiest of vegetables, but adding a deep fryer and oil to the mix boosts the saturated fat component. I've learned however, how to by-pass at least some of the unhealthy fat.
I toss mine into the oven instead of on top and honestly can't taste much of a difference between baking and frying them. The trick? I've learned something very important over the last year as a Vegan Pup.
One of the key components to sustaining a successful Vegan diet is the inclusion of spices and herbs in food preparation.
Simply adding herbs and spices to your pre-baked potatoes will do the trick in getting your fry fix without adding in a bucket of hot oil. Spices and herbs include, but are not limited to: garlic powder, chili powder, thyme, ground chipotle chile pepper, rosemary, cumin, minced jalapeño peppers, lemon pepper, Italian seasoning, curry powder, or onion powder to name a few. Be creative and mix it up. This is your opportunity to actually "play with your food."
Theoretically, deserted islands don't come equipped with ovens and baking pans and I probably can't smuggle in my favorite must-have spices/herbs in order to make my favorite baked French fries, however they're still at the top of my list, will be sure to give a welcomed twist to your ordinary, fatty "fries with ketchup", and are the latest inductees in EP4L's Stuff I Love.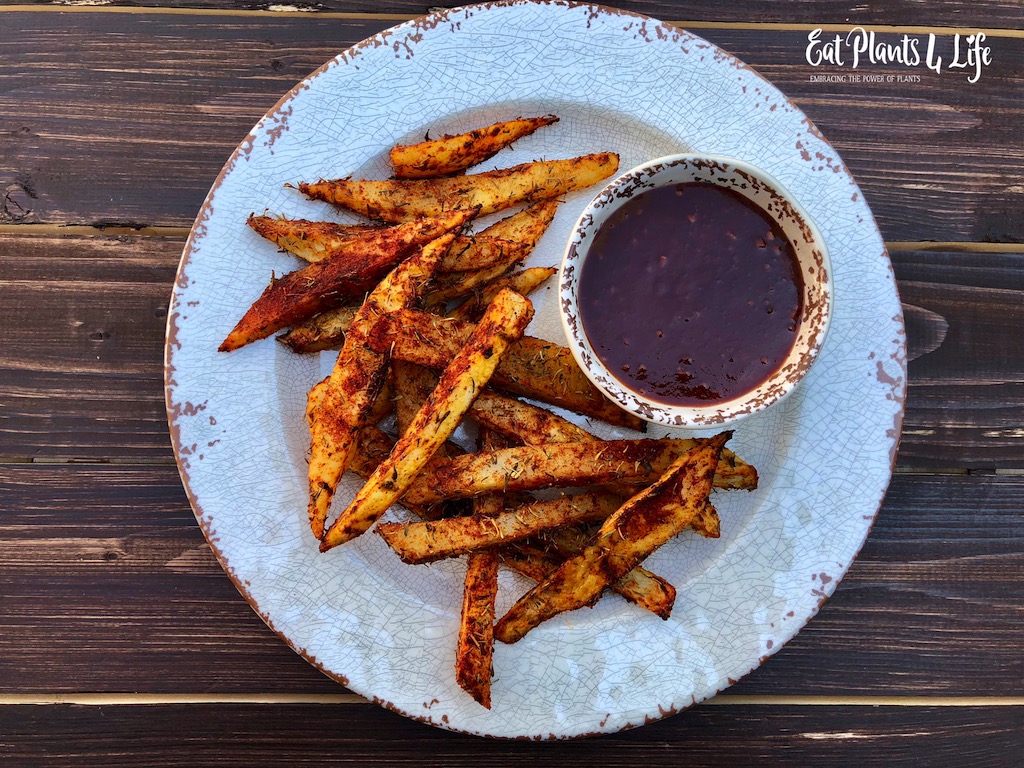 Smoked Paprika is a spice that will add zing to your taters. I keep it on hand and will use it in a variety of ways. Several spice brands make it, so you're not limited. It gives regular paprika a smoky flavor and your foods a rich color. Coating raw, sliced potatoes with just a little oil, a generous amount of smoked paprika, and dried or fresh thyme, then baking on 425°F until golden brown, will deliver on its promise to replace the traditional fried potato.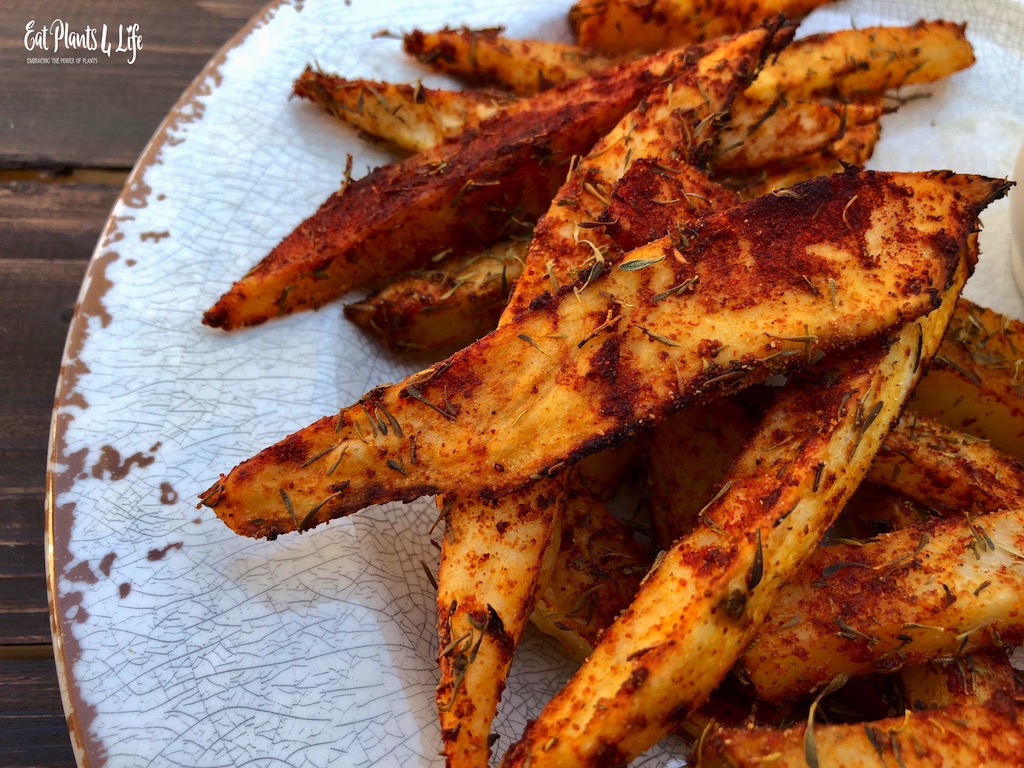 These fries don't necessarily need a companion. They work well on their own thanks to the smokiness of the paprika. Nevertheless, a great dip couldn't hurt. Now that you've baked the perfect, healthier French fry, what will you dip yours in? Ketchup is boring and loaded with high-fructose corn syrup. I have an alternative…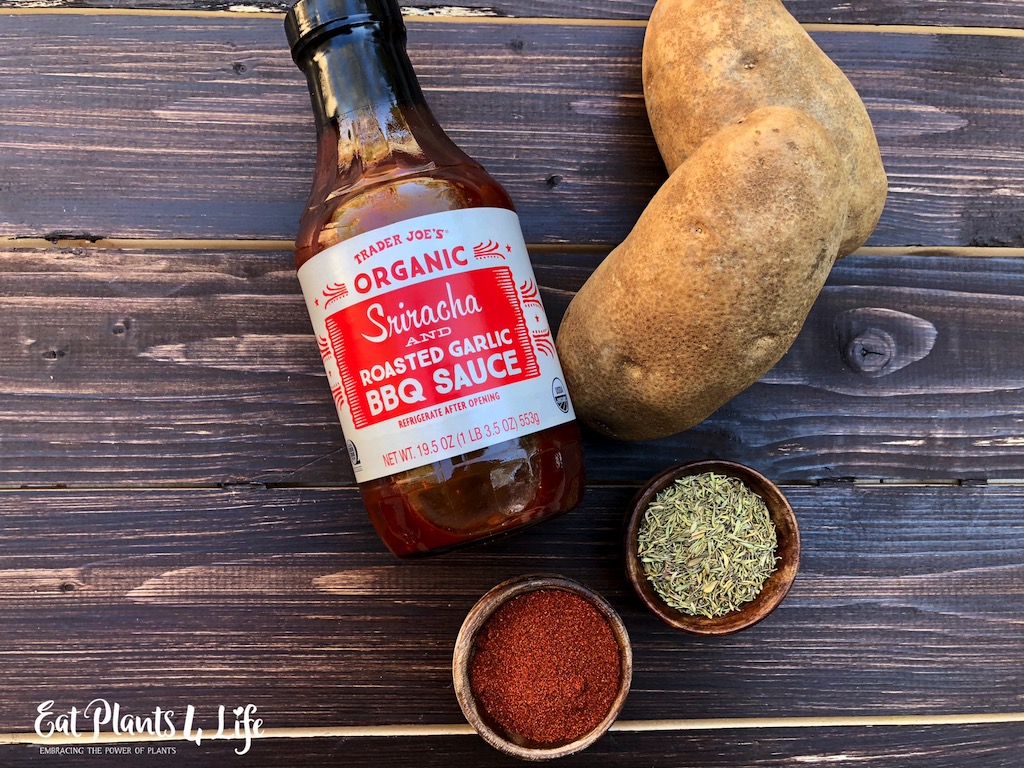 Trader Joe's Organic Sriracha and Roasted Garlic BBQ Sauce has officially replaced ketchup in my cabinet. It's bold, spicy, garlicky, and has a flavor zing. It's a gives you an explosion of flavor with ingredients like: jalapeno puree, hickory smoke flavor, roasted garlic, molasses, nutmeg, ginger, cloves, and habanero pepper powder. This jar of heaven will be the perfect sidekick to foods you often pair with barbecue sauce or ketchup.  I've even tried it on my own rendition of southwest barbecue ranch faux-chicken salad.
Get to slicing some taters and get your spud-on!