This is the official first week of Spring! If you are one of the many who are joining in on the ritual of spring-cleaning or tossing/donating unwanted items and sprucing up the house, why not do a little spring-cleaning of yourself?
Here at EP4L we've redefined the term Spring-cleaning.
EP4L Spring-Cleaning: (verb) the act of trading in the garbage you put into your body for more plant-based sources. Sprucing up your body and soul.
Swimsuit season is almost here – Memorial Day weekend (in just 65 days) is the kick-off to summer, so why not forget about the weight loss resolutions you've abandoned a few weeks ago and try a different way of eating on for size.
When people ask me why I chose to go from a cheese-lovin' Vegetarian to an egg and dairy-ditching, full-throttle Vegan, I have to tell them the truth.
I got Vegucated. Literally.
Sometimes all it takes is an inspirational nudge or an ah-ha moment to trigger the change in you. For me, it was a simply the magic behind a documentary that not only altered my mindset, but also changed my life and the lives of those near and dear.
Vegucated is not just a catchy name. It's a candid, witty, and enlightening documentary sprung from mastermind Marisa Miller Wolfson, a writer, director, filmmaker and animal/food activist.
I watched Vegucated a few years after its 2011 release date and was quickly inspired to consider giving Veganism a chance.
The plant-based documentary chronicles the lives of three, average New Yorkers who happen to love meat, eggs and dairy, for 6 weeks as they commit to an exclusive Vegan diet. Narrated by the filmmaker herself, Vegucated is a sociological experiment that tests the willpower and compassion of Brian, the non-cook, Tesla, the college-student and vegetable/bean hater with cultural hurdles, and Ellen, the busy, single-mom of two with multiple jobs and a family-history of heart-disease.
Will these three survive the 6-week challenge? Will either decide to trade in meat/dairy for an exclusive plant-life for good? No spoilers here. It's definitely worth a watch. If you're an Amazon Prime member, you can watch it for free right now! If you're not, no worries. Click the title link and check it out: Get Vegucated By Marisa Wolfson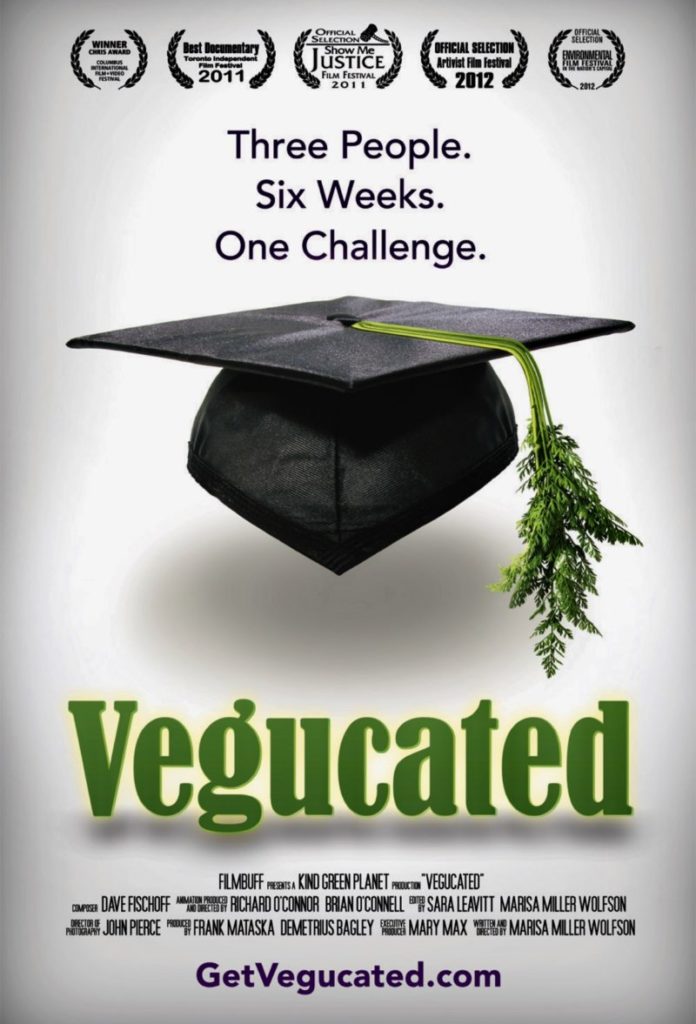 Perhaps it will be the nudge you need to give your body the Spring-cleaning it so richly deserves. Get Vegucated! If you're already Vegan or in transition and you haven't seen this film, it will definitely boost your efforts or perhaps serve as a great way to inspire your non-Veg friends to consider a Vegan diet.
See the trailer and learn more about Veganism by visiting the Vegucated website at: www.getvegucated.com.
In later posts, I'll share what other sources contributed to that final nudge to transition to an exclusive plant-based diet. It's some pretty good stuff, so be sure to check back or better yet, sign up for my weekly newsletter below so you won't miss a thing.