Nothing says "hello summer" like fresh corn. No matter how it's prepared, there is nothing like corn from the stalk versus the canned stuff. Whether creamed, roasted, grilled, pan-fried, or shucked and used in a Vegan corn chowder, these sweet seasonal, golden, white, or bi-color kernels are the perfect, inexpensive addition to your healthy summer meals.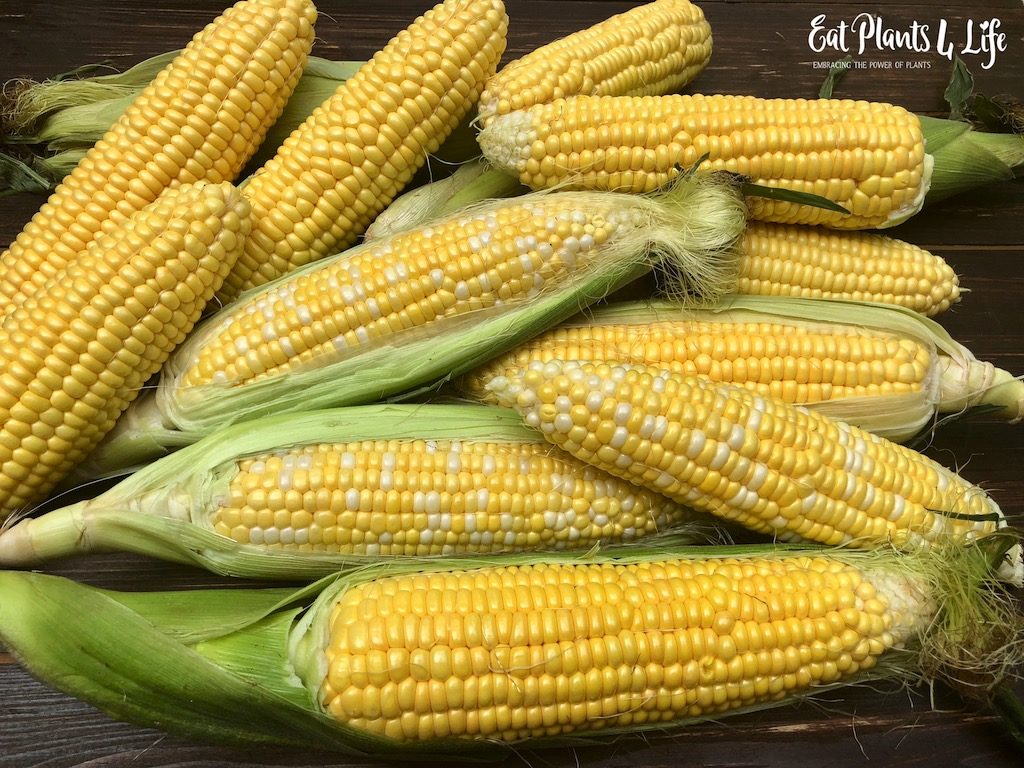 My all-time, must have side-kick for any of my summer corn recipes is to-ma-to! I must have sweet, plump tomatoes alongside my fresh corn. It's just a standing rule in my house.  Hands down, a bowl of fresh cream-style corn and a stack of mouth-watering farmer's market tomatoes is my idea of a complete meal.
My grandmother started this tradition. She would enlist us kids to shuck corn for Sunday supper in order to make her infamous, sweet cream-style corn. Alongside her ginormous pot of cream-style corn was always, and I mean always,  a stack of freshly sliced, plump, sweet, beefsteak tomatoes that she had grown in her own garden. Heaven!
And although, grandma is no longer with me, her cream-style corn still lives within me. But it's Veganized of course, thanks to Vegan butter, vegetable broth, and nut milk.
Click the titles to check out a few of EP4L's favorite Vegan summer corn recipes:
100 Days of Summer Garden Veggies
To add to my summer corn recipe collection, I've created a tomato-based southwestern/southern-inspired Summer Corn Chowder with Fire-Roasted Tomatoes recipe that incorporates a fire-roasted version of grandma's tomatoes, diced green chiles (for a little kick), black beans for protein, and aromatic fresh and dried herbs. Add even more protein and texture with whole-wheat orzo.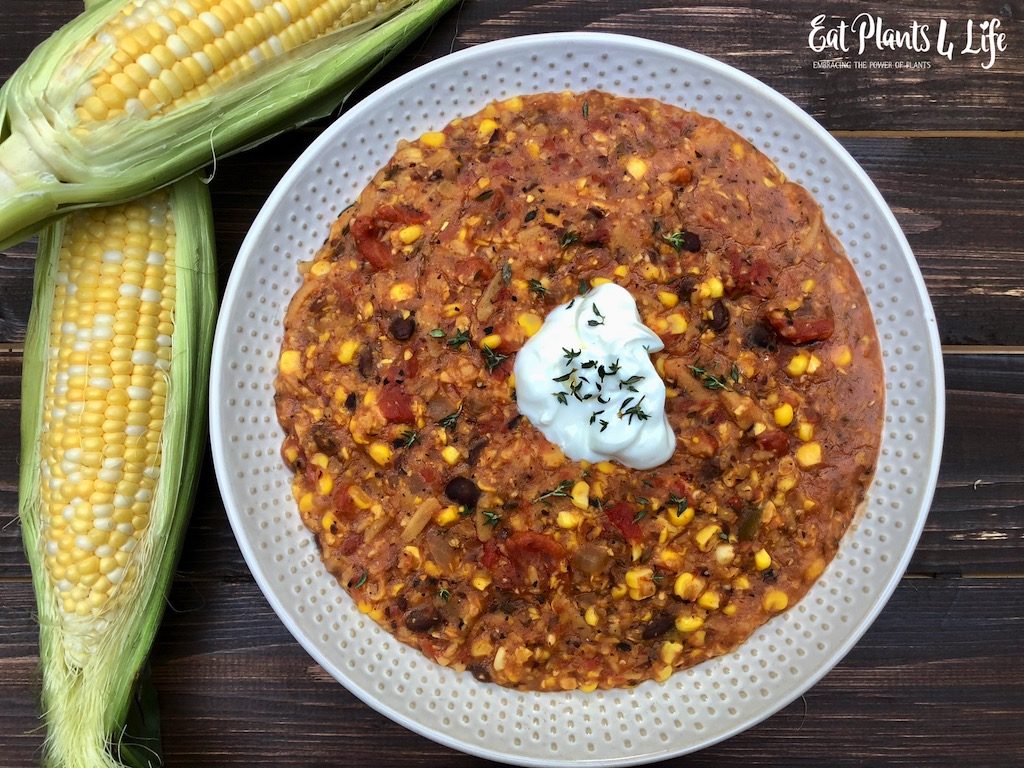 EP4L's Summer Corn Chowder with Fire-Roasted Tomatoes is a little spicy, hearty, easy-to-make, and addictive. It's a great Vegan quick meal that cooks in one pot for easy clean-up! Use a hand or immersion blender to create a chowder, or ditch the hand blender to serve as a soup.
Check out this easy recipe video for our Summer Corn Chowder with Fire-Roasted Tomatoes and enjoy the summer's sweet gift of fresh corn!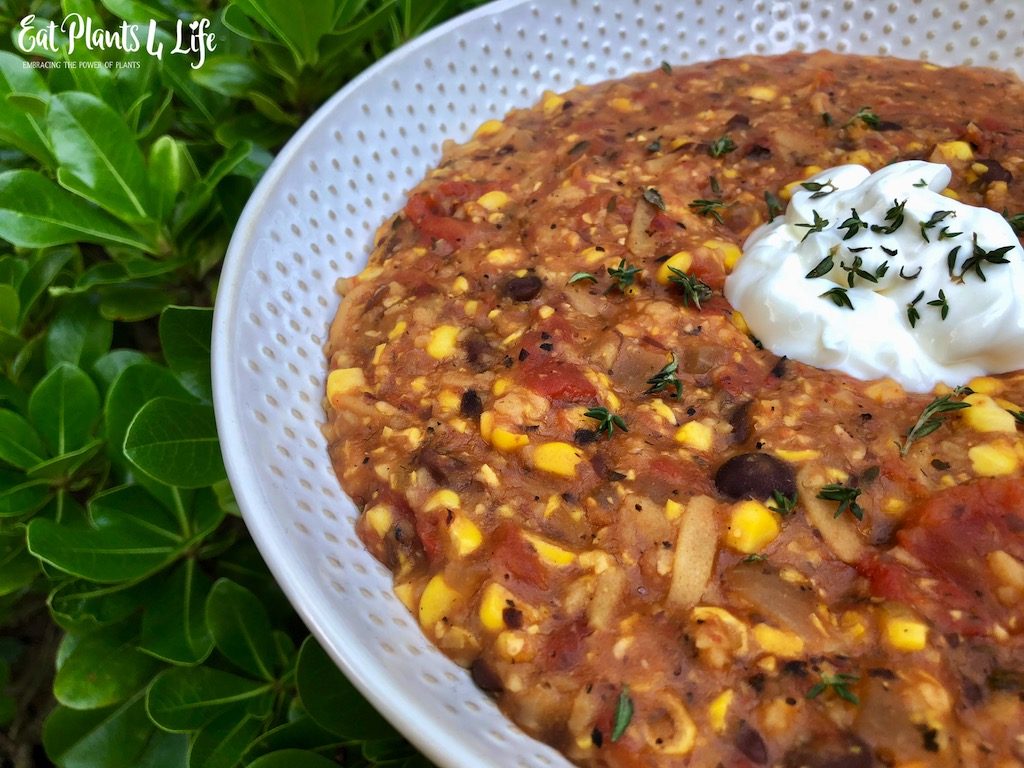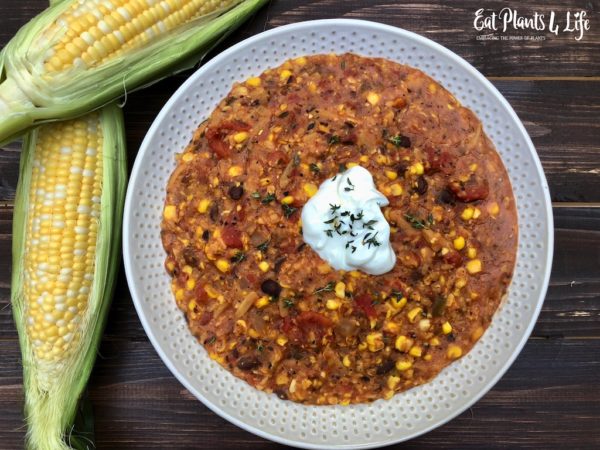 | | |
| --- | --- |
| | |
In a large stockpot, heat oil over medium-high heat. Add garlic and onions. Cook until onion is translucent. Add remaining ingredients. Stir until well combined. Bring to a boil. Reduce heat and simmer for 20 minutes.

This is an optional step: *Using a hand blender or immersion blender, pulse the soup until desired consistency is reached.

Serve as is or top with Vegan sour cream, tortilla chips, Vegan cheddar shreds, etc.