I'm often asked, "What do Vegans eat for breakfast besides fruit?"
The assumption is always "just fruit" or "green smoothies."
The reality is that there are a lot of plant-based options that cater to the exclusively plant-based diet. Vegans aren't limited to "just fruit." Personally, I would grow weary of "just fruit" every single morning. Sometimes, a girl just wants something hearty that will, as my grandma use to say, "stick to my bones."
One option is a hearty, mega muffin. Mega muffins are filling and can be modified to include the essentials you need to get you going in the morning and keep you satisfied until lunch. My Oil-Free Banana Mega Muffins are loaded with potassium thanks to the bananas, full of protein and fiber thanks to the addition of chia seeds or walnuts, and are void of unnecessary oils thanks to applesauce.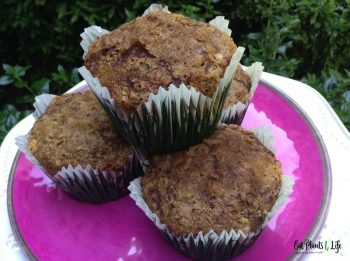 For Throw Back Thursday and in honor of National Banana Bread Day, I dug an old recipe from the EP4L archives. The previous version included oil, so I decided to doctor it up a bit to make it healthier. Oil-Free Banana Mega Muffins are moist, sweet (especially if you use ripe, brown-spotted bananas), freezable, and an awesome go to when you just want to grab something quick for breakfast. They'll stick to your bones and, like mine, the kids will love them and have no idea that they're actually healthy. That's some mic-droppin' Supermom-cred.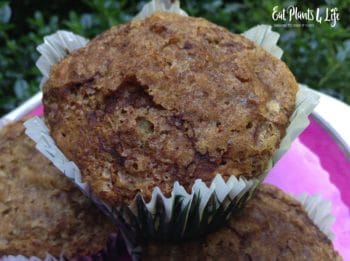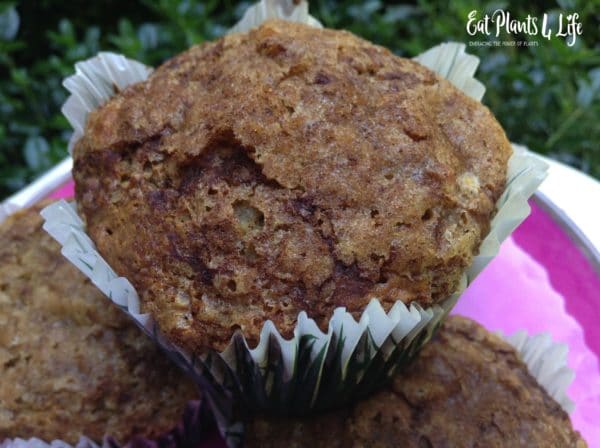 | | |
| --- | --- |
| Servings | large muffins (12 regular muffins) |
| | |
| --- | --- |
| Servings | large muffins (12 regular muffins) |
Preheat oven to 375° F. Line muffin tins with muffin/cupcake liners.

In a large bowl, combine flour, raw sugar, cinnamon, baking soda, baking powder and salt. In a medium bowl, stir mashed bananas, vanilla, applesauce, and almond milk. Hand mix well. Add wet ingredients to dry ingredients. Stir mixture until combined. Fold in optional walnuts or chia seeds.

Spoon prepared batter into muffin tins with an ice cream scooper.

Sprinkle each muffin with optional chocolate chips, raw sugar and a few dashes of ground cinnamon. If you prefer, you can use brown sugar (shown below) instead of turbinado sugar along with the cinnamon and optional chocolate chips, however, turbinado is my favorite.

Bake for 20-25 minutes or until a toothpick, inserted in the middle of a muffin, comes out clean (larger muffins may require more time).

* I used turbinado or raw sugar on these. Delish!
Make sure that your bananas are very ripe (brown spots and all). Ripe bananas will render a sweeter muffin!