Is it just me or has the Thanksgiving holiday just come and snuck up on us this year? With only a week left to get ready, I decided to do a TBT or Throwback Thursday post.
Who doesn't love a Throwback? And Thursdays have become synonymous for just that.
So, in case you missed it last year, this week, I am reposting a recipe that received lots of positive feedback and is one of the most popular to date.
It's my beloved Stuffed Acorn Squash.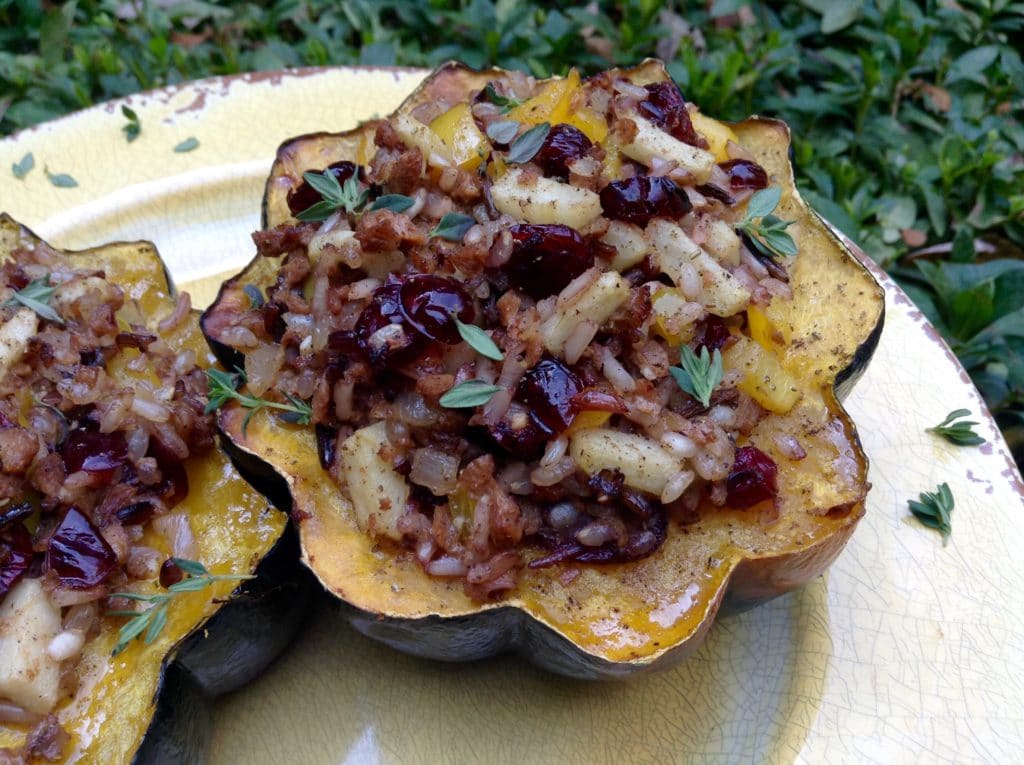 If you find yourself scrambling this year or you want to switch things up a bit on your Thanksgiving dinner table, be sure to add this one to your shopping list.
It's loaded with plants, flavor, and color. The kitchen will light up with the aroma of pungent sage and onions. It comes with its very own edible serving bowl, which makes it not only healthy and savory but also looks festive.
Check out our recipe video: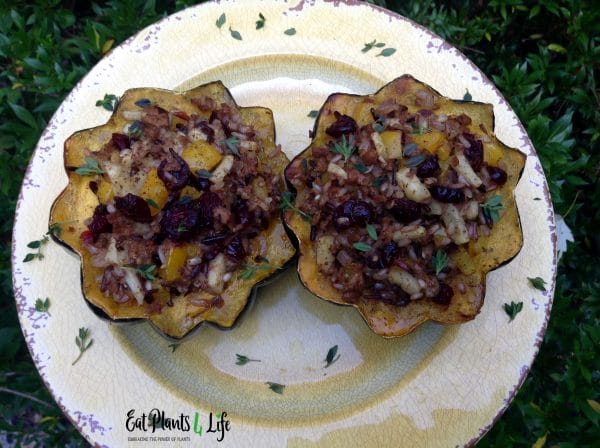 | | |
| --- | --- |
| | |
Preheat oven to 400 degrees.

Cut the tips off of each end of each squash.

Find the center of each squash.

Cut squash in half across the belly. Remove the seeds and stringy strands.

Be sure to keep the flesh in tact.

Place halves on a baking sheet that has been sprayed with cooking spray. Drizzle each half with 1 tsp. of oil, salt and pepper.

Place squash in oven and roast for 30-35 minutes or until squash is slightly tender (prepare stuffing while acorn squash is roasting). Remove squash from oven and set aside. Be sure to leave the oven on.

Heat 2 tablespoons of oil in a large skillet. Add shallot, garlic, yellow pepper, veggie crumbles (or mushrooms), sage, salt, and pepper. Cook until pepper is slightly tender (about 3 minutes). It will smell like heaven. For real!

Add diced apples and a splash of apple juice to prevent the ingredients from drying out. Stir frequently. Continue to cook for 1 minute.

Add dried cranberries. Turn heat on low.

Add cooked rice. Stir until well mixed. If necessary, add another splash of apple juice to keep the mixture moist. Remove from heat. Scoop an even amount of stuffing into each roasted squash bowl. Be generous and pack it in tightly.

Add a tablespoon of apple juice to each stuffed squash. Place in preheated oven and cook, uncovered for an additional 15 minutes.

Enjoy your Stuffed Acorn Squash!
*if you're not a veggie crumble fan, this recipe also works if you substitute with 1.5 cups of chopped mushrooms.