I have quite a bit to be thankful for, but one thing stands out this particular year…
I don't have to sit at my mom's Thanksgiving table salivating over a childhood favorite as it gets passed around from dinner guest to dinner guest – skipping right over me.
It's that darn turkey dressing and gravy!
I am having a Vegan Thanksgiving that is totally delish!
This Thanksgiving,  I'm coming armed with something better than last year's processed, faux turkey. This year I'm keeping it real — with "real" food. It's a Vegan stuffing and Vegan gravy that is egg-free, dairy-free, meat-free, and guilt-free!
Thanks to The Food Network Kitchen, I found a Savory Mushroom Stuffing recipe that tastes so good and happens to also be good for you. Chock full of veggies and a harmonious blend of fresh herbs, this moist dish will fill your kitchen with the familiar aroma of Thanksgiving. This plant-based stuffing will be remembered.
I created a perfectly seasoned, thick, and mouthwatering sidekick – – Swag Mushroom Gravy. It's the perfect compliment to any side dish and because it requires some of the same ingredients as the stuffing, it will also compliment your wallet. Who knew you could have a plant-based gravy?
So this year, I won't need to open a frozen, pre-packaged Vegan entree that will leave me feeling nutritionally deprived. My plate will be just as satisfying and ten times healthier than everyone else's. And I can have seconds without the guilt.  
These Vegan Thanksgiving recipes will definitely be a permanent part of your holiday menu vault. 
Happy Vegan Thanksgiving!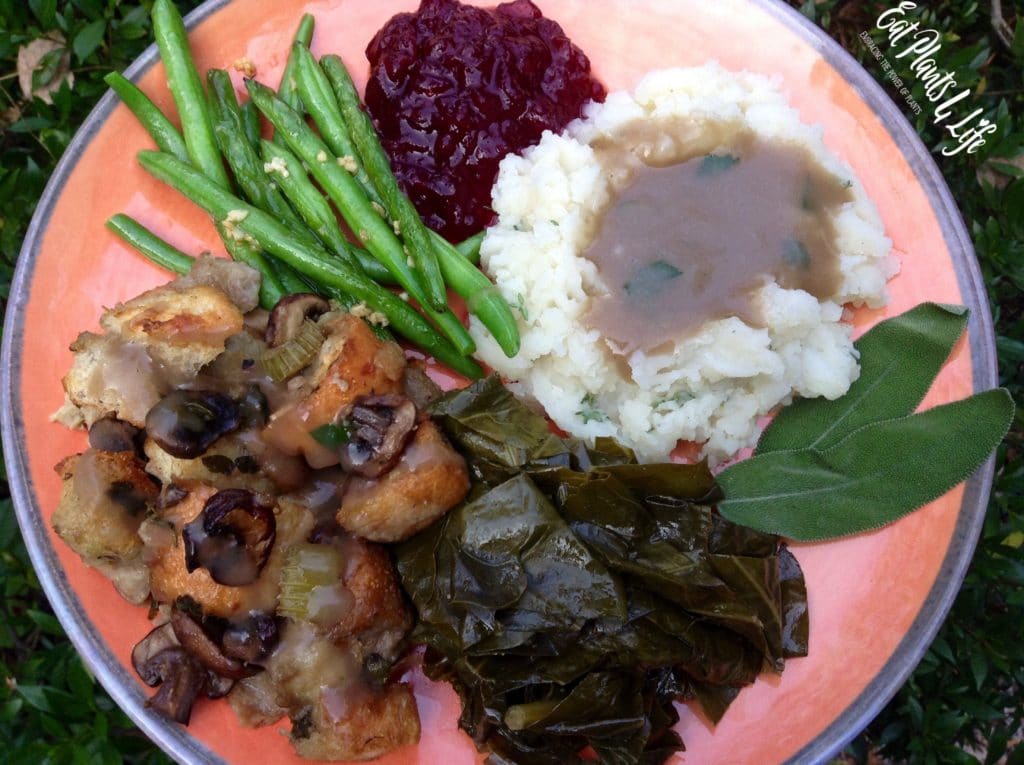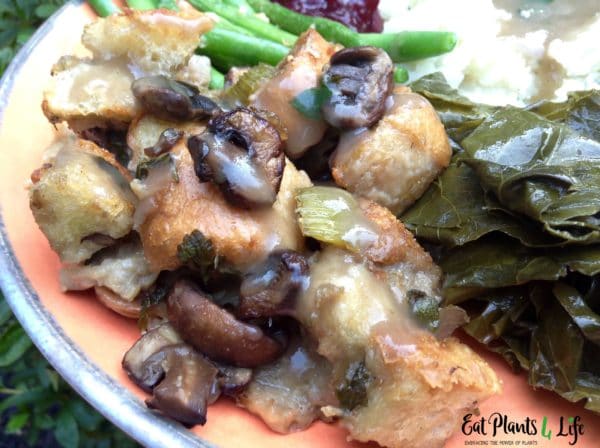 | | |
| --- | --- |
| | |
Preheat oven to 375 degrees. Spray 9" x 13" casserole dish with cooking spray.

Brew tea in 2 cups of hot water for 5 minutes. Discard the tea bags without squeezing them out.

Heat 3 tablespoons of oil in a large skillet over medium-high heat. Add onions, garlic, and celery. Stir frequently and cook until vegetables are tender (about 6 minutes). Add the mushrooms, sage, thyme, 1 ½ tsp. of salt, and a few dashes of pepper. Continue to cook for about 4 minutes. Add green tea. Bring to a boil, reduce heat and simmer an additional 2 minutes. Remove from heat.

Place the stale bread cubes in a large mixing bowl. Pour veggie/tea mixture over top of bread. Add parsley and gently toss until bread is completely coated. Let rest for 10 minutes so bread can soak up the liquid. Gently toss again. Transfer to the prepared casserole dish. Drizzle the top with remaining 1 tablespoon of oil.

Cover with foil and bake for 30 minutes. Uncover and continue to bake until golden brown (about 15 minutes). Serve hot, topped with my Swag Mushroom Gravy.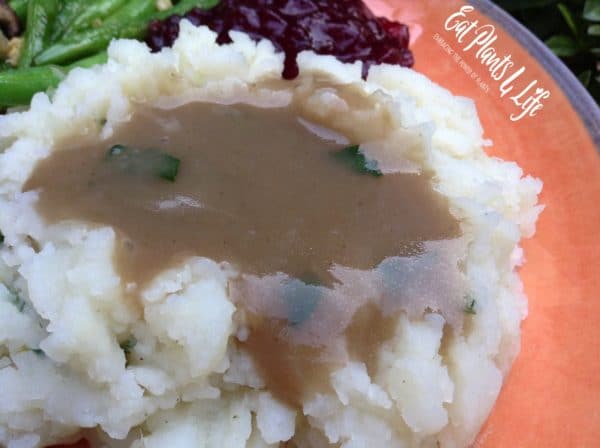 | | |
| --- | --- |
| | |
Heat large saucepan. Add oil, garlic, celery and onions. Cook until onions are translucent.

Add mushrooms, thyme, salt and pepper. Continue to cook until mushrooms are tender (about 6 minutes). Add broth. Bring to a boil. Reduce heat and simmer for 20 minutes. Add wine. Cook an additional minute. Remove from heat.

Use a strainer: place strainer over a medium pot. Drain mushroom mixture. Repeat until only liquid remains in the pot. Save the veggies for a side dish!

Return gravy to stovetop. Heat on medium-high. Place flour in a large cup (i.e. coffee cup or 1-cup measuring cup). Slowly add a few tablespoons of water, stirring mixture and continuing to add water until you have a thin liquid paste (consistency of buttermilk). Stir thoroughly and until all of the flour is fully dissolved. This will serve as your thickener.

With a wire whisk, slowly add flour mixture to mushroom gravy, whisking vigorously, until completely dissolved into gravy. Add parsley and continue to simmer until gravy thickens. Serve over my Savory Mushroom Stuffing and/or mashed potatoes.