For the past 2 years, I've been dealt the short end of the stick and I only have myself to blame. My decision to go Vegan has left me sandbagged when it comes to one very important holiday – – Valentine's Day.
There was a time when February 14th meant two things – flowers and a multitude of chocolates with a surprise (preferably of the caramel nature) in the middle. There is a problem with Valentine's Day these days however.
There aren't too many Valentine's candy boxes (none at all actually in my research) that cater to dairy-free individuals. Because milk chocolate is of course not dairy-free and many dark chocolates have a hint of milk in them as well, I am left with an empty heart-shaped box of unfulfillment.
Don't get me wrong, flowers are still very much appreciated and adored but hell, they only last a week if you're lucky and everything (except maybe diamonds) fails in comparison to chocolate – especially if there is an added bonus of a surprise in the middle.
Question: So, what's a Vegan girl to do?
Answer: Whether you're a health-nut, a dairy-free or dairy-sensitive advocate, or just simply plant-powered, I have a solution to your Heart-Shaped Box Dilemma.
Step 1: Buy the box (or plan ahead for next year and infiltrate someone else's empty box).
Step 2: Give the chocolates to someone else (as hard as it might be).
Step 3: Refill the box with plant-powered, Vegan-friendly, dairy-free, and just plain healthier treats.
Box #1 is called the Follow Your Heart Box for the health-nut in your life. With this mix of goodies, your Bae, Boo, or Sweetheart can graze and feel loved all day long after they open this heart-healthy gem.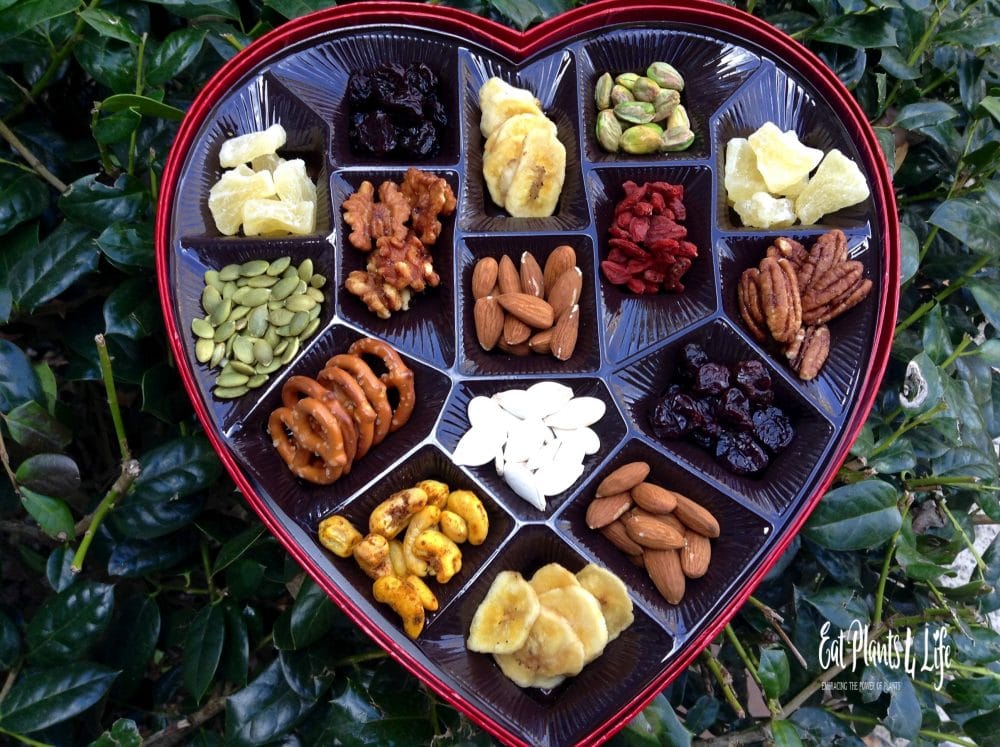 Fill each compartment with goodies like:
Goji Berries

Unshelled, Roasted Pumpkin Seeds

Almonds

Banana chips

Pretzels

Dried Cherries

Spiced Cashews

Shelled, Roasted Pumpkin Seeds

Dried Pineapple

Salted, Unshelled Pistachios

Candied or Spicy Walnuts

Candied Pecans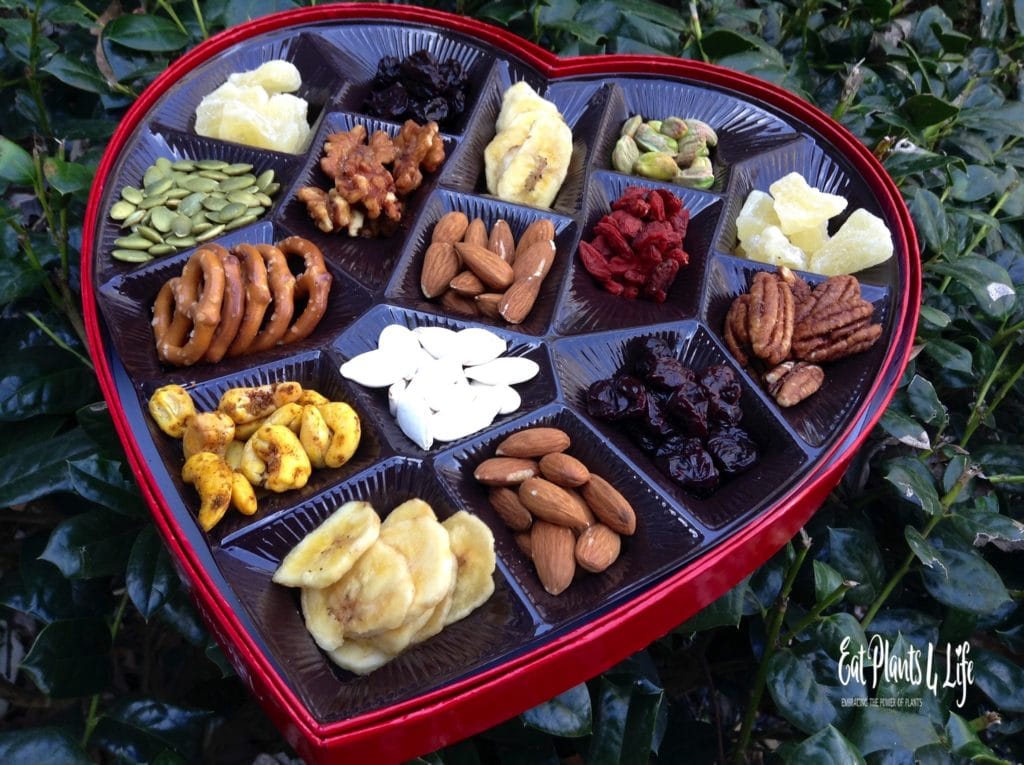 Box #2 is the Sexy Eat Your Heart Out Box because, well chocolate covered strawberries scream sexy, right?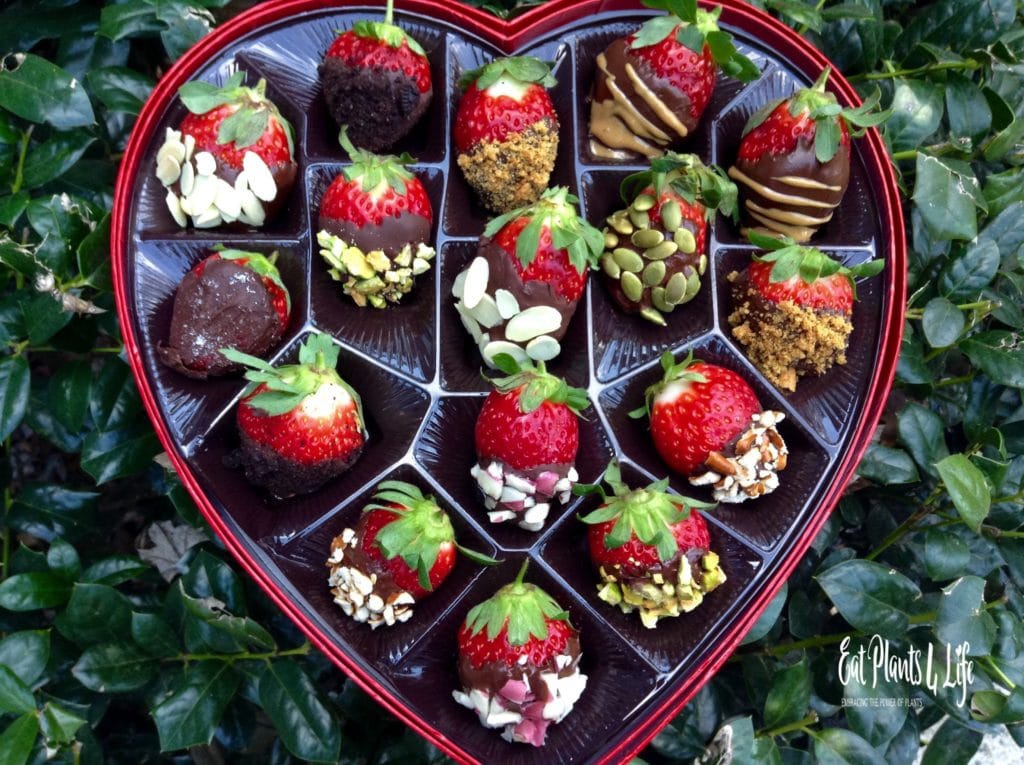 Dip strawberries in melted, dairy-free, dark chocolate (like Trader Joes' accidentally Vegan chocolate morsels) and sprinkle with some of the suggestions below.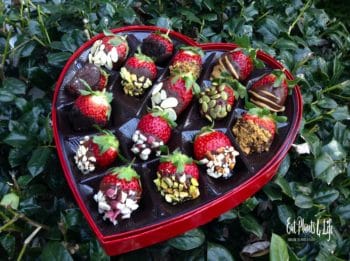 Next, place them on parchment paper-lined pan, baking sheet or plate and refrigerate for a few hours so the chocolate can harden.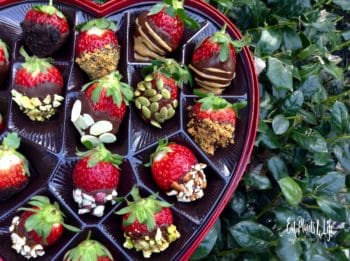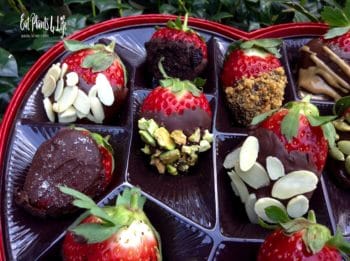 Try these as additions to your chocolate or leave them plain:
Sea Salt

Crumbled Oreo Cookies (minus the cream filling)
Salted Pretzel Bits (chopped by yours truly)
Roasted Pistachios Bits (chopped by yours truly)
Crushed Gingersnaps (Vegan, of course)

Roasted Pumpkin Seeds

Dry-Roasted Sliced Almonds

Crushed Peppermint Candy (leftover from Christmas)

Chopped Macadamia Nuts

Drizzled Melted Peanut Butter (applied after chocolate has hardened)
Be creative! The sky is the limit!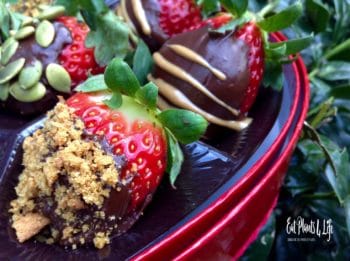 Enjoy!